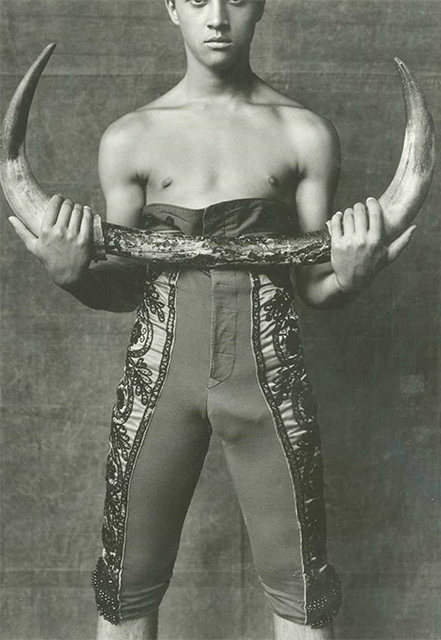 Ruven Afanador, Torero series, Jose Luis Pintado Martinez, 2001. 20 x 16 gelatin silver print. Photo: Courtesy of Throckmorton Fine Art.
NEW YORK, NY.- The 35th annual AIPAD Photography Show New York, held at the Park Avenue Armory from April 16-19, drew rave reviews and high attendance. Collectors and exhibitors praised the new look of the show which accommodated a record 89 exhibitors. Attendance peaked at over 12,000, up from 11,500 last year.

On view were contemporary, modern, and 19th-century photographs, as well as photo-based art, video, and new media. Presented by The Association of International Photography Art Dealers (AIPAD), the show is the longest-running and foremost exhibition of fine art photography.

The opening night gala on April 16, which benefited the 92nd Street Y for the first time, drew a large crowd of top-level collectors, curators, and critics.

AIPAD's VIP program presented lectures, private tours, and previews of exhibitions at the Metropolitan Museum of Art, the Museum of Modern Art, the Center for Modern Italian Art, the Morgan Library, the New York Public Library, and the Japan Society.

A number of notables attended AIPAD including Chris Rock, Gary Oldman, Blythe Danner, Jessica Lange, Elliott Erwitt, Lee Friedlander, Daniel Beltra, Jerry Uelsmann and Maggie Taylor, Jeff Mermelstein, Cig Harvey, Stephen Wilkes, Phyllis Galembo, Gary and Sarah Wolkowitz, Joe Baio, Michael Mattis and Judith Hochberg, Celso Gonzalez-Falla and Sondra Gilman, Michael and Elizabeth Marcus, Artur Walther, Richard Menschel, Eileen Cohen, Bill Hillman, Gary Sokol, David Mahoney, Robert Menschel, Christiane Fischer, Quentin Bajac, Carol Squiers, Malcolm Daniel, Anne Tucker, Corey Keller, Brian Wallis, Nissan Perez, Sandra Phillips, Alison Nordstrom, Lisa Hostetler, and Jeff Rosenheim.

AIPAD also drew a wide range of curators from such institutions as the Museum of Modern Art, New York; the Metropolitan Museum of Art, New York; International Center for Photography, New York; Solomon R. Guggenheim Museum, New York; the Morgan Library and Museum, New York; the Philadelphia Museum of Art; Los Angeles County Museum of Art; San Francisco Museum of Modern Art; The Art Institute of Chicago; George Eastman House, Rochester, NY; Rhode Island School of Design; Museum of Fine Arts Houston; Amon Carter Museum of American Art, Fort Worth, TX; Toledo Museum of Art; Museum of Fine Arts, Boston; Milwaukee Museum of Art; National Gallery of Art, Washington, DC; Smithsonian American Art Museum, Washington, DC; Baltimore Museum of Art; New Orleans Museum of Art; Katonah Museum of Art; Virginia Museum of Fine Arts, Richmond; Chrysler Museum of Art, Norfolk, VA; Portland Museum of Art, OR; National Gallery of Canada, Ontario; and the Rijksmuseum, Amsterdam.

"I have had more compliments about AIPAD this year than any other year," said Catherine Edelman. "Many museum curators from across the country told me that AIPAD is a must-see for them and their acquisition board members."
SALES HIGHLIGHTS
"We had one of our best AIPAD shows in our history and sold over 25 photographs including work by Garry Winogrand, Earlie Hudnall, Jr., and Carlotta Copron to collectors and institutions," noted PDNB Gallery, Dallas. "The show overall looked beautiful, and we were proud to be there among all the international galleries." Yossi Milo Gallery, New York, said it was a good show and that they sold work by every artist they brought.
Von Lintel Gallery, Los Angeles, commented that they sold 12 photographs by Klea McKenna and 14 by Farrah Karapetian, among others, and had to "rehang the booth twice."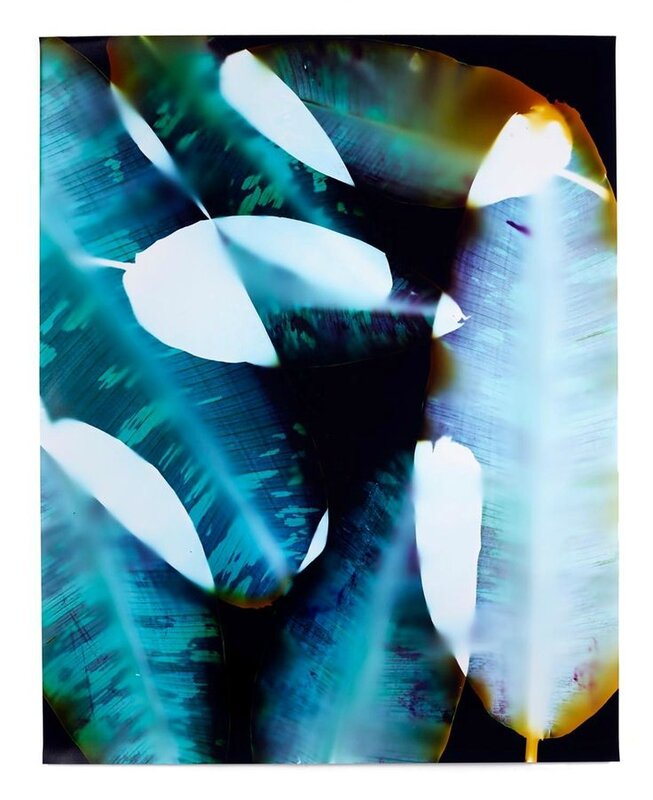 Klea McKenna, How Forests Think #1, 2014. Chromogenic photogram, 40 x 32 inches (101.6 x 81.3 cm). Unique. Photo: Courtesy of Von Lintel Gallery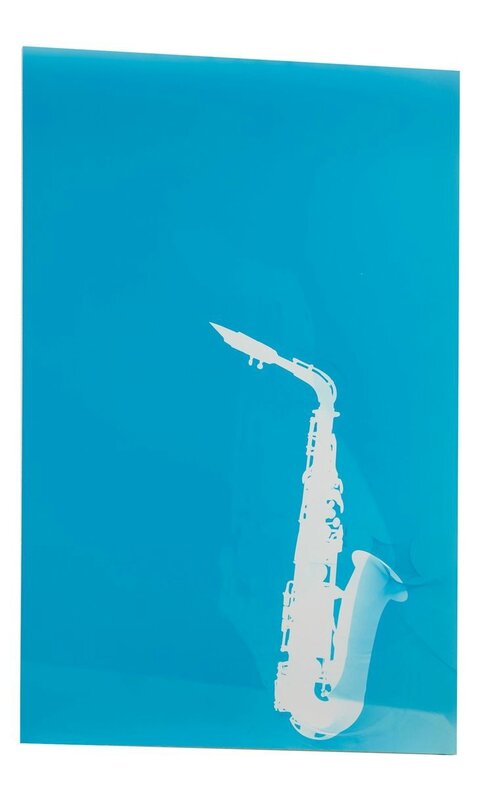 Farrah Karapetian, Blue Note, 2014. Chromogenic photogram, metallic, 50.5 x 32.5 inches (128.3 x 82.5 cm). Unique. Photo: Courtesy of Von Lintel Gallery
Scott Nichols Gallery noted that they were "busy all the time" and sold a photograph by Ansel Adams for $63,000. James Hyman, London, said, "It was a good fair for us across the board."
Vasari, Buenos Aires, sold a number of photographs by Grete Stern, whose work will be the subject of an exhibition at the Museum of Modern Art, New York, opening on May 17. Jenkins Johnson Gallery, San Francisco, reported "a steady stream of well-seasoned collectors" and sold nearly 30 photographs including work by Gorden Parks for $21,000 - $11,000.
"There was a very impressive variety of material reflecting the growth of the photography medium and market," reported Monroe Gallery, Santa Fe, which sold 25 images including a Bill Eppridge for $20,000 and a Stephen Wilkes for $15,000.
Yancey Richardson Gallery, New York, sold work by Robert Frank, Rachel Perry Welty, Zanele Muholi, Olivo Barbieri, and Hellen van Meene, and commented that it was a "very good show." Gallery Fifty One, Antwerp, Belgium, sold work by Seydou Keita from between $9,500 and $25,500.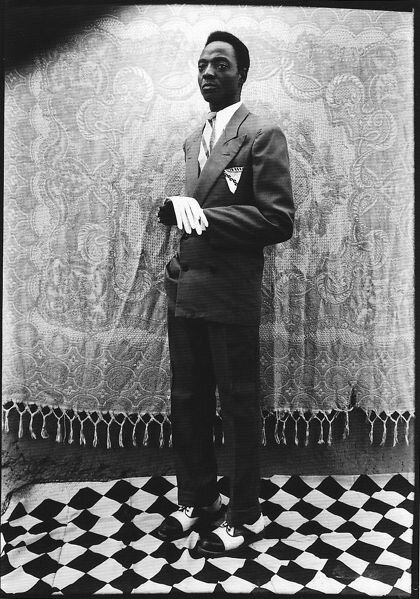 Seydou Keïta (Mali, 1921-21.11.2001), Untitled, 1949, 23 x 19 in. Photo: Courtesy of Gallery Fifty One © Seydou Keïta Photography Estate Advisor Corporation.

Alan Klotz Gallery, New York, had a "very good" show and sold more than 25 photographs including a work by Margaret Bourke-White. Paul M. Hertzmann, Inc., San Francisco, commented on the "excellent attendance" and had "a very good fair" selling photography by Ansel Adams and Man Ray. Klompching Gallery, Brooklyn, sold 13 works by Helen Sear, who is representing Wales at the Venice Biennale with a solo show, and a number of works by Max de Esteban and Jim Naughten.
Hans P. Kraus, Inc. sold Giuseppe Enrie's 1931 image of the famous Shroud of Turin, in addition to work by Hill & Adamson. An early image by William Henry Fox Talbot sold for $40,000.
Throckmorton Gallery, New York, noted that "We received an overwhelmingly positive response from the public about how the 35th edition of AIPAD was certainly the most beautiful as well as most exciting as it has ever been. Jessica Lange, Gary Oldman, and Chris Rock all visited our booth and all had wonderful things to say about the show as well as many of the works we were showing in our booth. We sold works by Manuel Alvarez Bravo, Tina Modotti, Lucien Clergue, Graciela Iturbide, Mario Algaze, and Flor Garduno."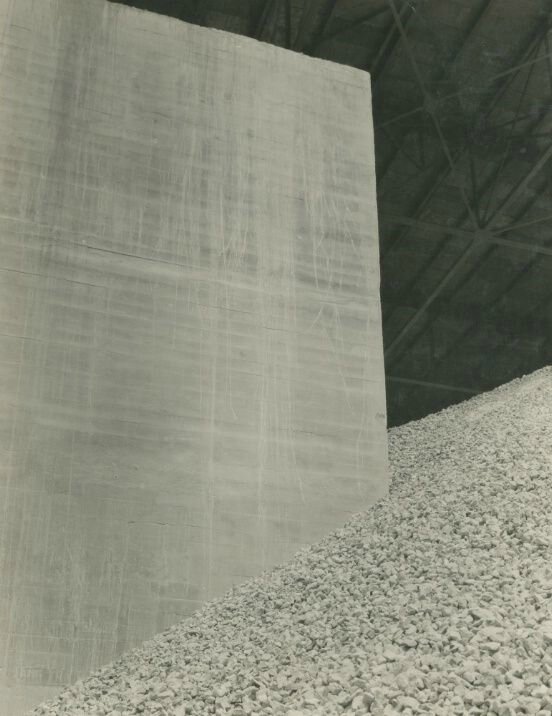 Manuel Álvarez Bravo, La Tolteca / The Toltec, 1931. Gelatin silver print, vintage, 9 1/2 x 7 1/2 in. Signed in ink & dated on verso (Inv# 63247). Photo: Courtesy of Throckmorton Gallery.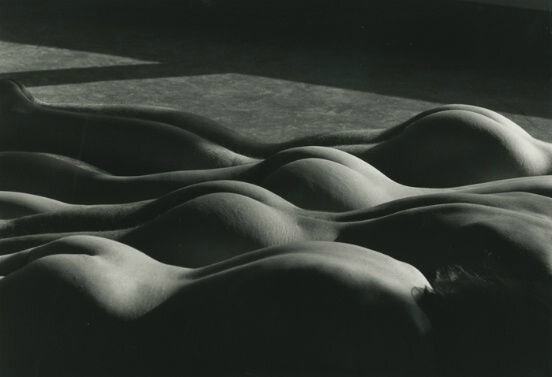 Lucien Clergue, Quatre Nus dares La Cite, New School, NYC 1983. Gelatin silver print, 11 5/8 x 15 1/2 in. AP Signed on recto and signed, titled, and numbered in ink on verso (Inv# 59238-C). Photo: Courtesy of Throckmorton Gallery.
Graciela Iturbide Etla, Oaxaca, México, 2005. Gelatin silver print, 20 x 16 in. Signed in ink on recto (Inv# 63191-C). Photo: Courtesy of Throckmorton Gallery.
Several galleries returned to AIPAD after an absence of several years or more: Galerie Esther Woendehoff, Paris, was delighted. "We got a lot of compliments and were very pleased with sales." Deborah Bell Gallery, New York, sold a 1971 print by Vito Acconci for $18,000 and an Yves Klein image for $9,500, among others. Bell noted, "It's great to be back. The show has developed so beautifully since the last time I did it in 2011."