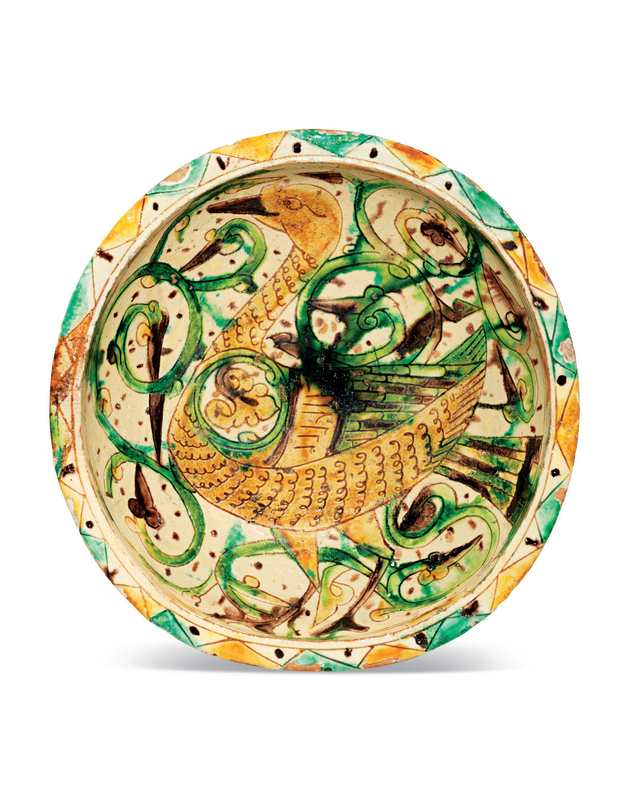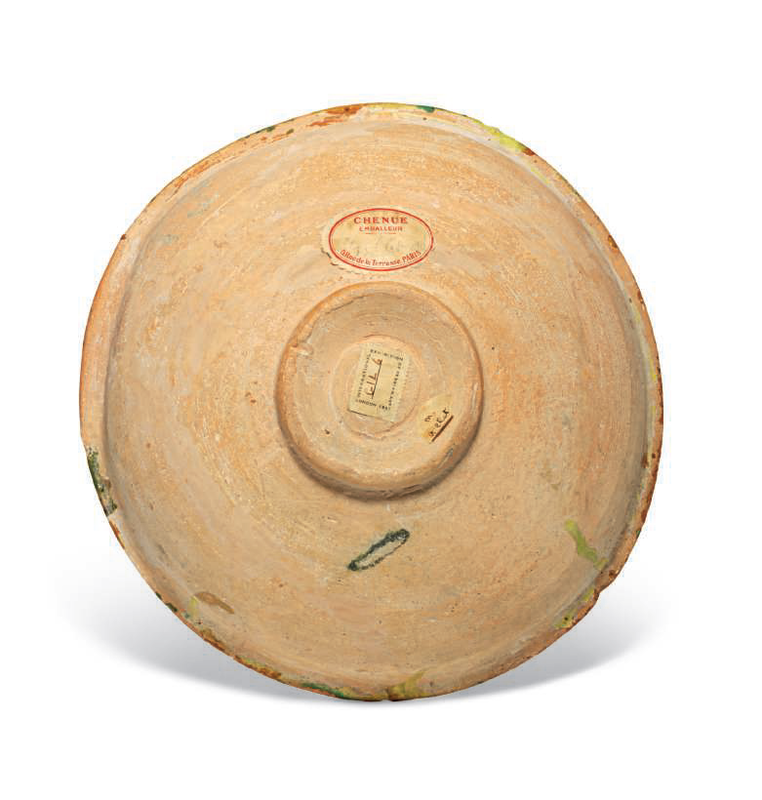 A fine Aghkand pottery bowl, North Iran, circa 12th century. Estimate £40,000 - £60,000 ($59,720 - $89,580). Price Realized £314,500 ($472,379). Photo Christie's Image Ltd 2015
Of rounded form with T-section rim on short rounded foot, the off-white ground of the interior incised and decorated in green, ochre and manganese with a central goose on a ground of scrolling vine issuing cusped palmettes, the rim with a geometric design of alternating green and ochre triangles alternated with manganese dots, upper part of the cavetto with a band of flattened lozenges on a ground of alternating green and ochre glazes, the exterior plain, old collection labels, repaired breaks; 11in. (28cm.) diam.

Provenance: Charles Vignier (1863-1934), Paris
Charles Gillet (1879-1972), Lyon.
Literature: Catalogue of the International Exhibition of Persian Art, London, 1931, no.137, p.82
Arthur Upham Pope (ed.), A Survey of Persian Art, London, 1938, Vol.V, pl.610B
David Talbot Rice, L'Art de l'Islam, London, 1965 and Paris, 1966, no.64, p.67
Notes: This striking bowl is a particularly finely drawn example of its type. With the bird motif on a bed of scrolls, and the border with the alternating ochre and green triangles and small manganese dots, it relates to an example sold in these Rooms, 24 April 1990, lot 482. That example was remarkable in that it was one of three bowls of this type that are signed. The other two are in the Louvre and in the Arts Institute of Chicago (both published in Arthur Upham Pope (ed.), A Survey of Persian Art, London, 1938, vol.V, pl.608 and 611A). Bowls of this type are attributed to the 12th century on the basis of an example in the Islamic Museum in Berlin which has a date of AH 528 (1134-35 AD) (Ernst Kühnel, 'Datierte persische Fayencen', Jahrbuch der asiaischen Kunst, I, 1924, p.47).

In his discussion of our bowl, Pope terms it 'the finest of the group'. He describes 'a stately swan quite in the grand Sasanian manner, drawn with ample certitude and dignity, yet related to the background both by colour and by composition. The harmony of the tones, the delicacy of the transitions, and the lustrous glaze impart to the whole design a poetic and elusive quality that heightens rather weakens the intensity of the idea…The mellow golden glow of the lustrous glaze envelopes this proud swan in an unreal radiance that makes the more real his commanding spirit' (Pope, op.cit., vol.II, p.1528).
Christie's. ART OF THE ISLAMIC AND INDIAN WORLDS, 23 April 2015, London, King Street