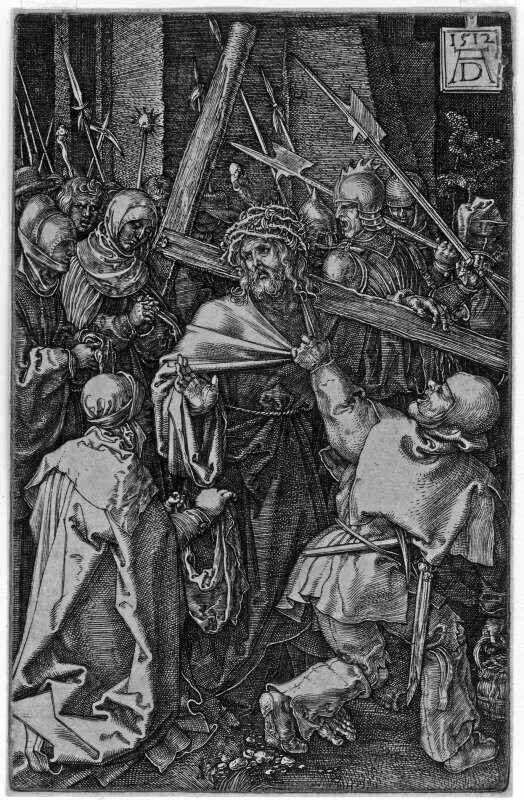 Albrecht Dürer (Nuremberg 1471 – 1528 Nuremberg), Christ carrying the Cross, Bartsch 12, Hollstein 12 ii/ii 118 x 75 mm. Original engraving, 1512, for the Engraved Passion. The plate signed with the monogram and dated. Second state with the 'hanger' on the monogram tablet. A very good impression, trimmed to the platemark and remargined with thread margins. A tear and repair affecting the tablet. A couple of patches verso strengthening past skimming, not affecting the engraving itself recto. Courtesy Elizabeth Harvey-Lee
LONDON.- The 30th London Original Print Fair at the Royal Academy came to a close on Sunday 26 April following a spectacular four-day celebration of the print medium with a strong international feel. This much loved fair brought together print specialists from around the globe, including the very best galleries, dealers, publishers, curators and leading artists, giving visitors a chance to see, buy and learn more about original prints. Significant sales were made across the board, including strong interest in the Old Masters and brisk sales of newly published prints by contemporary artists. Visitors were treated to an extensive talks programme, which catered for new collectors, seasoned enthusiasts and those seeking an understanding of printmaking techniques.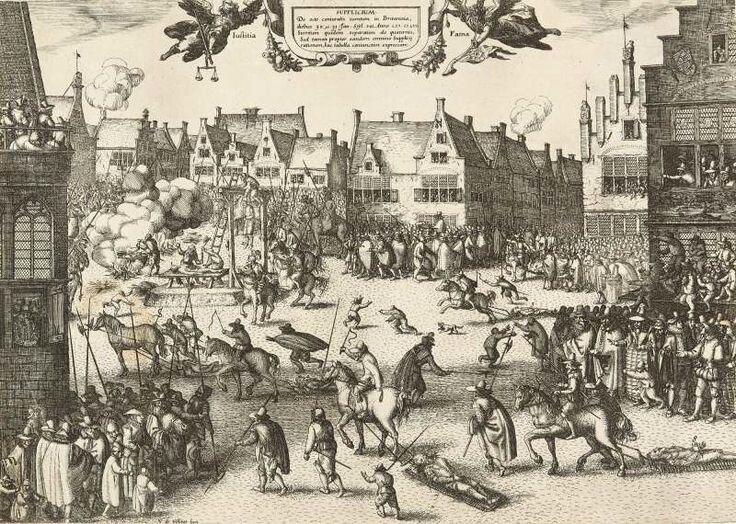 Claesz Jansz. Visscher d. J., Supplicium de octo coniuratis sumtum in Britannia (....) The execution of the conspirators in the Gunpowder Plot, 30 and 31 January 1606, 1606. Engraving. 23 x 32.6 cm. Watermark: Eagle. Literature: Hollstein 17. Courtesy Emanuel von Baeyer - London
The 30th anniversary was marked with a special loan exhibition from the Royal Collection, Thirty Print Highlights, a survey of portraits, topographical prints, maps, prints of historic events and prints made by the Royal Family themselves, among them Queen Victoria and Prince Albert. Selected from over 100,000 prints in the Royal Collection, the exhibition offered visitors an insight into the diversity and wealth of the medium and its importance in art history. As noted by the Daily Telegraph the collection reflects the tastes and interests and, in some cases, the personal creative endeavours of the Royal family, "Until the end of the 19th century, prints were esteemed far above drawings. While the handmade seemed merely commonplace, the mechanical processes of printmaking – which seemed at once quasi-magical and hi-tech – were of intense fascination to connoisseurs and collectors. Now the LOPF is on a mission to raise the profile of the print."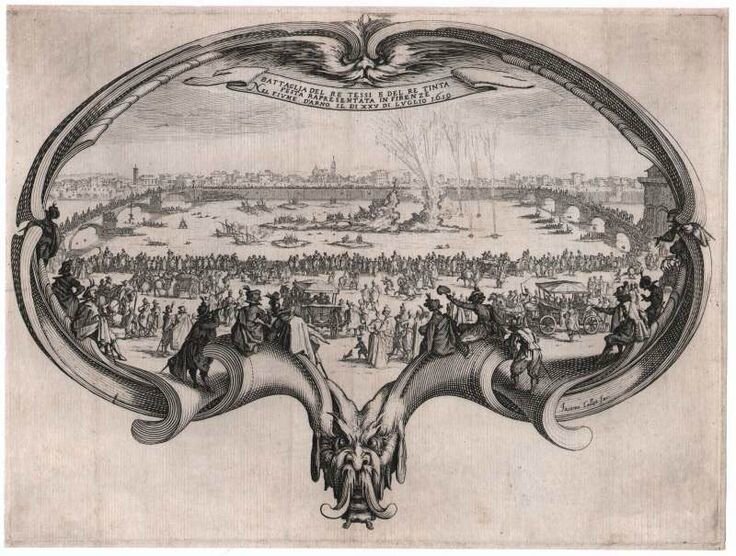 Jacques Callot (1592-1635), The Fan. Etching with engraving showing the Battle of the "King Cloth" and "King Dye" on July 25th, 1619, an annual festival of the Florentine Guilds of silk weavers and dyers presented on the River Arno. Lieure No. 302. 223 x 300mm. Courtesy Christopher Mendez

A number of exhibitors who have participated since the inaugural year of the fair in 1985 returned for the 30th year including Andrew Edmunds, Christopher Mendez, Gerrish Fine Art, Frederick Mulder, The Redfern Gallery, Gordon Samuel and The Fine Art Society. Alongside those veteran exhibitors were a number of new galleries and dealers who reported good sales and commented on the international platform the fair offered. Ann Marshall of American newcomer, Durham Press commented, "The LOPF has been a fantastic platform for meeting European print enthusiasts and potential buyers, we are delighted with the new audiences we have met at the fair."
Harmenszoon van Rijn Rembrandt (Leiden 1606-Amsterdam 1669) Abraham Entertaining the Angels. Etching and drypoint, 1656. B.R.S. 29. Hollst. 29; New Hollst 295 only state 16:13 cm. Courtesy August Laube Buch-und Kunstantiquariat

LOPF reinforced its eminent position in the arts calendar as a showcase for the very best prints on the market. Old Master prints included Hill-Stone's fine impression of the Dürer engraving Knight, Death and the Devil, 1513 and August Laube's Rembrandt etching and drypoint, Abraham Entertaining the Angels, of 1656. Newcomer, Brigitta Laube of August Laube commented, "It is a pleasure to be given such beautiful surroundings here in the RA's Main Galleries and certainly encourages us as exhibitors to bring our finest quality works."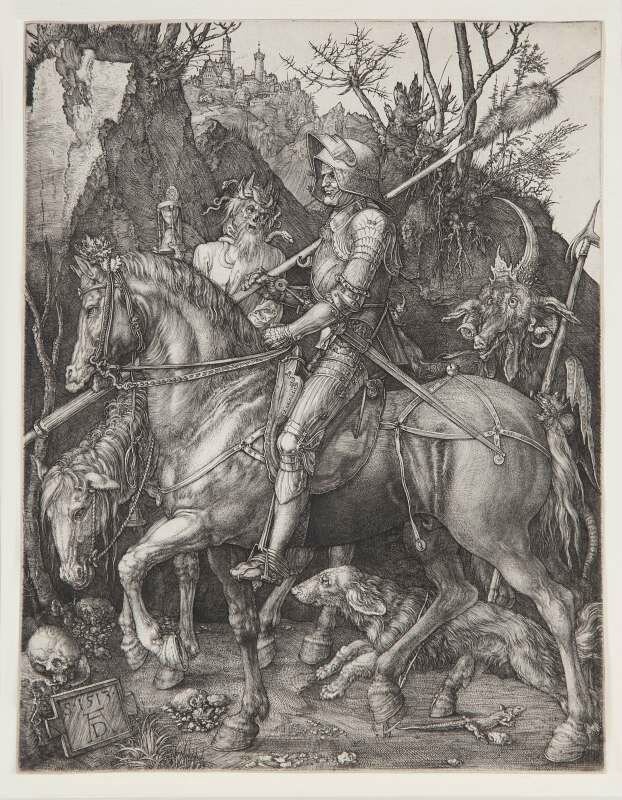 Albrecht Dürer (Nuremberg 1471- 1528 Nuremberg), Knight, Death and the Devil. Engraving, 1513. Signed with the artist's monogram and the date. Courtesy Hill-Stone, Inc.
20th century and contemporary printmaking masters on show at this year's fair included Eric Ravilious, Pablo Picasso and Howard Hodgkin. On the opening night, Jennings Fine Art reported the sale of their complete set of ten Ravilious lithographs known as the Submarine Series, with an asking price of £140,000. Likewise, The Fine Art Society sold their three Ravilious works on the same night and Abbott & Holder were delighted to sell their showpiece set of seven etchings Dance of Death by First World War artist Percy Delf Smith, as much admired in the Imperial War Museum's recent reopening exhibition.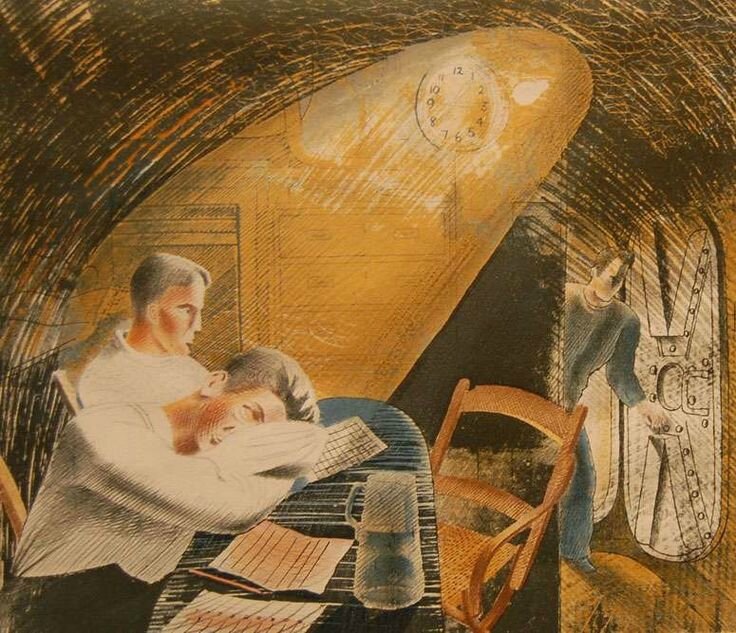 Eric Ravilious (1903-1942), Wardroom 1, 1941. Lithograph, 11 x 11 7/8 inches (28 x 30 cm). Courtesy The Fine Art Society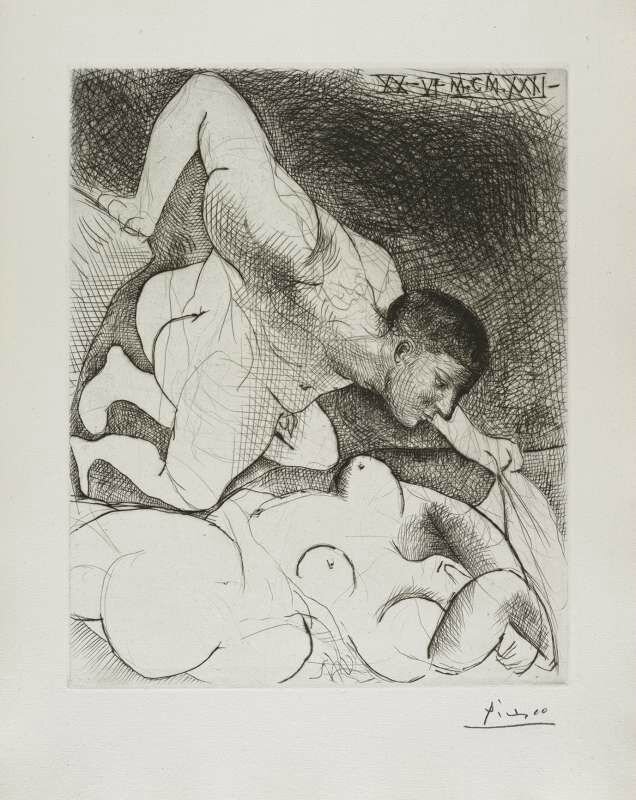 Pablo Picasso (1881-1973) Homme dévoilant une Femme Drypoint, 1931. Bloch 138; Baer 203 second state of two, II.B.c (of II.B.d); S.V. 203; HP 203. Signed in pencil. An impression from the edition of 50, also called the deluxe edition or the large margin edition. Inscribed '203' in pencil lower left corner. Watermark: Montgolfier. Courtesy Frederick Mulder Ltd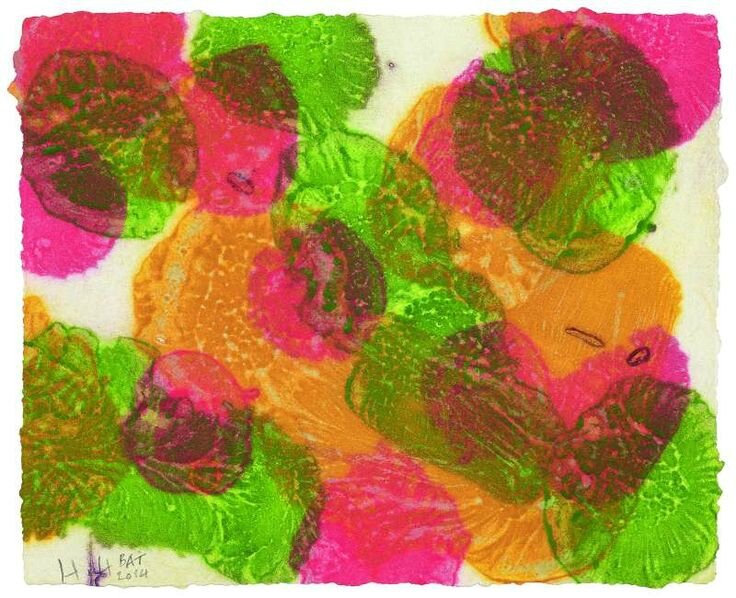 Howard Hodgkin, Autumn, 2014. Carborundum relief from 3 plates printed sequentially with Geranium/Magenta mix, Yellow Ochre, and Sap Green/ Lemon Yellow mix on Moulin Du Gué 350 gsm paper. Paper and Image, 26.5 x 32.5 cm. Edition of 30. Image: Courtesy Howard Hodgkin and Alan Cristea Gallery, London.
LOPF continues to be an important platform for newly published works. Alan Cristea Gallery was delighted with the sales and interest in their solo Howard Hodgkin display, including his latest etching For Anthony, first exhibited at the fair. This year, Tom Hammick's printmaking was celebrated with Flowers Gallery and the publication of his new monograph. Miles Aldridge, Gavin Turk and the Chapman Brothers with Kate Moss also gained huge interest from visitors with their new prints launched at the fair. Paupers Press sold a complete set of Mat Collishaw's latest work to a new private collector. Paragon Press used the LOPF as a platform for new and emerging artists with their display of ink jet prints by Sarah Morris. Gallery Jin, from Japan who exhibited for the first time at the LOPF commented, "We have been overwhelmed by the response to our solo show of work by Shoji Miyamoto, an artist never shown by us in the UK before. The Young Collectors Evening was particularly busy for us and we are delighted with the number of works we have sold to this new audience."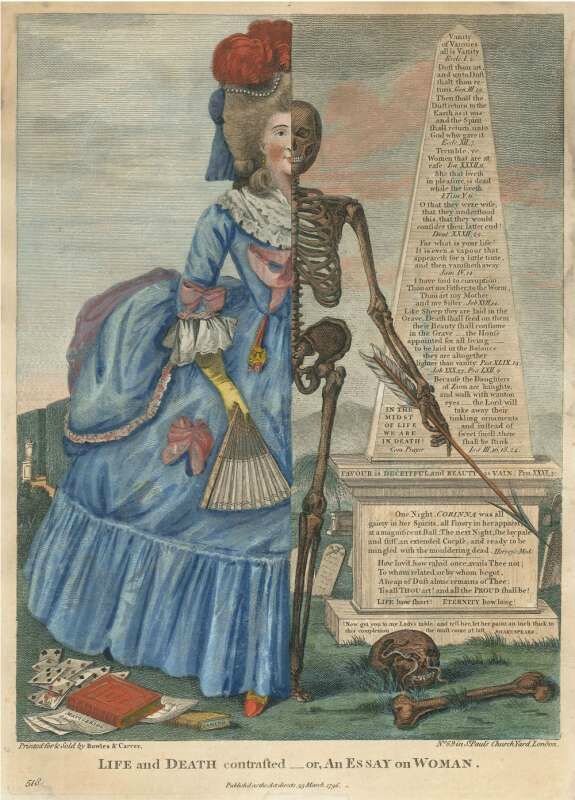 After Robert Dighton I (1752-1814), Life and Death contrasted– or, an Essay on Woman. Published by Bowles & Carver, 25 March 1796. Etching & engraving, with publisher's watercolour, 350 x 250 mm. B.M. Satires Catalogue 3792 (a later state with the date erased). Courtesy Andrew Edmunds.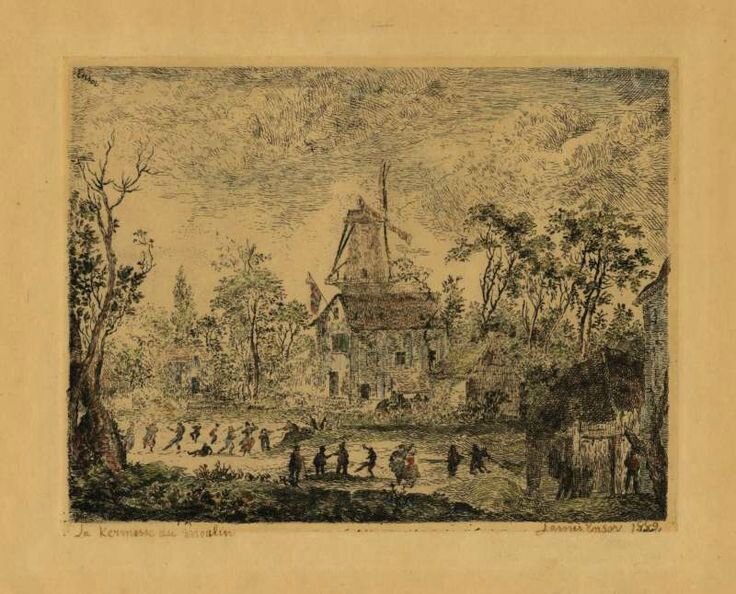 James Ensor (1860 – Ostende – 1949) La Kermesse au moulin – Village Fair at the Windmill, 1889. Hand-colored etching on simili Japan paper; 135 x 173 mm. Titled in pen and ink at lower left "La Kermesse au Moulin", signed and dated "1889" at lower right; titled and countersigned on the verso in pencil Delteil, Croquez, and Tavernier 72 only state. Courtesy C.G. Boerner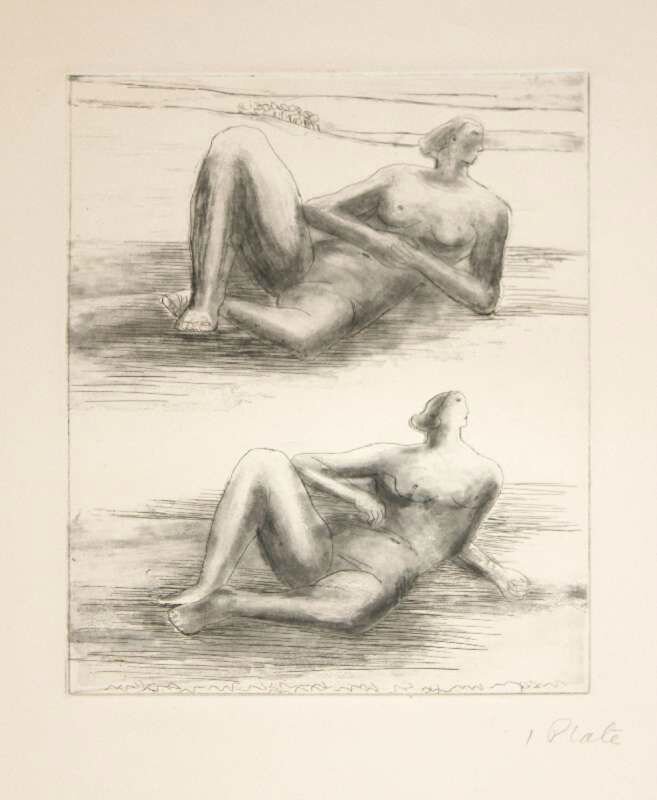 Henry Moore, Two reclining figures. Etching with aquatint, 30.2 x 22.5 cms, c.1977. Courtesy James Hyman Gallery
Andy Warhol, Siberian Tiger, 1983. Screenprint in colours, signed in pencil and numbered from the edition of 150 (total edition includes 30 artist's proofs), Full sheet printed to the edge: 965x 965 mm on Lenox Museum Board, with the blindstamp of the printer, Rupert Jasen Smith. Courtesy Shapero Modern