NEW YORK, NY.- Three new world records were set at Bonhams' Photographs sale on April 28.
Ansel Adams (1902-1984), Winter Sunrise, Sierra Nevada from Lone Pine, California, 1944. Sold for US$ 179,000 (€162,697). Photo: Bonhams.
Mural-sized gelatin silver print, mounted on Crescent illustration board, printed between 1963 and 1973, signed in ink on the mount; titled in ink and his Carmel credit stamp on the mount verso. 22 1/8 x 30 5/8in
Provenance: Collection of Ansel Adams.
Gift to Wallace and Mary Stegner, Los Altos, California, 1975.
By descent to the present owner.
Exhibited: Shelburne Museum, Vermont, Ansel Adams and Edward Burtynsky: Constructed Landscapes, 19 June-24 October 2010.
Literature: De Cock, Ansel Adams, Morgan & Morgan, Hastings-on-Hudson, 1972, pl. 77.
Szarkowski, Ansel Adams at 100, Little, Brown and Co., Boston, 2001, pl. 85.
Alinder and Szaskowski, Ansel Adams: Classic Images, Little, Brown and Co., Boston, 1985, pl. 38.
Yosemite and the Range of Light, Little, Brown and Co., Boston, 1979, pl. 99.
Ansel Adams: An Autobiography, Little, Brown and Co., Boston, 1985, p. 262.
Alinder, Stillman, and foreward by Wallace Stegner, Ansel Adams: Letters and Images 1916-1984, New York Graphic Society, and Little, Brown and Co., Boston, 1988, p. 274.
Notes: Ansel Adams had a close friendship with Wallace and Mary Stegner that lasted for more than forty years. They were like-minded about their love and reverence of the American landscape. Stegner was a Pultizer Prize-winning novelist, American historian, and environmentalist. He and Ansel shared a passion for the preservation of the American wilderness. Wallace was on the board of directors for the Sierra Club from 1964 to 1966, and special assistant to Secretary of the Interior. Over the years, Ansel gave Wallace and Mary several of his photographs, Winter Sunrise, Sierra Nevada from Lone Pine, California, being one of his best-known prints.
This mural-sized print was taken 14,444 feet above sea level and about 11,000 feet above a little town called Lone Pine, about fifteen miles south of Manzanar. Ansel poetically commented about this place: "I have often thought what a privilege it would be to live and work in this environment, perhaps best before the turn of the century when the efforts of man brought more beauty to the land than now, without pavements, wires, contrails, and desolation. This photograph suggests a more agreeable past and may remind us that, with a revived dignity and reverence for the earth, more of the world might look like this again."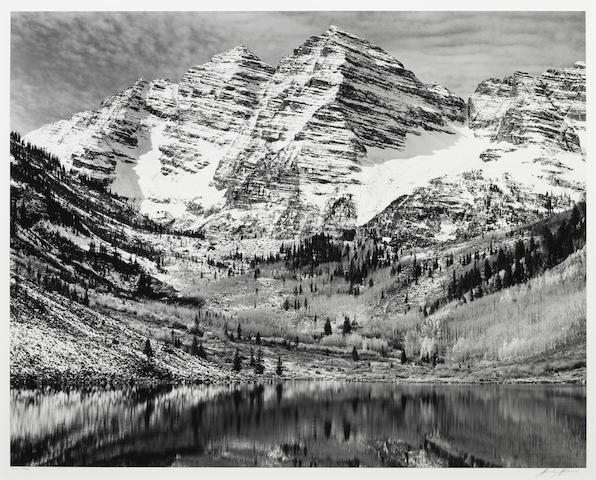 Ansel Adams (1902-1984) Maroon Bells, near Aspen Colorado, 1951. Sold for US$ 112,500 (€102,254). Photo: Bonhams.
Gelatin silver print, printed 1974, Pl. 3, from Portfolio VI,signed, numbered 17/110 and annotated 'VI-3' in pencil on the mount; the portfolio stamp on the mount verso. 15 1/4 x 19 1/2in
Literature: Szarkowski, The Portfolios of Ansel Adams, New York Graphics Society, Little, Brown and Co., Boston, 1977, p. 99.
Stillman, Ansel Adams: 400 Photographs, Little, Brown and Co., New York, 2007, p. 367.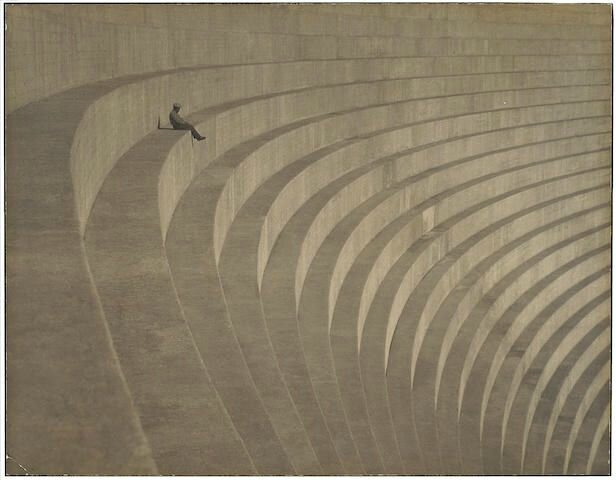 Hiromu Kira (1898-1991), The Thinker, c. 1930. Sold for US$ 27,500 (€24,995). Photo: Bonhams.
Toned bromide print, mounted to black paper. 10 1/4 x 13 3/16in
Provenance: Collection of Hiromu Kira, Los Angeles.
Acquired directly from the above by Kango Takamura, Los Angeles (1895-1990).
By descent to Togo W. Tanaka, Los Angeles (son-in-law of Kango Takamura).
The Estate of Tago W. Tanaka, Los Angeles (1916-2010).
Exhibited: George J. Doizaki Gallery, Japanese-American Cultural and Community Center, Los Angeles, Japanese Photography in America, 1920-1940, 19 April-1 June 1986, and traveling thereafter to the Oakland Art Museum; Whitney Museum of American Art, New York; and the Corcoran Gallery of Art, Washington, D.C., from 1988-1989.
Literature: Vanity Fair 36, No. 1 (March 1931), p. 42.
'Hiromu Kira, Still Life Photography,' Camera Craft, August 1928 (vol. XXXV, no. 8), p. 353.
Dennis Reed, Japanese Photography in America, 1920-1940, Japanese American Cultural and Community Center, Los Angeles, 1985, p. 173, plate 64 (this print).
Chang, Johnson, Karlstrom, Asian American Art: A History, 1850-1970, Stanford University Press, Stanford, California, 2008, p. 157, fig. 130.
Notes: In the early decades of the twentieth century, the Pictorialist movement was paramount for many photographers on the west coast of the U.S., and bromide was their favored photographic medium. Hiromu Kira and Kango Takamura were active participants of Pictorialism and were part of a thriving community of Japanese American photographers living and exhibiting their work in Los Angeles. Kira was particularly influenced by the avant-garde photography of certain European artists at the Bauhaus like Laszlo Moholy-Nagy, and locally by Edward Weston, who exhibited his photographs in Los Angeles's Little Tokyo between 1925 and 1931. Kiru even collected several of Weston's images.

Though most of Kira's subject matter was still life, the circumstances of how he came to shoot this image are unique. At the time, he was working at T. Iwata's Camera shop when a customer came in, purchased an expensive camera, but needed some instruction in how to fully operate it. Kira and the customer went to several locations, including the Hollywood Dam. There Kira asked the customer to sit on the steps and took this image. The visual simplicity of the image of the repetitive shapes, accentuated by one sole sided figure, is a synthesis of western modernity and Asian sensibility. Dennis Reed, the Japanese-American photography authority of Kira prints has commented that "this is one of his finest photographs."
As with many art works by the Japanese American artists, much of it was abandoned, lost or destroyed during WWII. Three other prints of this image have been located: in the Collection of Dennis Reed, Glendale, California; the Marjorie and Leonard Vernon Collection at Los Angeles County Museum of Art; and a private collection.

The photograph offered here is believed to be the only print of this image to have been offered at auction.