Gandhara grey schist head of the Buddha, Afghanistan, 3rd century AD. Size: 36 cm high. Photo: Oliver Hoare Ltd.
LONDON.- Oliver Hoare presents Every Object Tells a Story, a public exhibition that will take place from 6 May to 26 June 2015 at 33 Fitzroy Square, London. The exhibition will present an eclectic selection of over 250 objects primarily chosen on the basis of their historical fascination and interesting backstories, and will include relics from all round the world representing many notable names, places and events of the past 5,000 years. Highlights range from a 3rd century Gandhara head of the Buddha to the 13th Dalai Lama's Double Bass; from an exquisite, 16th century anthology of poetry that belonged to the Mughal Emperors to a rare, surviving Dodo bone; and from a 14th century Alchemist's mortar to an exceptional and rare Eskimo baby's blanket.

Oliver Hoare: "The point of the exhibition, as its title announces, is to celebrate the fascinating and often peculiar stories attached to works of art. The criterion for what is presented has little to do with the value of objects and therefore it differs from the more conventional 'Cabinets of Curiosities'. Nor does it necessarily reflect the current canon of what is seen as beautiful or culturally significant, although there are significant and beautiful works of art by anyone's standards. The objects will be displayed like a private collection in the magnificent Robert Adam rooms at 33 Fitzroy Square, once home to the Omega Workshop. The catalogue is, hopefully, the work of a storyteller's art, and I hope that anyone with an interest in history, art, or a good and unusual story, will come to visit and explore the exhibition".

Selected highlights of the exhibition:
Antiquity: A 3rd century Gandhara grey schist head of the Buddha from Afghanistan, acquired in the 1960s from David Lindhal's 'Oxus', a legendary antiques shop in the King's Road. Also including stone vessels and sculptures from Pharaonic Egypt, the Near and Middle East, South Arabia, the Roman empire, Byzantium and China, as well as Hellenistic and Roman jewellery.
Music: A Double Bass commissioned by, or for, the 13th Dalai Lama, Thubten Gyatso (1876-1933), who was a great enthusiast of American jazz. Still presented with its original case, the instrument has a base of black lacquered hardwood and is elaborately decorated with Buddhist symbols.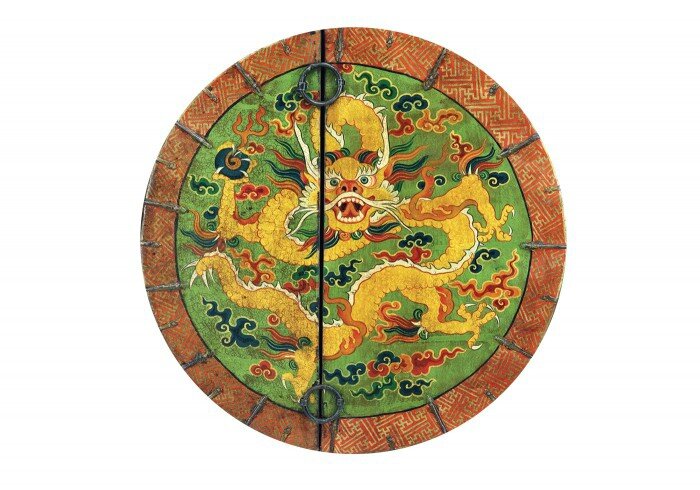 The 13th Dalai Lama's Double Bass, Lhasa, Tibet, 1920s. Size: instrument 170 × 56 cm; case 180 × 62 cm. Photos: Oliver Hoare Ltd.
This awesome instrument was commissioned by, or for, the 13th Dalai Lama, Thubten Gyatso (1876–1933), who was apparently mad about American jazz. It's a most unexpected and delightful idea. A band, I hope including those huge long Tibetan copper trumpets, rocking the Potala, His Holiness slapping the bass, a line of cooing nuns, nut-brown grizzled monks blowing their hearts out on all sorts of improbable instruments. It might seem a frivolous idea, but I don't think of it like that. The spiritual life should not be an endless recitation of mournful prayers and bead-turning. The Mevlevi dervishes dance, the Helvetis provide sublime music for their meetings, in India sacred dance is recognised for what it is. It is a question of balance, and therefore the fact that the 13th liked jazz is proof for me that he was a truly spiritual man. Apart from his mysterious predictions, Nostradamus wrote a marvellous book of recipes for making jam – still available in Salon-de-Provence, where he lived – which likewise suggests to me that he was not some crazy mystic, but a fully rounded man, who lived in this world while communicating with another.
This is the Excalibur of instruments: only a strong man can release it from its case. The body is a waisted drum of black lacquered hardwood; the open front next to the fret-board stretched with python skin, and the lower bulb with a section cut away and carved with a filigree panel of calligraphic symbols and cloud-scrolls. The base of the drum is painted with some kind of howling jazz-demon and flowers. A ball-ended steel spike pulls out from the base. The huge wooden case is painted with Buddhist symbols, a big Dragon and a blowsy Phoenix, on green and yellow backgrounds, with steel hinges and rings to hold it all together. It is lined with different gold-embroidered silks, including a green panel with another swirling Dragon. When you see this instrument, the idea of rocking the Potala doesn't seem so absurd.
The instrument was purchased by a diplomat stationed in Beijing from the Tsering family, who had been close to the 13th Dalai Lama. At the time Tibet was still closed to foreign visitors. During a period of exile in Northern India the 13th had been very taken with aspects of Western culture, and the Nobulinka Palace where he resided still houses Art Deco radios, gramophones and jazz records. A road was built between his residence and the Potala along which he could ride in his Model T Ford, carried up into the Himalayas by a team of porters.
Looking at the case one evening, it occurred to me that the Dragon illustrated on the green background must be dancing the jitterbug.
Also including Ottoman and Indian instruments of outstanding quality, such as a 17th century ivory Sarinda from the Adil-Shah court at Bijapur; a monumental pillar-drum from Kashgar; obsidian bell-stones from the High Andes; 'Picasso's Guitar' from the Dry Forest area of Argentina, and a Han bronze zither tuning key from 3rd century B.C.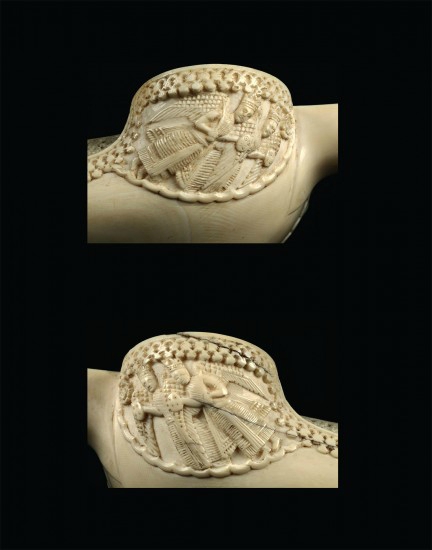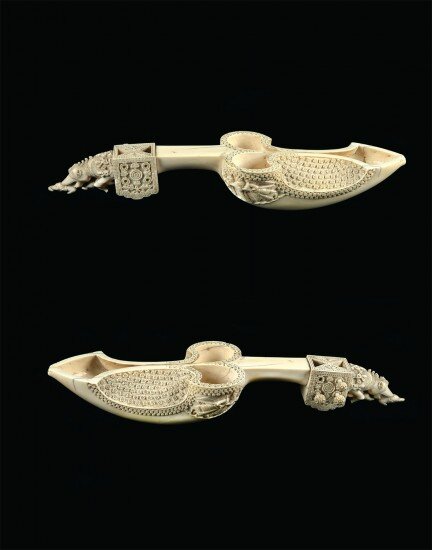 Ivory Sarinda from the Adil-Shah court in Bijapur, Central India, first half 17th century AD. Size: 36 cm. Photos: Oliver Hoare Ltd.
Bijapur is worth a visit. Not many people go there, it is a long slog from Hyderabad or Bombay, between which it sits midway on the northern edge of Karnataka, along thin roads rumbling with furiously driven trucks. The few hotels are designed for itinerant traders. Once there, however, it all seems worth it, not only, but mainly for, the astonishing Gol Gumbaz, a great behemoth built of basalt, with the second largest dome in the world, 40 metres in diameter, larger than Santa Sophia, and only a little smaller than St. Peter's in Rome. The great dome is supported by a cube 47.5 metres on each side, and beneath it is a raised platform the size of a tennis court. Opposite the entrance is the only feature that breaks the cube: a deep, demi-octagonal, high-vaulted recess that occupies a good part of its wall. The acoustical properties of the space are extraordinary. Outside, each corner of the building has a seven-storey tower. At first sight it appears like a dark and squat prototype for the Taj Mahal, built less than a decade later.
Construction of the Gol Gumbaz began in 1626, in the last year of the life of Ibrahim Adil-Shah II, and continued under his son Muhammad until 1656, the very year the latter died. He was buried in the Gul Gumbaz, along with various members of his family when their time came, the graves marked by modest raised batons of marble arranged incongruously along one edge of the platform. And since then it has been a mausoleum.
But there is another version of the purpose of this mighty building. It was the music room of the Adil-Shahs. The deep recess was where the sultan and his
court reclined; the platform was large enough to accommodate a great number of musicians, of whom there were 3000–4000 at any one time at court; the 'whispering gallery' around the base of the dome was for the women; the walls are tunnelled with staircases leading to the windows, where wide sills provide seats for an audience. Ibrahim II was a renowned composer, as well as a poet and warrior – he mainly wrote poems to his wife, his favourite musical instrument, and to his elephant, Atish Khan – and it seems probable that the conception for the grandest music room ever constructed was his. He announced publicly that his aim was to establish a kingdom based on learning, music, and 'Guruseva' (serving the teacher) – in his case Hazrat Banda Nawaj, the Sufi saint of Gulbarga. His son, Muhammad, was mindful of his refined inheritance, and strove to keep it alive.
It is difficult to prove that this ivory instrument comes from the Adil-Shah court. There is one other comparable example known, but they both conform very exactly to the style of what we know of Bijapur. A refined court environment was necessary to produce instruments of this quality.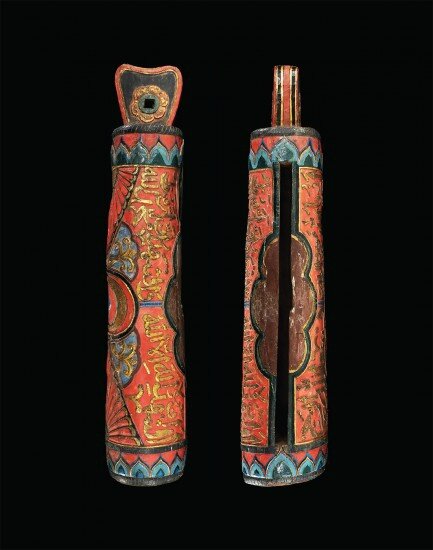 The Zikr Drum, Kashghar, Xingkiang, 19th century. Size: 2.20 m long. Photo: Oliver Hoare Ltd.
The Zikr, in this case, was a communal spiritual exercise carried out by a group of dervishes in their meeting-place, deep-breathing repetitions of a Name of God. This drum, hollowed out from a tree-trunk, was suspended on an iron bar between two columns of the portico, and beaten to keep the rhythm of breathing among those participating. Its deep-throated roar was one with the community for whom it was beaten. There are few such beasts in captivity, and my information about it comes indirectly from the Faculty of Music at Istanbul University.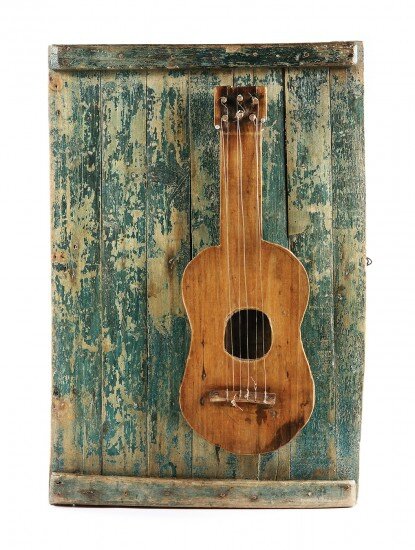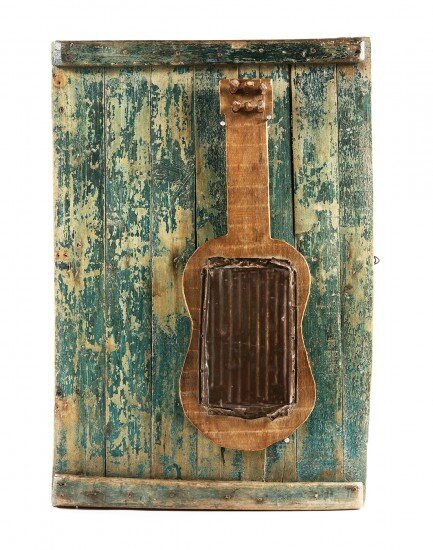 'Picasso's Guitar', Argentina, 20th century. Size: 54 cm. Photos: Oliver Hoare Ltd.
Ricardo Paz is a most unusual man. He and his wife Belen run a shop in Buenos Aires where they sell unusual and wonderfully crafted furniture made in their workshop at the back. Upstairs is Ricardo's den, packed with treasures, a small part of their extraordinary collection, fruit of decades of a relentless quest. The collection would generally be thought of as 'Folk Art', Argentinian 'Folk Art', but in reality it represents much more than such a term implies. Both Ricardo and Belen have, and have continued to develop a rare sensitivity and understanding of the poetry inherent in objects which for many others appear too humble or primitive to merit attention. Furniture, textiles, tools perfectly shaped to perform the function they were designed for, some ancient and some not so old, but they all sing the same song to you, about how beauty enhances every aspect of every human life. The collection is known, of course – it has been published in several finely presented books – but it deserves to be better known, since it is unique, both in scope and quality.
It was in Ricardo's den, in early April 2014, that I first laid eyes on 'Picasso's Guitar', and I begged him to lend it for this exhibition. Not only did he agree, but he also wrote its story, for which I am most grateful.
The Time Machine. Who wouldn't ride a time machine given the opportunity? Objects from the past can perform this function, as long as the passenger in these time machines has imagination and a desire to learn. Every object has a story to tell, but the trick is to get at the story. For instance, how was a man's life in Europe before the Industrial Revolution? Life and actions were so dependent on Nature that sudden rain or a storm could affect a man's life for days. It is hard for our children to realise how life has changed over the last fifty years. It is almost impossible for them to imagine how their life would be without electricity. But the human species lived without it for thousands of years until the 19th century. Not so long ago. Even simple things like gas lighters would seem magic to a man little more than a hundred years ago. And how much is a hundred years in the scheme of things? So, when meditating about where we are going as humankind, it is never a bad start to ask ourselves where we come from. With this question in mind I entered my homeland's dry forest. Probably the biggest dry forest in the planet, and the most threatened, by the way. The province of Santiago del Estero, in Argentina, is as big as France and as old as Spain. Named after Santiago de Compostela, probably because of the enormous amount of stars filling its vast sky, Santiago del Estero was the place where the Spaniards settled when first arriving from the actual Peru in 1550. The Incas guiding them had to stop in this spot between the fertile margins of the rivers Dulce y Salado (Sweet & Salty rivers) where natives had been gathering for centuries before their arrival. Fierce and primitive people coming from the Amazon jungles; more developed communities from the Andean cultures; and among them, the walkers from the flatlands, the Pampas and Patagonia. They had been living in that forest long before that group of bearded white men arrived. Can we say those days had nothing that resembles the actual ones? It's worth remembering that these new adventurers were running not only from hunger, but also from the Inquisition. Some among them, Jews and Moors, brought seven centuries of Islamic culture, and harmonised easily with the native populations. They were not just looking for gold, as is often said: they were also looking for freedom.
Five centuries later, me, a descendant of those two, the newcomers and the natives, find myself sitting by a friendly fire. Its light is the only light in the black desert around me. A sweet, determined and mature woman is singing for me, sitting in the yard of her adobe house. 'Una mujer del Monte', as we call the dry forest. She is happy and proud of her new guitar, an industrial one, just arrived from the distant town, but already turning grey and greasy, like all of us. The first paved road is more than a hundred kilometres from here, a day by car, much longer on horseback or walking. We are singing together in the gateway between civilisations. The guitar is used like a percussive instrument, a six strings Berimbao, which allows her to sing and laugh as only a grown-up woman can. She is great. My own lack of knowledge of chords (which embarrasses me) has no meaning here, she says, and laughs. It is such a different rhythm, coming from such a different heart, a whole different music erupting from her. Only much later will I be able to play for her, when the fire is close to ashes. At some point she begins to laugh again, and decides she wants to give me her old guitar, the one with which she sang before the new guitar arrived. It was abandoned somewhere, but she finds it and gives it to me. She made it herself, a long time ago, but she isn't attached to it at all. Having no use for it, it simply has no sense any more. With her new guitar she is now discovering a new civilisation. Flying between the night stars and the sunlit landscape, she spends her time singing in celebration of Creation. When she travels, as is usual for the people of Nature, her vehicle is Silence.
On loan to the exhibition.
An archaic bronze zither tuning key (qin zhen yao), North China, Han dynasty, late 3rd century BC. Size: 9.3 cm high. Photo: Oliver Hoare Ltd.
A number of such keys are known and published, and are of particular interest because they demonstrate the link between China and Achaemenid Iran, and indeed the rest of the Middle East. The model for this composite beast with bearded human face, wings, scales and a curled tail had travelled east along the Silk Road. A further reason, no doubt, that this link is illustrated by something connected with music, is that there was a common musical tradition across the whole of Central Asia for millennia, at least until The Beatles interrupted transmission.
Provenance: J.J. Lally & Co., New York
Private collection, London
Erotica: A unique collection of 40 exceptionally rare, erotic scrimshaw, including 'Two-tailed enticing mermaid', carved on the tooth of a sperm whale. Also including 56 glass negatives by Lumiere, Paris, circa 1860; a group of historical phalluses; an Indian red sandstone roundel; and a selection of Shunga art.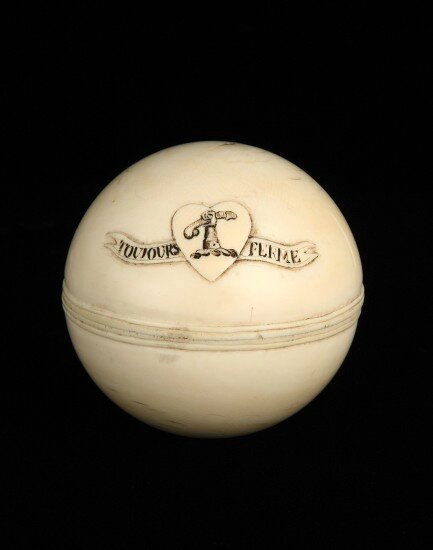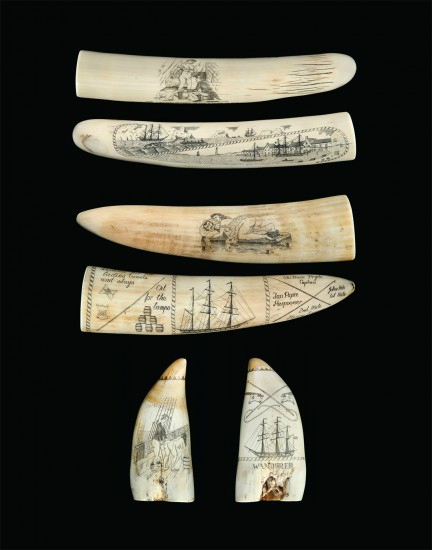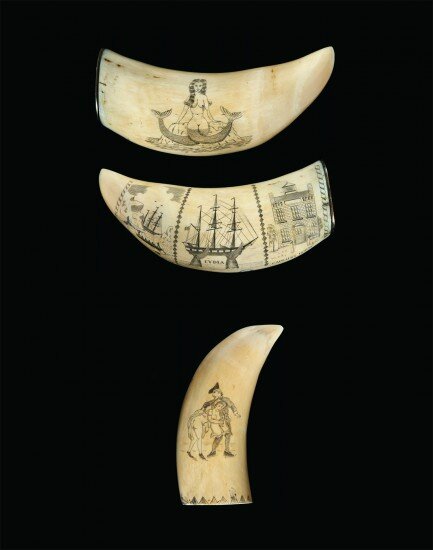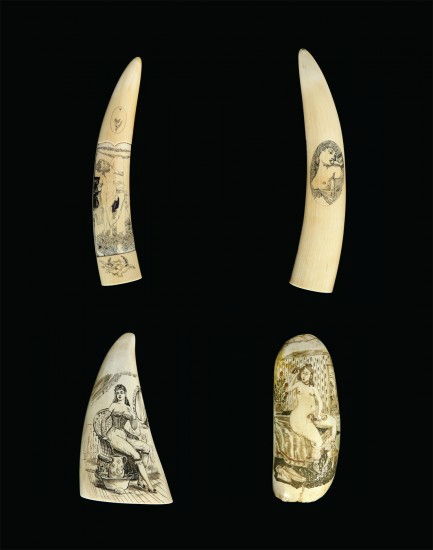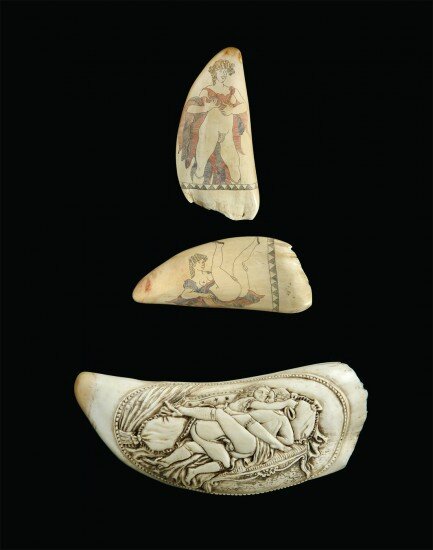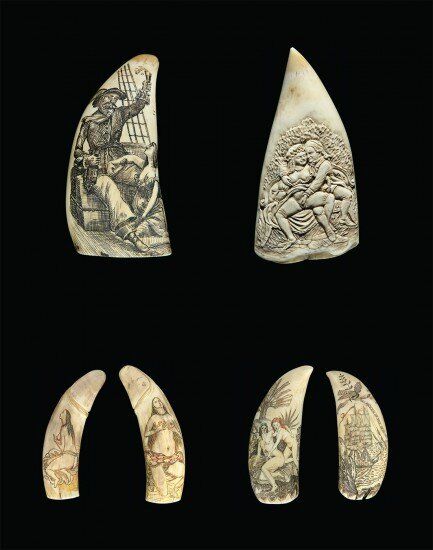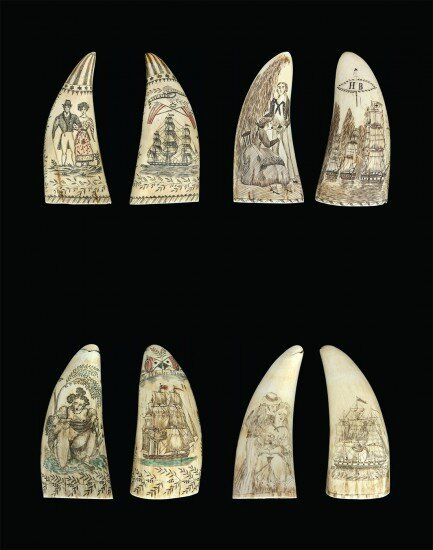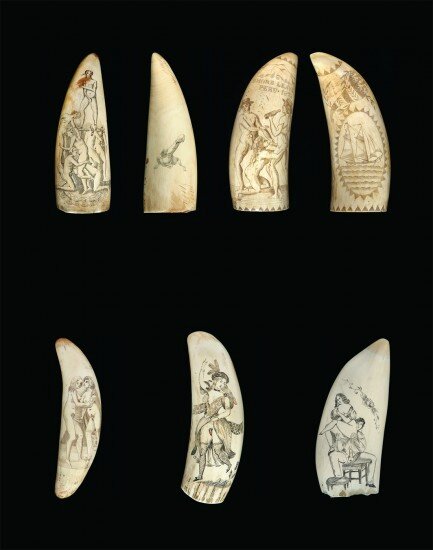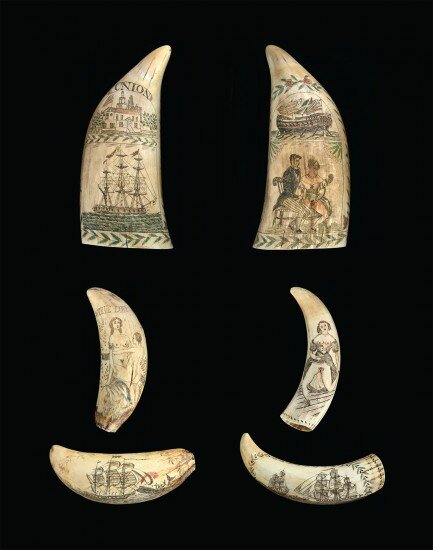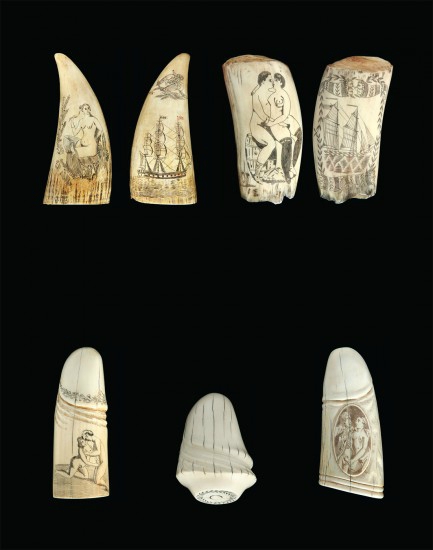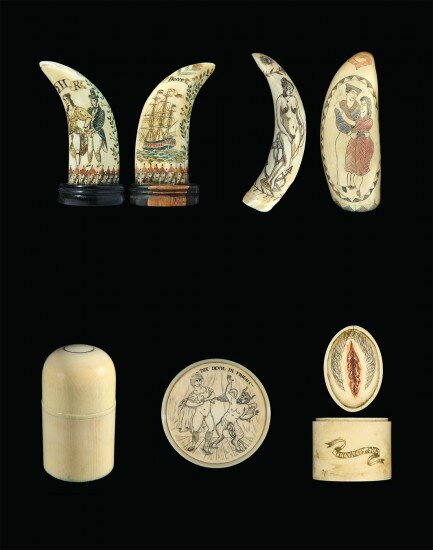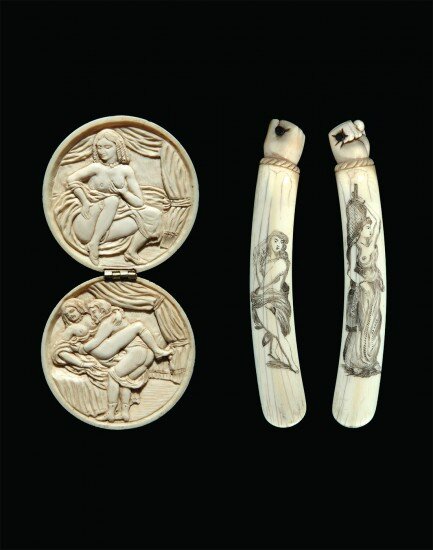 A collection of 40 scrimshaw, circa 1800–1900. Photos: Oliver Hoare Ltd.
It is beyond this cataloguer's capacity to write anything meaningful about this unusual, and possibly unique collection of erotic scrimshaw, beyond noting that long periods at sea clearly stimulated sailors' imaginations. The collection itself was formed over many years by a man recently deceased at a great age, and was no doubt part of a much larger collection of similar subject-matter. There must be an expert specialist somewhere – probably British since it would require a particular kind of eccentricity – but so far I have failed to locate him. Even institutions with links to whaling, such as the Nantucket Whaling Museum, are reluctant to advertise comparable scrimshaw, if indeed they possess any. Nevertheless, this collection deserves a proper study. A number of the ships have names, and their logs must exist somewhere. An expert on costume should be able to date fairly precisely many of the ladies by what they are wearing; more of a challenge, of course, once the more brazen among them have cast off their apparel. And then there is the link between whalers in the Arctic and slavers of the Caribbean. Most of the ships are British or American, but there is also a distinctive French flavour to some of the boudoir scenes. One can only hope that one day someone who combines the wit and erudition of Norman Douglas and James Laver will take up the challenge.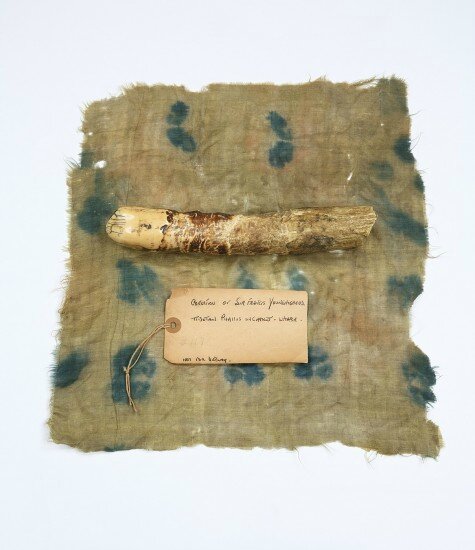 A Tibetan phallus made from mammoth ivory, Tibet or Ladakh, probably medieval. Size: 23 cm long. With silk wrap. Photo: Oliver Hoare Ltd.
The label states: 'Collection of Sir Francis Younghusband, Tibetan Phallus in Casket, Lhasa. Not for display.' The casket has disappeared, but the phallus remains resplendent, and is now displayed, our sensibilities having changed. It was apparently placed in a hole between Yama's legs, and removed and 'used' in Tantric ceremonies.
Provenance: Sir Francis Younghusband
Spink's, 1984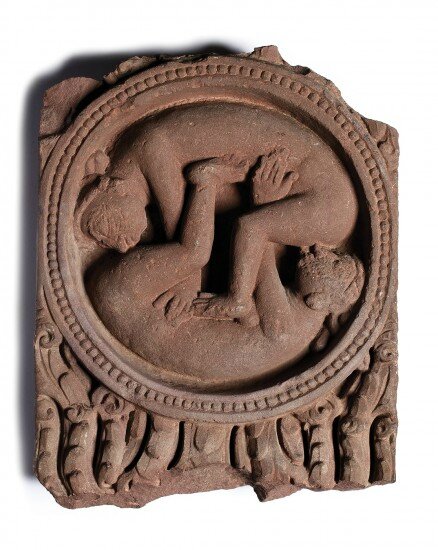 A red sandstone architectural fragment, North India, 12th century. Size: 25 × 20.6 cm. Photo: Oliver Hoare Ltd.
You won't see Saint Augustine portrayed in such a pose in a Catholic church, and in a way more's the pity. If that had been our Christian custom we might have avoided the ghastly consequences of the doctrine of Original Sin that has stunted our potential ever since it was promulgated. The fear, and therefore control that this idea has exercised, is extraordinary. The trouble is that you can't just say: I don't believe; and get rid of the claws of so many generations and levels of conditioning. The only release is to understand the conditioning, which takes time, to be able to step outside it. Don't throw away the baby with the bath water, we say; the Sufis say: Don't throw away your sandals before you can afford a pair of shoes.
Dodo Corner: An exceptionally rare Dodo bone, one of few to remain in private hands. Also including a rare skull of the Dibitag Gazelle; fine specimens of the Passenger Pigeon and the Kakapo Parrot; the finest known Eskimo child's blanket made from Eider Duck down; a sculpture of a Dodo by Michael Cooper; Pangolin's bronze Dodo skeleton, and Nick Bibby's bronze Dodo cast by Pangolin; and drawings and prints.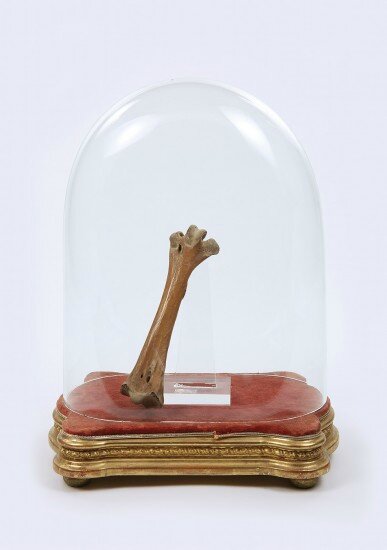 A rare bone of a Dodo, Mauritius, 17th century. Size: 13.5 cm. Photo: Oliver Hoare Ltd.
The arrival of the Dutch fleet off Mauritius in 1598 spelled the imminent extinction of the Dodo. They were fat, had forgotten how to fly, and were far from fleet of foot. The last record of a living species dates from 1681. The reasons for their demise were, of course, more complex than the insatiable appetite of hungry Dutch sailors. They were exported as curiosities, among others by the English traveller Peter Mundy, who sent one to Surat, which is portrayed in a painting by Mansour for the Emperor Jahangir, dated 1625. In Europe they appeared in the paintings of Roelandt Savery and Cornelius Saftleven. Elias Ashmole obtained a complete stuffed specimen from the Tradescant collection, but in 1755 it was deemed sufficiently decayed to be emptied into the dustbin. Apparently by the cleaning lady.
Almost all the bones in the world's museums survive because of an English schoolmaster, Mr. George Clark, who, in 1865 identified some Dodo bones at the edge of a swamp called 'La Mare aux Songes', near now what is the International Airport. As a competent amateur naturalist he was able to recognise what he had found, and persuaded the local plantation owner, Mr. de Bissy, on whose land the swamp lay, to lend him a few slaves. These were made to walk through the swamp and locate the bones with their bare feet. To be fair, each successful bone recovery merited a reward.
My chance encounter one day with this particular bone was for me an exciting moment. I didn't imagine that such a thing could happen, but nor did I feel able to buy it; its value being now equal to that of the bone of a revered saint in olden days, perhaps even more, since we still believe in the Dodo. Had it been a sanctified relic, and had this been long ago, I would, I suppose, have felt obliged to order a sumptuous casket to house it. With this in mind, I decided to commission Michael Cooper to sculpt a Dodo, providing a visual context for what otherwise might be mistaken for a turkey's bone, and thus suffer the fate of Elias Ashmole's rare specimen. Being of a sentimental nature, Michael has provided his Dodo with an egg, which nestles neatly under its body. Hope for the future, he tells me. More worryingly, I think he really believes it might hatch.
A rare Dibitag Gazelle's skull, Northern Somalia, found as a skull in 1971. Size: skull 20 cm; height with horns 24 cm. Photo: Oliver Hoare Ltd.
A corpus of stories featuring the wisest of fools, Mullah Nasruddin, is familiar throughout the Near and Middle East, as well as Central Asia. There is a tradition that whoever tells one of his stories will then tell seven in a row. The same seems to be true of Shaikh Saud stories.
One day Shaikh Saud called Michael Rich and asked him to arrange a visit for him to the Natural History Museum in London. We arrived in a big limo, punctually at 11 am. Shaikh Saud sauntered up the steps swinging his beads, and greeted the Director and curators who had come out to welcome him. As we walked inside the Director asked if there was anything in particular that he wished to see. He particularly wanted to see their specimen of the 'Dibitag' Gazelle. A rapid conference among the curators determined that they had no such thing. 'Oh, but you do,' Shaikh Saud answered, 'you are the only institution in the world that has one. It was shot by a British officer in Northern Somalia in 1913, but because it had a deformed horn he gave it to you.' They led us to the area where gazelle specimens were stretched on glass-fronted mahogany frames and invited Shaikh Saud to try and find what he was looking for. He started pulling out the frames by their brass handles, one by one, until after a dozen or so inspections he found it. And there on the label was the information that it had been shot, and then presented, by a British officer in Northern Somalia in 1913.
What else would he like to see, the Director asked? Shaikh Saud mentioned a certain Central American crocodile. Yes, we have that, said the curators, and we trooped off to Crocodile Corner, where the long skin was pulled out in its frame. As we stood there in a semi-circle, Shaikh Saud pulled up his trouser-leg, and lifted his leg until it was nearly level with the skin. On his foot was a light blue crocodile boot. As his foot came down he said: 'I've always wondered whether my boot-maker in Paris was telling me the truth about the type of crocodile skins he was using for my boots.' A palpable shiver of disapproval ran around the assembly of curators. Shaikh Saud shook all their hands with his most charming smile, and walked out swinging his beads, delighted with the visit.
A year later we made our first trip to Japan, to visit the Miho Museum. Emerging from the hotel in Kyoto next morning where a line of cars was waiting to whisk us up the mountain, Shaikh Saud said he was taking a different car because he had something to do on the way. I protested, saying that in Japan being a minute late was seen as an insult, particularly as we were going to meet a Living Goddess. Entertain her until I arrive, I'll only be an hour or so, was the answer. Exasperated, I asked what could be so important. He explained that he was going to meet the chairman of a major enterprise, which had made the most powerful zoom lens ever. Since the lenses inside cost $300,000, they had realised that the zoom lens was not commercially viable, and he was going to buy the single prototype. Why do you want it? My exasperation was growing. The reason, he said, was that with such a lens, he might be able to get a photograph of the 'Dibitag' Gazelle next time he went to Somalia. I expressed my disbelief. 'I can't explain to you what it means to me,' he said as he shifted from foot to foot, 'it's like undressing a beautiful woman for you.' He jumped in his car, and sped off.
On loan to the exhibition.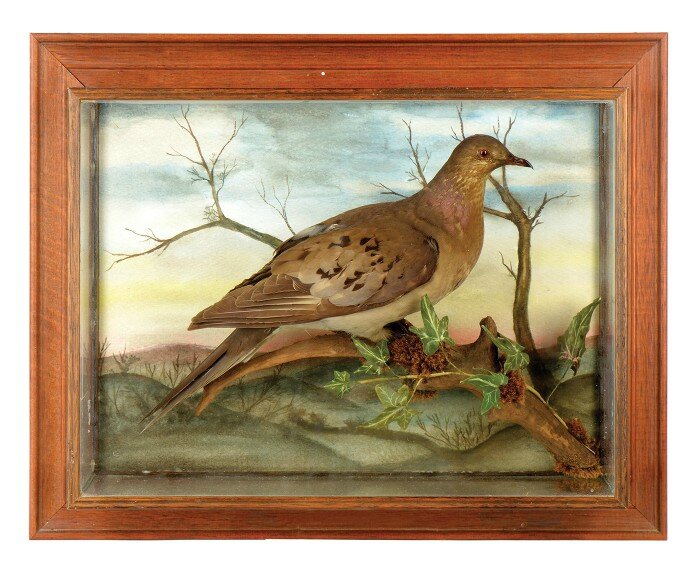 An exceptional example of the extinct Passenger Pigeon (Ectopisces migratorius), North America, 19th century. Size: 40 cm high, 50 cm wide. Recased late 20th century. Photo: Oliver Hoare Ltd.
Passenger pigeons were once the most abundant birds in North America, probably accounting for a quarter of all the birds there. They lived in enormous migratory flocks; in 1866 a flock a mile wide and 300 miles long passed over southern Ontario, containing in excess of 3.5 billion birds. In terms of numbers they were second only to the Rocky Mountain locusts. The last living example of the species died in Cincinnati Zoo on September 1st, 1914. She was called Martha. This sad event has been commemorated by three books published in 2014. Her body was frozen into a block of ice and sent to the Smithsonian Institution, where it was skinned, dissected, photographed and mounted. Currently, Martha is in the museum's archived collection and not on display. A memorial statue of Martha stands on the grounds of the Cincinnati Zoo. Audubon has left a charming description of the mating rituals of these pigeons, pointing out that during the nesting season they remained monogamous.
The above information is lifted verbatim from Wikipedia. Of the three recent publications, Errol Fuller's book, The Passenger Pigeon (Princeton University Press, 2015), is the most worthwhile: lucid, informative, and above all, it avoids preaching an ecological message. (Errol himself is too wise an old bird!) Spectacular as the extermination of such vast numbers of an entire species in recent times might appear, it is nothing new, although accelerated by the means available to modern man. From the time that Homo Sapiens emerged from East Africa between 70,000 and 45,000 years bc, it has wreaked havoc on the environment. Around 16,000 years ago they crossed from Siberia to Alaska, via the land-bridge that still existed, and in the course of the following three millennia that it took to populate the entire American landmass, they exterminated 80 percent of the larger mammals and many of the smaller species. Thirty million years of independent evolution were wiped out. This destructive tendency was intensified once the 'Agricultural Revolution' changed us from hunter-gatherers to farmers, a development that is sold to us as the great step forward in 'Civilisation'. Probably, if interviewed, the Four Horsemen of the Apocalypse would present themselves as supremely civilized: just doing their job! In spite of all the information available, modern Homo Sapiens takes an inordinately long time to digest it and make use of it. Perhaps only when faced with our own extinction will we finally change our ways. Jalalludin Rumi wrote a poem about human evolution, saying that in order to make the next jump in our evolution we had to 'increase our need'. That 'need' may be our survival as a species.
The passenger pigeon played a religious role in some northern Native American tribes. The Huron believed that every twelve years during the Feast of the Dead, the souls of the deceased changed into passenger pigeons, which were then hunted and eaten. Before hunting the juvenile pigeons, the Seneca made an offering to the old passenger pigeons, an offering of wampum and brooches that were placed in a small kettle or other receptacle by a smoky fire. The Ho-Chunk considered the passenger pigeon to be the bird of the chief, as they were served whenever the chieftain gave a feast. The Seneca believed that a white pigeon was the chief of the passenger pigeon colony, and that a Council of Birds had decided that the pigeons had to give their bodies to the Seneca because they were the only bird that nested in colonies. The Seneca developed a pigeon dance as a way of showing their gratitude. The flavour of the flesh of passenger pigeons varied depending on how they were prepared. In general, juveniles were thought to taste the best, followed by birds fattened in captivity and birds caught in September and October. The fat was also kept as butter. Though they did not last as long as the feathers of a goose, the feathers of the passenger pigeon were frequently used for bedding. Pigeon feather beds were so popular that for a time in Saint-Jérôme, Quebec, every dowry included a bed and pillows made of pigeon feathers. In 1822, one family in Chautauqua County, New York, killed 4,000 pigeons in a day solely for their feathers.
In the 18th and 19th centuries, various parts of the pigeon were alleged to have medicinal properties. The blood was supposed to be good for eye disorders, the powdered stomach lining was used to treat dysentery, and the dung was used to treat a variety of ailments, including headaches, stomach pains and lethargy.
The passenger pigeon was an important source of food for the people of North America. The Native Americans ate passenger pigeons, and tribes near nesting colonies would sometimes move to live closer to them and eat the juveniles. The juveniles were killed at night with long poles.Most Native Americans were careful not to disturb the adult pigeons, and instead ate only the juveniles as they were afraid that the adult pigeons might desert their nesting grounds; in some tribes disturbing the adult pigeons was considered a crime. Away from the nests, large nets were used to capture adult pigeons, sometimes up to 800 at a time. Among the game birds, passenger pigeons were second only to the wild turkey in terms of importance for the Native Americans living in the south-eastern United States. The bird's fat was stored, often in large quantities, and used as butter. Archaeological evidence supports the idea that the Native American ate the pigeons frequently prior to colonisation.+Some reduction in numbers occurred from habitat loss when European settlement led to mass deforestation. Next, pigeon meat was commercialised as a cheap food for slaves and the poor in the 19th century, resulting in hunting on a massive and mechanised scale. A slow decline between about 1800 and 1870 was followed by a catastrophic decline between 1870 and 1890. John Herald, a bluegrass singer, wrote a song dedicated to the extinction of the species and Martha, the species' endling, that he titled 'Martha (Last of the Passenger Pigeons)'.
When I asked Errol Fuller how much he thought I would have pay for this specimen when it was about to be auctioned, he answered: 'Ooh, I don't know – pause – this one could fly.'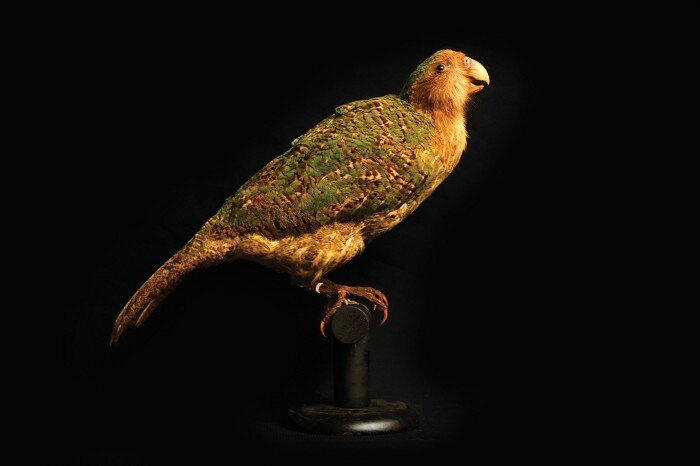 A rare specimen of the Kakapo Parrot, New Zealand. Size: 45 cm high. Photo: Oliver Hoare Ltd.
The purpose of including a stuffed Kakapo parrot in the context of this exhibition is to introduce Shaikh Saud al-Thani. Not that he looked like a nearly-extinct stuffed bird; far from it, he was a man of rare elegance. But those of you who take the trouble to read what follows will understand why the Kakapo is a perfect peg on which to hang such a story.
Shaikh Saud al-Thani. Photo: Oliver Hoare Ltd.
Shaikh Saud was in his early thirties when I first met him in 1997. It was just at the time that he and his cousin the Emir began thinking seriously about making Qatar an important centre for art and culture. Along with other members of the ruling family, they had decided that the brash new tourist developments favoured by other Gulf States were not suited to the rather homely and conserva-tive atmosphere of Qatar, and that they would try to build something of long-term value for the country and, indeed, for the entire region. The two poles that they chose were education and culture. And so, at a relatively early age, Shaikh Saud found himself entrusted with an as-yet undefined programme to turn his country into a new Middle Eastern centre for the arts. The first and most obvious area to look at was Islamic art. Their timing coincided with the appearance at Christie's of an extraor-dinary bronze fountain-head in the shape of a deer from Cordoba at the height of its Caliphal splendour in the late 10th century. It was initially estimated at £150,000–250,000. At the auction Shaikh Saud bought it for £3,400,000, against the determined bidding of the C.L. David Collection in Copenhagen, and the Cleveland Museum of Art. A powerful new presence had announced itself in the market. Immediately after the sale the price seemed incredible, but now, as with most great works of art after time, it seems a bargain. In the same sale he acquired the Timurid steel mask that was illustrated as the frontispiece for the catalogue of the 'Turks: A Journey of a Thousand Years, 600–1600' exhibition at the Royal Academy. It was an impressive debut.
The strategy of paying whatever was needed in public auction for what they wanted in fact served their purpose well. There were the occasional dog-fights with desperate under-bidders – particularly with Shaikh Nasser al-Sabah of Kuwait for Mughal pieces – which resulted in unexpectedly high prices, but soon both institutional and private buyers gave up the unequal fight, allowing Shaikh Saud to dominate the auction market for several years, with the result that he was usually able to acquire what he wanted for reasonable prices. This aggressive practice in auction was in stark contrast to the way in which he dealt with collectors and dealers, where he was an extremely canny and clever negotiator. He knew very well how to use his weight in the market as it grew. Early in his career I voiced the opinion that, while not suggesting that he should ever pay stupid prices, he should always be generous towards people who brought him things, and not try to screw them as so many others had done before. It would serve him well, and he would always get the first choice of everything. I do not know whether it was due to my advice, or because of his natural instinct, but his way of dealing with people reaped rich rewards. He kept open house in London for whoever had something to offer; he travelled tirelessly to visit every possible source of works of art; and he was unfailingly courteous and charming to everyone who crossed his path. Within eight years Shaikh Saud established himself as one of the most extraordinary and perspicacious figures ever to bestride the art world. The combination of the wealth of Qatar, and his vision as it developed, opened up the unique possibility of creating a hub of universal culture in an area that had never known such a thing; of creating institutions that were capable of bridging the gap in many creative ways with the West; of laying down a cultural wealth for the future benefit of his own country. Alas, little of his vision has been, or will be, realised. Since Shaikh Saud was obliged to resign from his position as Chairman of the National Council for Arts, Culture and Heritage, the future of his many projects, apart from the Museum of Islamic Art, remains uncertain. Probably nothing further of what he planned will be built, and the institutions that do emerge are unlikely to function according to their full potential. The story of this disaster needs to be told, because there are two different versions. One is the accountants' version, which has become common currency as justification for the elements in the Qatar establishment who destroyed this extraordinary man, throwing away the cultural future of their country in the process. The other version is the purpose of this short essay.
'It's not hard to work out who the great architects are, but it is hard to get them to take me seriously', Shaikh Saud complained one day, adding, 'they have no idea where Qatar is, they don't want to work in Arab countries because of their reputation for being difficult and incompetent, and anyway they have more offers of work than they can fulfil from everywhere else in the world.' This remark was occasioned by the refusal of I.M. Pei to accept the project to design a museum for Islamic art in Doha. The refusal was exquisitely polite: after their meeting in New York Mr. Pei sent an orchid to Shaikh Saud, the significance of which he immediately understood. Thereafter, 'sending a flower' to someone became, in Shaikh Saud's vocabulary, the code for a polite refusal.
The route to I.M. Pei began with the international architectural competition launched to find an architect for the Museum of Islamic Art in 1996. Since no-one in Doha had experience of organising such an event, the Aga Khan Foundation was approached for help, and undertook to supply both the organisation and jury for the competition. Among those who competed was Zaha Hadid. Among the jury was Luis Monreal, the director of La Caixa Cultural Foundation based in Barcelona, which, under his direc-tion, had become the most dynamic organisation of its kind in Europe. With his usual flair, Shaikh Saud realised that Luis' experience and knowledge were of value to him, and that he could learn much of what he needed from him. Luis, for his part, was unusually impressed by the intelli-gence and seriousness of Shaikh Saud, and over the next four years generously devoted as much time as he could spare to providing guidance and advice where needed, as well as introducing him to many architects and artists around the world.
The architectural competition was won by Ghassan Badran, an architect of the Hasan Fathi school, who was based in Amman. But, by this time, Shaikh Saud's horizons has widened, he had met a number of important architects, including I.M. Pei, through Luis, and his vision of what he could do for his country had taken wing. Wherever he travelled at this time, his room was piled high with every conceivable book and review to do with contemporary architecture. He took the difficult decision, from a personal point of view because he liked Ghassan Badran, and from an administrative point of view because of the financial implications, to reverse the result of the competition. In this context, the rebuff from I.M. Pei was a serious disappointment.
In the middle of all of this, Shaikh Saud went to Japan, to visit Arata Isozaki, another architect to whom Luis Monreal had introduced him, and to see the Miho Museum, Pei's extraordinary masterpiece on a mountain-top near Kyoto. This visit to the Miho had a profound effect, because it confirmed his vision of collecting masterpieces, and made him absolutely determined to get Pei to design his museum. He arranged a meeting in Paris with Pei, Luis Monreal, and the Emir and his wife, Shaikhs Moza, calculating that his cousin's charisma and interest would count. He then set up another meeting in New York for which he asked me to produce a catalogue of the collection as it existed, in a single copy for Mr. Pei, to show that they were serious. By this time he had acquired the collection of Jassem Homaizi, the finest group of Islamic objects in private hands, and with other extraordinary pieces he had collected, it was not difficult to produce an impressive catalogue. The problem was time. There was less than a month until the meeting, and most of the month was taken up with travelling. This time the meeting in New York was a success, and Pei was convinced. He visited Egypt, and later Tunisia, to look at Islamic monuments and then started working on the project. For Shaikh Saud it was a personal triumph, to have brought to Qatar one of the world's greatest architects. He realised that the difference in cost of building an indifferent edifice or an architectural masterpiece was not so great; the difficulty was to persuade the greatest architects to work for him. And it was here that his peculiar genius came into play. His uncanny presence and intelligence impressed itself upon the people that interested him, architects and artists, whom he continually visited on his travels. Once a project began, he involved himself in every detail. For Shaikh Saud, Pei was the great classical master, and Isozaki the poet of architecture. The latter's magical quality fascinated him. They travelled around India together looking at Moghul monuments, and after the trip Isozaki presented him with a book of his sketches of the places they had visited. Shaikh Saud commissioned Isozaki to design a house for him in Qatar, which, after five years of close collaboration, emerged as a model which was quite unlike anything that had been imagined before. More like a sculpture, or a space-ship, it had many unusual features: such as a dome designed by Anish Kapoor over a swimming pool patterned by David Hockney, and flight cages for Amazonian parrots. As the project developed, Shaikh Saud's plans for the house began to change. He saw it less as a place to live in, more as a building that should be open to the public. A private museum was incorporated to house a small collection of world masterpieces from different cultures. He engaged twenty-seven contemporary designers, giving them each a room, believing that a museum of the best designs of a period would be both useful and educative for the people of Qatar, who other-wise could have no access to such concepts. Sadly this project was never realised, along with its sculpture garden on which he had lavished so much care, commissioning works from Chilida – his last great monumental sculpture – Serra, Cristo, Koons and Kapoor, among others.A defining moment for Shaikh Saud took place when he entered Jean-Claude Ciancimino's shop in the Pimlico Road in London. There, lining one wall were the two bookcases made by Ruhlman for the Palace of Indore. He looked at them, asked the price, negotiated briefly, and bought them. He then asked what exactly they were. He had no knowledge of Art Deco, and had never heard of Ruhlman, or of Indore. Some years later in New York Ronald Lauder told him that in his opinion they were the greatest examples of Art Deco furniture in the world, that he had been negotiating to buy them and regretted missing them. Shaikh Saud's subsequent impact on the Art Deco market was, as usual, spectacular, particularly for anything connected with Indore, but the really interesting impact came from the spectre of the Maharajah of Indore on Shaikh Saud. The Maharajah was in many ways the ultimate aesthete, who in 1930 built the supreme Art Deco monument, his palace in Indore, designed by Muthesius and furnished by Ruhlman and Eileen Gray. But beyond this, Shaikh Saud became fascinated by the personality of the Maharajah, whose pursuit of perfection and refinement became a model he wished to understand and follow. Curiously, there is a striking physical resemblance between the two of them. He visited the palace twice to absorb its lessons, in spite of its gloomy transfor-mation into the local tax compliance office, and doggedly sought out the Maharajah's family and descendants to find out more about the man, and see what was left. The result of this foray into Art Deco and Indore was remarkable: an incredible collection of furniture; a sublimely elegant orange-and-black Bentley; the perfect ruby ring set by Cartier; the family photographs by Man Ray; and above all the greatest of all Art Deco paintings, the two portraits of the Maharajah by Boutet de Montval, the 'white portrait' in Indian dress and the 'black portrait' in tails. Muthesius also designed a yacht for the Maharajah, and a boat-house which was never built. Shaikh Saud acquired the designs for the boat-house and planned to have it built by the sea in Qatar to house the entire Art Deco collection, for public view and as a tribute to someone he admired. Another project which will not be realised. Shaikh Saud's fascination for every aspect of the Maharajah of Indore's life had several unexpected consequences. Brancusi stayed at Indore, and before the contents of the palace were sold off, there were two versions of his most famous sculpture, 'Bird in Space', on view there. It was this information which sparked Shaikh Saud's interest in 20th-century and contemporary sculpture. Of equal importance was the Maharajah's relationship with Man Ray, who also visited Indore, and which focused Shaikh Saud's attention on photography. When the first part of the extraordinary Jammes collection of photographs came up for sale at Sotheby's in London, he bought 80 percent of the sale, and went on to acquire a number of other outstanding groups of photographs. In a relatively short time he assembled one of the finest collections of photographs in the world. He added the Spira collection of photographic equipment and paraphernalia, second only to the Kodak-Eastman holdings. He visited every dealer and scoured auctions around the world, in one case buying every lot of a Christie's South Kensington sale of cameras. He located one of the rare cameras built for the Daguerre brothers, and found a way to get prototypes of the most sophisticated cameras used on satellites. Once he judged that the collection had reached a critical mass, he persuaded the Spanish architect Santiago Calatrava to design a museum to house it. The result was a sublime lotus-bud shaped building, which would have added another architectural masterpiece to the Doha corniche. Now, alas, if it is ever built, it will not be in Doha. His strategy with photography, as in all areas that interested him, was not merely a smash-and-grab raid on the market. He wanted to understand it, and in order to do so made it his job to get to know as many photographers as possible. With some, such as David Bailey, Richard Avedon, Francois-Marie Banier and Helmut Newton, he established on-going, friendly relationships. He got to know Irving Penn, and, extraordinarily, managed to persuade Henri Cartier-Bresson to come to London and take his photograph, in spite of the fact that at their first meeting in Paris, Cartier-Bresson claimed not to have used a camera for twenty years. It was one of the areas in which he opened up a lively dialogue with Lord Rothschild, who visited him in Doha, and began to develop the idea of creating a three-way relationship with Somerset House in London, and the Getty Museum in California, to promote photography through shared exhibitions and publications. At the local level, he promoted a photography club, organising exhibitions, encouraging new membership, and making available the resources of his amazing collections. The visit to the Miho museum had also had a powerful impact on Shaikh Saud's interests. There, for the first time, he saw the silver Horus inlaid with lapis-lazuli which is the museum's emblem. David Bailey, who accompanied him on his trip to Japan, took a revealing photograph of him through the display case as he contemplated the silver Horus, his face a picture of abject misery that such a masterpiece was forever beyond his reach. Even so, the encounter spurred him to take a serious interest in Egyptian art, which he pursued with his usual unflagging vigour. His approach to learning was quite unlike the procedures that most people adopt. He did not read much, because he found English difficult in its written form, and little that he needed existed in Arabic. He bought every book on the subject that he could find, and then looked endlessly at the pictures, over and over again. Wherever he travelled the books accompanied him. His quite remarkable visual memory – he never seemed to forget anything he has seen – coupled with an uniquely acute eye for art, enabled him to grasp a subject, even one as complicated as Egyptian art, in an astonishingly short time. Rather like Richard Burton with languages. It was not, of course, only through books. He visited museums continually, comparing everything he could find in all the major collections. Visiting The Egyptian Museum in Cairo with him was a surprising experience, because he knew, among all its prolific chaos, where to locate all its masterpieces. He befriended academics and experts around the world, and had the capacity to draw out of them their knowledge, like a serum that he could then inject into himself. He got to know all the dealers, to place his finger on the pulse of the market-place, and to plot where masterpieces still lurked to which he could gain access. One of his successes was to position himself to benefit from the misfortunes of Robin Symes, and acquire from the Receiver the cream of his Egyptian collection. His uncanny resemblance to the Pharaoh Akhnaton often drew humorous comment, particularly when he stood in front of one of his statues, perhaps one of the reasons for his fascination with the 18th dynasty. His relentless search for Egyptian masterpieces in private hands inevitably led him to the bronze bust of Amenmhat III in the collection of George Ortiz. He went to Geneva to meet him, and see his collection, and after we left I asked him what he would choose if he could take away just one thing. 'Ah, if I could have one thing that Mr. Ortiz possesses, it would be his eyes,' was Shaikh Saud's reply. Thereafter he continually analysed the catalogue of the collection that George had given him, until he knew it by heart and had compared each piece with all the other known comparable examples. It opened his mind to the value of the juxtaposition of so many cultures, and an appreciation of the rare ability to acquire masterpieces in all of them. The idea that Qatar could eventually buy the collection began to form in his mind, although at his most optimistic he thought it was probably impossible. On the one hand it meant dealing with George Ortiz, and on the other doing it on behalf of his country, which he knew for the next several generations would have no clue as to what it represented. Nevertheless he persevered. He held that there was great advantage to be gained from buying a collection formed by one of the most perspicacious of all collectors over a period of fifty years, and something that could never be matched again. 'It's like buying someone's life,' he remarked, 'and anyway I don't have fifty years to spare.' In the context of the cultural programme he was developing it made perfect sense, even if it took many years for the inestimable value of such a collection to be under-stood by his fellow-countrymen. He eventually hit on the idea of borrowing a dozen masterpieces to display in the temporary exhibition hall of the Islamic Museum when it opened, as a way of introducing the collection and establishing its presence in Qatar. It now seems a pipe-dream, but one which in his hands had a chance of being realised. Compared to the cost of sophisticated military aeroplanes, the price of art is nothing, and by the time that such military hardware has become redundant, the value of a great art collection has become incomparably greater, not just in financial terms, but for what it represents for a country. Tourists do not visit Paris to look at its tanks, or admire France for its fighter-planes. Another muse for Shaikh Saud was the Comtesse de Behague. Although she died before the Second World War, a small part of her collection of antiquities was auctioned by Sotheby's in Monte Carlo in 1985 In the course of his relentless analysis of every part of the art market that interested him, he came across the catalogue of the sale, and was fascinated. He knew about Stoclet, Cartier, and other collectors of their ilk, but saw that among them all she had the unique eye. He made it his business to find out as much as he could about her; he met her descendants in France; he visited the house she had created in the rue Saint-Dominique in Paris, with its eccentric décor and theatre, now the Roumanian Embassy; and then commissioned a young scholar to produce a book on her remarkable collection, which, surprisingly, had never been done. His efforts to locate any of her great works of art in private hands led him to Ronald Lauder, who owned her Ostrogothic gold eagle broach, then on loan to the Metropolitan Museum. After his visit to Lauder's extraordinary apartment in New York, where one is overwhelmed by the array of paintings by Cézanne, Gauguin, Van Gogh, Kandinsky, a series of sculptures by Brancusi – among many other things – I asked him, as usual, what he most liked. He answered that of all he had seen, there was a small painting of a black square in a white border that seemed to him the best thing. He had no idea of what this 1915 painting by Malevitch represented, but he had picked up on arguably the single most important work of art that Mr. Lauder owned. Surprisingly, it was not art that most interested Shaikh Saud, but the natural world; birds, animals and plants, of which he had great knowledge, and to which his farm outside Doha was dedicated. It is shaded by a vast plantation of palm trees of every conceivable type, of which he knew the origin of each species as well as its Latin name. He once told me that after much searching he had found out that a farmer in Sri Lanka possessed a particularly rare palm tree that he had been unable to locate anywhere. He flew to Colombo, hired a car and eventually found the farmer deep in the countryside, with the splendid tree growing next to his little house. Over a cup of tea he struck a deal with the farmer to buy his tree. The farmer went into his house, and as he sat admiring his new prize he suddenly heard a terrible wailing coming from inside the house. After a while the farmer emerged in an obvious state of distress. He had told his wife, thinking he was bringing news of their great good fortune. She, on the other hand, refused to accept the sale of the tree, in the shade of which they sat every day of their lives, and she would not accept living there without it. And so Shaikh Saud returned to Qatar empty-handed. Around the plantation are large open pens for gazelles, more than twelve hundred in all, representing almost every known variety. Many of them he had caught himself in expeditions that he mounted in Somalia, in spite of the danger – they were shot at on several occasions – and extreme discomfort. The reason for these hazardous expeditions was that he feared that the poverty resulting from the political turmoil in the region would result in more and more gazelles being killed for their meat, and that some species, like the Bera, would soon be extinct. He hoped to build up a breeding stock so that eventually, when conditions improved, these threatened species could be released back into the wild. The breeding programme, particularly for the Bera, has proved extremely complicated, but overseen by a permanent veterinary staff from Germany has been uniquely successful. He confessed one day that he thought the landscape in northern Somalia was the most beautiful in the world, and that he continually dreamed of going back there. His great passion, beyond even palm trees and gazelles, was for Amazonian parrots. At the farm there are huge flight-cages, where you walk through tropical jungle and see brilliant macaws flashing through the foliage, and hear the haunting calls of many exotic birds. Among the parrots, the one that concerned him most was the Spix macaw, an exquisite bird on the brink of extinction. In order to have the right to own such a bird, he succeed-ed in having his farm officially recognised by the World Wildlife Fund, and then assembled as many survivors as he could find around the world – principally from a rare bird dealer in the Philippines – in order to breed them without risk of extinction through in-breeding. Originally he wanted to acquire a large tract of Amazonian jungle to preserve the species, but came to the conclusion that he could not trust those who would have to be in charge of the project. His devotion to these birds is such that he once flew to New Zealand, and then took a boat to an outlying island in spite of his fear of the sea, climbed to the top of a peak, and sat there all night under cold drizzle in order to feed a few grapes to a flightless Kakapo parrot, of which only a few dozen remain. The next day he returned to Qatar, delighted. He was so fond of his parrots that he invited the pre-eminent painter of birds, Elizabeth Butterworth, on numerous occasions to his farm to paint their portraits, following in the great tradition of natural history patronage. His fascination for the natural world had two specific effects on his collecting. He assembled what must now be the greatest private collection of natural history books in the world, which he intended eventually to house in the National Library of Qatar, and which few institutions apart from the British Library can match. As usual, he was not content with just any copy of a work, he wanted the best. He trawled through his vast collection of auction catalogues reaching into the distant past to get to grips with the historical scope of the market; he was in constant touch with every major dealer in the field; he visited libraries, collectors and academics. The result, arrayed on industrial shelving in his warehouse at the farm, was astonishing; their princely leather bindings glowed from the shelves, and included such treasures as Lord Bute's immaculate Audubon with its purpose-built display-case (purchased separately), and original watercolours by Audubon, Redoute and Barraband, the latter, in Shaikh Saud's opinion, the greatest of all bird illustrators. Fossils and minerals became the second focus of his attention on the natural world, and part of a three-pronged project. He thought that it would be possible to completely redesign his farm, and make it accessible, on a part-time basis at least, to the public and particularly to school-children. For this transformation he had Zaha Hadid in mind, whose work he admired, and whose imagination, he thought, could produce an extraordinary solution for a zoological-botanical ensemble in the desert. Secondly, he wanted a botanical garden along the lines of the Eden Project for the corniche in Doha, in the park behind the Islamic museum. He discussed the idea with I.M. Pei, and asked for a design, since it would be in close proximity to the Islamic museum. He had, as yet, no site or architect in mind for the fossils and minerals, but in the interim organised an extraordinary exhibition in the autumn of 2004 to show a part of what he had collected. Its title was 'Lost Worlds', curated by Errol Fuller, dedicated to the children of Qatar, and accompanied by a catalogue with a foreword by Sir Neil Chambers, Director of the Natural History Museum in London. He wrote that the publication and exhibition were 'remarkable evidence of the extraordinary collection of natural history objects that has been built up by Qatar during recent years. Over a period of a few years, a collection of international status has been brought together, covering many aspects of the natural world…There is an unparalleled series of specimens of extinct birds and an amazing collection of bird illustrations….' One illustration on view was of the Mascarene Parrot painted by Jacques Barraband circa 1800. The species has been extinct for almost 200 years, and the only two stuffed specimens, in Paris and Vienna, have long ago faded. This remains the best record of how this beautiful parrot actually looked in life. The striking aspect of the exhibition, noticed by everyone who visited it, was the outstanding beauty of all its exhibits. Fossilised sea-lilies, ammonites, trilobites, Irish elk horns, a huge mammoth tusk and Dodo bones were among the exhibits rightly presented as works of art around the centrepiece of the exhibition, a 28-metre long skeleton of a diplodocus. It is to be hoped that in due course an exhibition will be mounted to show the quality and extent of Shaikh Saud's collections. In the meantime it is worth pointing out the influence that he has had in the wider Arab world, although without his particular genius it is unlikely that any project will match his vision. When I first knew him he told me he was in a hurry, because he would not live to be fifty. That he was correct is a cause of great sadness for everyone that knew him. He was an extraordinary man, I've never known anyone like him.
An Eskimo baby's blanket, Early 20th century. Size: 157 × 107 cm. Photo: Oliver Hoare Ltd.
The particular morphology of the down of the eider duck makes it the lightest and most effective insulation that is known. It has long been valued: traded by Vikings, hoarded by kings, even accepted as currency in the Middle Ages. The ducks in the Arctic make their nests near human settlements, probably in the hope of protection from their predators – seagulls, foxes and mink – while they sit on their eggs for 28 days. They line their nests with their own belly feathers, which they leave as a gift to their human protectors when once more they return to the sea. As a result the humans fulfil their role as guardians, and watch gun-in-hand through the nights of their nesting.
It seems that the elaborate technique for making such blankets disappeared in the 1940s, and few have survived, among which no other can match the condition of this example. In the Far North moth-proofing was unnecessary, but once they were moved to warmer climes they were extremely vulnerable to moth-attack, which has ruined the blankets that exist in museums collections. The motifs around the border represent the heads of Eider ducks.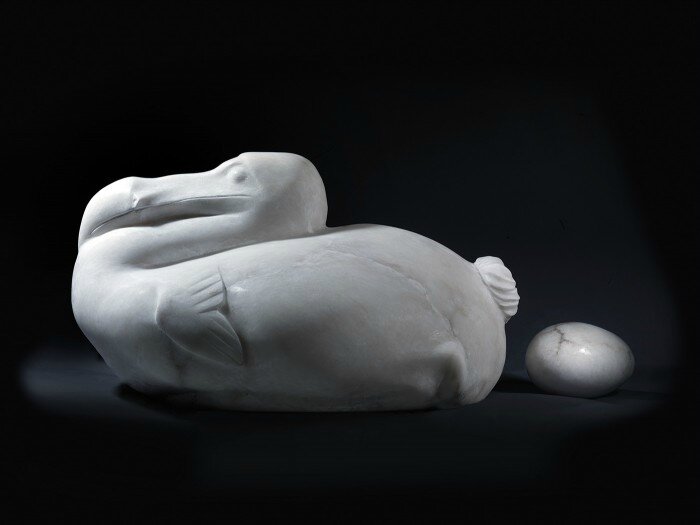 An alabaster sculpture of a Dodo by Michael Cooper, 2014. Size: 38 cm high × 70 cm wide. Photograph (c) Steve Russell Studios courtesy Gallery Pangolin
I can remember Michael's first sculpture. It was the head of his baby daughter Lorien cast in bronze. Since Lorien was my god-daughter, and I, at the time, was Michael's lodger in his Pimlico home, I became the lucky recipient of one of the casts. When I looked at it carefully I was astounded; because it was such an accurate likeness, rendered with expressiveness and flourish. None of us, his friends, had any idea that he was actually becoming a sculptor. We knew he went to spend time with sculptors – Anthony Gray and Jonathan Kenworthy – but I assumed that his attendance there was like my afternoons at Heatherley's life-drawing classes during holidays and in various artists' studios in Paris, alleviating the tedium of having to learn something at the Sorbonne. Occasionally, at cocktail hour, I would encounter David Wynne folded up in a corner of his living room. Only much later did I learn that Michael had been his helper in assembling The Boy With A Dolphin, which sits on Cheyne Walk overlooking the river and remains the most inspirational public sculpture in London.
He never talked about his ambitions as a sculptor. He says now that he was worried that he was a dilettante and that if asked what he was going to do – as often happened – to answer that he was going to be a sculptor might provoke disbelief. It all started whittling wood during long, soggy evenings in Ireland. Then he spent a year in a stone-mason's yard under the Waterloo arches, and there, amid the rasp, grime and dust, first realised what he really wanted to do. 'Chipping stone', he called it, so of course we did not take it seriously. Others did, particularly Derek Hill and Grey Gowrie, who encouraged him at the time when he needed it most.
And it is we, among others, who have benefited. Our house in France is animated by creatures transformed by Michael's imagination and skill. A coiled serpent in bronze gazes out across the garden, a large turtle lounges at the rim of a water tank, a seductive white torso stretches indoors and sweetly reminds me of days past. My favourite in the great white albatross – branded by my daughter as 'the duck', being unacquainted with the species – sitting on a high parapet beneath which a pair of hoopoes nest each year to bring up their young. When they leave we put up a ladder to clean off their additions since they enjoy sitting on its warm back to survey the surroundings.
It is the physicality of carving that draws him to his studio. The hammer and chisel, and the blocks of stone each with their own personality. It is like a conversation, but an intuitive one, which when it flows makes sense of every strike. Having built up a knowledge of skeletons, human and animal, to provide the structure for understanding the tension between bone, flesh and skin, he found it possible to express the sensuality of stone. This is the joy of sculpting, he says, the revealing of its unexpected potential: 'Stone, in spite of its hardness, can be soft like a buttock.'
'I experienced at times a feeling that something had been achieved which was correct and harmonious, almost in spite of myself. It was like a dimension that I could only glimpse. These moments were most apparent when I was working on sculpture. There would be times when some other faculty seemed to be working, allowing me to see other aspects of the work and achieve a result often quite different to what I had planned. As I carved a block of stone, it became possible to harmonise with the material and work in partnership with it rather than in conflict. The physical effort of carving and the concentration required produce a very precise focus, suspending the usual thought process and allowing another part of me to function.'
Every artist will recognise what he describes. And there is little that one can add. But were I to be asked what I thought was Michael's particular characteristic as an artist, I would say his humility. It is this that allows something to pass through him. He does not get in his own way.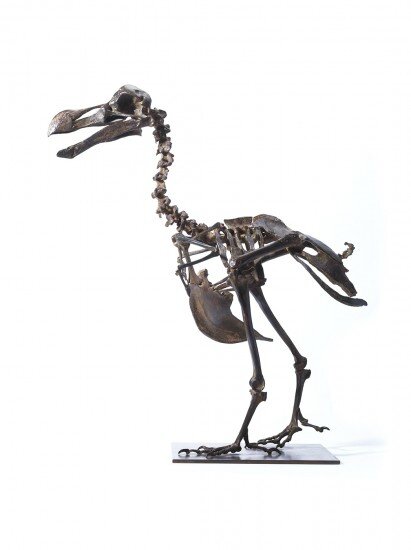 Bronze skeleton of a Dodo. Cast in 2000. Size: 70 cm high. Pangolin Editions; Photograph (c) Steve Russell Studios courtesy Gallery Pangolin
It was the idea of Dr. Carl Jones, Director of the Mauritian Wildlife Foundation, to recreate lost species in bronze. His idea was realised in conjunction with Rungwe Kingdon and Claude Koenig, directors of the Pangolin Editions sculpture foundry at Chalford, near Stroud. An astonishing amount of research went into the recreation of each animal and bird. While no complete skeleton of a Dodo survives, enough bones exist from different specimens to have enabled Rungwe to make casts with which to assemble the entire skeleton. The result is testimony to his profound knowledge of the natural world, combined with his unparalleled skill in casting bronze.
Exhibited: 'Bones to Bronze, Extinct Species of the Mascarene Islands', 2004.
On loan to the exhibition.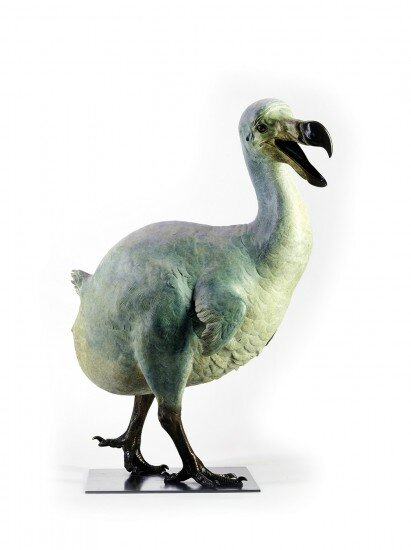 Nick Bibby, The Dodo. Cast by Pangolin Editions. Size: 78 cm high. Photograph (c) Steve Russell Studios courtesy Gallery Pangolin
The Pangolin team in Mauritius was supported by Nick Arnold of the Natural History Museum, Errol Fuller, Anthony Cheke and Julian Pender-Hume. The pooling of their scholarly research enabled the sculptor Nick Bibby to model the Dodo in clay, from which this bronze was cast by Pangolin.
Magic: A 12th century Seljuk "Mirror of the Soul"; Also including; witch's mirrors; a 14th century Alchemist's Mortar; Dervish paraphernalia; talismanic rings; Voodoo presentoirs; a Yoruba divination tray; an Ethiopian divination manuscript; a Jaguar drug tablet from Peru; Olmec divination stones; a Celtic wassail cup; and a 16th century, Italian Renaissance Hermetic plaque.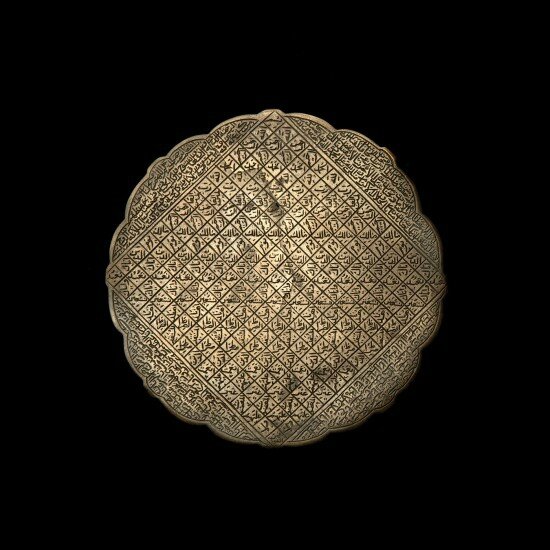 "Mirror of the Soul", Iran, 12th–13th century, inscriptions 14th century. Size: 12.3 cm diameter. Cast brass, engraved. Photo: Oliver Hoare Ltd.
It would be difficult to find a more totemic talisman from the Islamic world, or a more potent one should you believe in such things. This form of mirror derives ultimately from China and became familiar in Iran during the Seljuk era in the 12th century. At the same time the mirror became a symbol in the mystical literature of Iran – and almost all the literature was mystical – of the soul, or more precisely that part of the human being that could be polished by certain spiritual practices to the point that it could reflect a higher reality, and make it understandable. The polished surface of the mirror in this case has been engraved with an elaborate magical square of 225 compartments into which the Surat al-Fatihah, the opening chapter of the Qur'an, has been ingeniously fitted, so that the interface between the human soul and the Divine Reality is made possible by the correspondence expressed in this way. The existence of such a talisman assumes that it operates whether its function is recognised or not, attracting, accumulating and distributing Baraka, that mysterious substance that features in Christianity as Grace.
I was hired by Christie's in 1967 as their expert in Russian art. I knew nothing about the subject, it happened by mistake, and when I started working there on the front counter I knew it was only a question of time before they discovered I was a fraud. For the first few days I was taken around, shown the different departments and introduced to their personnel, and in the course of this peregrination we walked through the basement of King Street where each department stored its works of art in separate cages. There in a corner of the corridor I spotted a pile of Islamic art, and stopping to have a closer look was told it had been there for years because nobody knew how to catalogue it. As I examined the pieces and realised that many were published in major publications, I announced that I could catalogue the pile, and was shortly afterwards told to do so. It was the collection of T.L. Jacks who had been the BP representative in Iran for 25 years. The sale three months later was a big success, museum curators came from all over the place, and my role as Russian expert was soon conveniently forgotten. My favourite piece in the sale was this mirror, bought by John Drage for ten times my estimate, against the most powerful Iranian art dealer of the time. When he died his widow brought it to me, knowing the history and the significance that we both attributed to it. There is another example in the Louvre with an identical configuration of the magical square, but not as fine.
Provenance: T.L. Jacks, sold Christie's, London,1968.
John Drage
Published: The Unity of Islamic Art, ed. Esin Atil, Riyadh, 1985, no. 83.
Sabiha Al-Khemir, Beauty and Belief, Brigham Young University Museum of Art, 2012, pp. 86–88, 210, 249.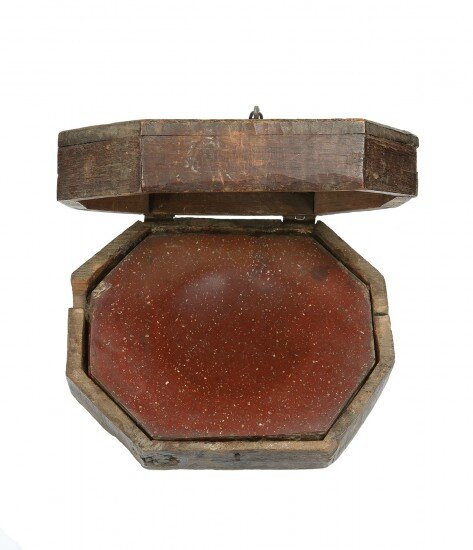 An alchemist's porphyry mercury bowl, English, probably 14th century. Size: 27.5 × 22 cm; box 31 × 25.5 cm. Swedish porphyry, oak, bitumen. Photo: Oliver Hoare Ltd.
To find something like this you would have had to visit Christopher Gibbs, whose mysterious lair was at the time in Elystan Place, where he sat like a magus with marvellous things. Doctor Dee's bracelet and Count Cagliostro's shoe buckles once resided there, I remember. And although Christopher's scope embraced much more than the curious and the esoteric, this interest of his tinged his taste in every area, and contributed to the influence he exerted on so many in the art world, an influence matched by very few. He was king of the house sales, the romance of which he described in an article that I have never forgotten but can no longer find. One of the most interesting features of this bowl – a close second to Doctor Dee's obsidian scrying mirror in the British Museum – is its Gibbs provenance.
Provenance: Christopher Gibbs, circa 1970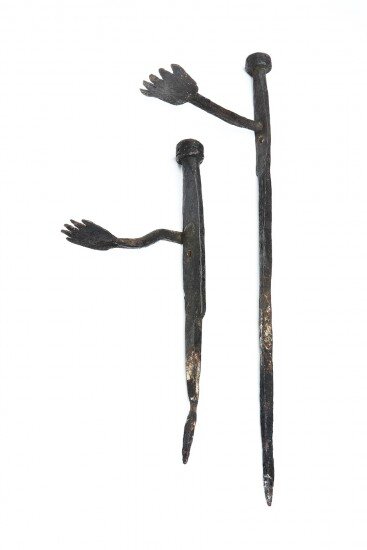 Two iron Voodoo presentoirs, Haiti, early 20th century. Size: 52.5 cm and 36 cm. Photo: Oliver Hoare Ltd.
Instructions for use: plant in the corner of your field; sprinkle corn on the hand; take a chicken, cut its throat so that the blood flows over the grain in the hand;
your harvest will be bountiful.
Provenance: Mabille, French Cultural Attaché in Haiti & Surrealist artist, 1930s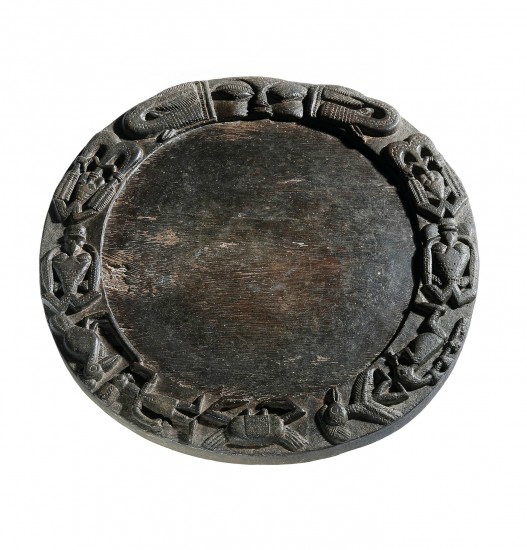 A Yoruba divination tray, Nigeria, 19th century. Size: 42 cm diameter. Photo: Oliver Hoare Ltd.
You put sand in the tray, shake it all about, and read off the formation of the sand in relation to the figures around the rim. It is a bit like reading the tea-leaves in Brighton or Hove. Worth a try, no doubt, and good luck!
A sooth-sayer's grimoire in Geez script, Ethiopia, 18th century. Size: 15.5 × 12.5 cm. Photo: Oliver Hoare Ltd.
Unless you are familiar with Geez script, this will be like a book about calculus to someone still learning his tables. Rough as it looks, it embodies a sophisticated body of knowledge, and is testimony to a craft, that of foretelling the future, which in our days is largely in the hands of charlatans and believed by the gullible. There are traditions that have investigated this area, and how to do it, and it would be a mistake to treat it as mere superstition. Whether you want to believe its findings or not is another question. As a general rule-of-thumb I would say believing in anything is a mistake.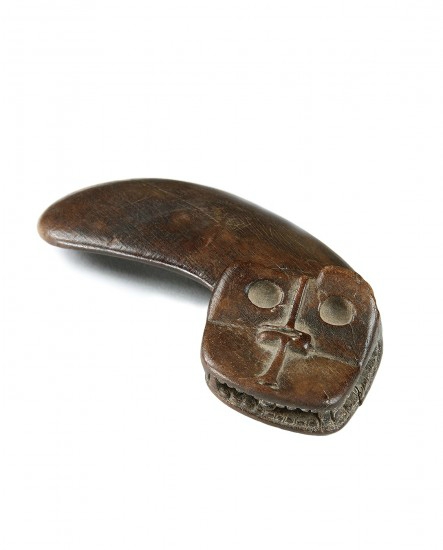 A shaman's jaguar tablet for hallucinogens, Southern Houari, Peru-Chile border, 500–700 AD. Size: 16.5 cm long. Photo: Oliver Hoare Ltd.
In the early 1970s the price for Chinese hard stone snuff bottles rocketed. This was because rock-stars and their followers found them ideal for keeping cocaine, suspended around their necks on thongs, and with the convenient spoon attached to the lid. This is a far superior type of drug container, attached to a deep shamanic tradition.
Provenance: Spencer Throckmorton, New York, 1992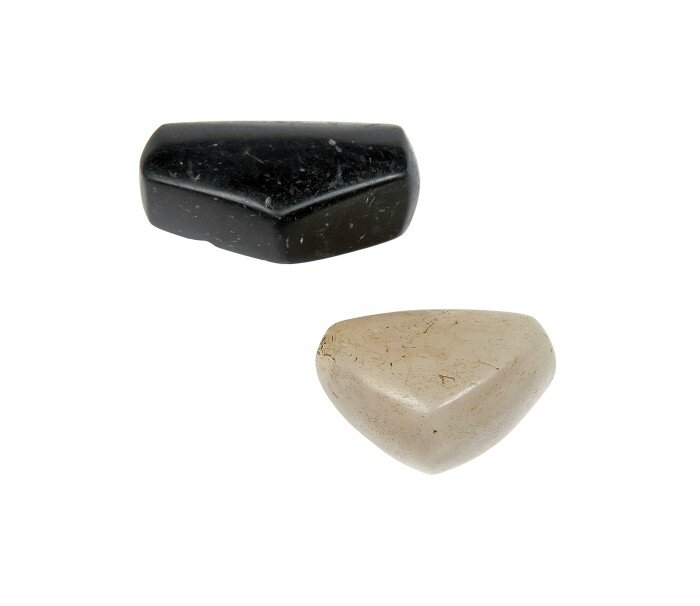 Two Olmec divination stones, Mexico, 1st millennium BC. Size: 5 cm; 4 cm. Photo: Oliver Hoare Ltd.
These stones are known as 'Palidores', but we seem to have lost their instructions for use.
Provenance: Spencer Throckmorton, New York, 1990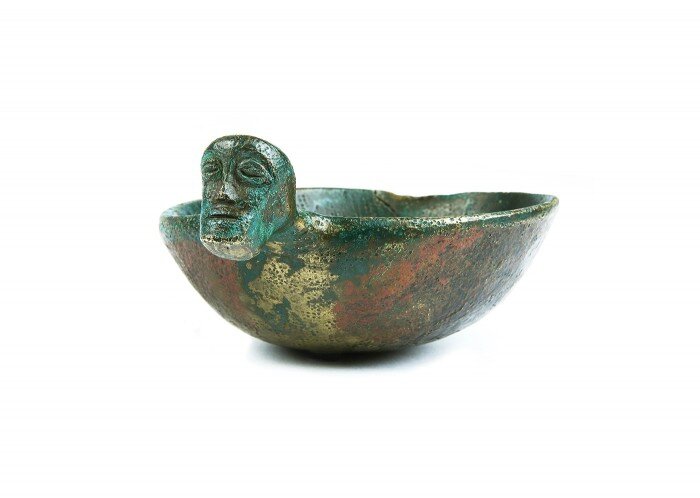 A Celtic bronze wassail cup, Northern England, 4th–3rd century BC. Size: 11 cm diameter. Photo: Oliver Hoare Ltd.
Celtic heads have attitude, and this is no exception. Whether the aggression was innate, or provoked by foreign and local invaders, is hard to decipher nowadays. Walking through a football crowd recently, I heard several snatches of conversations, including: 'So I fucking decked him, didn't I?', which suggests that the Celtic frame of mind is still among us. But I hope, if this was a wassail cup, a lot of companionable drinking would have gone on before the fights broke out.
Provenance: Anatole France, Paris (1844–1924)
Ratton-Ladrière, Paris
Private collection, Paris
Private collection, London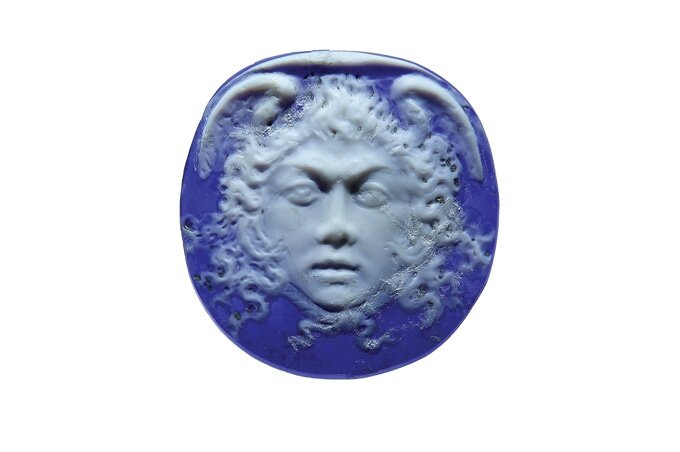 Cameo blue and white glass plaque with a head of Hermès. Probably Renaissance Italy, 16th century. Size: 5.8 × 6.5 cm. Photo: Oliver Hoare Ltd.
Provenance: Lockner collection, Germany
Paintings, works on paper and other objects: An exquisite anthology of poetry that belonged to the Great Mughals. Also including the Begum Samru by an Indian pupil of Zoffany; Colonel Claude Martin's Cobra; Drunken Russians in the Snow by Alexandre de Salzmann; engravings by Durer, Hollar and Rembrandt; a drawing by John Lockwood Kipling; an architect's model of Giotto's tower; a marble Baboon from the Barberini Cinema, Rome; a Key to the Ka'ba (?); opium tweezers; rare carpets and textiles.
The Begum Samru, North India, circa 1820–1830. Size: 77 × 60.5 cm. Oil on canvas. Photo: Oliver Hoare Ltd.
She was a beguiling beauty in her youth, but her early sex-appeal is as nothing compared to the extraordinary story of her later life. Unlike the many media-women we hear these days lamenting that once they have lost their youthful bloom they feel they have become invisible, with each passing year the Begum Samru became ever more visible.
Born in 1751, she began life as Zib al-Nisa, a dancing girl in Delhi. By the time she died in 1836 aged 85, she was recognised as one of the most extraordinary women of her time, renowned for her exceptional courage and utter ruthlessness.
As well as possessing great beauty, she was graceful and intelligent, and captivated Walter Reinhart, a swashbuckling Austrian adventurer who made a career as a soldier in northern India during the chaotic transition to British rule. He installed her in his zenana (harem) as his wife. Because of his saturnine character he acquired the nickname 'Sombre', which was altered by the Indians to Samru. After his death in 1778, the Begum inherited his land holdings, of which the principal part was the jagish of Sardhana, north-east of Delhi.
The estate was not expansive in size, but under the careful stewardship of the Begum it yielded substantial revenues, with which she maintained an army, well-trained by Europeans. Linked to her powerful personality, it became an important political force.
The Begum married a second time, to the Frenchman who commanded her troops. Reinhart's son then rebelled against his step-mother, and for a time his insurrection succeeded; the Begum's French husband inexplicably shot himself, she was taken prisoner and kept strapped, wounded, to the barrel of a cannon for seven days. In spite of this indignity she prevailed, and her rebellious step-son was thrown into jail, where he remained until he died of poison in 1801, administered, according to some, by the hand of the Begum herself. After this episode, she decided never again to rely on any one man. Since she was a powerful, and by all accounts, eccentric woman, capable of maintaining her independence through turbulent times in an exclusively male world, she was inevitably the target for much malicious gossip. She was even accused of burying a female rival alive.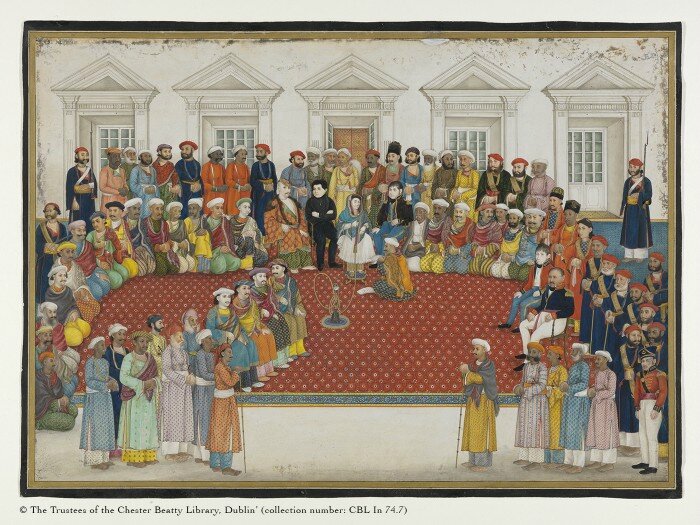 In this painting, seated on the Begum's left is George Dyce, a self-styled colonel, who for some years had charge over many of the Begum's affairs, until sacked for being insufferable. Dyce had married the daughter of Reinhart's rebellious son, and his son by this marriage, David, is shown here on the Begum's right, dressed in black. Although eccentric and ill-at-ease in company, the Begum was devoted to him and treated him as the palace pet, eventually adopting him as David Dyce-Samru and making him the main beneficiary of her will. He was later married to an Englishwoman, who, once she got him back to England, had him certified as insane in an attempt to get her hands on his fortune.
Next to David Dyce-Samru is John Thomas, son of an Irish adventurer, George Thomas, who had rescued the Begum during her step-son's rebellion. When John Thomas was expelled from India after an ill-judged military adventure, the Begum cared for his Indian wife and brought up his four children. John was her favourite, became an officer in her army, and was well known for his style of dressing: 'a debauched looking man in a kincob dress with a skull-cap thrown over his left brow'.
The Begum employed between fifteen and twenty Europeans during her later life, including her doctor, legal advisers and officers, and always took an active part in military affairs. As late as 1826, she led her army in support of the British expedition against Bharatpur, and when the British tried to bribe her not to go because her presence was politically sensitive, she declared that if she did not go, India would believe she had grown cowardly with age.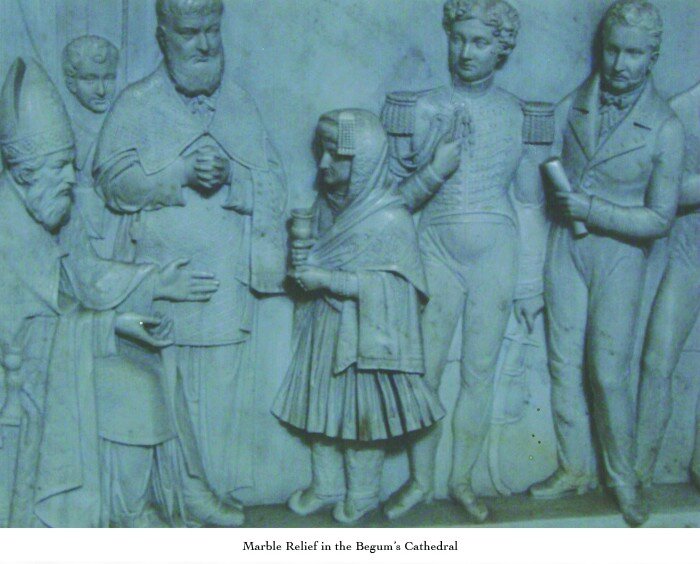 Having become a Catholic, she built a church in Sardhana, and sent lithographs of it to the Pope in 1834, saying it was widely acclaimed the finest church in India. It was here she was buried in 1836, in a grandiose marble mausoleum executed by an Italian sculptor, including eleven life-size white marble figures.
Giotto's campanile in Florence. An architect's wood model, circa 1830. Size: 128 cm high. Photo: Oliver Hoare Ltd.
The entire flock of pre-modern Western thought, religious, spiritual, artistic and scholastic, seems to have roosted in this remarkable tower. In the 14th century these various species were all alive and comprehensible, but since then most of them have become extinct, and interpretation of such a complex monument is today a largely irrelevant exercise. The tower remains an iconic feature of the architectural landscape of Florence, and of what the city has come to represent for Western civilisation.
Arnolfo di Cambio, the first Master of the Works of the Cathedral, died in 1302, and 32 years later Giotto was appointed his successor in 1334. He was 67 years old, and devoted himself to designing this free-standing bell-tower, of which only the ground floor had been completed by the time of his death in 1337. His plans were nevertheless scrupulously followed by Andrea Pisano, and completed in 1359 by Francesco Talenti, who omitted Giotto's spire, thereby reducing the intended overall height by 37.5 metres. Although principally known as a painter, Giotto was also one of the founding fathers of Italian Renaissance architecture, along with Brunelleschi and Alberti.
Apart from the complex mathematical correspondences involved in the geometry of the building, the façade was adorned with panels of sculpture designed to beam out a whole new outlook on the world. It is tempting to draw a comparison with early black-and-white silent movies from Hollywood, which rapidly developed into a powerful world-wide phenomenon. Giotto's tower and its context projected what they represented, affecting the likes of Trithemius, Paracelsus, Ficino, Pico della Mirandola, Erasmus, and many more, and profoundly changed the world in many ways. By comparison, from Hollywood we got Ben Hur and Terminator 2!
Alfredo Biagini (1886–1952), Baboon, Rome, 1930. Size: 50 cm high. Marble. Photo: Oliver Hoare Ltd.
Alfredo Biagini (1886–1952) is not a name well known today, unlike Gino Severini with whom he worked closely in the 1920s. Severini's role in Italian Futurism endears him to the current custodians of correct thought about 20th-century art, whereas Biagini worked in a now unfashionable classical style reworked with Art Deco precision. By the mid-1920s, Severini had come to the conclusion that Apollinaire had been right about the futility and provincialism of Italian Futurism, and had given up on the project. Meanwhile, by the late 1920s and throughout the 1930s Biagini was the best-known and most sought-after sculptor in Rome.
The Baboon was made for the Cinema Barberini, the finial for the bannister of the grand marble staircase up to the Royal Circle. The space for the cinema became available once the Barberini stables for horses and carriages became obsolete, and the architect Marcello Piacentini was commissioned to design the newest and grandest cinema in Rome by the film director Roberto Rosselini's father.
The quality of Biagini's work is evident. Few animalier sculptures are so revealing of an animal's character. And the way he has used the marble to suggest its fur is brilliant. On an imaginative level it is tempting to see the Baboon's malevolent stare directed towards the Fascist fashionistas that paraded up and down the staircase on which he was obliged to sit.
R. Pacini, Il cinema teatro Barberini, Emporium, lXXII, 1930, pp. 382s.
Ka'ba key?. Probably made in Mecca, bearing the date 573 ah/1177–8 ad. Size: 37 cm long. Iron, copper and silver alloy. Photo: Oliver Hoare Ltd.
This object has an interesting tale to tell. It might be a mournful lament if it were not so interesting. It came up for auction in London in 2010 and sold for £9.2 million. The whole room erupted with applause so unexpected was the price; the estimate in the catalogue was £400,000–500,000. Two weeks later Souren Melikian published an article in the Herald Tribune declaring the Key a fake. The legal representatives of the buyer, the King of Saudi Arabia, cancelled the sale.
Melikian's opinions are notoriously unreliable. He knows a lot in the field of Islamic art, but there is something that twists his judgements, along with a propensity to attribute most works of art to Iran, including, incredibly, the Pisa Griffon. I am not alone in saying this: Abolala Soudavar's 44-page demolition of Melikian's catalogue for the Safavid exhibition at the Louvre, Le Chant du Monde, entitled 'A Disenchanting Echo of Safavid Art History' reflects what I, and many others, think. 'There is hardly a page without a mistake. Typos and erroneous cross-references notwithstanding, the major problem of the catalogue is its methodology, one that solely relies on deciphering inscriptions, often wrongly, and using them to embark on a fantasy trip by developing theories in defiance of available evidence… I believe that the long list of his mistakes shall justify the harsh criticism that I have presented in this introduction.'
Early in my career as an art dealer, I wrote a letter to the Herald Tribune cataloguing a whole series of glaring errors in what he had written in his reports of Islamic auctions. It took a lot of prodding, but eventually they published my complaint, but without its original title: 'Souren Melikian: the biggest fake in the Persian art market'. He was in a powerful position with his weekly column, read by many, but he seemed to be driven by a hatred of the traders. He saw himself more intelligent and qualified, and yet it was they who were making the money. It is understandable, but he has done a lot of damage, unjustifiably.
Returning to the Key and its inscriptions, Melikian wrote: 'Conceivable in the later Turkish Ottoman or Persian usage when writing official inscriptions in Arabic, it would be astounding on a key, a key made in the 12th century for the most important shrine in Islam. Further stretching incredulity, the script attempted, unsuccessfully, to imitate the Kufic letter forms of ninth-century manuscripts. At that point it was difficult to reject the suspicion that here was one of those late apocryphal artefacts made for Ottoman sultans, who were keen to show they preserved in their treasury works loaded with a symbolism important to the world Islamic community that they aspired to rule.'
He also declared the cover illustration of the same catalogue, a Nasrid enamelled gold buckle, to be fake. 'Similar inconsistencies marred the script of the other star lot in Sotheby's sale. A gold and enamel buckle was celebrated in the catalogue as 'an extraordinary example of the art of the goldsmith in 14th century Spain' under the heading 'an exceptionally Rare Royal Belt Buckle from Al-Andalus.' The Arab name of Andalucia is another of those words with a powerful emotional charge – Romantic writers of the 19th-century Arab literary Renaissance sung in vibrant tones the lost province of the westernmost extremity of the Arab world. So deeply stirred were the bidders sitting in Sotheby's room that they did not spend much time looking at the object. Otherwise, they might have noticed the wobbly lettering, made more improbable by its attempt at emulating certain forms of much earlier writing, such as the extremities of the taller letters. These occur in the Middle East, but are not matched in the body of inscriptions from Arab Spain. The word 'al-sultan' at the bottom has its initial alif (letter A) nearly attached to the following lam (letter L) and its entire appearance is improbable in 14th-century Spain. The enamelling is poor and the design miserable with its formless stylised vegetal motifs. No wonder that the supposedly important Buckle remained previously unpublished. It might have been best if it had remained so.'
In the case of the Buckle there is irrefutable scientific evidence from two different laboratories that it is genuine, but this seems to have had no weight compared to Melikian's own high opinion of his own opinion. What he wrote is an illustration of what Abolallah Soudavar describes, as quoted above. His critique of the Buckle is pure twaddle, and his peculiar bias is also on full display.
There can be no question about authenticity of the Buckle, but the Key is more ambiguous. It underwent scientific examinations in two specialised laboratories. The first concluded that the iron body of the Key was probably ancient, consistent with the date in the inscription, but that the silver alloy of the top and cap was probably more recent. The second report was unambiguous: it's a fake. The British Museum also produced a study closely following Melikian's line, but so superficial and full of inconsistences that it failed to address any of the questions that such an object presents.
The purpose of all this is not to plead the authenticity of the Key: I don't know, like everybody else. It is rather a story of the strange nature of the art market. To me it is like an Oriental tale, in which an evil genie, whose role is to frustrate all human activities where possible, has turned something valuable into something worthless.*
The custom of dedicating the lock and key to each Caliph seems to have originated during the Abbasid Caliphate in Baghdad. It symbolised the Caliph's role as a guardian of the holiest site in Islam, which carried with it huge prestige. The practice continued under the Mamluk sultans of Egypt and then with the Ottoman sultans of Turkey.
Fifty-eight keys, apart from this one are recorded; fifty-four are in the Topkapi Palace Museum; two, previously owned by Prince Sadruddin Aga Khan, are in the Nuhad Es-Said collection, now in Qatar; one is in the Louvre; and one was previously in the Peytel collection. Of these, seven date from the Abbasid period. The earliest is dated 555 ah/1160 ad. This key, if genuine, is the second earliest example known, and previously unrecorded. It seems likely that all the Ka'ba keys were made in Mecca. The key dated 555 ah is signed by Ilyas ibn Yusuf Ahmad al-Makki. The keys all have provincial features in their decoration, reflecting Abbasid, Mamluk and Ottoman styles, but they differ in quality from products of metropolitan workshops.
Max van Berchem was the first to publish two Ka'ba keys in 1904, one, of which, from the Peytel collection, dated 1363/4, is now in the Louvre. Janine Sourdel-Thomine studied the Topkapi collection between 1966 and 1970 for Gaston Wiet's corpus of inscriptions of Mecca and Medina. She notes seven Abbasid keys dated between 555/1160 and 622/1225, and quotes the earliest written record of a gold lock sent in year 219/834 for the door of the Ka'ba by the Abbasid Caliph al-Mu'tasim.
In 1516, the Ottoman army under Sultan Selim I defeated the Mamluks. As a result, the Sherif of Mecca Abu Namayy Muhammad II bin Barakat, sent his son to congratulate the Sultan, taking with him the keys to the Ka'ba that were stored in Mecca. These were presented as a gift in recognition of the Sultan's role as protector of the Two Holy Places, and have resided in Topkapi ever since.
* Idries Shah published a story, 'The Princess of the Water of Life' (Seeker After Truth, Octagon Press, 1992. pp. 166–7), which neatly encapsulates the operation of 'malevolence' in human affairs. The point of such a story is, I believe, not to explain it, but to provide a point of reference to recognise it.
Bibliography:
Max van Berchem, Deux clefs de la Mecque, Notes d'arch.ologie arabe III, JA, 1904, 1, pp. 90–96.
Gaston Migeon, Mus.e de Louvre. L'Orient musulman, Paris, 1922, I, no. 48 and plate XVII.
Gaston Migeon, Manuel d'art musulman. Les arts plastiques et industriels, 2nd edition, Paris, 1927, I, pp. 390–392.
Gaston Wiet, Objets en cuivre, Cairo, 1932, p. 227, no. 311.
Sourdel-Thomine, J. 'Clefs et serrures de la Ka'ba. Notes d'epigraphiearabe', Revue des .tudes Islamiques, Vol. 39, 1971, pp. 29–86.
Allan, James, W., Islamic Metalwork, The Nuhad Es-Said Collection, Sotheby Publications, London, 1982.
Oliver Hoare is an independent art dealer specialising in Islamic art. He joined Christie's in 1967 where he founded the Islamic Art department before leaving in 1975 to establish his own business. He has since advised a number of collectors and museums throughout the Middle East, as well as in Europe, the US and Japan, including the National Museum of Kuwait, the Nuhad Es-Said Collection (Beirut), and the Qatar National Museum. In 1994 he negotiated the exchange between the Iranian Government and the Houghton Family Trust whereby Iran recovered the 'Houghton Shahnameh', the most important illustrated Persian manuscript, in exchange for Willem de Kooning's painting 'Woman III' which was in the Tehran Contemporary Art Museum. He has published Portraits of the Masters, the first comprehensive book on Tibetan portrait bronzes (two volumes, 2003 and 2005), and The Silent Orchestra, a catalogue of Islamic musical instruments (2005).