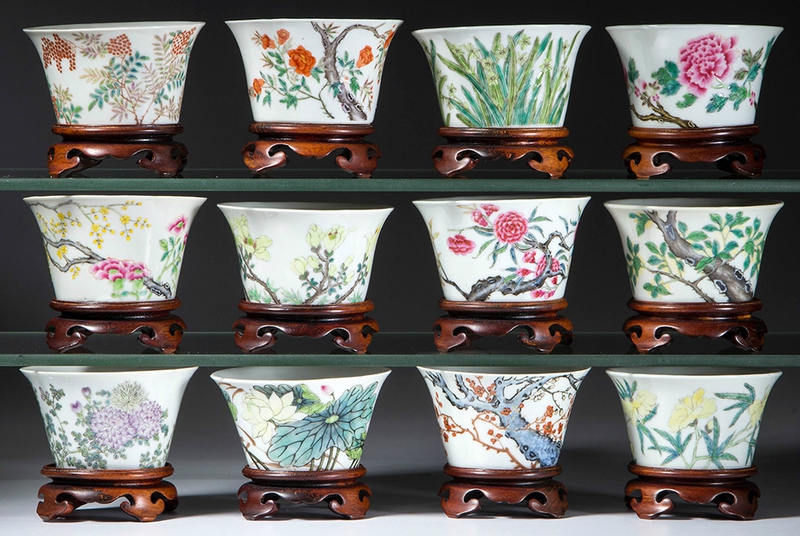 Set of Chinese Export porcelain famille rose Ming-style months tea bowls, Republic period, 20th Century. Estimate: 1,000.00 - 1,500.00. Price Realized: 21,850.00. Photo Jeffrey S. Evans & Associates.
MT. CRAWFORD, VA.- In a sign of continued growth, Jeffrey S. Evans and his staff decided at the beginning of the year to add two Fine and Decorative Arts auctions to their 2015 schedule. This change will allow the firm to place their consignments of European and Asian material, along with late 19th and 20th century silver, Arts and Crafts and other 20th century design articles, 19th and 20th century porcelain and glass, and jewelry into specific auctions separate from their traditional June and November Americana sales. The need for the new categorization was a direct result of more diverse consignments coming into the auction house, in greater numbers.

The first of these new auctions of fine art and decorative objects was held April 25, and by all measures, the format was met with great enthusiasm. The top price of the day was paid for a set of 12 Chinese Export fine porcelain Famille Rose Ming-style "months" tea bowls on wooden stands, which sold for $21,850 against an estimate of $1,000-1,500 (Lot 663). Dating to the Republic period, each tea bowl was painted with a unique floral specimen and inscribed with a calligraphic inscription. Another sleeper, a carved "huali" or "huanghuali" wood vanity with a cast bronze mirror, possibly from the Qing Dynasty, soared above its $200-300 estimate, realizing $9,200 (Lot 567).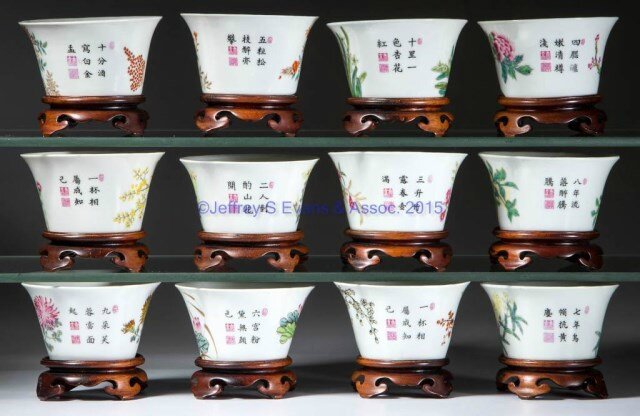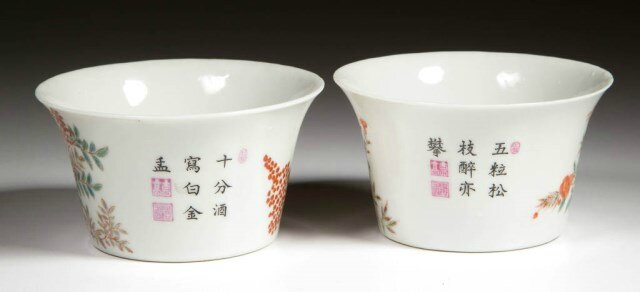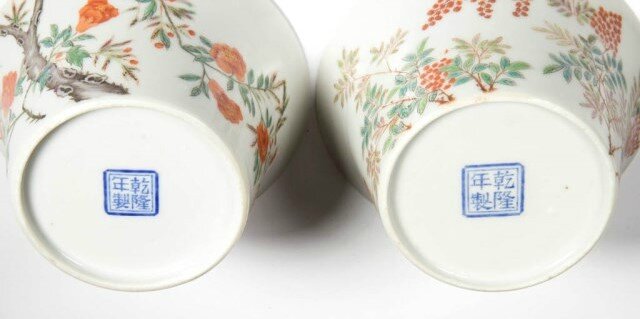 Set of Chinese Export porcelain famille rose Ming-style months tea bowls, Republic period, 20th Century. Estimate: 1,000.00 - 1,500.00. Price Realized: 21,850.00. Photo Jeffrey S. Evans & Associates.
comprising a complete set of twelve tea bowls with lightly everted upper rims, each painted with a flower symbolic of a different month of the year, and with various seals and written poems or odes that express the emotional element of that month, all with Ming period marks. Each with a carved wooden stand. 20th Century. 2" H, the teabowls, 1" H, the stands.
Excellent condition but for the winter teabowl with a tiny over-painted nick to rim and the peony teabowl with a very shallow and small chip to rim.

Provenance: Property of a New York private collector.

Note: The months are symbolized as follows: Plum blossom (January), apricot blossom (February); peach blossom (March); tree peony (April); pomegranate (May); lotus (June); rose (July); osmanthus (August); chrysanthemum (September); cymbidium orchid (October); narcissus (November); and wintersweet (December).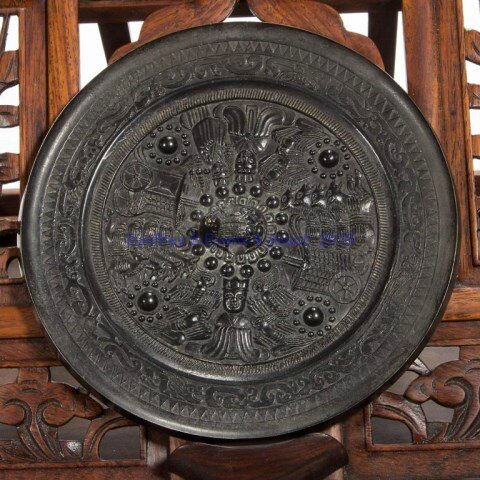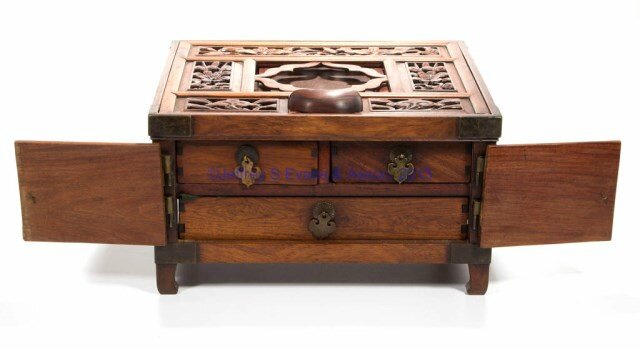 Chinese carved wooden vanity box and bronze mirror, possibly from the Qing Dynasty, probably mid 20th century. Estimate: 200.00 - 300.00. Price Realized: 9,200.00. Photo Jeffrey S. Evans & Associates.
of rosewood or a related wood, possibly "huali" or "huanghuali" wood, on four feet, with brass hardware and corner reinforcements, the top divided into panels of open-work carving in floral and foliate designs, and set into the body so as to tilt up and be propped up to hold the bronze mirror, with two front doors to the front that open to reveal two drawers over a single drawer; the mirror of disk form, with a concentric bands under rim, the first of sawtooth pattern, the second of stylized dragons and clouds, and third of sunburst rays, centering an image of royalty or priests, chariots, and other creatures, with a central lug in the form of a turtle. Probably mid 20th century. Closed 7 3/4" H, 13" x 13", open 15 1/2" HOA; mirror 7" D.
Excellent condition overall, with expected irregularities as made, and some minor wear or losses to drawers; one drawer with stain to interior.

Provenance: Property of an Augusta Co., VA private collector.
European porcelain realized strong prices in this auction as well. A set of 11 Royal Worcester "Orchid" plates in mint condition, painted by Frank Roberts, sold for $6,900, against an $800-1,200 estimate (Lot 758), and a pair of Sevres-style porcelain plaques inset into gilt-bronze lighting sconces, realized $4,312.50 (Lot 108) despite having losses to their candle arms. Japanese porcelain also performed well, with a rare survivor of the period between the wars, a 57-item hand-painted floral Kutani porcelain dinnerware service, realizing $4,600 (Lot 715).

The sale included a selection of 20th century design objects including a leaded art glass globular Periwinkle pattern hanging hall lamp attributed to the Unique Art Glass & Metal Co. which sold for $5,750 (Lot 423). Among the luxury offerings of jewelry, purses and luggage, a Goyard trunk dating to the late 19th/early 20th century, lead the way at $4,600 (Lot 106).

After the auction, President Jeff Evans expressed his pleasure with how well the auction was received. "We were able to put together over 950 lots in a diverse range of categories and offer all with no reserves. This, combined with the fact that most of the material was fresh to the market, accounted for the strong bidding and robust results that we achieved." Evans also noted that bidders from more than 40 countries signed up for the auction and that nearly 50% of the sales by lot sold on the Internet.

The firm's second fine and decorative arts auction of 2015 will be held on October 13. The next auction to be held at Jeffrey S. Evans & Associates will be of 18th and 19th Century Glass and Lighting on May 20, 2015.