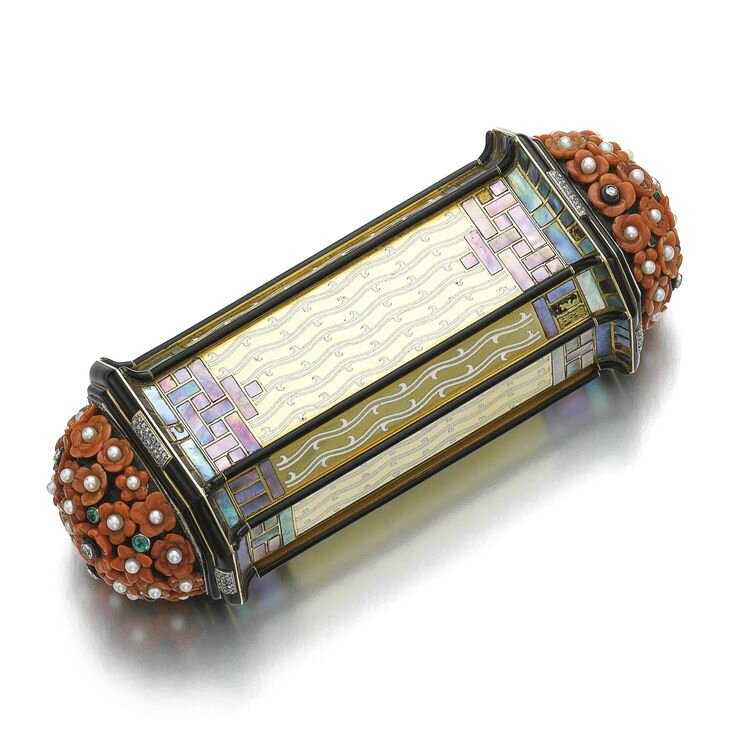 Lot 451. Superb gem set vanity case, Cartier, 1925. Estimate 110,000 — 160,000 CHF. Lot sold 274,000 CHF. Photo Sotheby's
The octagonal gold box decorated with white enamel wave motifs, mother-of-pearl inlay, and black enamel, the terminals covered in carved coral flowers, seed pearls, cabochon emeralds, and circular-, single-cut and rose diamonds, each end opening to reveal a powder compartment, the length opening on two sides to reveal a compartment, a lipstick holder and a fold out mirror, dimensions approximately 120 x 45 x 34mm, signed Cartier, numbered, French assay and maker's marks, several mother-of-pearl panels deficient.
Bibliography: Cf: Hans Nadelhoffer, Cartier: Jewelers Extraordinary, London, 1984, pgs. 197-206 and plate 50 for the reproduction of the drawing of this vanity case.
Cf: Judy Rudoe, Cartier: 1900-1939, London, 1997, pgs. 116-120 and 315 for a reproduction of the original sketch.
Cf: Jader Barracca, Gianpiero Negretti, Franco Nencini, Le Temps de Cartier, Fondation Cartier, 1989, p. 138.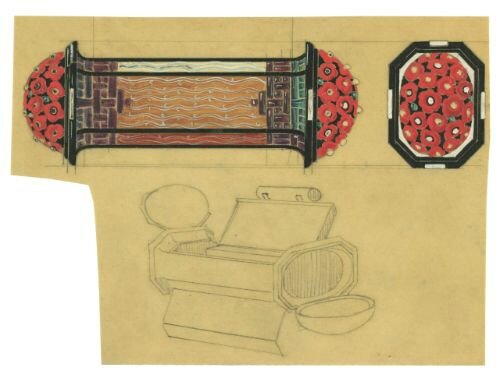 Vanity case, Cartier, Paris, 1926, graphite, India ink and gouache on tracing paper, 120 x 165mm, Inv. ST25/60A, Archives Cartier Paris © Cartier
Notes: The boîte-à-rouge-et-à-mouches, created under the reign of Louis XV, King of France (1710-1774), is considered the prototype for today's vanity case. In the 19th century, wearing lipstick and smoking in public were still consideredgauche for a lady. These cases, containing a mirror, a couple compartments and a small brush, were created for use on a woman's dressing table, not for public use.
In 1893, Eulalia, the Spanish Infanta, shocked the world by smoking in public at the Chicago Colombian Exhibition. By 1916, the new vogue became well enough established that the New York Ritz-Carlton Hotel removed their ban on ladies smoking in their public spaces. The use of cosmetics also became common place. The First World War denoted an emancipation for women and it became acceptable not only to wear cosmetics, but to apply them in public. The cosmetics industry boomed as did the fortunes of women who invested in it, including Helena Rubinstein.
Following the creation of men's cigarette cases, jewellery houses began to design cases for women, and the nécessaire pour dame was born. As per Louis Cartier's directive, "We must make it our business to build up an inventory that responds to the moral mood of the public by producing articles which have a useful function but which are also decorated in the Cartier style'. Vanity cases became a 'must have' accessory for the modern woman. Examples from the early twentieth century include a powder compact, a lipstick holder, a tortoise-shell comb, a mirror and an ivory dance card reminiscent of the former carnet de bal. By 1920, Cartier had developed one of their most sophisticated models, the combined cigarette and vanity case. The design incorporated a cigarette holder with compartments for powder and rouge. This multi-compartment vanity could be carried in lieu of an evening bag.
Of course in the most sophisticated examples, fashion married function. Chinese and Japanese influences were all the rage in Art Déco objets d'art. From 1924, Louis Cartier systematically collected mother-of-pearl inlay from leading antique dealers for use in his pieces. Since ancient times, Chinese mother-of-pearl was valued for its rose, lavender-blue and shimmering green iridescence, collected from the innermost layers of saltwater and freshwater mussels. These small panels, applied in the lacquer burgauté technique, were often paired with coral, lapis lazuli and onyx, and often embellished with cabochon gemstones.
This example combines the very finest elements of Cartier's production in this period: mother-of-pearl inlay, enamel wave motifs, japonisant coral flowers, and the functionality of a fold-out mirror, a cigarette and lipstick holder, and powder and rouge compartments.
Sotheby's. Magnificent Jewels and Noble Jewels, Genève, 12 mai 2015, 10:30 AM