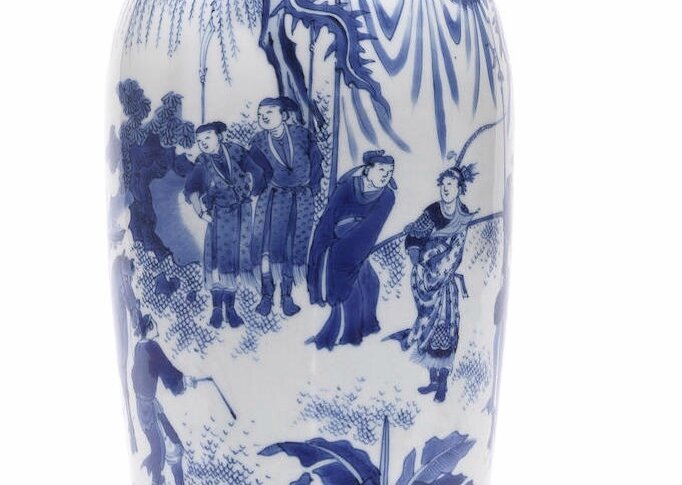 A fine blue and white sleeve vase, rolwagen, Chongzhen period (1627–1644). Estimate £25,000 - 35,000 (€35,000 - 49,000). Photo Bonhams.
With a slightly tapering body, exquisitely painted in vivid shades of underglaze blue with a garden scene surrounded by rocks, plantain leaves, wutong and willow trees, depicting a martial general elaborately dressed with a prominent feathered headdress proudly standing outside a tent and accompanied by a scholar, flanked by guards holding spears and flags and approached by an attendant leading his horse from the fenced terrace beside two further servants presenting trays of offerings, beneath an incised band of scrolling foliage to the shoulder and upright still leaves to the flaring trumpet neck. 40.7cm (16in) high
Provenance: acquired from John Berwald Ltd., London, on 15 October 1996 (label)
An American private collection
Note: The vase most probably depicts the late Eastern Han dynasty General and warlord, Lü Bu (died 199), being presented with the legendary horse 'Red Hare' as a gift from the powerful Official Dong Zhuo (died 192AD). The horse 'Red Hare' was mentioned in Lü Bu's biography in the historical texts Records of the Three Kingdoms and the Book of the Later Han, where it was described as being extremely strong and spirited. The horse later entered literary fame when the historical events of the fall of the Han dynasty became dramatised in the popular Ming novel Romance of the Three Kingdoms. For a related motif, but on a covered jar of ovoid form, see R.S.Kilburn, Transitional Wares and their Forerunners, Hong Kong, 1981, p.118, no.76.
Bonhams. FINE CHINESE ART, 14 May 2015 10:00 BST -LONDON, NEW BOND STREET