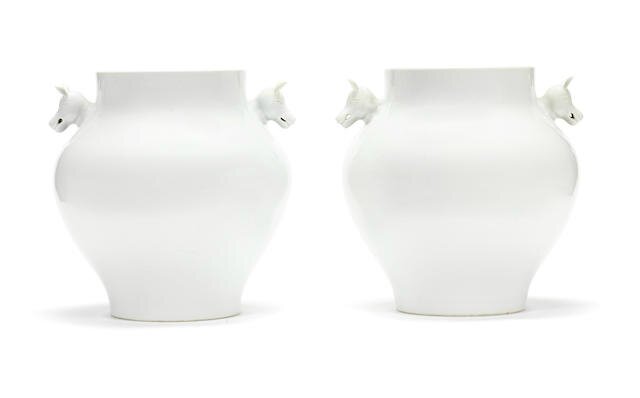 A rare pair of white-glazed deer-handled vases, hu, Guangxu six-character marks and of the period. Sold for £8,750 (€12,100). Photo Bonhams.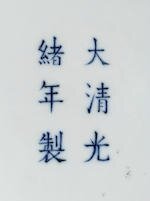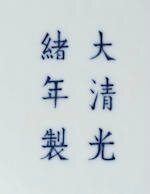 Each vase with a bulbous body rising to a straight neck flanked on each shoulder by a deer-head finely modelled with long ears and a smiling mouth, the interior and exterior all covered with a smooth white glaze pooling slightly to a faint bluish tone in the recesses. Each 27cm (10 5/8in) high(2).
Notes: Monochrome baluster vases of simple form and with two animal-head handles have a long history in Chinese ceramics. A yellow-glazed example dated to the Hongzhi period from the Qing Court Collection is illustrated in The Complete Collection of Treasures of the Palace Museum: Monochrome Porcelain, Shanghai, 1999, no.36 and on the front cover. Another white-glazed example dated to the Kangxi period is illustrated in Compendium of Collections in the Palace Museum: Ceramics 23 Shunzhi (1644-1661) and Kangxi (1662-1722) Period of the Qing Dynasty (II), Beijing, 2013, no.181. Another blue-glazed example, Daoguang mark and period, is illustrated in Imperial Porcelain of the Late Qing From the Kwan Collection, Hong Kong, 1983, no.79.

The present lot represents a refinement of this type, with the handles as recognisable deer. The deer is a symbol of longevity, as it is the companion of Shoulao, the God of Longevity, and is the only animal able to search out the sacred lingzhi fungus.
Bonhams. FINE CHINESE ART, 14 May 2015 10:00 BST - LONDON, NEW BOND STREET