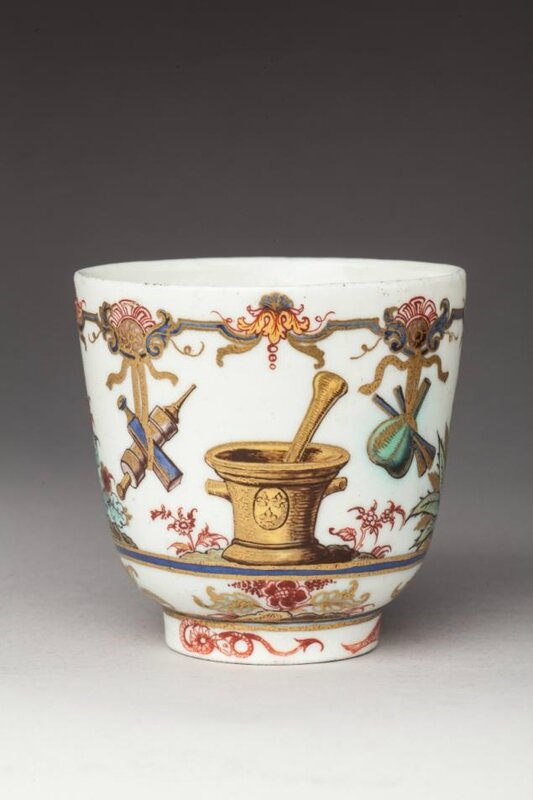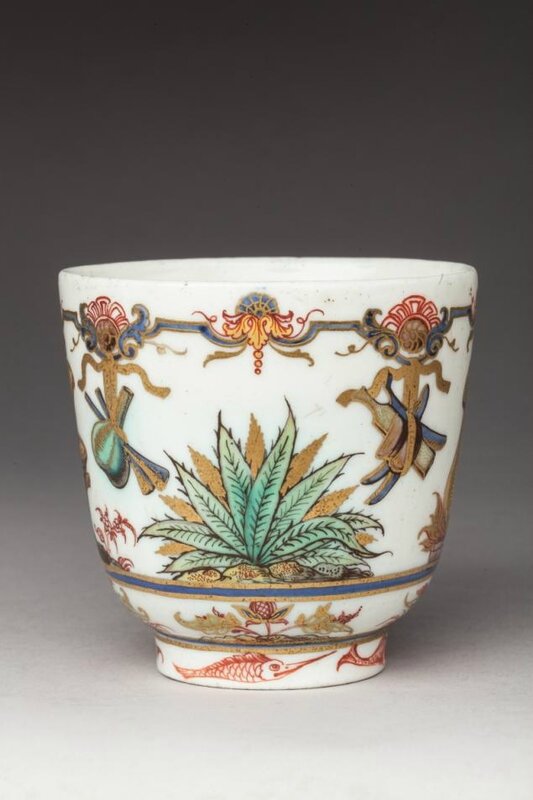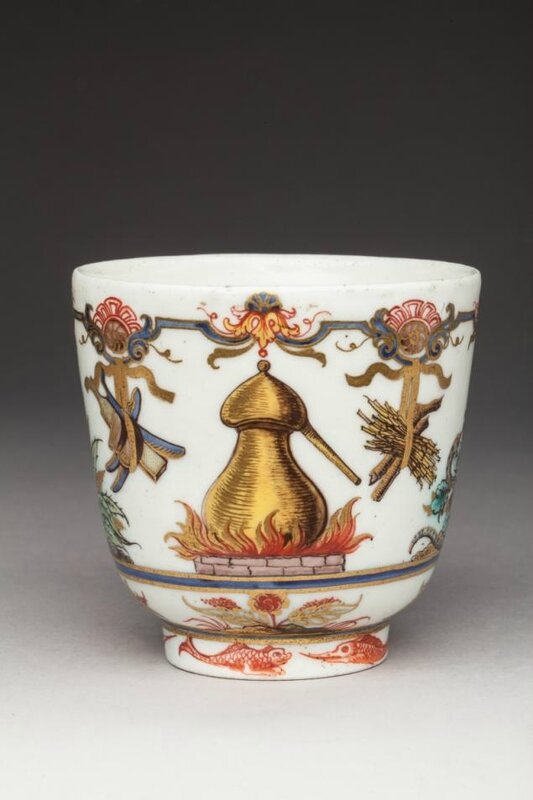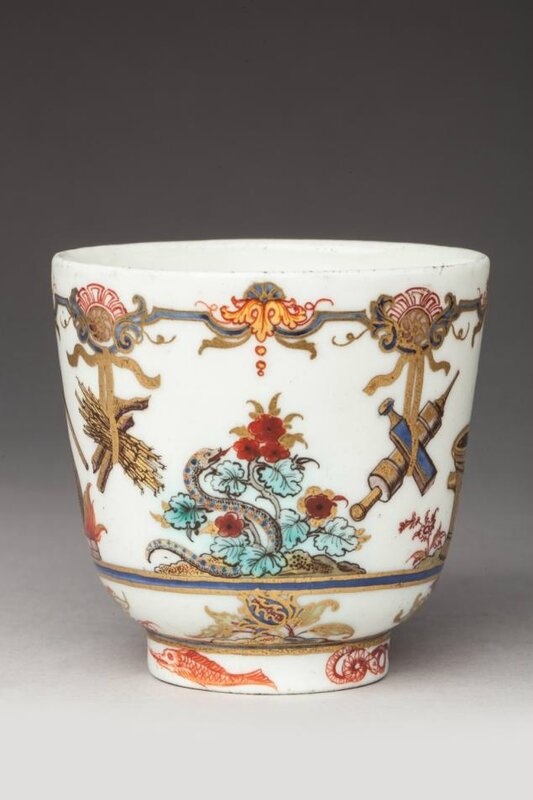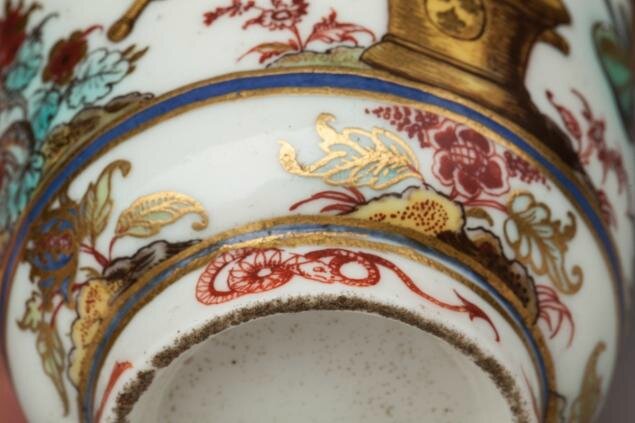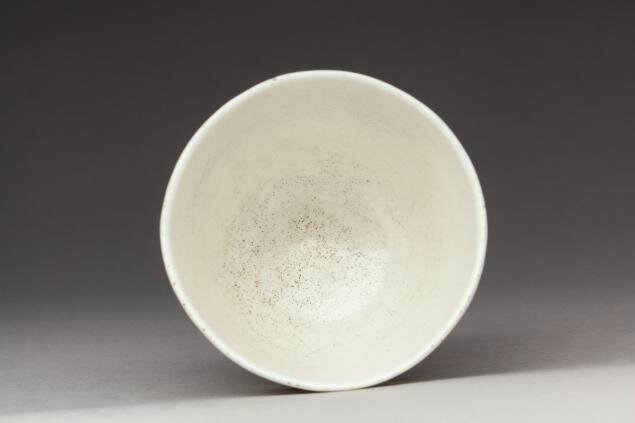 Rare gobelet Aux Armes de France, Saint-Cloud, porcelaine tendre, début du XVIIIe siècle, ca. 1700-1710. Estimation : 20 000 € - 30 000 €. Photos courtesy Rouillac
en porcelaine à décor polychrome figurant les attributs du barbier-apothicaire, et rehauts à la feuille d'or appliqués par estampage.
La frise de lambrequins du col, alternant filets, feuilles d'acanthe, palmettes et rosaces,
retient en pendeloques des attributs noués par des rubans qui délimitent des réserves où
figurent le serpent d'Esculape, un mortier et son pilon aux armes de France, un alambic et un plant de tabac. Le culot est orné de diverses fleurs stylisées et le talon d'une frise de monstres marins en rouge de fer. Haut. 7,5, Diam. 8 cm.
Provenance : château du Blaisois.
Rare beaker in porcelain polychrome and gilded, ornamented with symbols of apothecary and the Royal French coat of arms. Manufacture of Saint-Cloud. Beginning of the 18th century.
LA PLUS ANCIENNE PORCELAINE DÉCORÉE À L'OR DE FRANCE

L'inventaire après décès de Monsieur, frère du Roi et protecteur dela Manufacture de Saint-Cloud, mentionne en 1701 « deux gobelets de porcelaine de Saint-Cloud gravés et remplis d'or ». Un seul autre exemplaire de ce modèle rarissime est connu, conservé au Musée de Sèvres et illustré in : « les porcelainiers du XVIIIe siècle français » - Collection Connaissance des Arts «Grands Artisans d'Autrefois» - Hachette, 1964. Le gobelet ébréché du Musée de Sèvres (MNC 11119) a été légué par Madame veuve Dècle en 1902.

H.-P. Fourest considérait ce modèle comme le plus ancien témoignage connu des essais de dorure par estampage effectués par Saint-Cloud, tel que le Dr Martin Lister témoignait en avoir vu en 1698. Dans le catalogue publié à l'occasion de l'exposition organisée par The Bard Graduate Center for Studies in the Decorative Arts à New York en 1999 : « Discovering the Secrets of Soft-Paste Porcelain at The Saint-Cloud Manufactory ca. 1690-1766 », les rédacteurs de l'article intitulé : «Gold-Foil Decoration» (p. 296) mentionnent bien évidemment Martin Lister, et font état du mystère concernant les premiers essais de dorure à Saint-Cloud. Ont-ils eu lieu à la manufacture même, ou dans des ateliers parisiens, comme en témoignent d'autres exemples relevés sur des porcelaines de Chine et du Japon, ou bien encore sur de la verrerie ou des émaux ?
Rouillac SVV.. Dimanche 7 juin. Château d'Artigny, Montbazon (Indre-et-Loire).