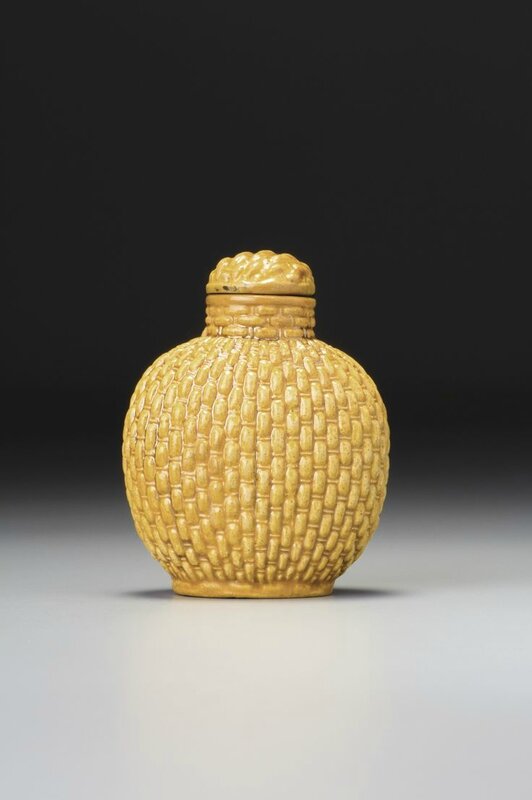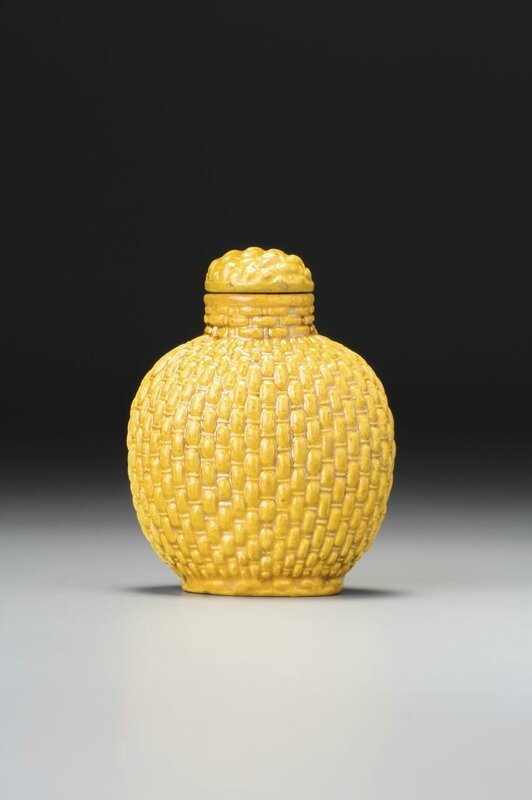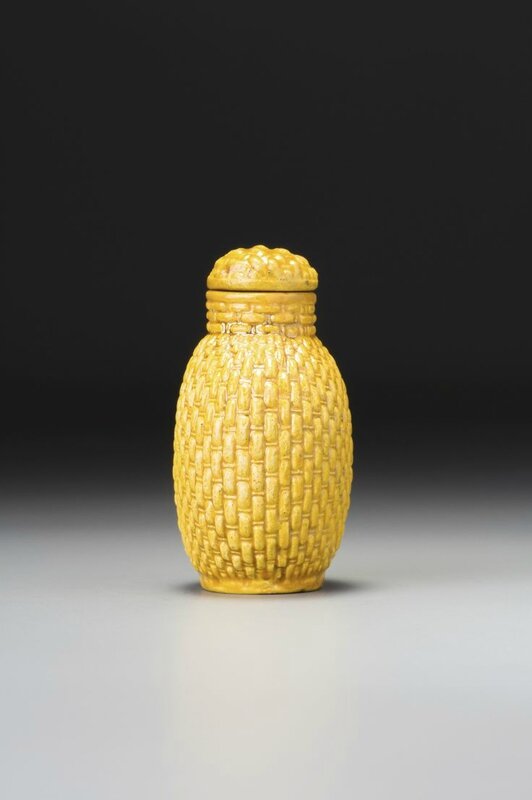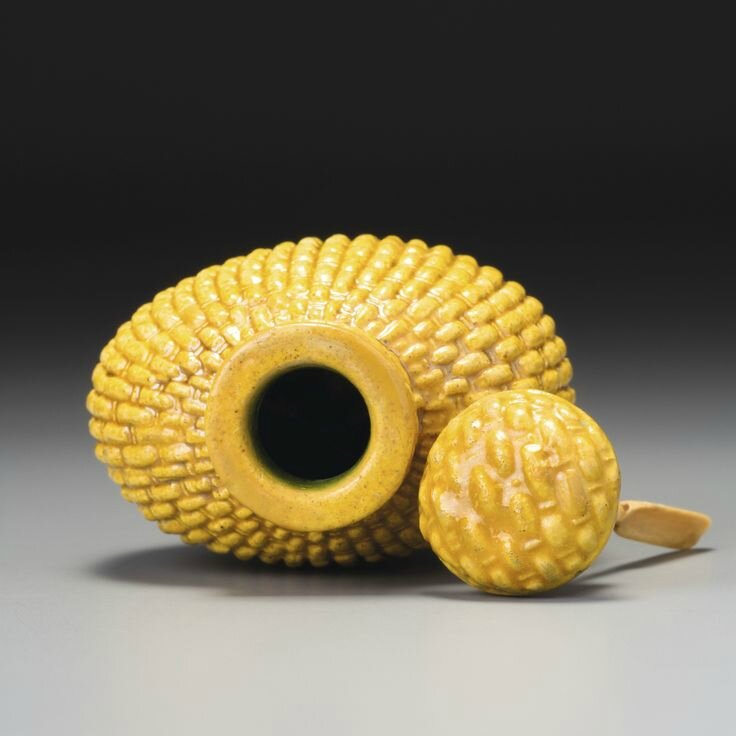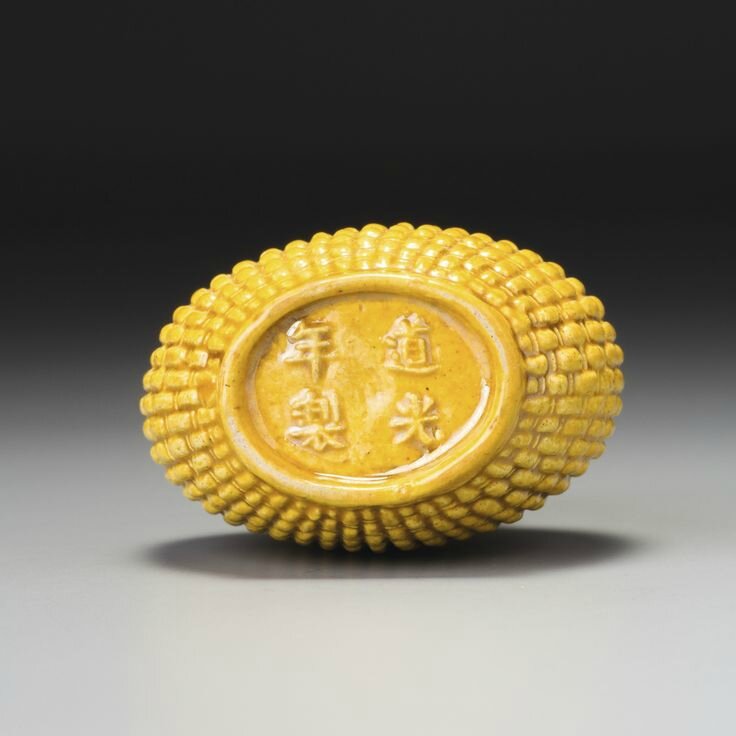 A golden-yellow glazed stoneware 'basket-weave' snuff bottle, Mark and period of Daoguang. Estimate 55,000 — 65,000 HKD (6,571 - 7,766 EUR). Photo Sotheby's
5.8 cm., 2 1/4 in.
Provenance: Collection of John Ault.
Robert Kleiner, London, 2002.
Literature: Robert Kleiner, Chinese Snuff Bottles from the Collection of John Ault, Hong Kong, 1990, no. 133.
Hugh Moss, Victor Graham and Ka Bo Tsang, A Treasury of Chinese Snuff Bottles: The Mary and George Bloch Collection, vol. 6, Hong Kong, 2007, no. 1342.
Notes: This rare reign-marked porcelain is obviously related to Sale 6, lot 251 and to the bottle imitating a moulded gourd (Sale 5, lot 115), also with a Daoguang reign mark.
This example and the imitation gourd have similar marks, and neither is made from the typical porcelain used at the Jingdezhen imperial kilns. The ceramic body here is covered everywhere in glaze, but where the glaze is worn a little on the foot rim, the body is revealed to be either beige porcelain or possibly even the less refined and less highly fired stoneware. The imitation gourd is more obviously made from some type of brown stoneware, not dissimilar to Yixing material, judging from what little can be seen of it through nibbles in the glaze and an unglazed interior patch.
It is quite possible that occasional orders were placed at some other ceramic centre than Jingdezhen (they certainly were at Yixing, for instance), which might account for these unusual ceramic bodies, but Sale 6, lot 251, obviously related to this one, is more obviously on white porcelain, so it may be that all were made at Jingdezhen.
As Robert Kleiner has suggested, this bottle may have been intended to imitate a moulded gourd. Sale 2, lot 110, is a moulded-gourd bottle of similar design, and another, ascribed by the author to the Daoguang period, is in Wang Shixiang 1993, pl. 135. The resemblance of this piece to the gourd examples, however, may also have resulted from nothing more than the same design, based on a basket-weave casing for a jar, being applied in two different media rather than from the specific intent to imitate a moulded-gourd snuff bottle. By this line of reasoning, the colour of the glaze on this bottle would be imitating the straw colour of the original material of the woven protective containers for jars, not the brown skin of the gourds (although it must be admitted that the gourd bottles one sees were lighter in colour before they aged).
There can be no questioning the original stopper here. It is made from the same material, similarly glazed, and given a matching design. Matching stoppers on basket-weave designs are extremely rare, but one other was in the Bloch Collection, in nephrite; it may also date from the earlier part of the nineteenth century, given its unusually wide mouth (Sale 2, lot 56).
Sotheby's. Snuff Bottles from the Mary and George Bloch Collection: Part X, Hong Kong, 01 Jun 2015, 10:00 AM