Cecile Walton (1891-1956), Eric Robertson (1887-1941), artist, with Mary Newbery (1890-1985), 1912. Oil on canvas, 94 x 186.10 cm. Scottish National Portrait Gallery © The family of the artist. Photograph by John McKenzie.
EDINBURGH.- A double portrait by the celebrated Edinburgh painter Cecile Walton is the highlight of a new exhibition on view at the Scottish National Portrait Gallery this spring. The painting joined nearly 50 paintings, drawings and photographs in Collecting Now, for a celebration of some of the modern works which have recently entered the Gallery collection, many of which are shown for the first time. Highlights of the exhibition are works by influential photographers Eve Arnold, Viviane Sassen and David Peat, and portraits of key Scottish figures like poet Edwin Morgan and actor Alan Cumming.

A key acquisition from the recent year is the large painting Eric Robertson (1887-1941), artist, with Mary Newbery (1890-1985) completed in 1912 by Cecile Walton (1891-1956), the daughter of Glasgow Boys artist Edward Arthur Walton. The work, which is over six-foot long, links together three fascinating figures of the Scottish art scene from the pre-World War I years. Eric Robertson, the artist's husband, was a talented landscape painter whose bohemian lifestyle became a cause célèbre in polite Edinburgh circles. Mary Newbery, a close friend of the couple and an artist herself, was the daughter of Glasgow Girls artist Jessie Newbery, and Glasgow School of Art director Fra Newbery. In this idyllic scene Robertson and Newbery are seated in a luxurious garden; Newbery is shown with a flower crown on her lap, a hint from Walton at the symbolism of flowers which can often be seen in Newbery's work.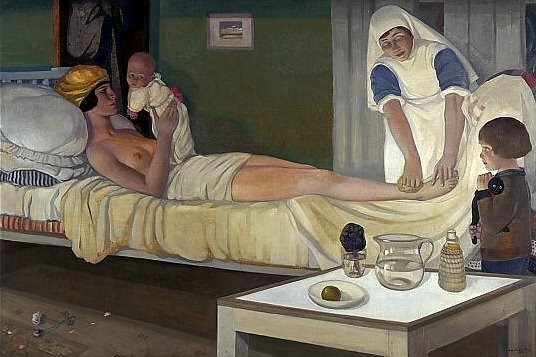 Cecile Walton, Romance (With her children Edward and Gavril) © The Family of the Artist
The exhibition also focuses on some of the photographs that have been acquired by, and gifted to the Gallery since 2010, including three black and white photographs of jazz singer Carol Kidd by American artist Eve Arnold (1913-2012). Glasgow-born Kidd, who was once described "the best kept secret in British Jazz" by Frank Sinatra, is shown rehearsing new songs with her pianist in 1986. Eve Arnold was a pioneer of photojournalism and the first woman to join the prestigious Magnum Photographs agency; she was commissioned to photograph the Carol Kidd for her album 'Nice Work', released in 1987. At the time Arnold was already famous for her iconic shots of Malcolm X and Marilyn Monroe, but Kidd recalled how she did not realise who Arnold was until after the photos had been taken.
Another photograph on prominent display is the colourful In Bloom (2011), by contemporary Dutch photographer Viviane Sassen. This stunning photograph of a woman standing in a field of pink tulips, with layers of purple and yellow skirts, was part of Sassen's popular exhibition at the Scottish National Portrait Gallery in 2013. Sassen's work spans both fashion and fine art photography; In Bloom is part of an eponymous series created for the magazine Dazed & Confused.
Viviane Sassen, In Bloom, 2011. Scottish National Portrait Gallery. Photo courtesy www.fashiongonerogue.com
The brightness of In Bloom is offset by a series of remarkable black and white photographs taken in Glasgow in the late 1960s by David Peat (1947-2012), a street photographer and award-winning filmmaker. Peat's work often focuses on the lives of ordinary people, a concern also at the forefront of these compelling portraits which show children playing in the streets in the South Side of the city. The photographs were taken at a time when the run-down tenements of Glasgow's Gorbals area were being demolished and replaced with new high-rise towers. Thanks to Peat's unique observational skills, these arresting photographs offer a glimpse of everyday life at a distinct time in Glasgow's history.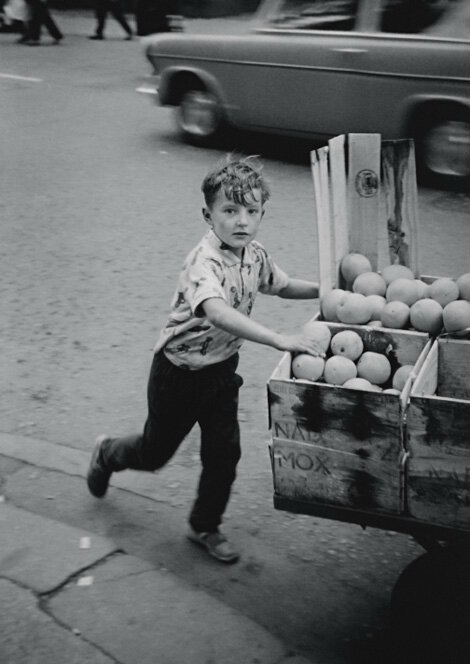 David Peat, Untitled (Boy Pushing Trolley with Fruit), 1968, printed 2013 by Robert Burns. National Galleries of Scotland. © The Peat Family.
Scottish literary icon Edwin Morgan (1920-2010) is represented in a moving drawing by Joyce Gunn Cairns. Although Gunn Cairns drew the sitter on numerous occasions, this was the last one completed before his death. A celebrated poet, Morgan was also Professor of English at the University of Glasgow and named in 2004 as the first 'Scots Makar', the Scottish national poet.

Finally, an unconventional and vibrant portrait of actor and writer Alan Cumming is back on display; the painting was first unveiled in December 2014 as part of a collaboration with Sky Arts and quickly became a favourite with Gallery visitors. Cumming is an outstanding Scottish actor who enjoys an international reputation. He studied at the Royal Scottish Academy of Music and Drama in Glasgow and has appeared to critical acclaim in numerous films, television programmes and plays in Scotland, London and New York. The artist, Christian Hook, who is from Gibraltar, studied at Middlesex University, and has lectured on the art of Illustration at the Royal College of Art. Hook is the winner of the Sky Arts Portrait Artist of The Year 2014 competition.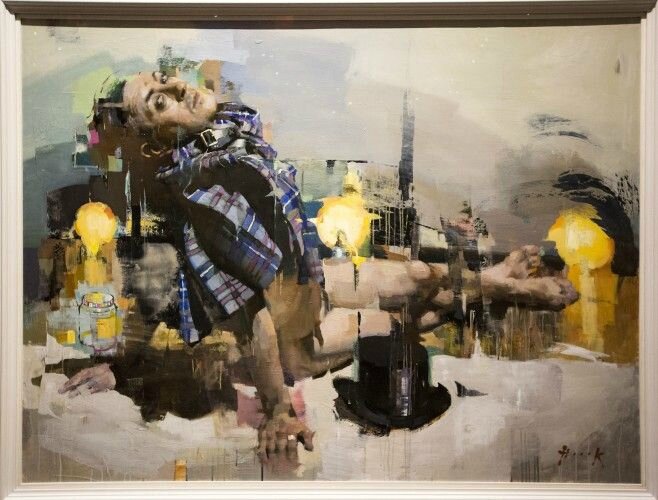 Christian Hook, Alan Cumming, (b. 1965.) Actor, 2014 © Christian Hook. Photo © Sky Arts
Christopher Baker, Director of the Scottish National Portrait Gallery, said: "Demonstrating the quality and diversity of the Gallery's modern collections, 'Collecting Now' provides the welcome opportunity to express gratitude to all the individuals and organisations whose generosity has made the continuing development of the national collection possible."

The works on display in Collecting Now have come into the collection in various ways. Some have been gifted, some commissioned and others purchased. Purchases have been made notably with the assistance of the NGS Friends, the NGS Patrons and the Art Fund.