1973 Porsche 911S 2.4-Litre Coupe. Estimate £250,000 - 300,000 (€350,000 - 420,000). Photo: Bonhams.
LONDON.- A 1973 Porsche 911S 2.4-litre Coupé, owned for more than 30 years by 'father of pop art' Richard Hamilton, will be offered at Bonhams Festival of Speed Sale, taking place on 26 June in Goodwood, Chichester.

Hamilton thought that the car's shapely curves were a 'perfect' design. Purchased new by Hamilton in 1973, it remained with the artist for three decades before passing it into the care of his son. It remained in his possession until spring 2013, after which the Porsche was subject to a two-year sympathetic restoration, completed to concours standard by one of Europe's leading companies, Clarke & Carter. It is now offered at an estimate of £250,000-300,000.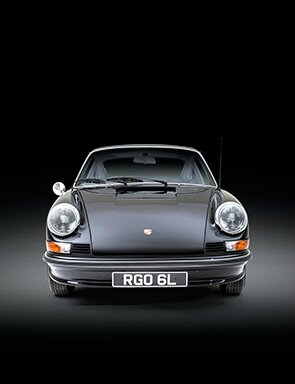 "Hamilton said that he would only paint things he felt he could improve upon, and he reportedly said that his Porsche 911 featured here was such a perfect design, that he couldn't improve it in any way. Unadorned by spoilers or unsightly accessories, it is often admired as the purest 911 design," said Tim Schofield, Bonhams UK Head of Motor Cars.

"For a great artist to see such synergy between fine art and the design of a motor car is a wonderful endorsement of the craftsmanship, style, and design involved in their creation. We now see cars being collected for their design and style in much the same way that people collect art to display in their homes. And rightly so, as these cars are works of art."

"Richard Hamilton was one of the greatest British artists of the 20th and 21st century and we're delighted to be offering for sale a car that he adored. The car is exceptional and correct in every detail, and is one of the finest right-hand drive examples in existence today."

Hamilton grew up around luxury motor cars as his father was a demonstration driver for a London car showroom. Cars – and machinery in general – are a leitmotif of his oeuvre, featuring in works such as Hommage à Chrysler Corp (1957), Hers Is A Lush Situation (1957), and Carapace (1954). In 2007, Hamilton acted as judge at the Cartier Style et Luxe day at Goodwood Festival of Speed in 2007, alongside his former pupil, musician Bryan Ferry.

The car has been subject to a two-year restoration by one Europe's leading restoration companies, remaining in the stylish black-on-black colour scheme that first attracted Hamilton in the early 1970s. The car features the registration RGO 6L, a number which will resonate with Porsche aficionados, placing the car alongside a batch of historically important 911 models which were successfully campaigned by racing drivers such as Nick Faure.

Bonhams Festival of Speed Sale takes place on 26 June in Goodwood, Chichester.