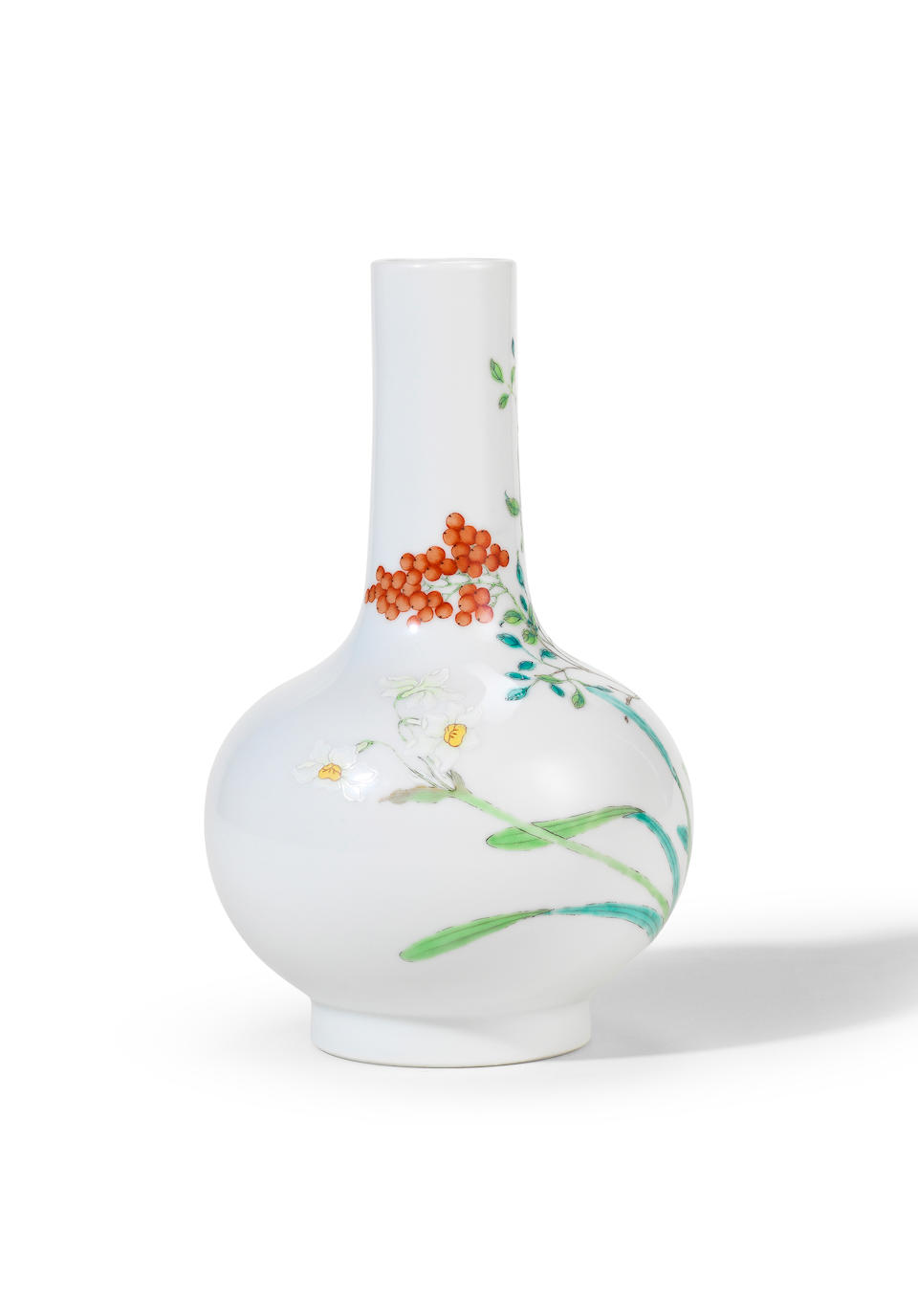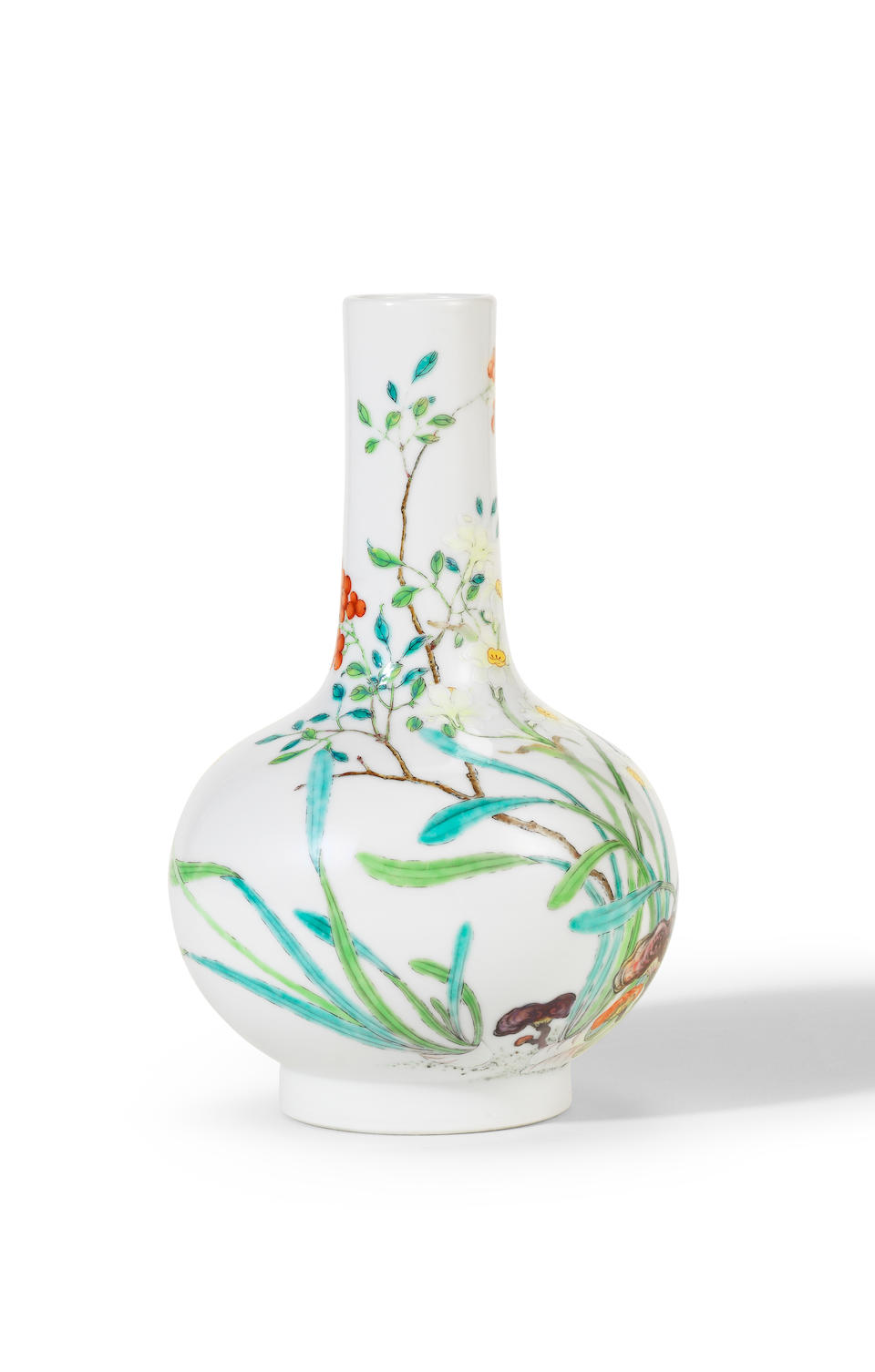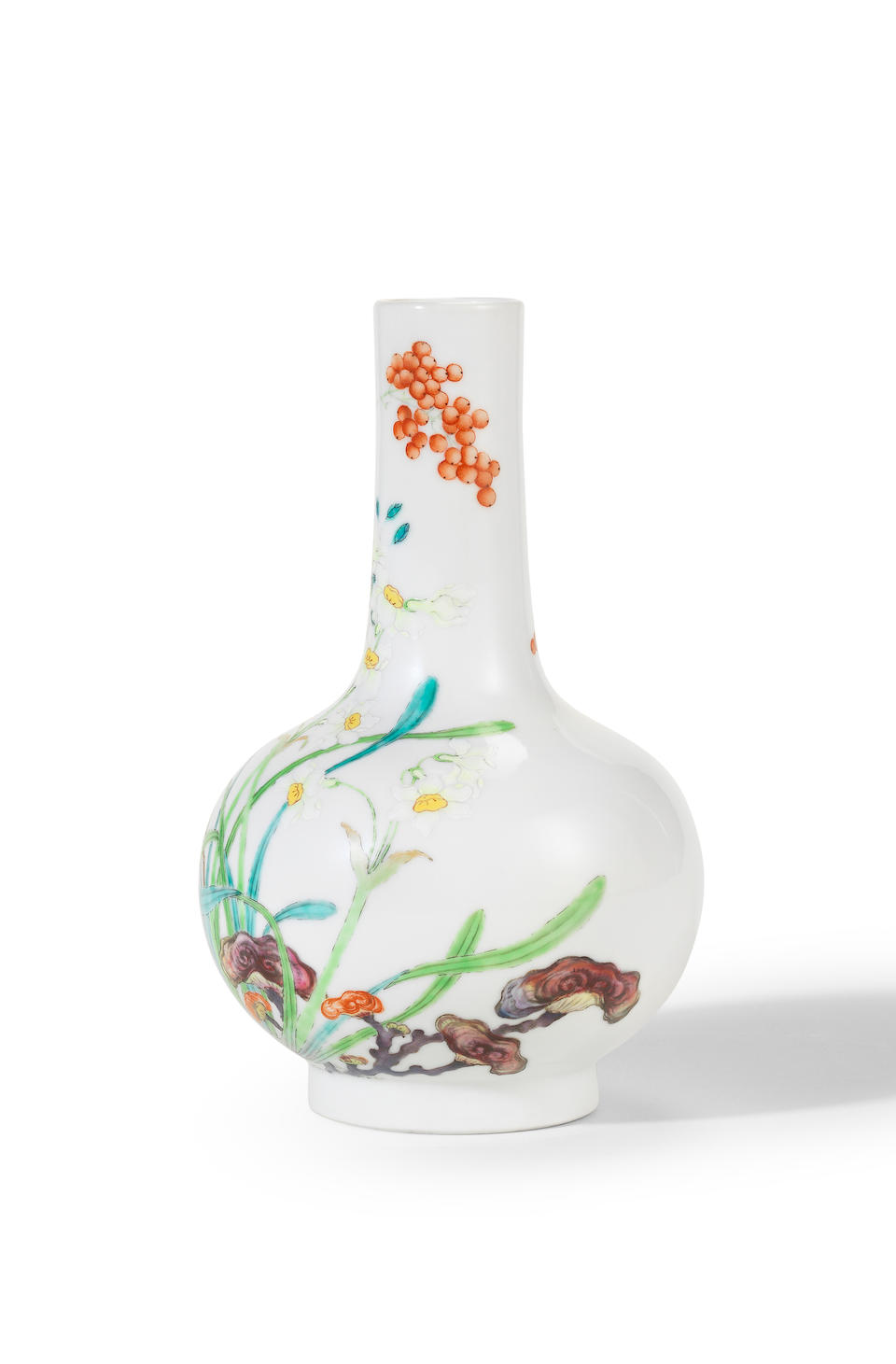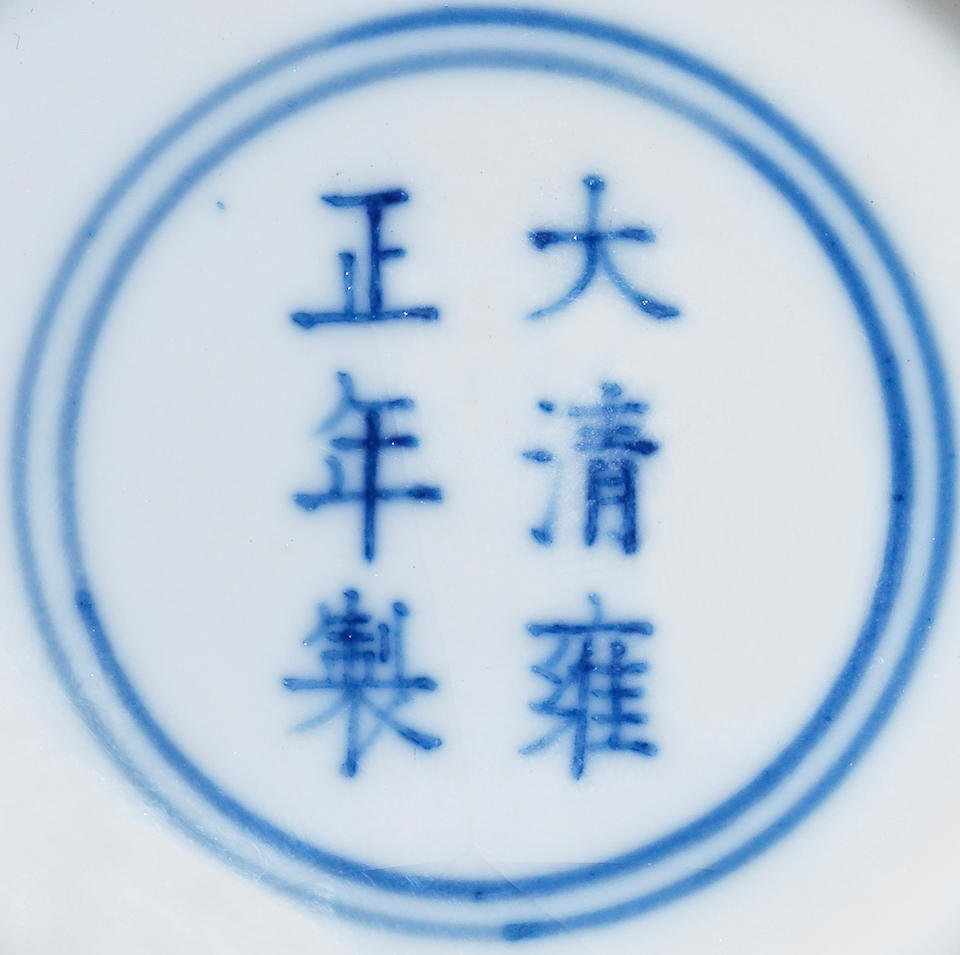 Lot 5. A very rare imperial famille rose bottle vase, Yongzheng six-character mark and of the period (1723-1735) 18.8cm (7 3/8in) high. Estimate HK$ 180,000 - 240,000 (€92,000 - 140,000). Sold for HK$ 11,560,000 (€ 1,381,024). Photo: Bonhams.
Exquisitely enamelled in delicate shades of green, purple, white and red against a striking pure white ground, the compressed globular body rising to a straight neck decorated with a continuous scene featuring narcissus blooms on elegant long leafy stems, lingzhi fungus, and branches of nandina berries, the base with a six-character kaishu mark.
Property from the Hans Goldstein Collection of Chinese Art.
Provenance: According to the family, acquired by Hans Goldstein probably between 1948-1981 and thence by descent
Note: The vase is a superb example of the high technical standards and artistry gained on famille rose porcelains from the Yongzheng reign. With the innovation of the famille rose palette including opaque and semi-opaque enamels, a wider range of colours fired on porcelain that appeared softer and gentler was perfected in the Yongzheng period. These graduated shades of pink, white and yellow enamels were expertly used by craftsmen to render delicate shading, making designs more complex and pleasing. The narcissus blooms of the present vase exemplify this, exhibiting subtle different hues of white ranging from fine pure white to yellowish and greenish white tones.

The composition of the decoration, with undulating stems and leaves with clusters of ripe berries above and various views of full blooms and buds, also exhibit the aesthetic sensibilities and astute artistry favoured in the Yongzheng period. The use of the vivid iron-red enamel for the nandina against the softer and gentler famille rose hues also provides a pleasing visual contrast.

For examples of Yongzheng famille rose vessels demonstrating a similar aesthetic of asymmetrical and irregular, spreading, composition lines formed by gnarled branches or long stems, see a larger famille rose vase, Yongzheng six-character mark and of the period, with large branches of peony, from the Qing Court Collection, illustrated in Ceramics Gallery of the Palace Museum, Part II, Beijing, 2008, p.430, no.342. Compare also another, but larger, famille rose globular vase, Yongzheng/Qianlong, decorated with magnolias and peonies, sold at Christie's Hong Kong, 27 November 2013, lot 3438.

The combination of nandina berries, tianzhu 天竺, and narcissus, shuixian 水仙, form a rebus for 'heavenly immortal'. Together with the fungus, lingzhi 靈芝, they form the auspicious phrase 'heavenly immortal, longevity fungus'. This group of decoration, symbolising the wish for health and a long life, was therefore very appropriate to mark an imperial birthday celebration.

Although this combination of plants and flowers is frequently seen on Yongzheng doucai wares, it is rare to find them on famille rose vessels such as on the present vase. Often famille rose vessels of the period depict nandina and lingzhiwith orchids or magnolia; compare a faux-bois famille rose brushpot, Yongzheng mark and period, from the Qing Court Collection, with very similar treatment of narcissus flowers, illustrated in Fire and Colour, Imperial Kiln Porcelain of Qing Dynasty from the Palace Museum Collection, Macau, 2011, p.221, no.85. See also a famille rose dish, Yongzheng mark and period, decorated with narcissus together with a spray of roses, in the Victoria and Albert Museum, London, illustrated by R.Kerr, Chinese Ceramics, Porcelain of the Qing Dynasty 1644-1911, London, 1986, p.111, no.94.
BONHAMS. FINE CHINESE CERAMICS AND WORKS OF ART, 4 Jun 2015 10:30 HKT - HONG KONG, ADMIRALTY