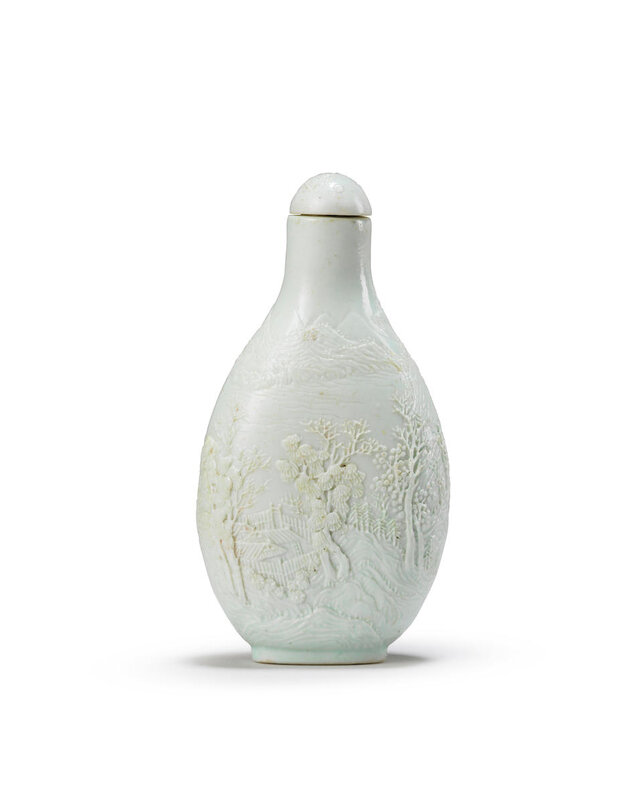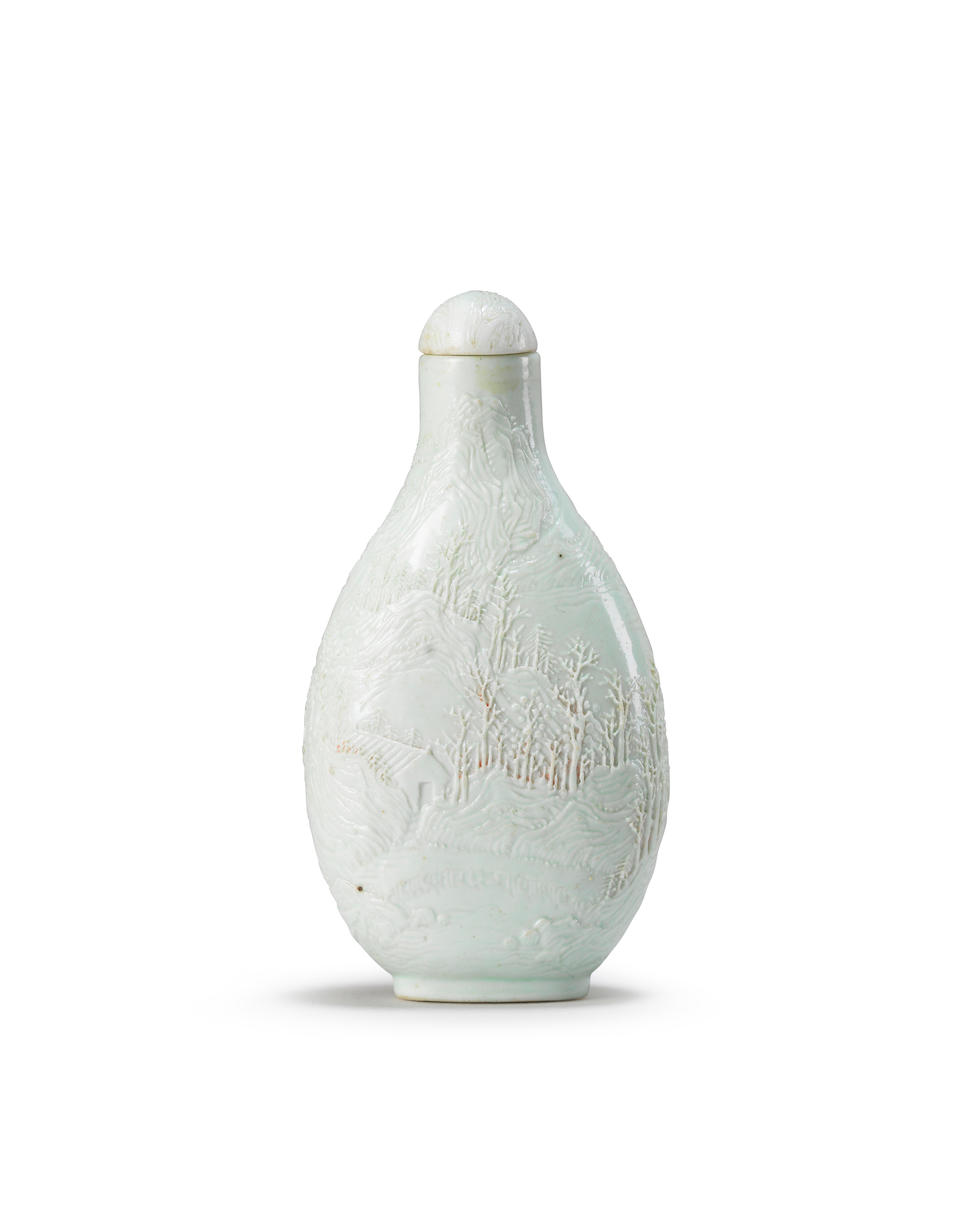 Lot 9. A carved very pale turquoise-glazed snuff bottle, Chen Guozhi four-character mark, circa 1820-1860; 7.5cm (2 7/8in) high. Estimate HK$ 100,000 - 150,000 (€12,000 - 17,000). Sold for HK$ 275,000 (€ 32,853). Photo: Bonhams.
Of compressed pear-shape rising to the cylindrical neck and original stopper, covered overall with a translucent pale bluish-white glaze, intricately carved with a continuous landscape scene of dwellings amidst lush hills and rivers, the base incised with a four-character kaishu mark, with stopper (2).
Provenance: Sotheby's London, 15 November 1965, lot 105
Hans Goldstein collection and thence by descent.
Note: Chen Guozhi, a native of Qimen from Anhui Province, was one of the great masters of porcelain carving. Chen was renowned for his ability to carve designs on porcelain with the intricacy and elegance of those found on paintings. He was active during the Daoguang and Xianfeng reigns and possibly even worked for the imperial Court, which is unsurprising given his fame at the time. This is also evident by the appearance of a reign mark and his name on some of his wares. The elaborate yet delicate landscape carvings he achieved, as exemplified by the present snuff bottle, established his prominence and fame for high quality artistry in carving. The use of a pale blue transparent glaze directly onto the biscuit was also typical of Chen's work on snuff bottles. Whilst general themes may be repeated, the hand carved character of his workmanship means that each snuff bottle by him stands unique.

Although Chen was an accomplished artist of the period, little was mentioned about his career in 19th century literary sources. One such account appears in Richard John Lynn's 1991 translation of Zhao Zhiqian's book on snuff and snuff bottles of the late nineteenth century. In this account, the unique quality of Chen's workmanship was described as similar to 'carved porcelain bottles with the technique of a painter... just as they might appear in an album of paintings done by the Song-era Painting Academy... although there are others who try to imitate his work, no one ever manages to match it.' Another account by Jin Wuxiang, author of Suxiang Suibi in the Guangxu period, stated that the value of Chen's work as 'every piece being valued at ten pieces of gold', and the magistrate named Jiang Juting presented him with a calligraphy couplet in praise, reading 'Earth and clay turned to gold and jade; a man in plain cloth becomes of royal rank'; See H.Moss, V.Graham, and K.B.Tsang, A Treasury of Chinese Snuff Bottles. The Mary and George Bloch Collection. Vol.6. Part 3. Arts of the Fire, Hong Kong, 2008, pp.759-762.
BONHAMS. FINE CHINESE CERAMICS AND WORKS OF ART, 4 Jun 2015 10:30 HKT - HONG KONG, ADMIRALTY