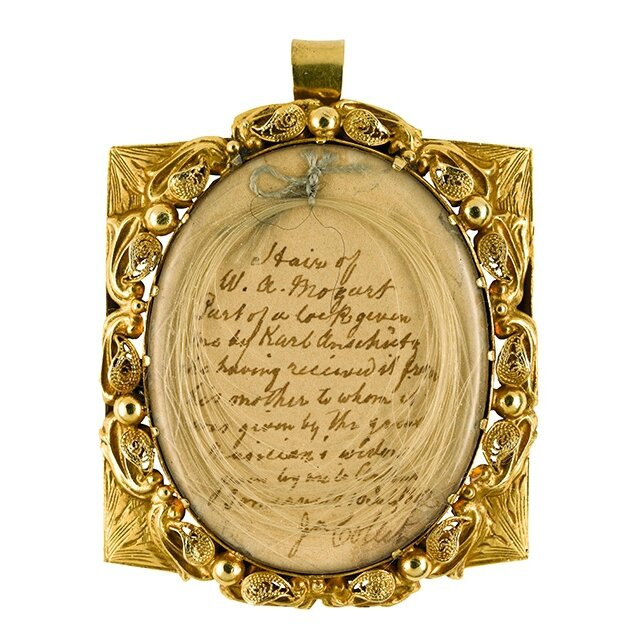 A lock of Wolfgang Amadeus Mozart's fair hair, contained in a nineteenth-century gilt locket, with a nineteenth-century manuscript note of provenance. © Sotheby's
LONDON.- A lock of Wolfgang Amadeus Mozart's hair, contained in a 19th-century gilt locket, will be offered at Sotheby's auction in London on 28 May 2015, with an estimate of £10,000 – 12,000.

The strands of hair were given by Mozart's widow, Constanze, to the mother of the German-born conductor Karl Anschütz (1813-1870). It then passed into the collection of one of the most successful English song-composers of all time, Arthur Sommervell (1863-1937) whose direct descendent owns the item today.

Locks of hair were frequently taken as keepsakes from the cadavers of recently deceased composers. The same auction will also feature a printed invitation to Beethoven's funeral, together with a small lock of his white hair (est. £2,000 – 3,000). Testament to this tradition, Gerhard von Breuning, the son of Beethoven's lifelong friend, recalled that when he visited the composer to pay his last respects "strangers had already cut all the strands of his hair".

The pieces are currently on public exhibition at Sotheby's galleries at 34 – 35 New Bond Street until Wednesday 27 May, ahead of its sale as part of the Music, Continental and Russian Books and Manuscripts auction on Thursday.

Opportunities to get close to figures from history have always been met with fascination, and in 2002, Sotheby's sold a different lock of Mozart's hair, passed down from the mistress of one of Mozart's sons, for £38,240 – double its pre-sale high estimate. Indeed, the British Museum famously holds a heart shaped pendant with a snippet of Marie Antoinette's hair within its collection.