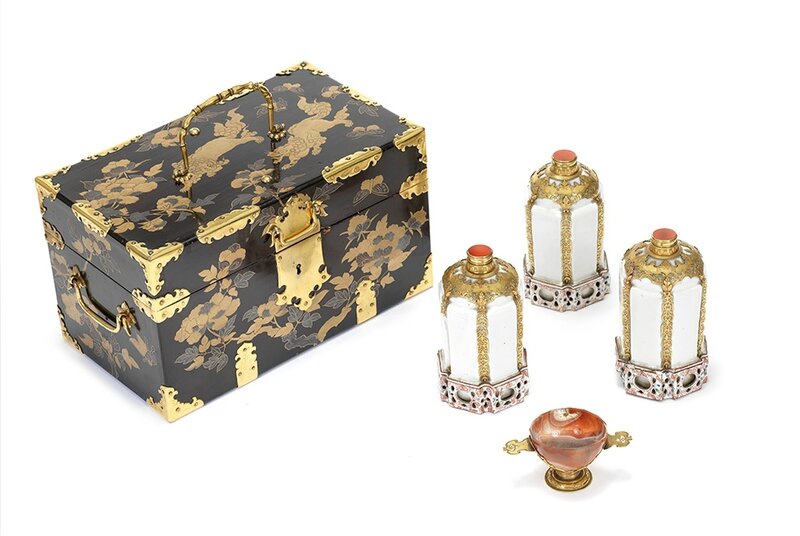 An important set of three gold-mounted Du Paquier porcelain flasks and an agate cup in a Japanese lacquer box, circa 1725-30. Estimate £120,000-180,000 (€170,000 - 250,000). Photo: Bonhams.
LONDON.- A Japanese lacquer box containing costly and exotic objects mounted in gold is the centrepiece of Bonhams European Ceramics sale in London on 17 June. This rare survival from the age of splendour at the Holy Roman Imperial Court is estimated at £120,000-180,000.

The box holds three porcelain tea flasks, and was designed to be used at tea picnics, a Japanese fashion which spread to Europe in the 17th century. They are very early examples of Du Paquier porcelain – the manufactory established in Vienna in 1719 and patronised by the Imperial Court. At the time, porcelain was considered so precious that it was mounted with the finest filigree gold, probably by the court goldsmiths in Vienna. The box also contains a beautiful, faceted agate cup with similar gold mounts, and an inscription that speaks of a magnificent Imperial provenance: "De la cassette de thé/de l´Impératrice/Marie-Thérèse" (From the tea casket of the Empress Maria Theresa).

Maria Theresa's father, the Holy Roman Emperor, Charles VI, gave gifts of Du Paquier porcelain with similar costly gold mounts to the leading figures of the day, such as the Czar of Russia, as well as to his own daughters.

Similar precious sets were also awarded as prizes at the annual Imperial shooting contests held at the summer palace of Favorita. These were important society events attended by the highest-ranking members of the Imperial Court. They, and the Emperor himself, commissioned extravagant prizes, which often included Du Paquier porcelain combined with other expensive and precious materials.

The Empress Maria Theresa, was well-known for her love of lacquer – as was her daughter, the French queen Marie Antoinette. It is very likely this set belonged to the Empress herself, perhaps received as a gift from her father.

It remained in the possession of the Habsburg family until the end of the First World War, when the abdication of the last Austro-Hungarian Emperor brought the long history of Imperial splendour to a close.

The box will on view at Bonhams office in Vienna (Tuchluaben 8, 1010 Vienna) on 2 June and at the Bonhams office in Paris (4, rue de la Paix, 75002 Paris) from 9-11 June.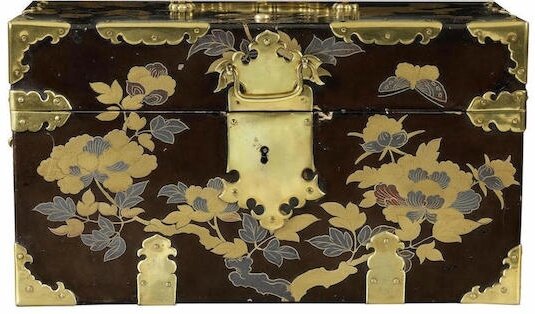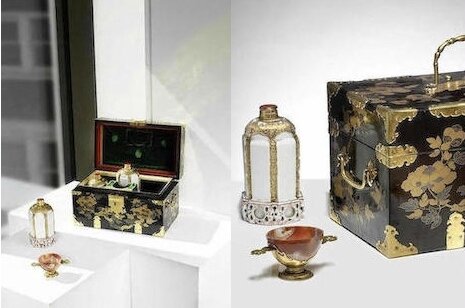 An important set of three gold-mounted Du Paquier porcelain flasks and an agate cup in a Japanese lacquer box, circa 1725-30. Estimate £120,000-180,000 (€170,000 - 250,000). Photo: Bonhams.
Comprising three hexagonal Du Paquier flasks with fluted corners and double-walled bases with pierced oval panels and tear-shaped apetures, painted in iron-red, blue, green and purple with leaves and flowers, the bases pierced with a foliate design, the shoulders with pierced gold mounts of floral trellis panels enclosed by foliate scrollwork, the fluted corners applied with bands of filigree gold strap- and scrollwork, the screw-mounted covers with red hardstone tops; together with an agate bowl with faceted rim, on a gold mount with domed footrim chased with trellis and foliate scrollwork panels, each side with a pierced floral trellis panel and edged with foliate scrollwork, the handles with pierced foliate panels, the underside inscribed 'De la cassette de thé/ de l'Imperatrice/ Marie Therese'; all in a Japanese lacquer box with European brass mounts, fitted with a green velvet lining trimmed with gold braid, with a key, the flasks: 15.9cm high; the cup: 7cm across, 11cm across handles; the case: 19cm by 33.5cm by 20cm (some losses) (6)
Provenance: Empress Maria Theresia (1717-80), according to an inscription on the gold mount of the agate cup;
Thence by descent;
Brandýs Castle, Brandýs nad Labem (Brandeis an der Elbe), near Prague, by ca. 1918;
Dr. Quido Szopkó, Southern Slovakia, acquired ca. 1920, thence by descent;
Sold by the descendants of the above after 1993
Literature: M. Chilton/C. Lehner-Jobst (eds)., Fired by Passion Vienna Baroque Porcelain of Claudius Innocentius Du Paquier (2009), vol. 2, cat. no. 8:32, pp. 710-713.
The only other such Du Paquier flasks recorded in the literature is a pair, painted with birds in flight above flowering bushes and with later silver mounts on the shoulders, sold by Christies's London from the Dr. Roy Byrnes Collection, 12 May 2010, lot 160.