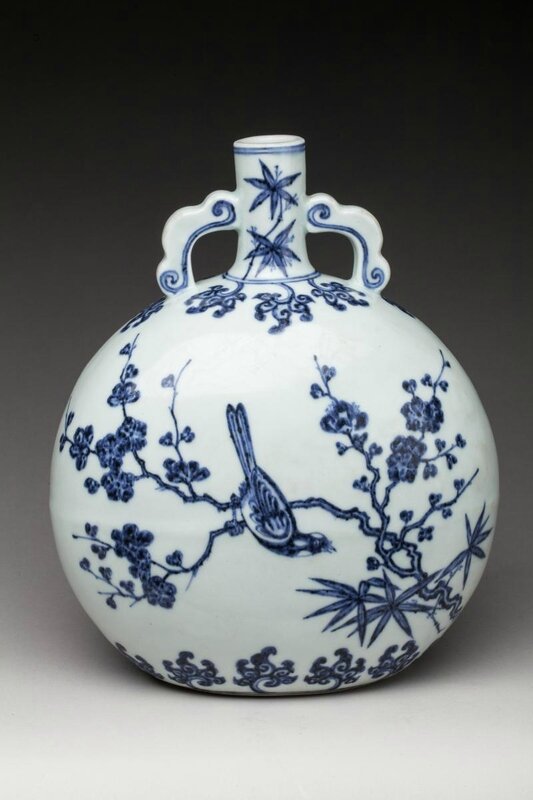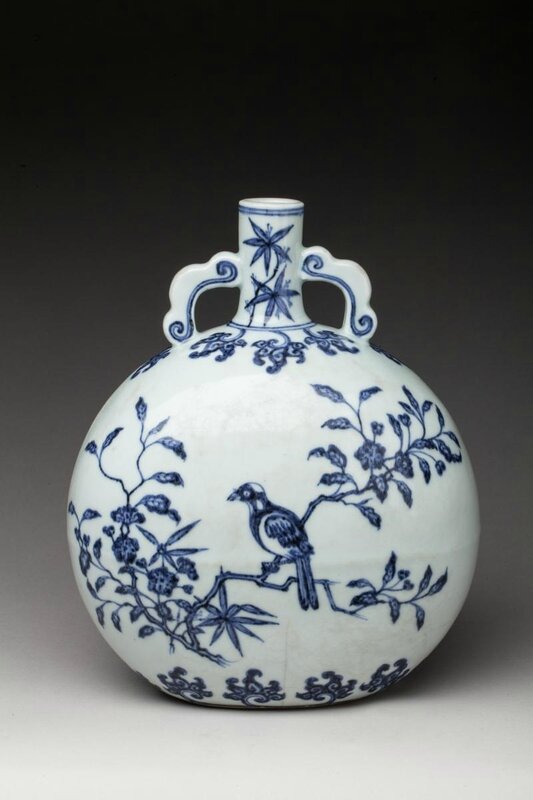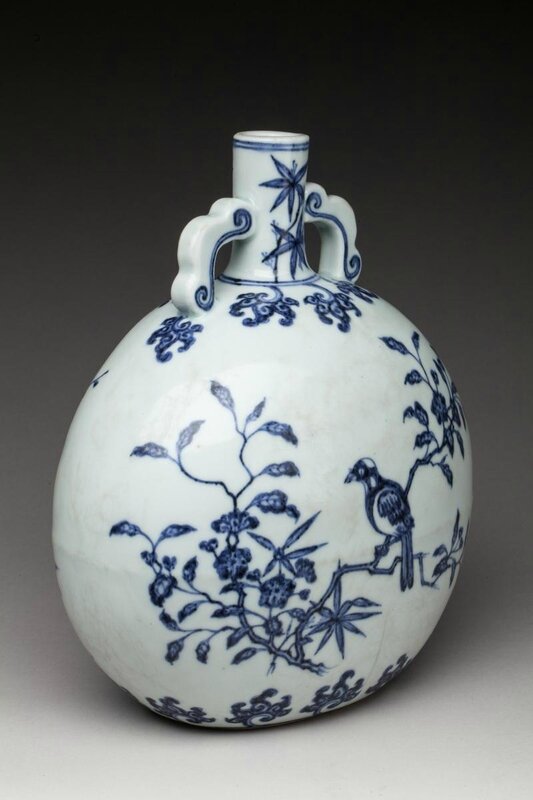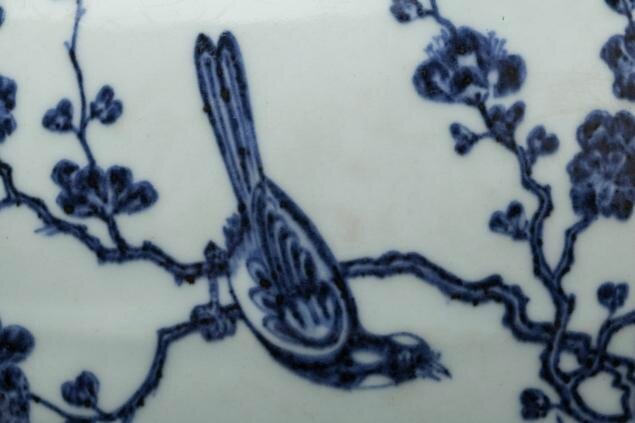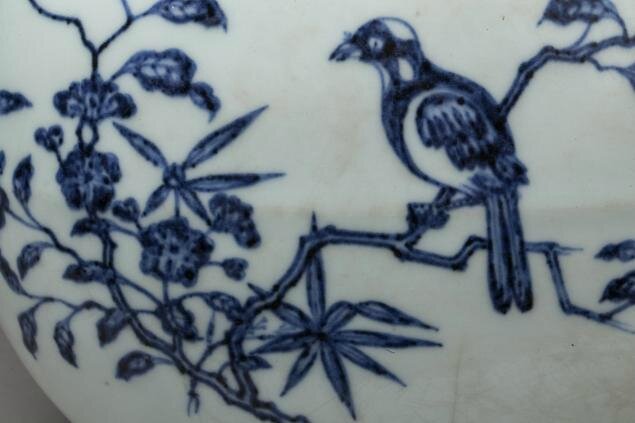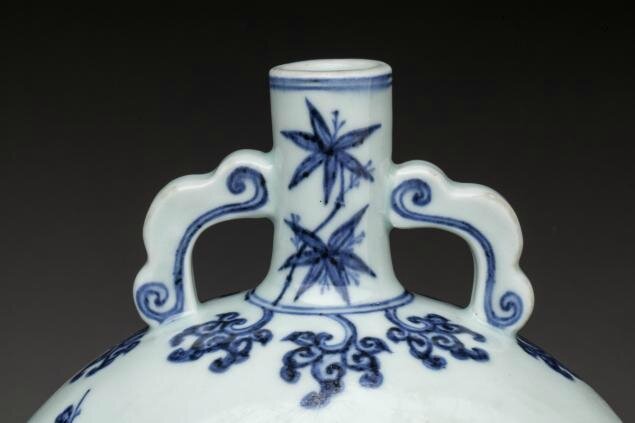 Vase gourde, bianhu, Chine, Style dynastie Ming, style période empereur Yongle. Estimation 10 000 €. © Rouillac
à décor bleu de cobalt et camaïeu sous couverte, d oiseaux branchés. Haut. 25 cm. (fêle de cuisson)
Flask vase. Porcelain with blue décor. China, Ming style, Yongle style.
Provenance : - acquis aux enchères entre les deux guerres à Rouen par le capitaine Léon Bernard (1879-1960)
- par descendance, conservée par sa famille, collection particulière nantaise;
A comparer avec des modèles d'époque Yongle similaires, conservés :
- Sir Percival David Foundation au British Museum de Londres (Figures 1, 2 et 3),
- Musée des Beaux-Arts de Shangai,
- Musée du Palais à Taipei (Figure 4),
- Musée Guimet à Paris, collection Grandidier (décor de camélia - même fêle de cuisson). (Figure 5).
Bibliographie : - R. Krahl et J. Harrison-Hall, Chinese ceramics, highlights of the Sir Percival David collection , 2009, n°28, page 61.
- Qingdai Yuyao Ciqi - Juan Yi Xia, Pékin, la Cité Interdite , 2005, page 106-107.
- Ayers Fromentin Paul-David Tamburello, La céramique d Extrême-Orient , Nathan, 1984. Reproduit Percival David Foundation planche 128, page 153 et 155.
- La porcelaine Ming, D. Lion-Goldschmidt, Fribourg, Office du livre, 1978.
- Oriental ceramics. The world s great collection, vol. VIII : Musée Guimet, Tokyo Kôdansha, 1975.
- Musée Guimet, reproduit dans : La Chine des porcelaines, X. Besse, RMN, Musée Guimet, 2004, page 58-59
Cette gourde au profil lenticulaire est surmontée d un goulot cylindrique court accosté de deux petites anses en volutes. Cette forme, destinée au commerce dans le Proche-Orient d où elle est originaire, est connue sous la dénomination chinoise de bianhu (gourde du pélerin) ou yueping (flacon en forme de lune). A partir du règne de Yongle, la porcelaine est d un blanc très pur, sans faille, dont la surface semble presque frémissante. Cette couverte dit en peau d orange présente de nombreuses irrégularités de plans qui participent à l aspect particulièrement onctueux de cette pièce. La beauté de cette céramique coïncide avec l un des règnes les plus glorieux de la dynastie Ming. Yongle, quatrième fils de fondateur de cette dynastie qui vainquit les envahisseurs mongols, gouverne une Chine en pleine prospérité économique et d expansion qui perdurera jusqu à la fin de son successeur, Xuande (1426-1435). Au décor de camélias de la gourde du musée Guimet, correspond les oiseaux branchés fleuris de la nôtre - avec le même fêle de cuisson.
ROUILLAC. 27e VENTE GARDEN PARTY - BIJOUX - ASIE - ANTIQUITES. Lundi 8 juin à 14h30 à MONTBAZON. Contact : Tél. : 02 54 80 24 24 -Fax : 02 54 77 61 10 -rouillac@rouillac.com