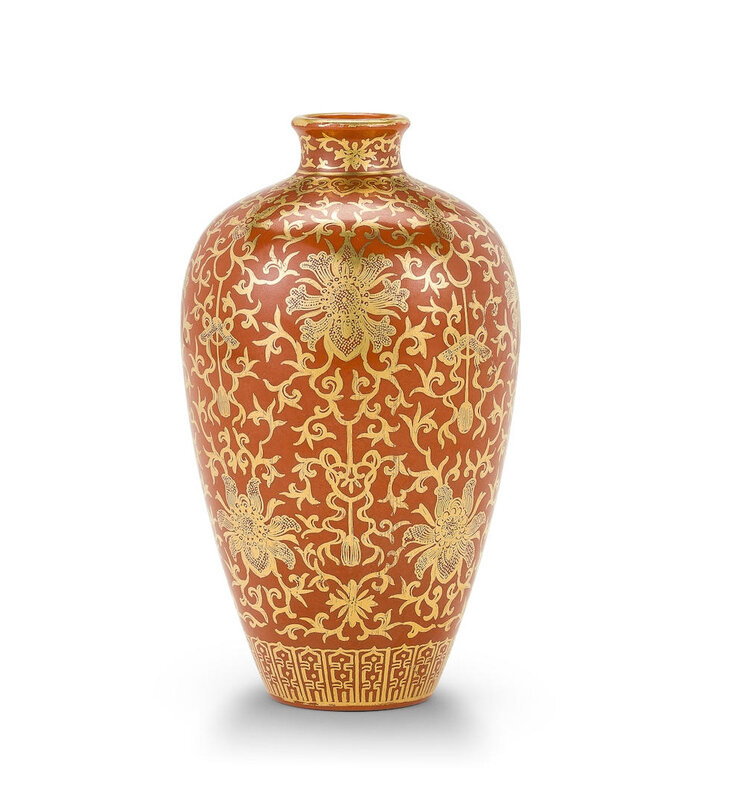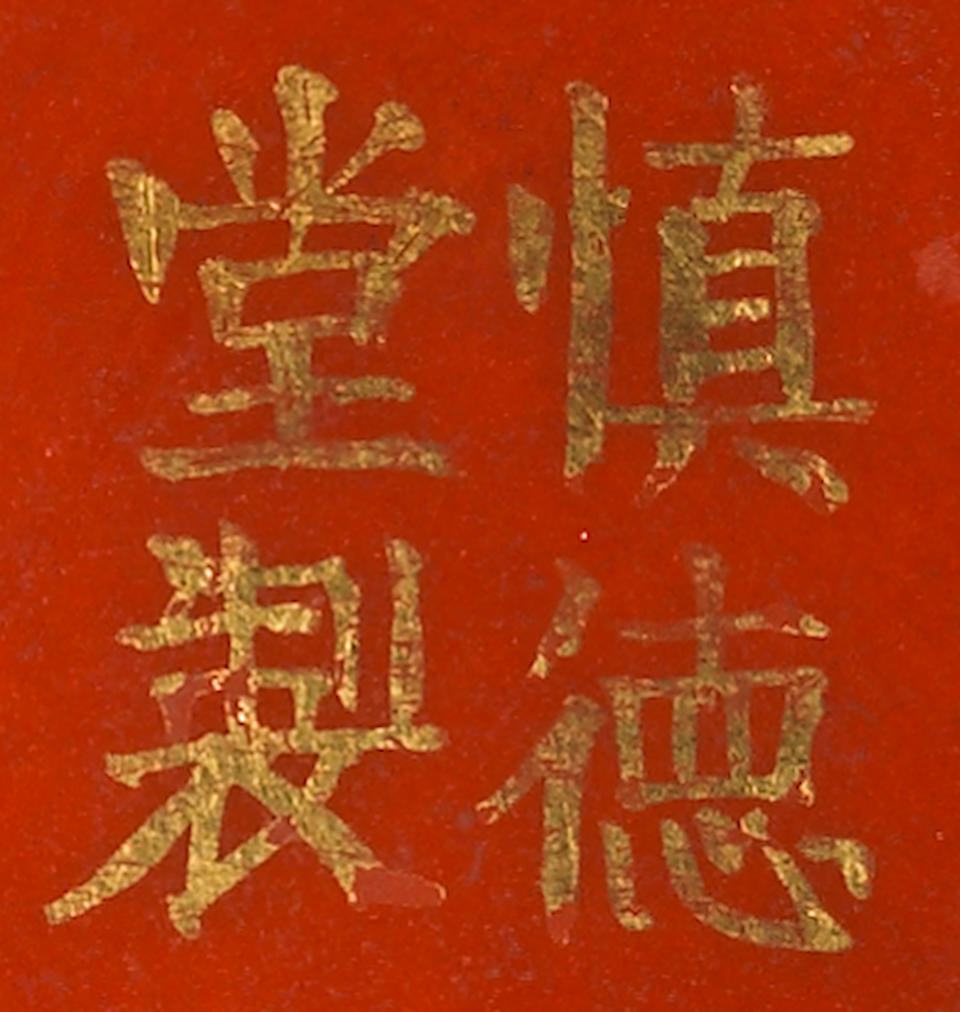 Lot 48. A rare coral-ground and gilt-decorated vase, meiping, Gilt Shendetang mark, Late Qing Dynasty. Estimate HK$ 200,000 - 300,000 (€24,000 - 35,000). Sold for HK$ 250,000 (€ 29,866). Photo Bonhams.
The narrow waisted neck and rounded shoulders tapering to a recessed base, covered with a bright iron-red ground lavishly gilt with eight stylised lotus flowers and formal lotus scrolls alternating in two ranks amid buds and suspendedruyi heads, musical stones and tassels, all between a ruyiborder and lotus motifs at the neck and stylised petal panels, the base with a four-character kaishu mark. 16.2cm (6 3/8in) high
Provenance: Sotheby's London, 15 December 1987, lot 172 (one of a pair)
Georg Weishaupt (1906-2004)
Nagel, the Weishaupt Collection, 21 May 2004, lot 844
Note: The pair to the present vase, published by R.Krahl and C.Von Spee, Chinese Ceramics from the Gulexuan Collection, Lünen, 2003, no.141, was sold in our London rooms, 6 November 2014, lot 197.

The Shendetang, or Hall of Prudent Virtue, has been identified as a Hall at the western end of the JiuzhouqingyanPalace, or Palace of Peace in the Nine Regions, within the Yuanmingyuan grounds, and which was completed in 1831: see M.Wilson, Rare Marks on Chinese Ceramics, London, 1998, p.36. Geng Baochang in Ming Qing ciqi jianding, Hong Kong, 1993, pp.385-386, records the mark on 34 different types of Daoguang-period vessels, including a red-glazed and gilt bowl, but on only one Guangxu vessel.

Amongst the Shendetang group of wares, the present lot is very unusual. The style of the gilding on the bright red ground suggests that it is a rare example from the Guangxu rather than the Daoguang period, and furthermore it has a gilt rather than an iron-red mark: in the late Qing dynasty text Taoya (Refinements of Pottery), vol.II, p.1, such a gilt mark is noted as being 'occasional'.

Compare a jardinière attributed to the Guangxu period with a related gilt flower design and similar lappet border on a bright red ground illustrated in Chūgoku tōji zenshū (Complete series on Chinese Ceramics), vol.21, Kyoto, 1981, pl.151.
BONHAM'S. FINE CHINESE CERAMICS AND WORKS OF ART, 4 Jun 2015 10:30 HKT - HONG KONG, ADMIRALTY