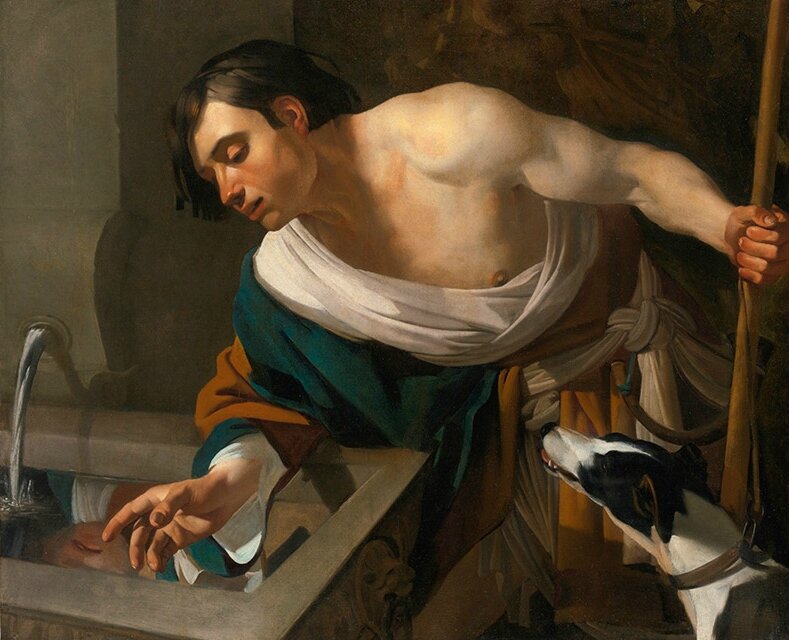 Dirck van Baburen (Wijk Bij Duurstede, near Utrecht circa 1594/5 - 1624 Utrecht), Narcissus Gazing At His Reflection, oil on canvas, 37 1/2 by 45 1/2 in.; 95.2 by 115.5 cm. Estimate $70,000/90,000. Photo: Sotheby's.
EW YORK, NY.- Sotheby's will offer Property from the Collection of Dr. Hilary Koprowski and Dr. Irena Koprowska across a series of sales in 2015. Noted for their significant contributions to 20th Century medical sciences, including fights against polio and cancer, the Drs. Koprowskis were also a couple devoted to the arts with a fervent passion for Dutch and Italian 17th Century paintings and drawings. They displayed their collection in their home with the paintings housed in a special gallery and the drawings lining the walls of their library. Works from the couple's collection will be offered during the Master Paintings, Old Master & British Drawings and Contemporary Art Day sales in New York and London.

Born in Warsaw in 1916, Hilary Koprowski's love of the arts began during his childhood and a fondness for science was cultivated during his simultaneous studies at Warsaw Conservatory and Warsaw University. This is when he also met a young medical student name Irena Grasberg. The two married in 1938. A year later, the newlyweds were separated when Nazis invaded Germany and he fled to Italy while her to Rome. Upon reuniting, the couple moved to Rio de Janeiro where they both remained in the medical field – she as a pathologist and he as a virologist. The couple's greatest achievements took place following a 1944 move to the United States, when Hilary began studying the polio virus and developed the world's first effective vaccine against the disease. His work also led him to create vaccines to cure rabies and studies of antibodies in the fight against cancer. Irena made her impact as a renowned cytopathologist working to test early signs of lung cancer and as educator paving the way for generations of women interested in the world of medicine.

Sotheby's sales featuring Property from the Collection of Dr. Hilary Koprowski and Dr. Irena Koprowska will begin with the 4 June Master Paintings sale in New York, when over 20 works by artists including Giovanni de' Busi, Nicolaes Maes, Jan Miel, Johannes Lingelbach, Massimo Stanzione, Jan Victors, Dirck van Baburen, Cornelis van Haarlem and Aert van der Neer are on offer. The works will be on view during the pre-sale 30 May – 3 June exhibition at the York Avenue headquarters.
A highlight of the Master Paintings sale is a circa 1621-1622 work by Dutch painter Dirck van Baburen entitled Narcissus Gazing at His Reflection with an estimate of $70/90,000. Completed after Baburen's return from Italy, the painting depicts the story of Narcissus and may have been inspired by the Narcissus, now in the Galleria Nazionale d'Arte Antica, Palazzo Corsini, Rome, attributed by some scholars to Caravaggio. The work marks the artist's new found interest in classical antiquity and mythology themes. While the story of Narcissus appeared in prints and books in the Netherlands in the early 17th century, it was rarely the subject in paintings.
The Unequal Lovers (est. $70/90,000) by Cornelis van Haarlem illustrates a theme found within both the literary and visual arts – woman soliciting a handsome young man or an old man soliciting a pretty young woman. Haarlem's painting depicts the latter capturing the difference in ages by adding grey to the man's beard and also indicating the man's wealth by the fur on his cloak, the gold medal on his hat and a bag of money in his hand. Adhering to a format he used for many of his genre subjects, the two figures are positioned waist-up with a nearly empty background to draw the viewer into the scene. The artist created several paintings of Unequal Lovers, including one with a third figure – one of which was sold at Sotheby's on 31 January 2013 for $340,000.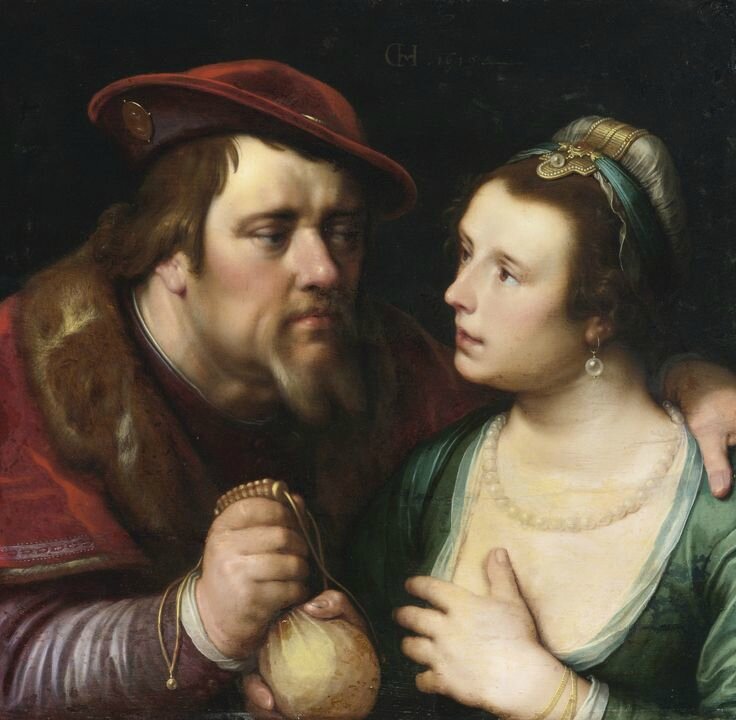 Cornelis Cornelisz. van Haarlem (Haarlem 1562 - 1638), The Unequal Lovers, signed with the monogram and dated upper center: CH. [in ligature] 1619; oil on panel, 26 by 27 5/8 in.; 66 by 70.3 cm.. Estimate $70,000/90,000. Photo: Sotheby's.
The Adoration of The Magi, an important work by the Neapolitan Baroque painter Massimo Stanzione, has an estimate of $100/150,000. The picture suggestions stylistic comparisons with some of Stanzione's most important paintings, specifically his interpretations of Adoration of Shepherds – one at the Museo Nazionale di San Martino, Naples and the other at Museo de Bellas Artes, Bilbao.
Massimo Stanzione (Orta Di Atella near Caserta (?) 1585 (?) - 1656 (?) Naples (?)), The Adoration of The Magi, signed in monogram lower left: EMX, oil on canvas, 91 1/2 by 79 in.; 232.4 by 201 cm. Estimate $100,000/150,000. Photo: Sotheby's.
Old Master & British Drawings Sale London, 8 July 2015
The London sale of Old Master & British Drawings will include eighteen works from the Drs. Koprowskis' collection. Drawings by leading of artists of the period include Jean-Honoré Fragonard, Guido Reni, Andrea del Michieli, Giovanni Battista Tiepolo, Ottavio Mario Leoni and Gaspar van Wittel.
Contemporary Art Day Sale New York, November 2015
In addition to works offered in the Master Paintings and Old Master & British Drawing Sales, the collection includes a portrait by Alice Neel to be offered during the New York Contemporary Art Day sale held in November. The painting is entitled Portrait of Irena Koprowska, Seated.