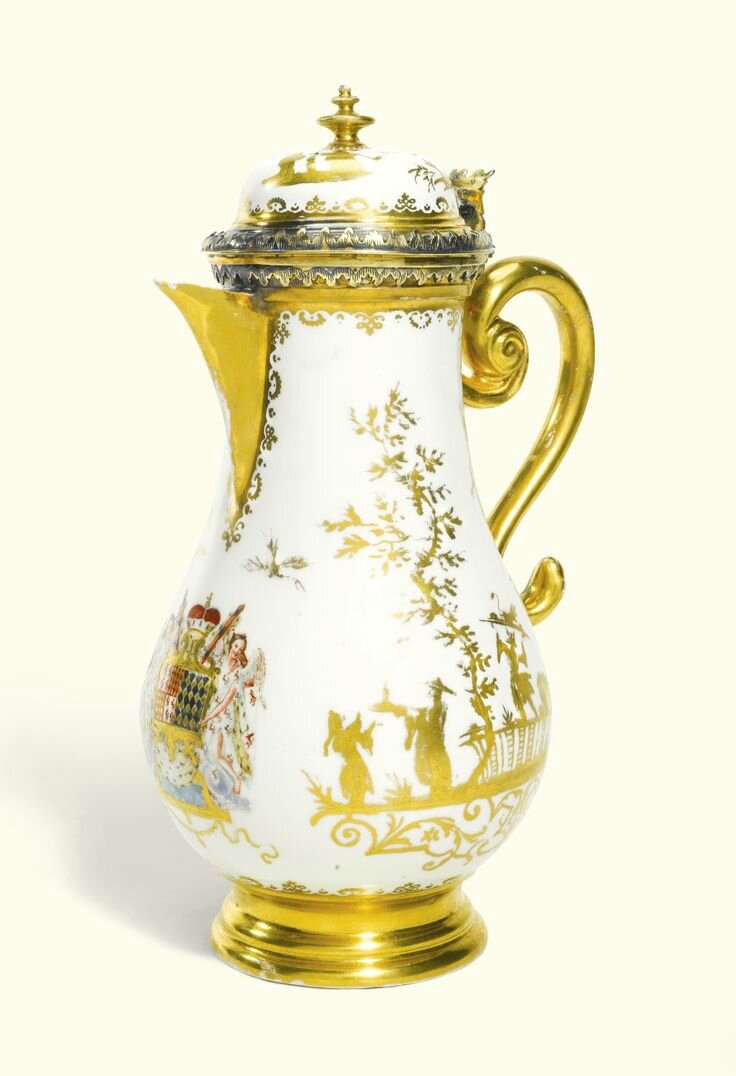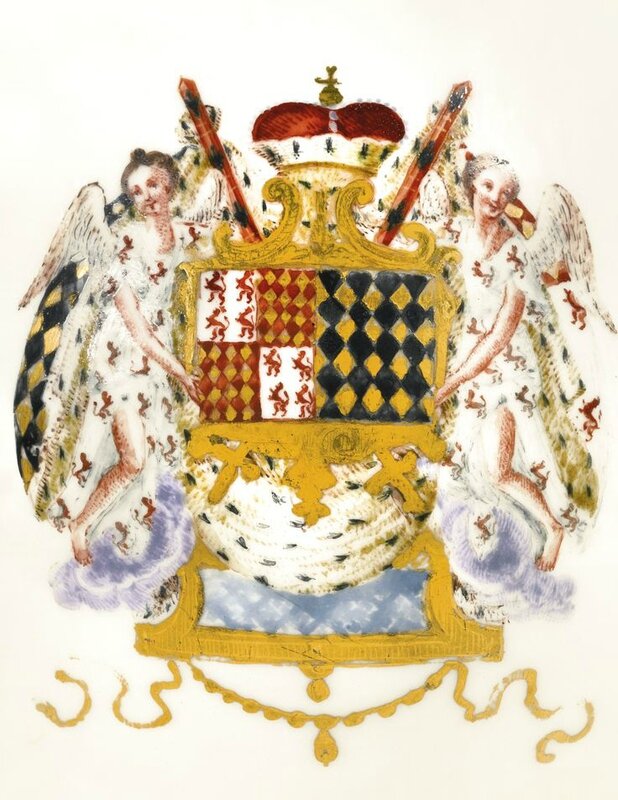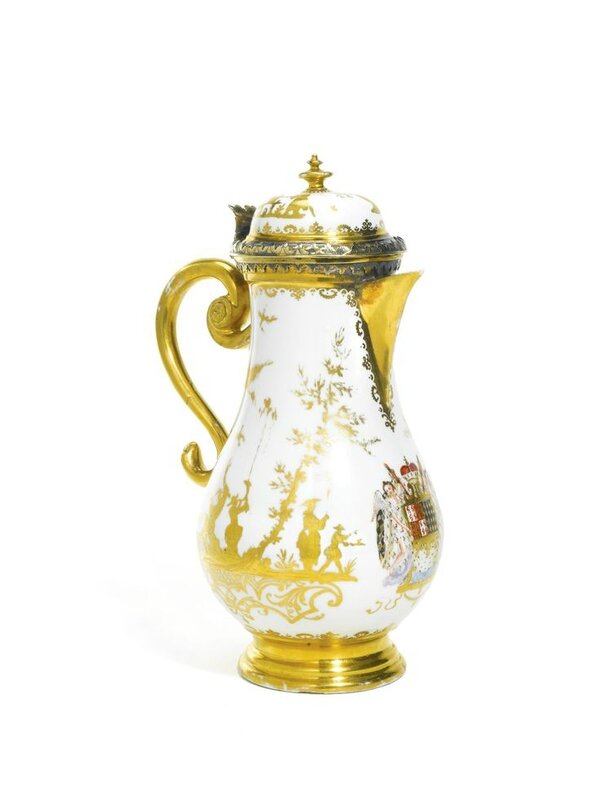 A Böttger Meissen Hausmaler coffee pot and hinged cover, circa 1722, with contemporary German silver-gilt mounts, Elias Adam, Augsburg. Estimate 25,000 — 35,000 GBP (34,868 - 48,815 EUR). Photo Sotheby's.
decorated in gilding in the Seuter workshop, Augsburg, with vignettes of chinoiserie figures resting on scrollwork supports with birds in flight above, the front of the coffee pot painted in enamels with the armorial of Prince Marc de Beauvau, Prinz von Craon, the cover with three gilded vignettes of figures, with gilded scroll borders to the rims, 24.8cm., 9 3/4 in. high
Provenance: Sotheby's London, 17th March 1987, lot 298, sold alongside a pair of armorial cups and saucers and an écuelle, cover and a stand from the same service, lots 299 and 300.
Bibliography: Ulrich Pietsch, Preziosen, einer süddeutschen Kunstsammlung, 2001, p. 56
Comparative Literature: Maureen Cassidy-Geiger, Princes and porcelain on the Grand Tour of Italy, Fragile Diplomacy, Meissen Porcelain for European Courts ca. 1710-63, 2007, pp. 221-222
Notes: second écuelle, cover and stand from this service and of the same form is in the Gardiner Museum, Toronto, ob. no. G83.1.793.1-.3, previously sold in The Maurice de Rothschild Collection, his (anon.) sale, Christie's London, 28th March 1977, lot 67.
The arms belong to Prince Marc de Beauvau-Craon, Grandee of Spain, Knight of the Golden Fleece and Grand Ecuyer of Tuscany (29 April 1679-10 March 1754). Born in Nancy, he was the son of Louis de Beauvau, Marquis of Beauvau and Lord of Craon (1638–1703) and his second wife, Anne de Ligny. On 16th December 1704 he married Anne Marguerite de Lignéville (1686–1772), Countess of the Holy Roman Empire, in Lunéville. They had eight sons and twelve daughters. His wife Anne Marguerite was the mistress of Leopold, Duke of Lorraine.
In 1722 Emperor Charles VI granted him the dignity of Prince of the Holy Roman Empire and Prince of Craon and in 1739 the Knight of the Order of the Golden Fleece. On the 8th May 1727 Philip V of Spain awarded him the title Grandee of Spain. He resided in Florence until he retired in 1749 at the age of 70. He was governor of the regency council of the Grand Duchy of Tuscany for Grand Duke Francesco, later Holy Roman Emperor, who had been declared successor of the last Medici ruler in the Treaty of Vienna. He ruled Tuscany as Viceroy and his descendants ruled, and resided in the Grand Duchy until 1859.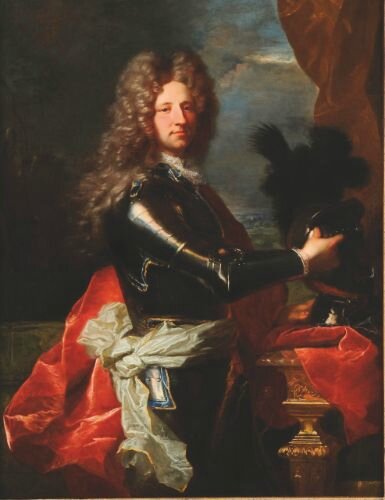 Attribué à Hyacinthe Rigaud, Portrait de Marc de Beauvau-Craon, Huile sur toile, vers 1711. Inv. 2005.5.1 © Musée Lorrain, Nancy / Photo. Bernard Prud'homme.
Sotheby's. A Tale of Two Cities: Venice and Dresden Two Private Collections, Londres, 09 juin 2015, 10:30 AM