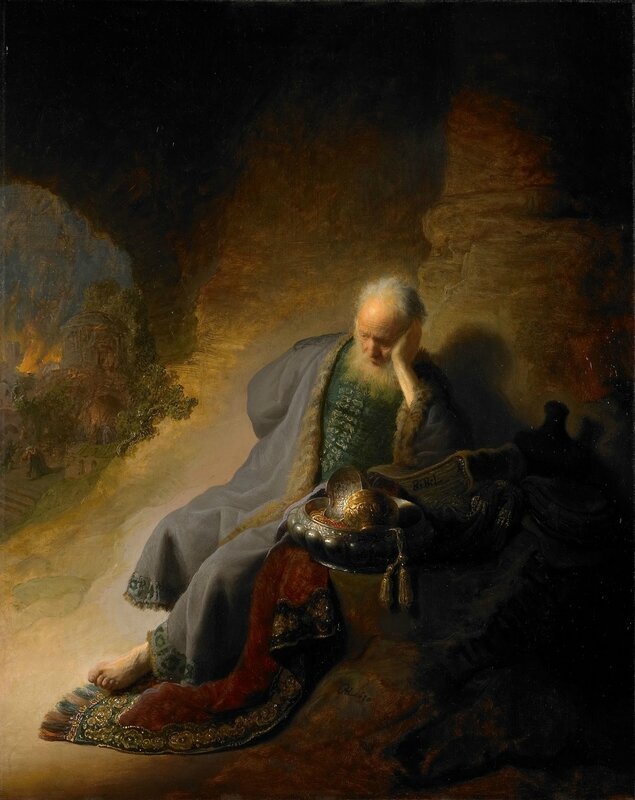 Rembrandt van Rijn, Jeremiah Lamenting the Destruction of Jerusalem, 1630. Oil on panel, 58 x 46 cm. Rijksmuseum.
JERUSALEM.- Two Rembrandt masterpieces painted in 1630 and 1631—"The Prophet Jeremiah Lamenting the Destruction of Jerusalem," which is on special loan from the Rijksmuseum, Amsterdam, for the Museum's 50th anniversary, and St. Peter in Prison (St. Peter Kneeling), 1631, from the Israel Museum—are displayed side by side in the new exhibition.
The obvious resemblance between the two paintings, notably the figure in the center—an elderly bearded man whose face is filled with sadness and despair—raises an intriguing question: Did Rembrandt wish to draw attention to a special connection he noted between the prophet and the apostle, or is it simply that he had painted the same elderly model in both paintings?
"Despite a 650-year gap between the two events described in the paintings, there are definite similarities," says exhibition curator Shlomit Steinberg. "They both take place in Jerusalem, near Mount Moriah, and they both show a great personal crisis, that has implications of both a historical and fatalistic nature. The prophet Jeremiah mourns the destruction of Jerusalem and the Temple, while St. Peter [Jesus' senior apostle], finds himself locked up in jail, fearing for his future, and entirely dependent on the whims of the Roman soldiers. It is quite possible that the great similarity is mainly due to the fact that Rembrandt worked from the same model, who was probably a neighbor or acquaintance. At the time, Rembrandt and Jan Lievens, his studio partner, regularly painted this elderly man. His face was full of expression, thanks to his white beard, high forehead, and his bleary eyes, befitting the figure of a prophet or of Jesus' tormented emissary. Either way, in both paintings, Rembrandt describes, as only he can, the moments of anxiety, doubt, and desolation of the protagonists."
In both paintings, done in oils on wood, Rembrandt works in a high contrast between light and dark, as is typical of his work during this period. This further aids deciphering his messages, both explicit and implicit, religious and human. Another important motif is the monumental pillar which appears in both paintings, standing for the steadfast belief of those sitting at its feet. The visual source of this pillar are the pillars in "Peterskerk" in Leiden, Rembrandt's hometown, where he was still living and working at the time.
The exhibition includes examples of Rembrandt's prints on Biblical and New Testament themes and oils by his teacher Peter Lastman, as well as works by students that followed in his important path.
Rembrandt van Rijn, St. Peter in Prison (St. Peter Kneeling), 1631. Oil on panel. Gift of Judy and Michael Steinhardt, New York, to American Friends of the Israel Museum.