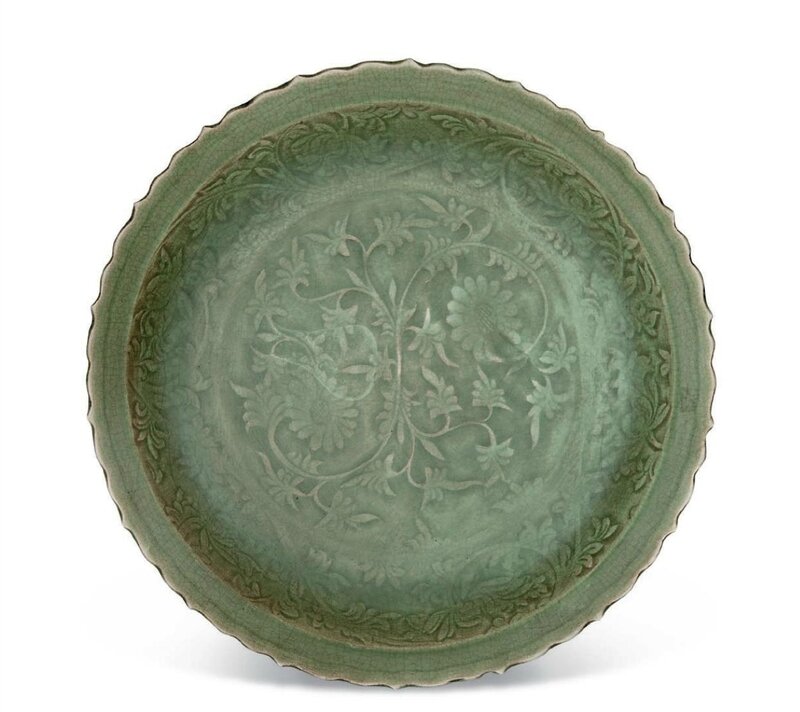 Rare grand plat en porcelaine émaillée céladon, Chine, Dynastie Ming (1368-1644). Estimate €8,000 – €12,000 ($8,913 - $13,369). Photo Christie's Image Ltd 2015
The charger is freely carved to the interior with two large chrysanthemum blooms surrounded by leafy scrolling foliage, all encircled by a band of floral scrolls. It is covered in a dark celadon glaze of olive tone suffused with a network of crackles, thinning to white around the mouth rim. 22 in. (55.9 cm.) diam.
Notes: Dishes with bracket-lobed rims were popular in the Yuan period and were manufactured both at the Longquan kiln sites, producing carved celadon wares, and at Jingdezhen, producing porcelain examples with painted underglaze blue or copper red decoration. This barbed-rim form continued and developed during the late 14th and 15th centuries in the Hongwu and Yongle reign periods. A fine example of a barbed-rim dish painted with chrysanthemum sprays in underglaze blue is illustrated in Blue and White Porcelain with Underglaze Red (I), vol. 34, The Complete Collection of Treasures of the Palace Museum, Hong Kong, 2000, p. 23, no. 21. It is interesting to note that not only is the form of the rim of the current dish similar to those from both the Longquan and the Jingdezhen kilns, but the incised and carved decoration also echoes that of the underglaze painting at Jingdezhen during the Hongwu period.
A RARE LARGE CELADON-GLAZED BARBED-RIM CHARGER, CHINA, MING DYNASTY (1368-1644)
Christie's. ART D'ASIE, 9 June 2015, Paris