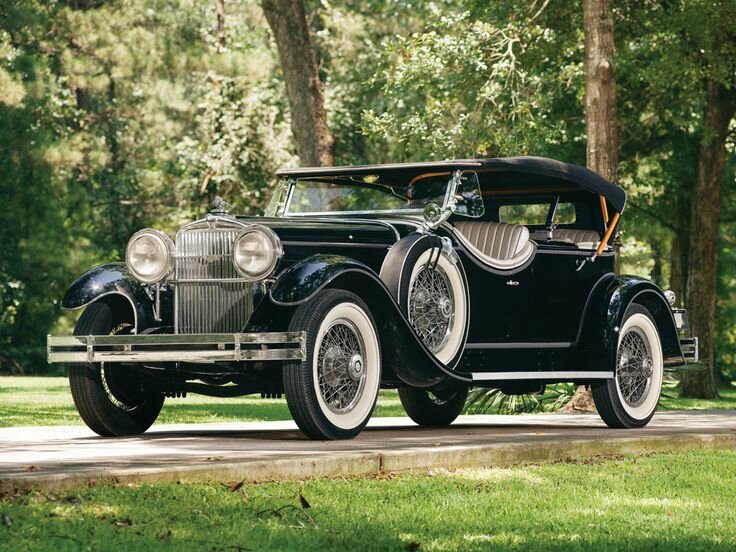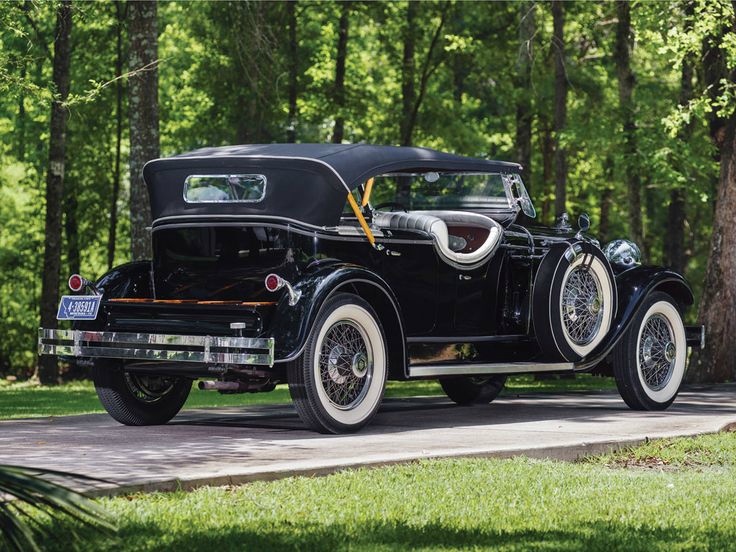 1929 Stutz Model M Four-Passenger Speedster by LeBaron. Photo RM Sotheby's.
Chassis no. M8-43-CY17A. Engine no. 30360
As Stutz increasingly developed its single-cam inline eight-cylinder engine in the late 1920s, they also experimented with reaching back to their performance past, building bodies to suit the new engine's heat. "Semi-custom" offerings were led by two speedster bodies from coachbuilder LeBaron, a two- and four-passenger, both with racing-style "cut-down" front doors and, on the four-passenger model, an optional second cowl and windshield for the rear-seat passengers. It was an ideal performance automobile for its time and attracted the same sort of buyers that had loved Stutz Bearcats in the teens—namely, people like Eva May Johnson.

Miss Johnson was a Holyoke graduate and a California socialite, whose home on Franklin Circle in the Hollywood Hills neighbored many celebrities. She was a passionate sportswoman who golfed and owned fine cars, being a particular fan of Bentleys and a good customer of J.S. Inskip's renowned New York dealership, which she would visit on the East Coast.

It was during one of those visits in the winter of 1949 that she met renowned American racing driver and enthusiast Briggs S. Cunningham. At the time, Miss Johnson was looking to acquire a convertible Bentley as a potential replacement for this 1929 Stutz Four-Passenger Speedster, which she had owned at least since the late 1930s. Her meeting with Mr. Cunningham was somewhat serendipitous, as, at the time, he was looking for a vintage Stutz for his collection. A fascinating correspondence ensued. Miss Johnson:

This has been my transportation car from 1937 to 1949, marvelous on the highway, but requiring simpatico for traffic competition with V-8s! Corners as well as my Bentley, and while I don't know the proper term for it, you don't have to wind it up to get around a corner; you just lean a bit.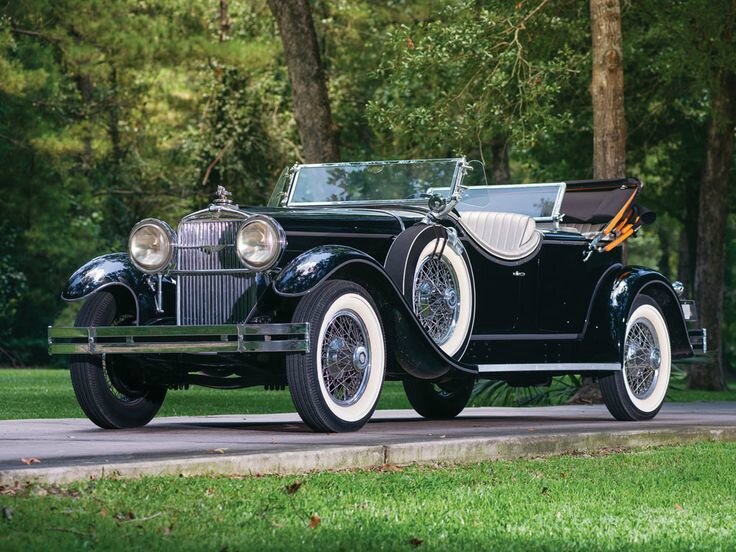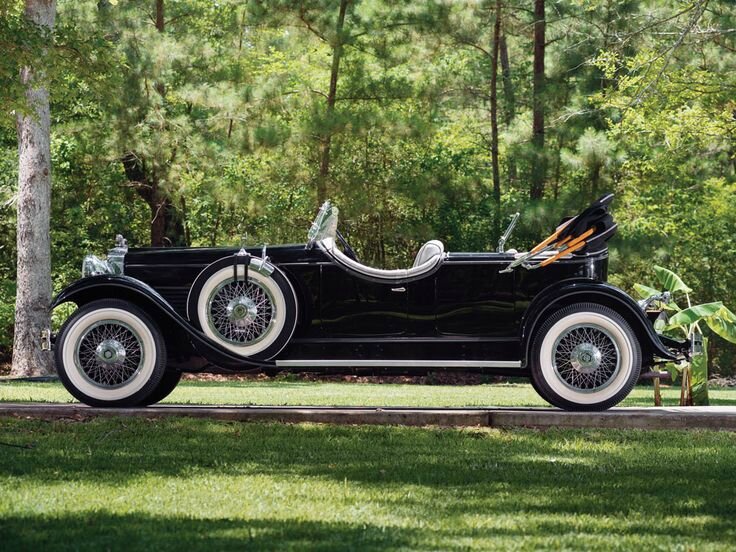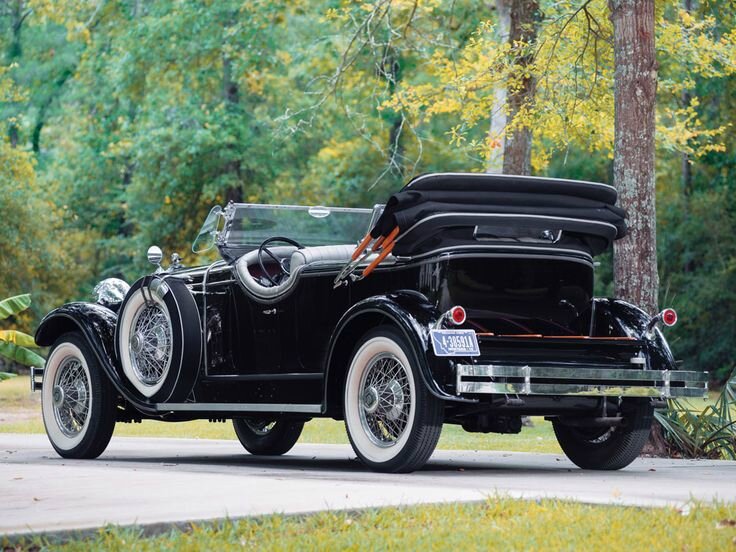 1929 Stutz Model M Four-Passenger Speedster by LeBaron. Photo RM Sotheby's.
In further correspondence, Miss Johnson notes her trepidation regarding selling the car; she clearly had a great passion for her Stutz and was extremely knowledgeable regarding its mechanical specifications and care. She recounted turning down one owner because he intended to hot-rod the car. For whatever reason, whether "put-offitis" on her part or a busy schedule on Mr. Cunningham's part, the Stutz did not become part of the Cunningham Collection until 1970, two decades after his initial correspondence with Miss Johnson began. Mr. Cunningham had acquired another Stutz by that point, a DV-32 Super Bearcat—"I am not a bit impressed," Eva May tartly noted—but apparently elected to acquire the Model M as well, whether by sentimental attachment to its owner or for its beauty, who knows.

The car was restored in a subtle combination of cream and coral and remained in the Cunningham Museum at Costa Mesa, California, until its closure in late 1986. During that time, it was featured in Automobile Quarterly, volume 20, number 3; in John Burgess's book on the Cunningham cars, Connoisseur's Choice, published in 1979; and in Cunningham Museum postcards.

The Stutz was sold with most of Cunningham's other cars in December of 1986 to his fellow renowned collector Miles Collier. It was not retained as part of the Collier Collection and was eventually acquired by William Ruger Sr., the Connecticut gun maker and passionate Stutz enthusiast, and restored anew. Mr. Ruger and his son, William Jr., are both known for their efforts to restore cars beautifully as "runners" with maximum potential unlocked from their engines. Accordingly, while this Stutz has an outwardly stock appearance and sound, even under the hood, its Vertical Eight has been rebuilt by Callaway Cars with titanium connecting rods, new aluminum pistons with a 9.5:1 compression ratio, and a cylinder head reworked for improved flow. While the engine is presently normally aspirated in traditional fashion, Callaway reportedly experimented with forced induction, eventually getting some 400 brake horsepower!

Described as a delightful car to drive—and also, perhaps unsurprisingly, quite quick—this handsome Stutz has benefited from care by some of the U.S.'s great enthusiasts, not least among them a vivacious and singular lady.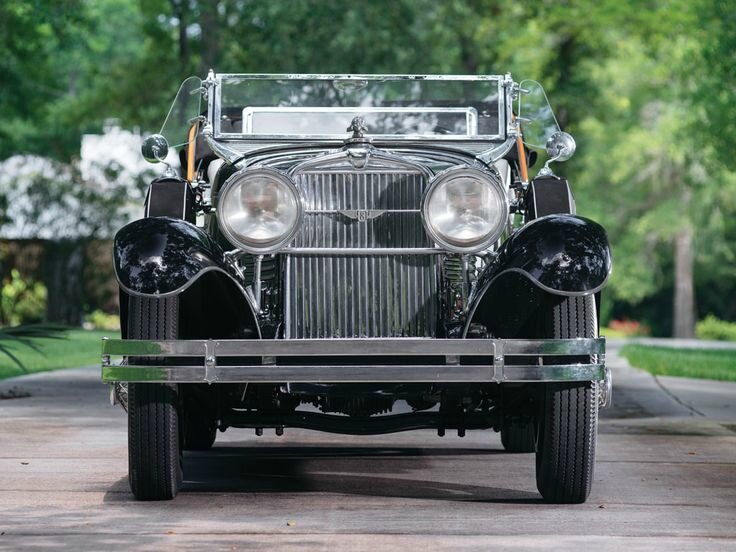 1929 Stutz Model M Four-Passenger Speedster by LeBaron. Photo RM Sotheby's.
RM Sotheby's: Motor City, 25 july 2015 | 11:00 AM EDT | plymouth, Michigan