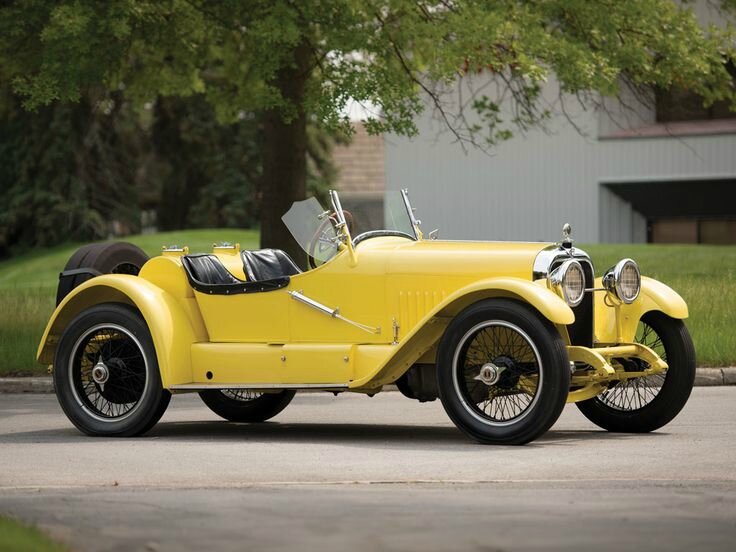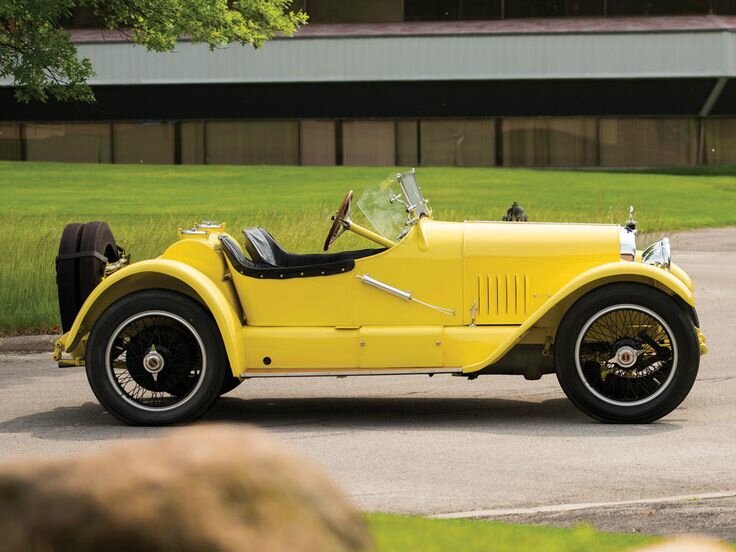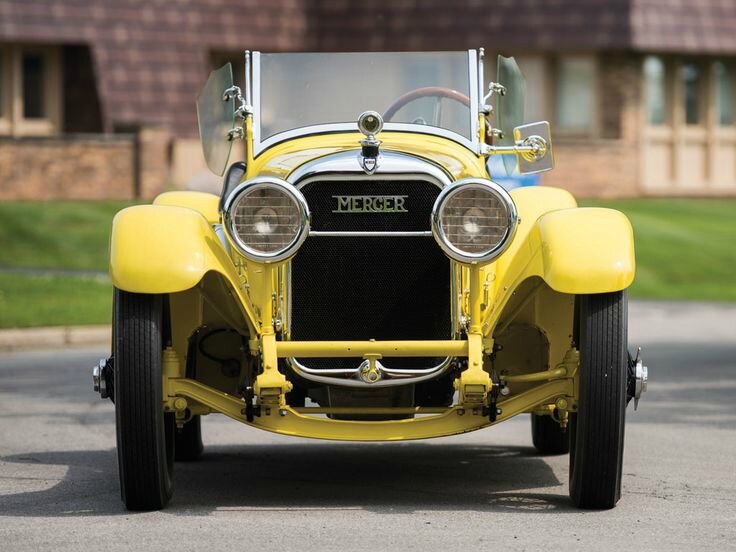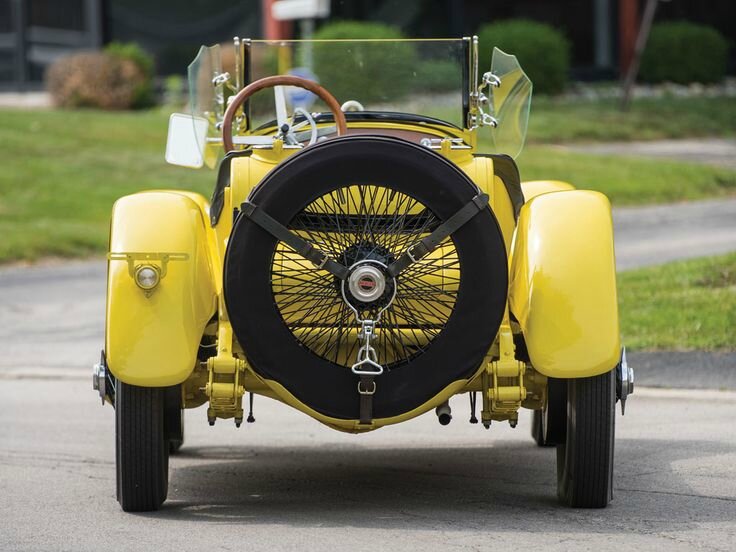 1922 Mercer Series 5 Raceabout. Photo RM Sotheby's.
70 bhp, 298 cu. in. L-head inline four-cylinder engine with single updraft carburetor, four-speed manual transmission, live-axle suspension with semi-elliptical leaf springs and shock absorbers, and four-wheel mechanical drum brakes. Wheelbase: 132 in.
For 1915, Mercer, the most famous American performance name of the decade, introduced its first all-new model since its founding five years prior. The Series 5, as it was aptly named, would remain in production for nearly a decade and would establish itself as the foremost American speed machine of the Nickel Era. It was one of the fastest and most powerful automobiles on the American road, incorporating a brilliant Eric Delling-designed L-head four with abundant power and flexibility on an advanced chassis with live-axle suspension and (eventually) four-wheel braking.

The hottest of the L-head Mercers was the two-passenger raceabout, a gentleman's sports car with no doors, roof, or windows, which was the spiritual successor to the company's T-head raceabouts of the Teens. It was a rare, "hot" car even when new, and survivors are treasured today as an engineering landmark of their era.

RAY WOLFF'S RACEABOUT

Raymond A. Wolff, of Waukesha, Wisconsin, is best remembered as the Auburn Cord Duesenberg Club's long-serving and dedicated Duesenberg Historian. He was a great enthusiast and was wildly active in the car hobby during its earliest years, owning, restoring, and selling a variety of interesting automobiles.

Wolff's career, conveniently enough for a car enthusiast, was running an import-export business. This enabled him to travel the world and build up contacts across the globe, from which he retrieved everything from Duesenbergs to Delahayes over the years. One of his "finds" was this Series 5 Raceabout, uncovered in Venezuela in 1967.

Information supplied to Wolff by the car's seller, Juan Alvarez, indicates a fascinating history. Wolff recounted the following in a 1971 article in On the Beam with Gas and Steam:

The car sports only 14,510 miles, as it only had five years of service by the original owner, General Aguiar. Aguiar must have been one of the favorites of the former Venezuelan dictator, Juan Vincente Gomez, who ruled with an iron fist for 27 years…Apparently the General, still alive but senile at 96, had the only sports car in the country during the 'twenties, and he must have cut quite a figure among the senoritas with the flashy yellow, very open (no doors) Raceabout.

The car eventually wound up on the general's ranch and was purchased by Alvarez, who began restoring the car without completing it. It was fixed up enough that, in 1967, it participated in a race in Caracas! Wolff acquired it from Alvarez in 1968, after a year of protracted negotiations; it spent 100 days in transportation to Milwaukee, after which the late M.T. "Joe" Kaufmann and Chuck Kalista spent three years restoring it back to its original condition.

Kauffman's son and successor, Paul, recalls that he and his father picked up the car from the museum of Wolff's friend and fellow collector Pete Warvel in Green Bay, Wisconsin, in the thick of a Midwestern winter. They proceeded to drive the car home in -20 degree Fahrenheit temperatures. "Dad did the engine, inspected the transmission, and found that everything looked good, and went through the brakes and bearings. It was not rotten anywhere, just banged up from being run hard."

In 1972, Wolff used the fully restored Mercer as a partial trade toward a vintage Ferrari. It was acquired two years later by Larry Dubbs, of Germantown, Ohio, who would own the car for over 20 years before selling it to the present owner in 1997. Partial receipts are on file for additional restoration work by Mercer expert Ralph Buckley's Antique Auto Shop in the late 1980s and early 1990s.

The car's authenticity is vouched for by its original Venezuelan registration, a copy of which is on file, which refers to the car as a "Sports" with capacity for two passengers, as well as by the recollections of Wolff and Kaufmann, both of whom remember the Mercer as being very complete. Its engine and chassis numbers are properly stamped in the expected locations, with "RA136" appearing above the chassis number—perhaps an identification of a raceabout.

Also appearing in the file is extensive communication between Wolff and various Mercer enthusiasts and historians, including the late Ralph Buckley and Herbert Royston, as well as with former Mercer employee George Scoblic; documentation relating to more recent owners and restoration work; and photocopies of original L-head Mercer manuals and parts listings.

This is a fascinating early American sports car, from one of the greatest names of its time.
RM Sotheby's: Motor City, 25 july 2015 | 11:00 AM EDT | Plymouth, Michigan