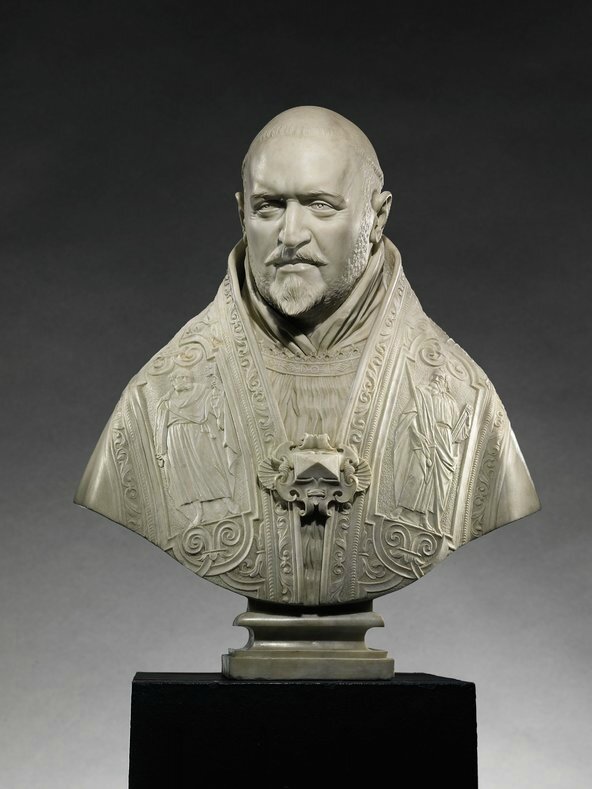 Bust of Pope Paul V, 1621, Gian Lorenzo Bernini (1598-1680), marble. J. Paul Getty Museum, Los Angeles. Photo courtesy of Sotheby's.
LOS ANGELES, CA.- The J. Paul Getty Museum announced today the Museum is acquiring Bust of Pope Paul V (1621) by the great Baroque artist Gian Lorenzo Bernini (Italian, 1598-1680). The posthumous life-sized sculpture was the first official papal portrait Bernini created; he was twenty-three.

Commissioned by Bernini's famous patron, Cardinal Scipione Borghese, it was part of the Borghese family's well-known collection until 1893, when it was sold at auction. Until now, art historians have only known the object through a photograph taken for the 1893 auction catalog and a bronze version cast by Sebastiano Sebastiani in 1621-1622, which is in the collection of the Statens Museum for Kunst, Copenhagen, as well as original records of its commission. It recently reappeared in a private collection.

"Bernini was the towering genius of his age, acknowledged in his lifetime and ever since as the most versatile, inventive, and talented sculptor since Michelangelo," says Timothy Potts, director of the J. Paul Getty Museum. "That such a famous and important work by his hand should be rediscovered and become acquirable by a museum today is an extremely rare and remarkable event. This portrait of Pope Paul V takes its place at the Getty Museum as one of our most important and beautiful sculptures of any period or genre."

In 1621, Cardinal Borghese commissioned the bust of Paul V from Bernini a few months after the pontiff's death. Cardinal Borghese was Paul V's nephew, and it was Paul V who bestowed on him the position of cardinal as well as other privileged roles within the church. In 1632, Bernini carved a portrait of his patron, Bust of Cardinal Scipione Borghese, and throughout the 17th – 19th centuries the busts of pontiff and cardinal, uncle and nephew, were displayed as pendants in the Villa Borghese.

Bernini's portrait of Paul V depicts the pope almost bareheaded, his hair cut in the "tonsure of St. Peter," which signified the renunciation of worldly fashion, and dressed in traditional pontifical vestments. The thick cope covering his shoulders is richly decorated with embroideries of the Apostles Peter and Paul – the saintly patrons of Rome – with borders of plant motifs. The cope is fastened in the middle of the chest by a complex brooch called a morse, composed of a gemstone set in an elaborate metallic frame. Underneath the cope is a surplice in thin fabric with small vertical pleats on the chest, an embroidered upper edge and a very fine, delicately carved, lace border at the neck.

"Bust of Pope Paul V exemplifies Bernini's precocious mastery in capturing his sitters' characters and in conveying a powerful liveliness of expression," said Anne-Lise Desmas, head of Sculpture and Decorative Arts at the Getty Museum. "Beyond its extraordinary naturalism, the sculpture manages to combine a gravitas appropriate to the Pope's status with an air of kindness and approachability. In addition, the rich embroidery decoration of the cope is technically a tour de force in low-relief carving. Remarkably, the portrait survived through all these centuries in perfect condition."

In the Getty Museum's collection, the Bust of Pope Paul V joins a number of other works by the artist: the marble Boy with Dragon (1617) created by Bernini with his father, Pietro Bernini (Italian, 1562 - 1629), the bronze after Bernini's Neptune with Dolphin (after 1623), a black chalk drawing entitled A Marine God with a Dolphin (1652-53) and the red chalk drawing of a Portrait of a Young Man (1630). The Bust of Pope Paul V provides a centerpiece to this group of works which dramatically raises the status of the Getty's holdings of this supremely important artist.

Bust of Pope Paul V will be on view starting Thursday, June 18 in the Museum's East Pavilion (E201) at the Getty Center.
Bust of Pope Paul V, 1621, Gian Lorenzo Bernini (1598-1680), marble. J. Paul Getty Museum, Los Angeles. Photo courtesy of Sotheby's.