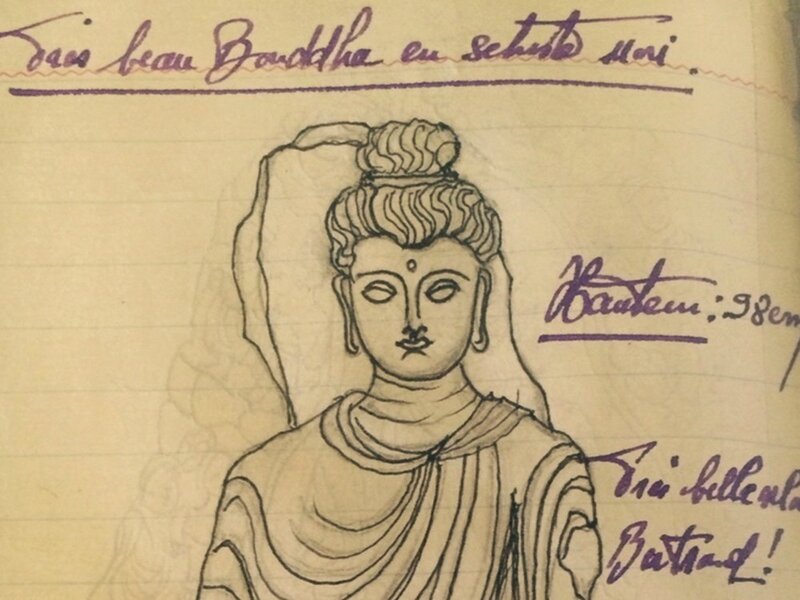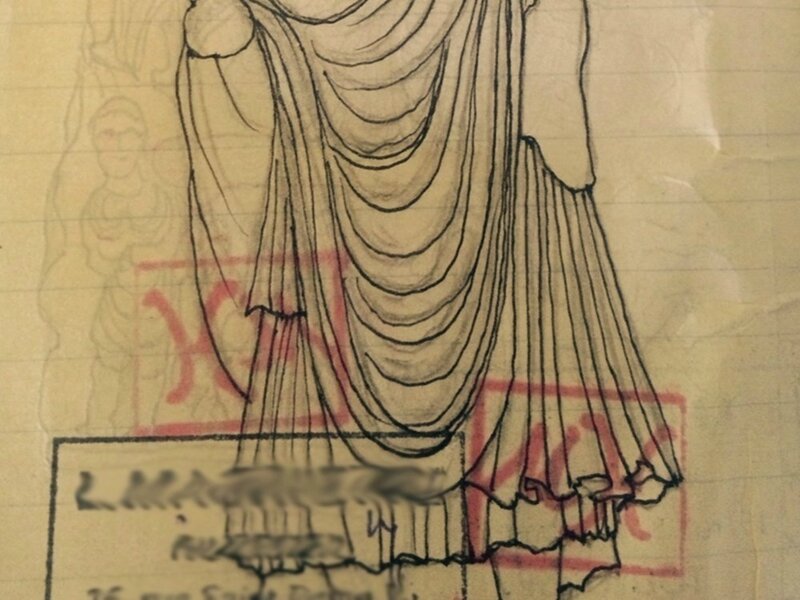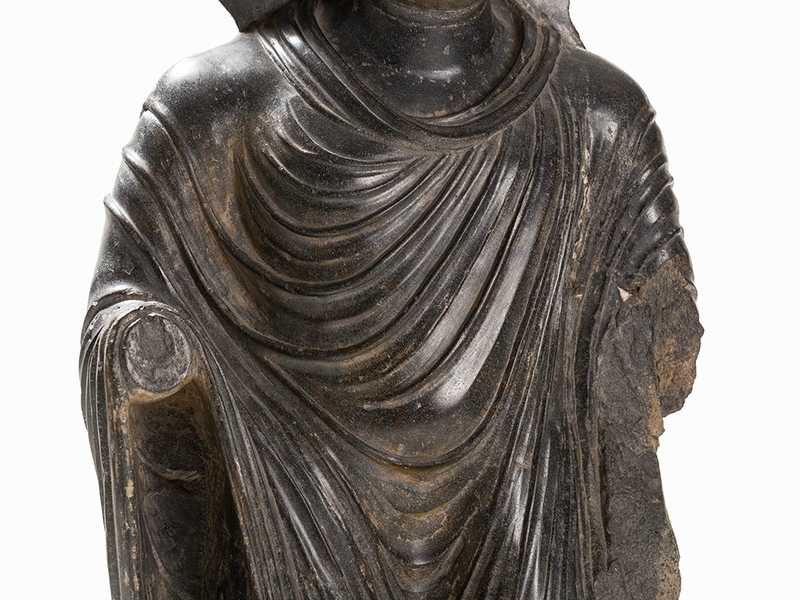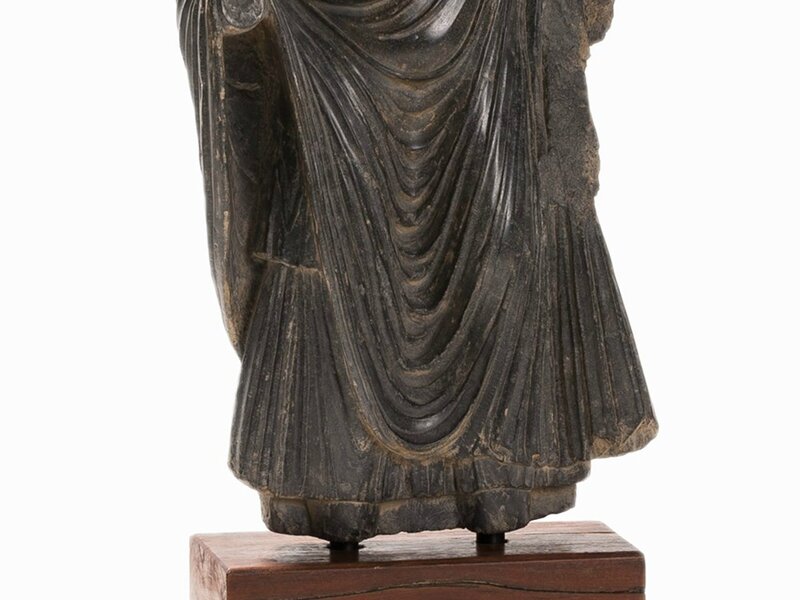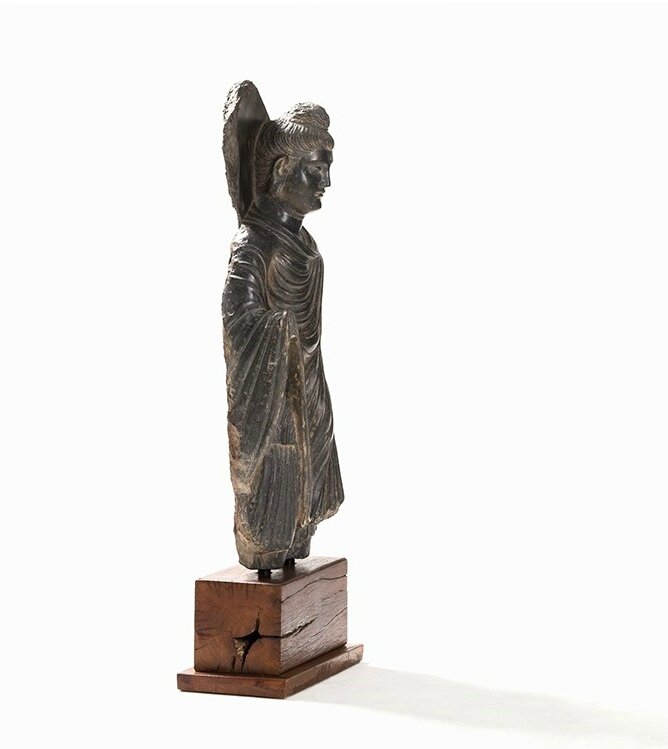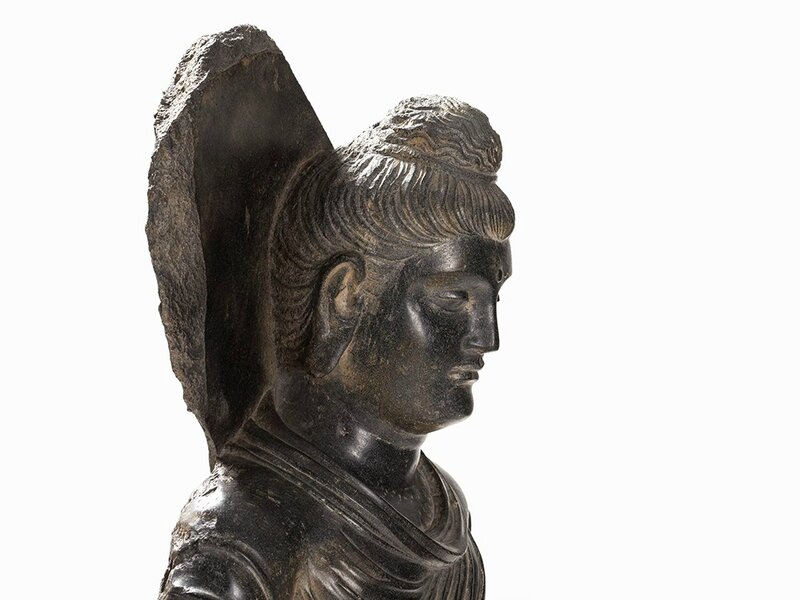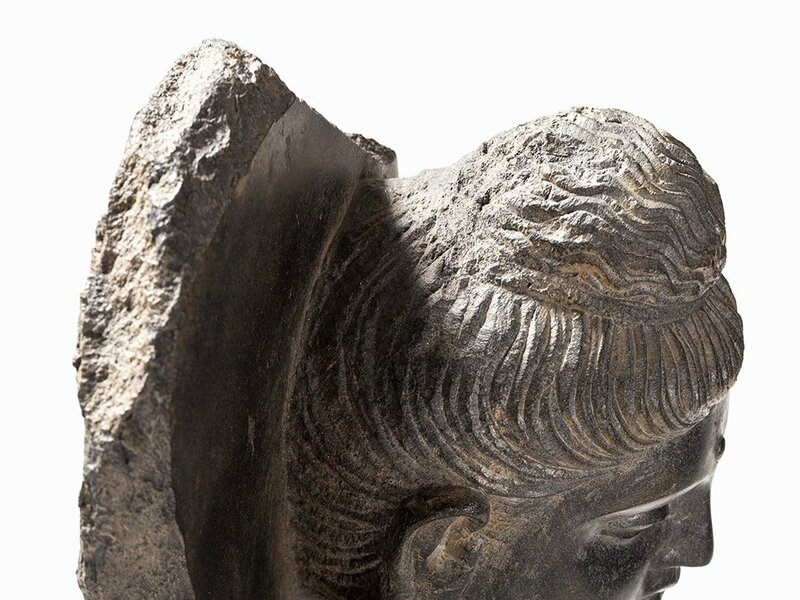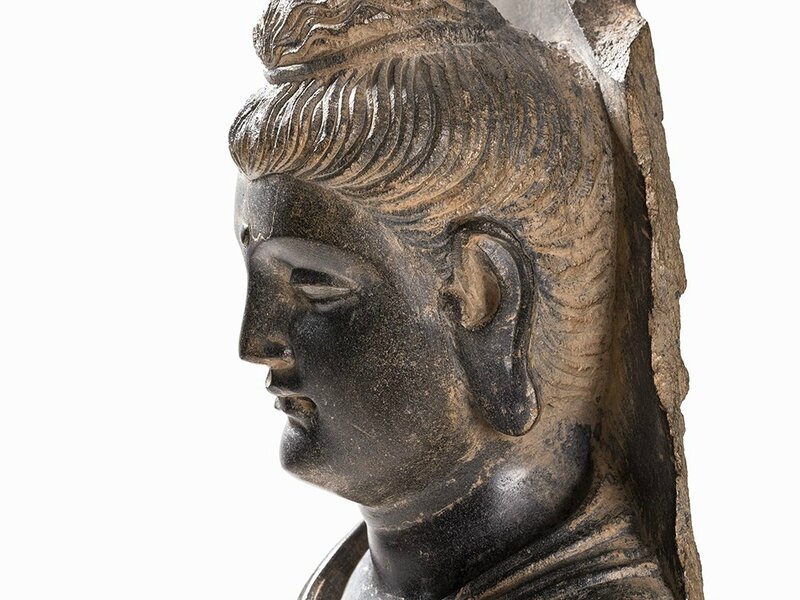 Tall Gray Schist Figure Standing Buddha, Gandhara, 2nd-3rd century. Estimate 30 000 € / 39 000 €. Photo Auctionata AG
Superbly carved figure of a youthful standing Buddha - The left arm held by his side and the right arm bent up and the hand presumably raised in abhaya mudra - The contours of the body subtly accented by the folds of the long robe - The noble face with finely delineated features finely sculpted and elongated earlobes - Serene meditative expression with raised urna between the arching brows
The undulated strands of hair gathered in a large topknot ushnisha - The head backed by remains of a nimbus - On wooden base (later) - Height: 97 cm - Good condition consistent with age
Provenance: Property of a French noble man, in the family collection since at least 1967. Listed in the collection inventory from 1967 (see scan in the photo gallery).
Sculptures of standing Buddha figures are characteristic for the high point of Gandharan art, exhibiting an extreme refinement in carving. Compare similar examples in the Metropolitan Museum of Art, New York (accession no. 67.154.5; 2014.188), in the Asian Art Museum, San Francisco (accession no. B60S593) and in the British Museum in London (reg. no. 1898,0913.4; 1880.104; 1880.73; 1889,1109.1)
Literature: For related examples in the Peshawar Museum, see H. Ingolt, Gandharan Art in Pakistan, 1957, figs. 206 and 215.
Kingdom of Gandhara

The kingdom of Gandhara lasted for around 15 centuries, from 530 BC, as a province of the Persian Empire to 1021 AD, when its last king was murdered by his own troops. The ancient kingdom of Gandhara stretched across parts of present-day Afghanistan and Pakistan. It was an important commercial center of the Middle East, many centuries before the birth of the Prophet Mohammed. But Gandhara was also a jewel of Buddhist civilization and influential in the development of early Mahayana Buddhism.

Gandhara is noted for the distinctive Gandhara style in Buddhist art, which developed out of a merger of Greek, Syrian, Persian and Indian artistic influence. Gandharan style flourished and achieved its peak during the Kushan period, from the 1st to the 5th century. In the first century AD, Gandhara was the birthplace of some of the earliest Buddhist images – until then only symbolic representations had been prevailing. This new imagery became a model for all later depictions of Buddha.
AUCTIONATA AG, 10719 BERLIN. Sculptures et Bronze d'Asie provenant de la Collection D'une Noble Famille Europééenne, le 20 Juin 2015 à 18h00