Kazimir Malevich (1879-1935), Suprematism, 18th Construction. Oil on canvas, 53 by 53cm. Painted in 1915. Estimate £20,000,000-30,000,000 ($30,618,000 — 45,927,000). Photo: Sotheby's
LONDON.- Leading the Impressionist & Modern Art Evening sale is one of the most important paintings by Kazimir Malevich to ever appear at auction. Suprematism, 18th Construction, a highlight of the critically acclaimed recent Tate retrospective in London, is appearing at auction for the first time, a century after it was painted, directly from the artist's family. Suprematism, 18th Construction dates from the height of the artist's career, a period that marked the epitome of revolutionary abstraction and placed Malevich as one of the most important international artists of the 20th Century. It was held in the collection of the Stedelijk Museum, Amsterdam, for fifty years before being restituted to the artist's family.

Helena Newman, Global Co-chairman of Sotheby's Impressionist & Modern Art Department, said: "The forthcoming sale offers a rich range of highly desirable works, including those that rank among the finest by Manet, Degas, Klimt, Malevich, Gauguin and Miro. We are also honoured to have been entrusted with outstanding paintings by heirs to whom the artworks have been successfully restituted, enabling us to present unprecedented opportunities to acquire works that would otherwise not appear on the market."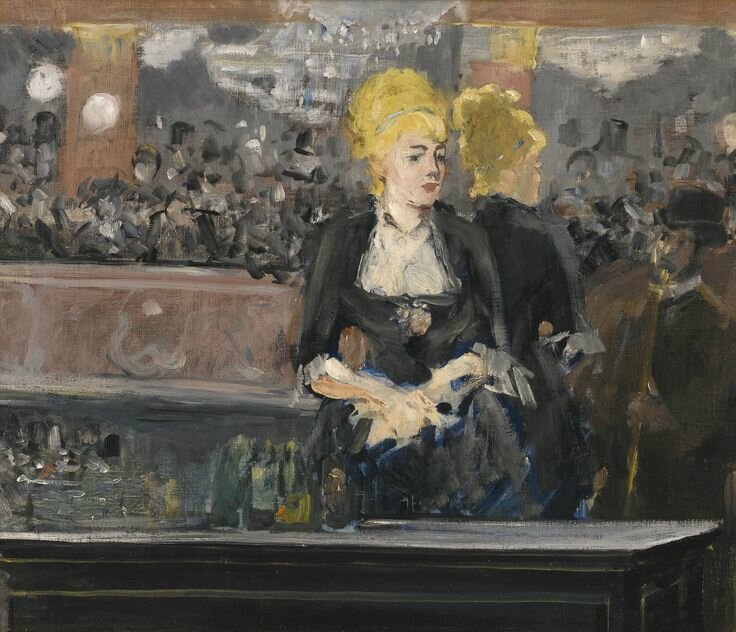 Édouard Manet (1832-1883), Le Bar aux Folies-Bergère. Oil on canvas, 47 by 56cm.; 18½ by 22in. Painted in 1881. Estimate £15,000,000 — 20,000,000 ($22,963,500 — 30,618,000). Photo: Sotheby's
Depicting what is arguably the most famous and iconic image of Manet's œuvre, Le bar aux Folies-Bergères is the first version of his celebrated oil of the same title, now in the collection of the Courtauld Gallery, London. These were the only two paintings by Manet of the Folies-Bergère, thus it is the only version remaining in private hands. The painting remained in the artist's personal collection up until his death, after which his famed dealer Paul Durand-Ruel was able to procure the work. The painting was shown to the public in 1905 in the now legendary exhibition at the Grafton Galleries, London, which introduced the British public to Impressionism. Testament to its outstanding quality, it has since been exhibited extensively internationally; most recently featuring as one of the highlights of the National Gallery's blockbuster exhibition in London Inventing Impressionism: Paul Durand-Ruel and the Modern Art Market.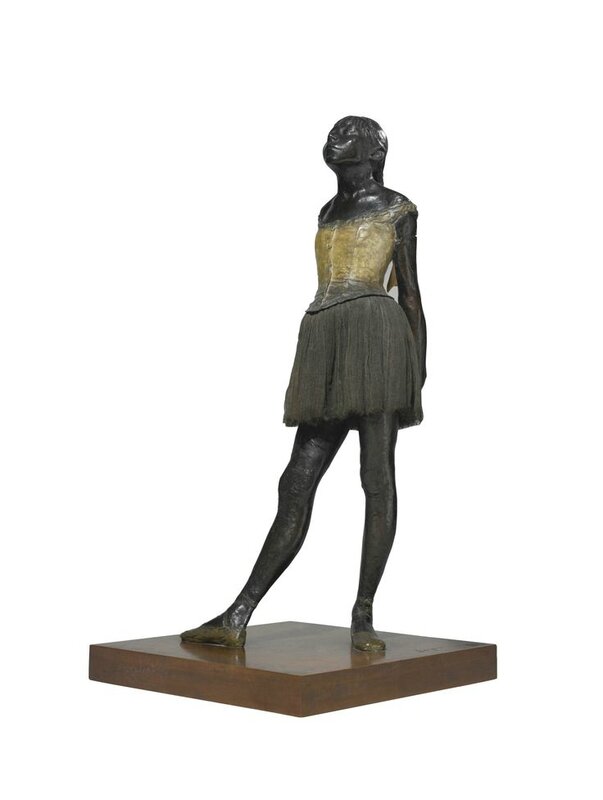 Edgar Degas (1834 - 1917), Petite danseuse de quatorze ans, inscribed Degas, numbered HER and stamped with the foundry mark A.A. HÉBRARD CIRE PERDUE (on the base); bronze with muslin skirt and satin hair ribbon on a wooden base; height (including base): 101.3cm. 39 7/8 in. Executed in wax circa 1879-81 and cast in bronze from 1922. Estimate £10,000,000 — 15,000,000 ($15,309,000 - 22,963,500). Photo: Sotheby's
Petite danseuse de quatorze ans is the most ambitious and iconic of Degas' works and one of only a handful of bronze casts that remain in private hands - the majority are housed in major international museum collections, including Tate, London, the Metropolitan Museum of Art, New York, Philadelphia Museum of Art and Museé d'Orsay, Paris. Celebrated for the revolutionary nature of its modern sculptural form, this groundbreaking work from the Impressionist period was the only sculpture exhibited during Degas' lifetime. When the wax model was first seen by audiences in 1881, the unflinching realism of Petite danseuse de quatorze ans excited considerable comment. Rather than showing the graceful poise and elegance expected of the dancer, with this sculpture Degas focused on capturing a momentary glimpse that exposed the relentless work that a ballerina's performance demands. It was hailed for its modernity as much as it was chastised for its perceived vulgarity.

Gustav Klimt (1862 - 1918), Bildnis Gertrud Loew (Gertha Felsöványi), signed Gustav Klimt and dated 1902 (upper left), oil on canvas, 149.5 by 45cm., 58 7/8 by 17 3/4 in. Painted in 1902. Estimate £12,000,000 — 18,000,000 ($18,370,800 — 27,556,200). Photo: Sotheby's
Gustav Klimt's exquisite representations of women have led him to become the most celebrated painter of the female portrait of the early 20th-century. This extraordinarily beautiful and captivating portrait Bildnis Gertrud Loew depicts the ethereal figure of Gertrud Loew, later known by her married name Gertha Felsöványi, a member of fin-de-siècle Viennese society, wreathed in diaphanous folds of gossamer fabric. The sale will follows a settlement between the Felsöványi family and The Klimt Foundation, Vienna, and is one of the greatest portraits by the artist to come to auction.
Paul Gauguin (1848 - 1903), Nature morte aux mangos, signed P. Gauguin (upper left), oil on canvas, 30.4 by 47.4cm., 12 by 18 5/8 in. Painted circa 1891-96. Estimate £10,000,000 — 15,000,000 ($15,309,000 - 22,963,500). Photo: Sotheby's
Nature morte aux mangos is thought to have been executed in Tahiti during Gauguin's first trip to the Island. Inspired by the lush environment that surrounded him, the work epitomises the artist's lifelong search for the primitive and displays the same vividness and sensuous atmosphere and the bright, warm palette that characterised his celebrated Tahitian landscapes and figure paintings. Indeed, to a traveller from Europe, mangoes – which grew in abundance in Tahiti – must have seemed symbolic of the rich and colourful landscape of these islands. The fruit of the earth represented a part of the everyday life of the islanders, not only as a source of food but as an offering to the gods, and this is reflected in Gauguin's work. A fascinating and highly accomplished image of the harmony between the natural and the man-made, Nature morte aux mangos is a powerful testament not only to Gauguin's own creative vision, but also to the artistic and spiritual ideal of freedom, wilderness and simplicity.
MODERN MASTERS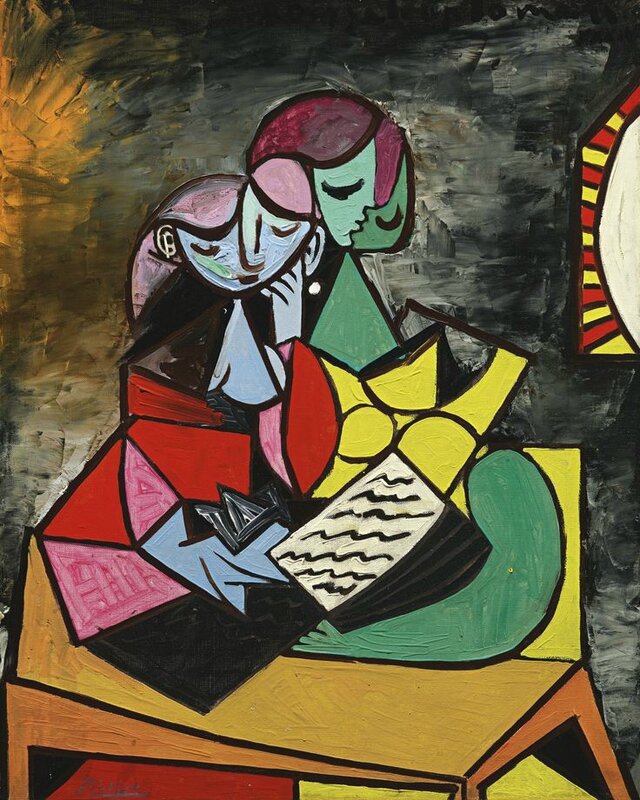 Pablo Picasso (1881 - 1973), Deux Personnages (La Lecture), signed Picasso (lower left) and dated Boisgeloup 30 mars XXXIV (along the top); dated Boisgeloup 30 mars XXXIV on the stretcher, oil on canvas, 81 by 65cm., 32 by 25 1/2 in. Painted in Boisgeloup on 30th March 1934. Estimate £13,000,000 — 18,000,000 ($19,901,700 — 27,556,200). Photo: Sotheby's
This exceptional painting of two women reading by Pablo Picasso, comes from the extraordinary group of canvases inspired by his beloved mistress Marie-Thérèse Walter. Distinguished by their rich colouration, harmonic curves and sweeping arabesques, these exceptional pictures are renowned as Picasso's most euphoric, fantastical and inspired compositions, and they rank among the most instantly recognizable works of 20th-century art. Among the most evocative of these pictures is Deux personnages, created when Marie-Thérèse was firmly at the centre of Picasso's artistic and private universe.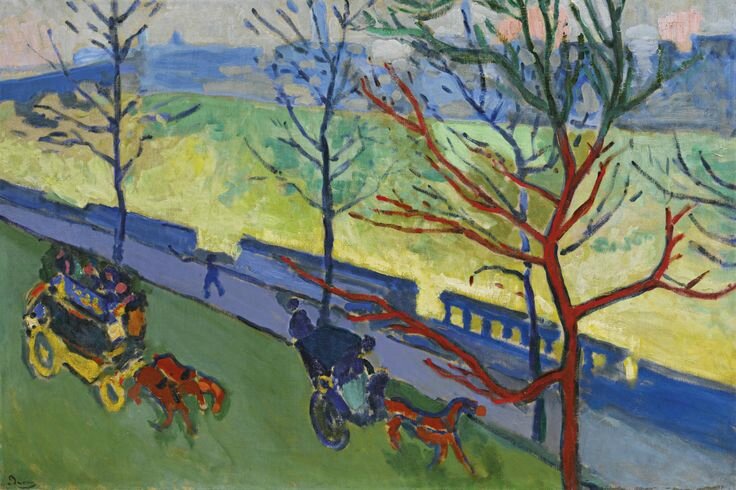 André Derain (1880 - 1954), Londres : Le Quai Victoria, signed A. Derain (lower left), oil on canvas, 66 by 98.5cm., 26 by 38 3/8 in. Painted in 1906-07. Estimate £6,500,000 — 9,000,000 ($9,950,850 — 13,778,100). Photo: Sotheby's
Painted in London at the height of the Fauve movement, this vibrant painting of Victoria Embankment belongs to the series which helped define Derain as one of the most brilliant artists of his generation. Following Claude Monet's successful trip to London, during which he painted the iconic scenes of the Thames and its banks, Monet's dealer – who also represented Derain – persuaded the artist to make a trip to London himself, to further his career and make the most of the urban London landscape.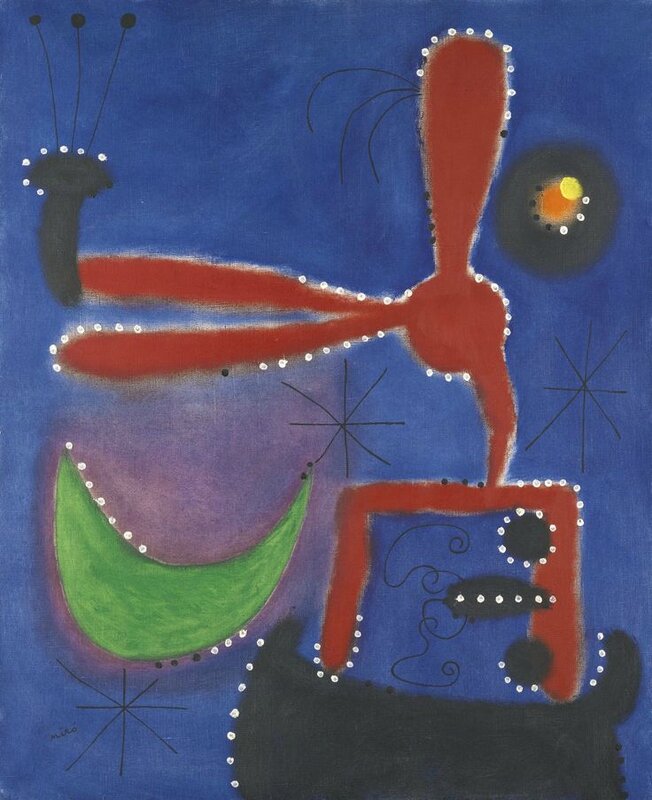 Joan Miró (1893 - 1983), Peinture, signed Miró (lower left); signed Miró, dated 1954 and dedicated à Alberto et Annette Giacometti, cordialement on the reverse, oil on canvas, 81 by 65cm., 31 7/8 by 25 5/8 in. Painted in 1954. Estimate £5,000,000 — 8,000,000 ($7,654,500 - 12,247,200). Photo: Sotheby's
From the collection of the Alberto and Annette Giacometti Foundation comes a powerful and exceptionally beautiful testament to the friendship between two of the greatest artists of the 20th Century – Joan Miró and Alberto Giacometti. Dedicated to Alberto and his wife Annette, it forms part of a group of pictures painted in 1954 that Miró gifted to his closest friends. Peinture combines Miró's love of signs and symbols with a thematic narrative that is at once passionate, lyrical and intensely creative. The work exemplifies the expressive power of images, depicting the lexicon of motfis that he had developed over the years: celestial bodies, the gaping mouths, stretching limbs and the all-important colour blue – the colour of his dreams.
Fernand Léger (1881 - 1955), Le Pont du Remorqueur, signed F. Léger, titled Le Pont du Remorquer, état définitif and dated 19 on the reverse, oil on canvas, 65 by 92cm., 25 5/8 by 36 1/4 in. Painted in 1919. Estimate £6,000,000 — 9,000,000 ($9,185,400 - 13,778,100). Photo: Sotheby's
Le Pont du remorqueur is a remarkable example of Léger's exuberant abstract style. Created shortly after the end of the First World War, it is the culmination of a series of works created during the period which featured bridges and boats - a gleaming symbol of technological progress in an age of rapid industrialisation. The artist's experience of front-line service during the war, in which he had witnessed mechanised killing on an atrocious scale, led him to innovations in both style and subject matter. The present work was first owned by Léonce Rosenberg, Léger's primary dealer until the 1940s, before being acquired by the remarkable Helene and Anton Kröller-Müller. The Kröller-Müller's amassed one of the finest collections of late 19th and early 20th-century art in the Netherlands.
Max Liebermann (1847 - 1935), Zwei Reiter am Strand nach links (Two Riders on a Beach), signed M. Liebermann and dated 1901 (lower right), oil on canvas, 72 by 92cm., 28 3/8 by 36 1/4 in. Painted in 1901. Estimate £350,000 — 550,000 ($535,815 — 841,995). Photo: Sotheby's
An exceptional work by Max Liebermann, Zwei Reiter am Strand nach links was discovered among the trove of art secreted away for decades by Cornelius Gurlitt and will be sold by the heirs of the painting's original owner following its successful restitution. Max Liebermann is considered to be one of the greatest German artists of his generation, and this painting is one of his first large-scale oil paintings of horses and riders - a theme that continued throughout his career but was rarely depicted with such elegance and poise as in this particular work.
THE FIGURE AND FORM COLLECTION
An extraordinary private collection of rarely seen masterpieces will come to auction for the very first time this summer, as 21 superlative works are offered across a series of sales at Sotheby's in London, New York and Paris between May and July 2015. Assembled in the 1970s and 80s, this discerning collection encompasses outstanding works ranging from African to contemporary art, focused around a single theme – the human figure and form.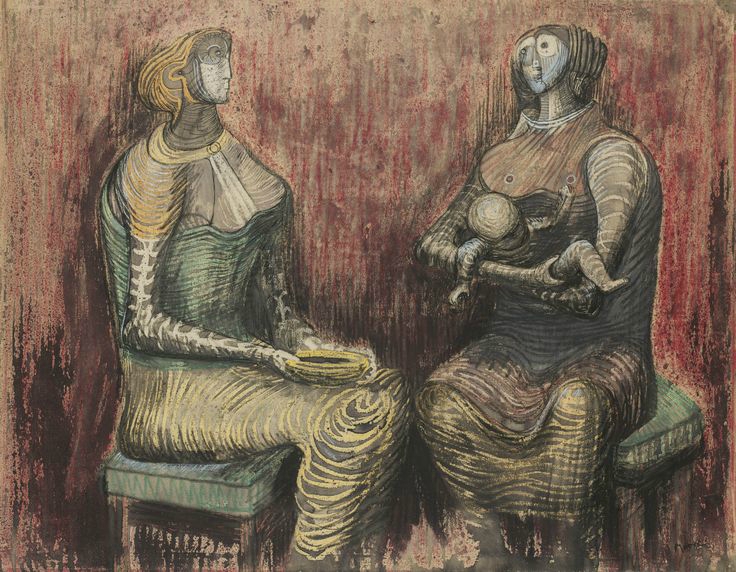 Henry Moore (1898 - 1986), Two Women and Child, signed Moore (lower right), gouache, watercolour wash, wax crayon, coloured crayon, pen and ink and pencil on paper, 48.4 by 62.3cm., 19 1/8 by 24 1/2 in. Executed in 1948. Estimate £300,000 — 400,000 ($459,270 - 612,360). Photo: Sotheby's
The finest work on paper by Henry Moore to appear on the market for many years, this magnificent work exemplifies the artist's richly hued, densely worked drawings that render the physicality of the figures so completely that they possess a sculptural quality all of their own. According to the catalogue raisonné, the intricately executed and stylised heads of the women may have been influenced by tribal art, specifically by the carved masks from Africa and the Marquesas Islands, often decorated with incisions, which Moore began collecting in the late 1940s.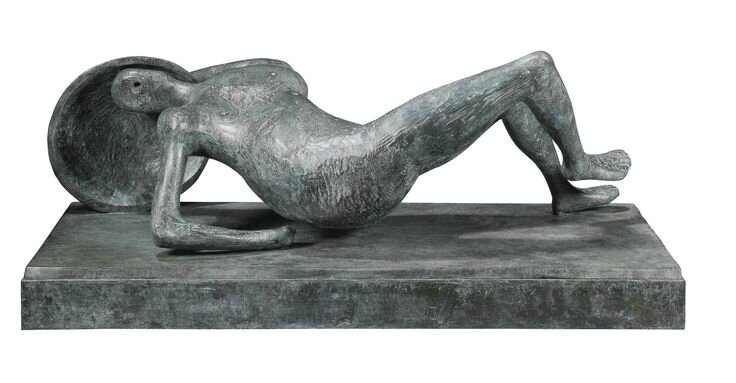 Henry Moore (1898 - 1986), Falling Warrior, bronze, length: 154.5cm., 60 7/8 in. Conceived in 1956-57 and cast in bronze in an edition of 10 plus 1 artist's proof. Estimate £1,800,000-2,500,000 ($2,755,620 - 3,827,250). Photo: Sotheby's
This monumental work of emotive power and gravitas was inspired by the fallen soldiers of the Second World War. The sculpture reflects the artist's deep interest in Classical sculpture as well as his love of bronze as a material. Of the other ten examples of Falling Warrior that Moore had cast at the Fiorini foundry in London, seven are currently in public collections, including Tate, London.
Edgar Degas, Physionomie de Criminel, signed Degas (lower right); stamped Atelier Degas on the reverse of the artist's board, pastel on paper mounted on the artist's board, 47.8 by 63cm., 18 7/8 by 24 3/4 in., Executed in 1881. Estimate £300,000-400,000 ($382,725 — 535,815). Photo: Sotheby's
One of the most written about and discussed works by Degas to have been offered at auction for many years, this extraordinary work was first shown at the 6th Impressionist exhibition in 1881 as a male counterpart to the Petit danseuse de quatorze ans sculpture. From 1979 the work was 'hidden' in the collection of the current owner and away from the public eye. When in 1994-95 it was loaned to the exhibition of Degas portraits and the Venice Biennale, it was greeted with much acclaimed by the public, critics and art historians alike. It demonstrates Degas's fascination with human physiognomy – a subject which has interested artists from Leonardo da Vinci to Francis Bacon – but almost unique in the artist's œuvre.