Lot 17. Gerhard Richter (B. 1932), A B, Brick Tower, signed, dated 1987 and numbered 643-1 on the reverse, oil on canvas, 200 by 140cm.; 78 3/4 by 55in. Estimate 12,000,000 — 16,000,000 GBP (16,631,959 - 22,175,945 EUR). Lot sold 14,149,000 GBP. Photo: Sotheby's.
Provenance: Anthony d'Offay Gallery, London
Private Collection, New York
Sale: Christie's, New York, Post-War Evening Sale, 13 November 2001, Lot 28
Galerie Beyeler, Basel
Galerie Art and Public, Geneva
Acquired directly from the above by the present owner in 2003
Exhibition: London, Anthony d'Offay Gallery, Gerhard Richter: The London Paintings, 1988, n.p., illustrated in colour
Basel, Fondation Beyeler, Claude Monet… bis zum digitalen Impressionismus, 2002, p. 128, no. 72, illustrated in colour
Bibliography: Andreas Papadakis, Ed., German Art Now: Art & Design, London 1989, p. 44, illustrated in colour
Anna Moszynska, Abstract Art, London 1990, p. 223, no. 158, illustrated in colour
Angelika Thill, et. al., Gerhard Richter: Catalogue Raisonné 1962-1993, Vol. III, Ostfildern-Ruit 1993, n.p., no. 643-1, illustrated in colour
Exhibition Catalogue, London, Tate Modern, Gerhard Richter: Panorama, 2011, p. 129 (text)
Dietmar Elger, Gerhard Richter: Catalogue Raisonné 1976-1987, Vol. III, Ostfildern 2013, p. 609, no. 643-1, illustrated in colour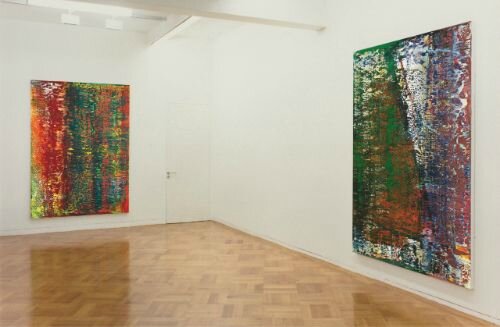 Installation view with the present work, The London Paintings, Anthony d'Offay Gallery, London, 1988 © Gerhard Richter, 2015
Notes: "The titles Richter has given this group of fourteen abstract paintings are not descriptive; they refer in a general associative way to his experiences of the city – to the chapels in Westminster Abbey, to the Tower of London." Jill Lloyd, 'Gerhard Richter: The London Paintings' in: Exhibition Catalogue, London, Anthony D'Offay Gallery, Gerhard Richter: The London Paintings, 1988, n.p.
The group of abstract paintings created for Richter's 1988 show at Anthony d'Offay Gallery – his first major commercial exhibition in London – are indefatigably tied to their host city. From this corpus of fourteen so-called London Paintingscreated in response to a trip Richter made to London in 1987, A B, Brick Tower looms in exquisite swathes of richest red accented with strident kaleidoscopic underlayers of aquamarine blue, sunset orange, canary yellow and verdant green. Indeed, echoing the exquisite light effects and chromatic intensity of Claude Monet's depiction of the Houses of Parliament and his iconic corpus depicting his water Lillie garden at Giverny, A B, Brick Tower, was included in the seminal exhibition at the Fondation Beyeler in 2002, Claude Monet… Up To Digital Impressionism. Displayed side by side, the parity between the Impressionist Master and the Master of Digital Impressionism is startling, with the present work delivering an opulent panorama of all-encompassing colour to rival Monet's iconic Nympheas. Sumptuous impasto passages of viscous oil paint cover and reveal magnificent sediments of intense chromatic strata; an effect that conjures organic weathering and an atmospheric intimation of the painting's urban title. While the painting's name immediately evokes towering power station chimneys familiar to London's twentieth-century industrial landscape, A B, Brick Tower also encompasses a more direct connection to the City of London whose history dates back to the settlement of the Roman Empire. Specifically, Richter's painting takes its name from William the Conquerer's medieval castle, the Tower of London. Named after one of the perimeter towers surrounding the central keep, this painting joins both Flint Tower and Salt Tower (two further towers from the twenty-one that surround the main castle) as abstractly anchored to a specific architectural monument. Within this corpus, the Towers' companion pieces possess names that also anchor inchoate abstract fields of painterly abstraction to the chapels and saintly characters associated with the Tower of London's central White Tower and those of Westminster Abbey: A B, St John, A B, St Andrew; and A B, St Bridget. Furthermore works from the London Paintings reference the general location of Westminster Abbey: A B, St James; while one monumental work possesses a more abstract allusion to the spiritual nature of ecclesiastical buildings: A B, Sanctuary. As with the extant thirteen works in this ground-breaking series, each follows a particular quality which is enforced by Richter's subsequent titling. Alongside other works in this corpus, Richter conjures a mixture of evocations that complexly negotiate ecclesiastical and cultural references whilst at the same time eschewing literal interpretation. Indeed, far from performing a narrative function, these names operate within an intensely imaginative dimension rooted in Richter's experience and anticipation of his London exhibition. Heralding its return, the appearance of this exceptional painting at auction in London marks a truly momentous occasion.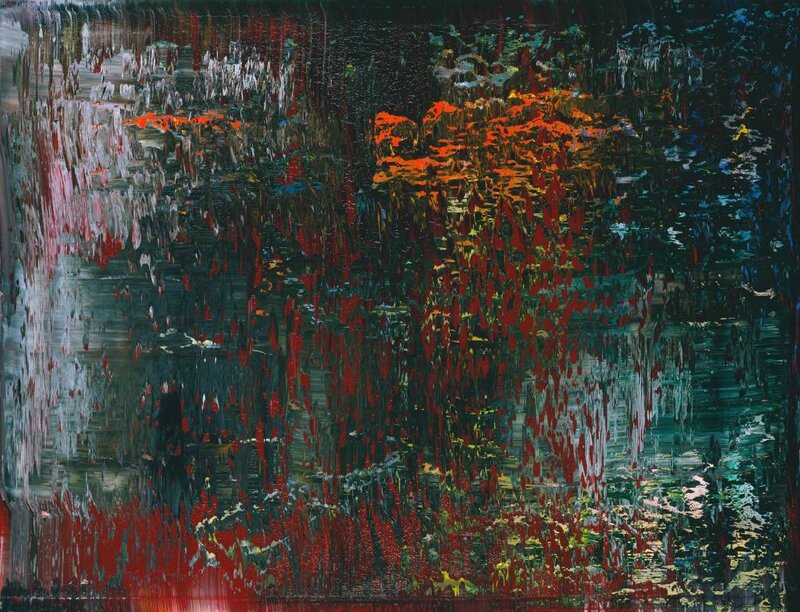 Gerhard Richter, A B, St John, 1988. Tate Collection, London © Gerhard Richter, 2015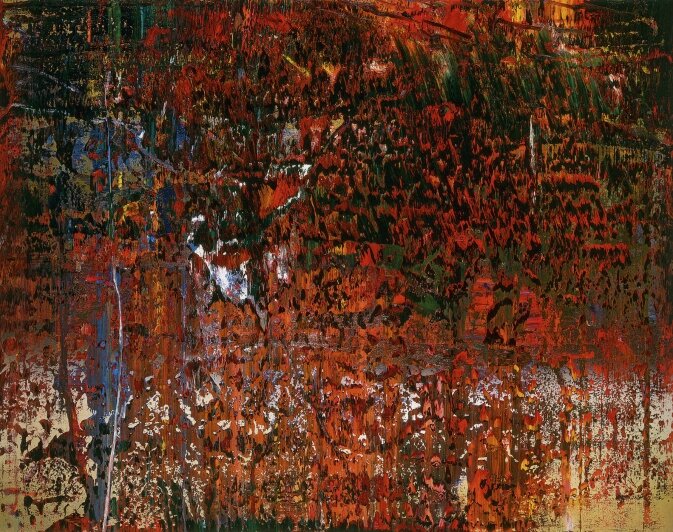 Gerhard Richter, A B, St Andrew, 1988. Los Angeles County Museum of Art, Los Angeles © Gerhard Richter, 2015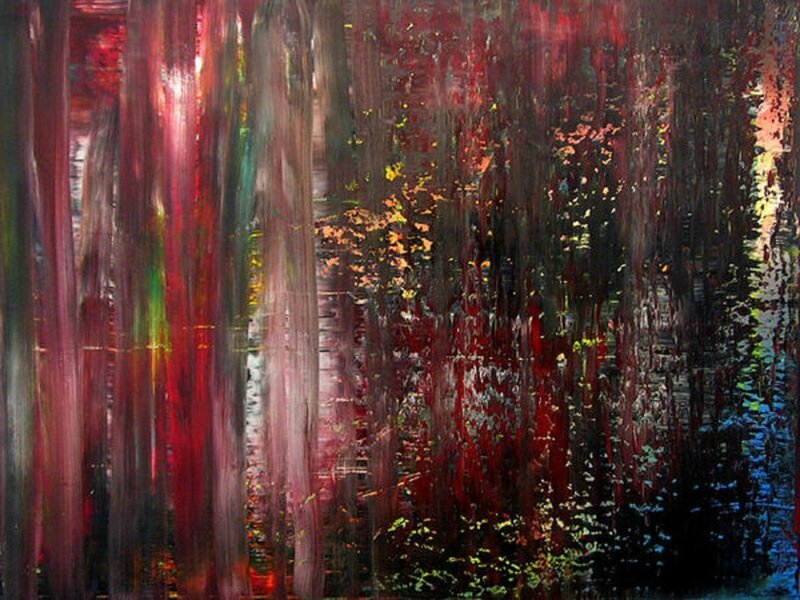 Gerhard Richter, A B, St Bridget, 1988. Obra Social "la Caixa" ("la Caixa" Foundation), Barcelona © Gerhard Richter, 2015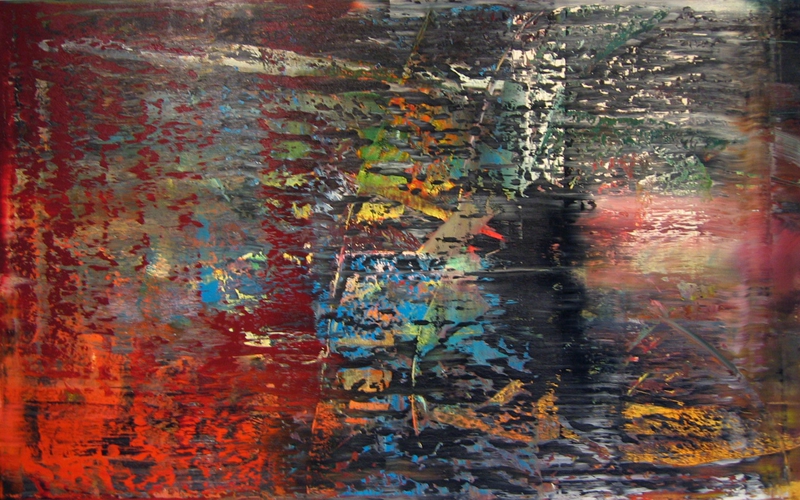 Gerhard Richter, A B, Sanctuary, 1988. Hirshhorn Museum and Sculpture Garden, Washington D.C. © Gerhard Richter, 2015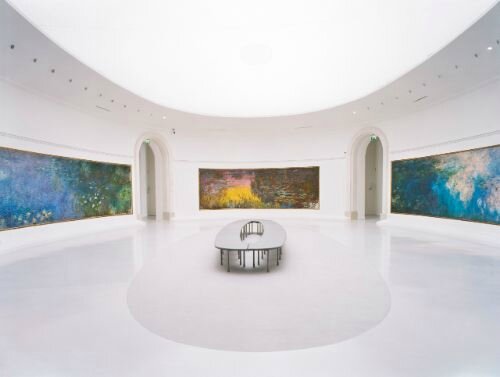 The Monet Nymphéas at the Museum of Orangerie, Paris. Image: © FANTHOMME Hubert
The Tower of London possesses a magnificently rich past. Built by William the Conqueror (first Norman King of England) as a battlement to subdue Londoners following his victory at the Battle of Hastings, the Tower complex is legendary for having served as an armoury, menagerie and Treasury, it is the home of the Royal Mint and Crown Jewels, and famously served as a prison during the Tudor era (Sir Walter Raleigh was in fact imprisoned by Queen Elizabeth I in Brick Tower) associated with executions and the famous legend of the Princes in the Tower under the reign of Richard III. Its appearance in art history dates back to illuminated manuscripts, such as Froissart's Chronicles (circa 1400) which recount the Hundred Years War, or the Poems of Charles d'Orleans (circa 1480) in which the captive Duke of Orleans can be seen writing his manuscript from the Tower. Other famous art historical instances include various woodcuts and engravings, seventeenth-century depictions of the fire of London, Paul Delaroche's iconic painting of The Execution of Lady Jane Grey (1833), as well as J.M.W. Turner's maritime view of the Tower from across the River Thames of 1825. Immortalised within these art historical canons – from landscape through to history painting – in 1987 the Tower of London entered into the radical abstract canon of Gerhard Richter. As an artist who has sought a relentless and almost clinical rebuttal of representational painting within an age of photographic image distribution, Richter's complex and deeply conceptual abstract practice is brought back to an evocation of the art historical past. One year prior to the execution of the present work, Richter stated as much in a conversation with Benjamin Buchloh: "I do see myself as the heir to a vast, great, rich culture of painting – of art in general – which we have lost, but which places obligations on us. And it is no easy matter to avoid either harking back to the past or (equally bad) giving up altogether and sliding into decadence" (Gerhard Richter in conversation with Benjamin H. D. Buchloh (1986) in: Hans Ulrich Obrist, Ed., Gerhard Richter: The Daily Practice of Painting, London 1995, p. 148). Intriguingly, Richter's show at d'Offay also included a suite of landscape paintings, which at first viewing strike the viewer as natural successors to an art historical lineage of British landscape painters as epitomised by Turner, Constable or, as is oft mentioned, the sweeping panoramas of German Romantic painter, Caspar David Friedrich. This however is to simplify Richter's highly conceptual relationship with image-making in all of its guises (both representational and abstract), which, rooted in the recognisable tropes of art history (from Romantic landscape painting through to Abstract Expressionism), looks to drive the possibility of painting into the Twenty-first Century.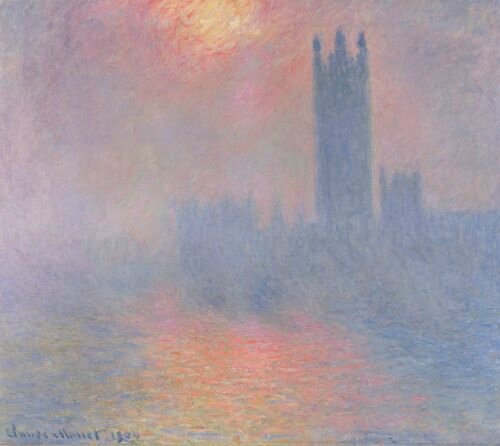 Claude Monet The Houses of Parliament, London, with the sun breaking through the fog, 1904. Musée d'Orsay, Paris Image: © Bridgeman Images.
Tower of London, Tower Hill, London © Ralph Deakin / RIBA Library Photographs Collection.
Though entirely disconnected from referentiality in both method and conception, Richter's abstractions nevertheless elusively evoke natural forms and colour configurations. As outlined by the artist: "The paintings gain their life from our desire to recognise something in them. At every point they suggest similarities with real appearances, which then, however, never really materialize" (Gerhard Richter quoted in: Dietmar Elger, Gerhard Richter: A Life in Painting, Chicago 2009, p. 267). Thwarting the artist's own compositional preconceptions, these works are forged by a reactive and aleatory dialogue via the means of their execution: the squeegee. The layered excavation and resonant accumulation of gossamer colour imparts an eroded surface reminiscent of myriad natural forms. Like a sunset, glorious and luminescent in reflecting the chromatic intensity of stunning optical effects, Richter's canvas evokes the beauty frequently called forth by the contingency of natural phenomena: "amid the paintings' scraped and layered pigments" describes Robert Storr, "shoals, riptides and cresting waves" reinforce an impression of venturing beyond abstraction (Robert Storr quoted in: Dietmar Elgar, Gerhard Richter: A Life in Painting, Cologne 2002, p. XIII). Such a reading is very much linked to Richter's methodological dialogue with chance. Dragged across an expanse of canvas the pressure and speed of Richter's application ultimately surrenders to the unpredictability of chance in informing composition and colour. It is this separation of the artist from direct expression that bestows Richter's paintings with their inherently natural look. The shimmering and harmoniously artful orchestration of paint within A B, Brick Tower vacillates between an act of intense evocation and a simultaneous effacement of painterly form: ingrained within the present work's destructive and unpredictable formation is an undeniable reflection of Nature itself. As outlined by Beate Söntgen; Richter's method "joins the painted traces of the tools together with the layering and intersections of colour to form structures that are figural or landscape like in appearance, without ever solidifying into an object that is once again recognizable" (Beate Söntgen, 'Work on the Picture: The Discretion of Gerhard Richter', in: Exhibition Catalogue, Cologne, Museum Ludwig, Gerhard Richter: Abstrakte Bilder, 2008-09, p. 37).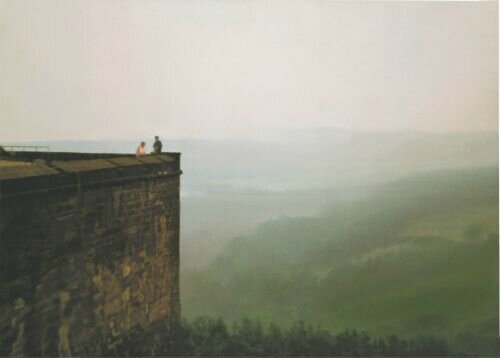 Gerhard Richter, Königstein, 1987. Private Collection © Gerhard Richter, 2015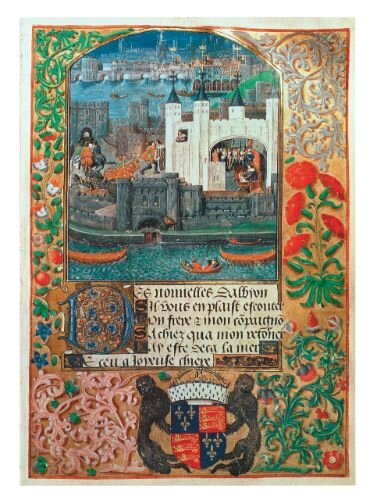 Royal Ms 16 F II, f.73: Tower of London and shipping, with Charles, Duke of Orléans, seated in the Tower writing, from Poems of Charles, Duke of Orléans, circa 1500. British Library, London. Image: © Bridgeman Images
Comparative in both beauty and effect to Monet's atmospheric and optical translation of his garden at Giverny or even his depiction of the Houses of Parliament across the River Thames, Richter's A B, Brick Tower is nonetheless analogous to a wholesale inversion of the Impressionist master's late practice. Correspondingly expansive, enveloping and utterly breathing colour, Richter shares Monet's tropospheric yet abyssal chromatic impact. In the work of both it is the cognitive and sensory act of looking informed by a dense chromatic structure that drives visual affect. Clement Greenberg identified this as Impressionism's most revolutionary insight, and it is this which Richter invokes and advances in his Abstracts. Where for Monet, nature was a point of departure to link the experiential stimulus of the outer world with an ineffable inner world of sensory perception, Richter's outwardly incomprehensible plane of abstraction projects the interior world of sensory perception back into the exterior realm of natural reference. Rather than a perceptual and intensely subjective documentation of nature that verges on the abstract, Richter's exercise in ostensibly objective and pure abstraction skirts the peripheries of a lyrical and expressive organic topography. Herein, Richter's A B, Brick Tower, guised in the fuzz of televisual distortion, presents the viewer with an abyssal and chromatically resplendent vista, an approach to painting that, in echoing the title of Fondation Beyeler exhibition in which this painting was included, awards Richter the distinctly twenty-first century title of Digital Impressionist.
Sotheby's. Contemporary Art Evening Auction, 01 JUILLET 2015, 7:00 PM BST - LONDRES