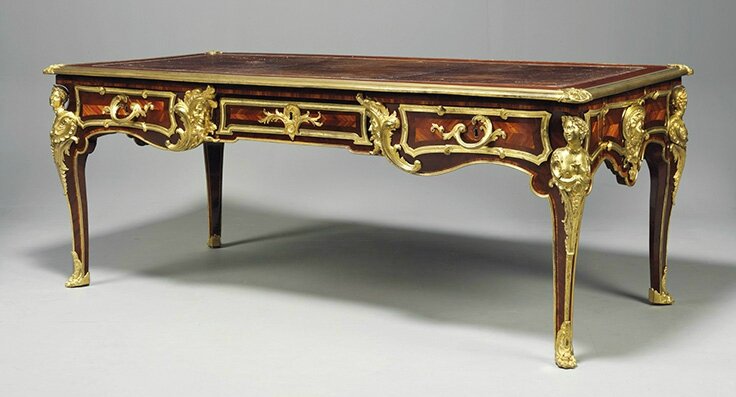 An early Louis XV ormolu-mounted bois satiné and amaranth bureau plat (bureau à espagnolettes bouclées). By Charles Cressent circa 1738-45. Estimate: £1,000,000-1,500,000 ($1,556,000 - $2,334,000). Photo Christie's Image Ltd 2015
The rectangular top with gilt-tooled leather writing-surface within a moulded border and with shell-cast mounts to the corners, above a quarter-veneered serpentine frieze with a leather-lined slide to the left side, five walnut-lined drawers to the front and opposing false drawers to the reverse, all with simulated-panelled border mounts, the central drawer with an escutcheon cast with a shell issuing acanthus, flanked by foliate and rocaille-cast bearded mask crescentmounts concealing secret drawers, the outer drawers with acanthus scroll handles, the ends mounted with smiling bearded young men with feathered caps within confronting C-scroll cartouches, the cabriole legs headed with 'espagnolette' chutes, two depicting an older woman and two a younger woman, with C-scroll and rocaille cast lion's-paw feet, the underside of the bureau and the side of the right drawer stencilled GM / E and 9897, the right drawer also inscribed '201' in red chalk, with blue-bordered paper label inscribed '9843' and with further inventory label printed 'No.' and inscribed in ink '9843', the left drawer with similar label and fragments of a blue-bordered label, the underside with label inscribed '9843' and stamped '2' to underside of one drawer, the clasp to the reverse is a contemporary aftercast, two handles and the locks early 20th century, originally with a serre-papiers; 30 ½ in. (77.5 cm.) high; 81 in. (205.5 cm.) wide, excluding slide; 38 in. (96.5 cm.) deep
Provenance: Possibly Emmanuell-Jacques Gaillard de Gagny (1703-1759), the sale of his Cabinet de Feu, Paris, 29 March 1762, lot 57 (the description corresponds either to this bureau or to the Louvre example).
Paris Art Market, circa 1890 and then in 1913.
Acquired by Jacques Seligmann (1858-1923), circa 1900-1920, and by descent to his son
François-Gérard Seligmann (1912-1999), antique dealer and collector, half-brother of Germain Seligmann and nephew of Arnold Seligmann.
Confiscated by the Nazi authorities during the Second World War.
Sold in 1944 to M. Quoniam, preempted by the Mobilier National (and marked GME 9897) and restituted to the Seligmann family in 1945.
sold by the Fondation Seligmann.
Private Collection, Paris.
Literature: A. Pradère, Charles Cressent, Paris, 2003, pp. 129 & 268, cat. 57.
The Cressent 'Bureau a Espagnolettes Bouclees'
'Celui-ci doit avoir sa place parmi les grands artistes français. Cressent É a succédé à la réputation du fameux Boulle dont le nom ne mourra jamais' L'Abbe Raynal, Nouvelles Littéraires, 1749

This spectacular bureau plat is a masterpiece of Charles Cressent (1685-1767), who ranks with Boulle, Riesener and Gouthière as among the most famous craftsmen of the 18th Century and one of the select few to be mentioned by name in sale catalogues and inventories of the period, such was the fame of his work. He was trained as a sculptor, and in contravention of guild regulations chased and gilded bronzes in his own workshop, which enabled him to exercise an unrivalled artistic synthesis of bronzes and cabinet-making. Cressent's fame rests largely on the extraordinarily sculptural quality of his gilt-bronze mounts, and his work, always sought after by elite collectors, has never gone out of fashion.

GROUPING CRESSENT'S BUREAUX PLATS
Cressent's bureaux plats have become the most representative features of his work, the most present in great decorative arts collections and museums. Early models (à têtes de chinoises or espagnolettes coiffées d'aigrettes) are in the J.P. Getty Museum, the National Gallery of Washington, Cincinatti Art Museum, the Huntington Collection in San Marino and the château de Versailles. With their lines and bronze corner mounts strongly influenced by Boulle, they are datable to circa 1720-1730. A second group of amaranth bureaux of about the same period and again reminiscent of Boulle includes two bureaux at Waddesdon Manor, one at Versailles and one in the Wallace Collection, London (cat. F.11).

The Seligmann bureau, which is identical to the one in the Louvre, is one of his most important works and a landmark in the history of styles and the evolution of the bureaux plats. It belongs to Cressent's mature production when, free from the influence of Boulle, he developed a quiet rococo style with thinner legs, asymmetrical corner mounts and a soft serpentine movement that would become the trademark of almost all Louis XV bureaux. The group includes three smaller bureaux, one in the Residenz in Munich (inv. M14), another in the National Gallery of Art, Washington (C.276) and a third in a private collection in Paris. Three more desks belong to the same stage in the development of the bureaux, although slightly more rococo and with antique warrior heads on the corners: the one in the French Republic Presidents' office at the Elysée Palace, the one at Grimsthorpe and the one in the Gulbenkian museum, Lisbon. On these desks, which are veneered mostly with bois satiné on the drawer fronts and sides, the mounts are detached on bands of amaranth which enhance their outlines, a stylistic invention that must probably be credited to Cressent. On Cressent's larger bureaux such as the Seligmann and the Louvre examples but also on the Getty and Béhague ones, the mounts with bearded masks on each side of the central drawer conceal a narrow and deep secret drawer, again an invention of Cressent.

THE QUESTION OF A SERRE-PAPIERS WITH DIANA AND THE HOUNDS
Most of Cressent's bureaux have nowadays lost their serre-papiers. However, originally, they all had a matching serre-papiers, as can be noted in the descriptions of the three sales of his stock in 1749, 1757, 1765, as well as in the sale catalogues of the time in which Cressent's bureaux are mentioned. Indeed, one can see the trace of the position of such a serre-papiers on the long side of this bureau. Such a strange position is not unique, as we can see with the Richelieu bureau at Grimsthorpe (Pradère, op. cit., p. 131) which has a serre-papiers with the group of Diana and the hounds sitting on the long side without the lower structure. It is more than likely that the Seligmann desk had a serre-papierswith Diana, similar to the one in the Louvre and the one at Grimsthorpe. A bureau with the same corner mounts as the Seligmann one and the Louvre one and with a serre-papiers with Diana and the hounds, is described in detail in the sale of M. Gaillard de Gagny in 1762:

n°57. Un beau & riche Bureau en bois d'Amarante satiné, de 6 pieds de longueur [195cm] sur 2 pieds 11 pouces [95 cm] de large, garni d'une Pendule à cadran de cuivre cizelé, enchassée en haut du serre papier, de forme ceintrée La garniture, en bronze doré d'or moulu, est composée, en partie, d'une belle figure de Diane tenant son Arc, & un Amour au cors de chasse; ces deux figures de rond de bosse, sont dessus le serre-papier: un peu plus bas sur les côtés, un Sanglier qu'un chien tient par l'oreille , & un Cerf qu'un autre chien tient par la gorge: quatre belles têtes d'Espagnolette sont sur les côtés du Bureau ; des masques sur les tiroirs, et autres ornemens. Ce morceau d'ouvrage, est composé & exécuté avec beaucoup de solidité & de goût par le sieur Cressant .

The description perfectly fits the Louvre example, however, its history is obscure before its entry in the French national collections and nothing proves that the description might not concern the Seligmann example just as well. All the more, since one knows three lonely serre-papiers of this model that have lost their matching bureaux: one in Grimsthorpe (99 cm. wide), one in the Wallace Collection, London (102.9 cm. wide) and one formerly in the Lonsdale collection (Pradère, ibid. p. 129, note 27 and p. 172), all without a lower structure, which could correspond to the shadows evident on the leather of the Seligmann bureau.

DATING
None of these desks has the 'C' couronné poinçon tax mark that was applied to alloys containing copper, which would date it circa 1745-1749, but the model with the warriors' heads is described in the Cressent sale catalogue of 1747, therefore we know the series predates 1745. Also the rich mounts of the matching serre-papiers with Diana and the hounds were cast by the bronzier Confesseur and are described in his inventory of 1759 but not in his previous inventory of 1737. Therefore, if the matching serre-papiers is datable between 1738 and 1745, one must give the same dating to these desks.

GAILLARD DE GAGNY
Emmanuel-Jacques Gaillard de Gagny (1703-1759) was the son of Jean Gaillard la Bouëxière, seigneur de la Bouëxière et de Gagny, secrétaire du roi in 1719, who lived at château de Gagny. M. Gaillard de Gagny was himself appointedtrésorier général des maréchaussées in 1729 and was a Receveur Général des Finance de Grenoble by the time of his death. He appears in records as one of the key clients of the Parisian marchand-mercier Claude-François Julliot (1727-1794), who compiled the inventory of M. Gaillard de Gagny's impressive collection following his death in 1759. The sale of his collection was held three years later, the catalogue compiled by M. Remy.

THE DESK ON THE PARIS MARKET AT THE BELLE EPOQUE
A photo in the archives of Galerie Fabre, Paris show this bureau with (on the back) a written certificate signed by the dealer-connoisseur Lortais (or Sortais?) and dated 10 March 1913, that reads: 'il m'a semblé reconnaître comme l'ayant propose en 1890 à Mr W.K. Vanderbilt dans l'appartement de M. Perdreau rue Meyerbeer et que je considère comme absolument ancien [I seem to recognize this desk as the one I offered for sale in 1890 to M. K. Vanderbilt in the apartment of M. Perdreau, rue Meyerbeer and I regard it as absolutely ancient]'. It is therefore certain that the desk was on the Paris art market at the end of the 19th Century and likely that it belonged to the galerie Fabre from 1913, some time before it was acquired by Jacques Seligmann.

THE SELIGMANN DYNASTY
The founder of the dynasty, Jacques (Jacob) Seligmann, one of the greatest art dealers of all time, was born in Frankfurt and moved to Paris in 1874, where he learnt his profession by being an assistant first to a Paris auctioneer, Paul Chevallier, then to the leading Paris expert in works of art, Charles Mannheim. In 1880 he opened his own shop, Jacques Seligmann & Cie in rue des Mathurins, at this stage – and for quite a long time - specialising in Medieval art. In 1900, going into partnership with his brothers Arnold and Simon (who acted as correspondent accountant), he moved the gallery to the Place Vendôme.

Prominent clients of the company included Baron Edmond de Rothschild of France, the Stroganoff family of Russia, Sir Philip Sassoon of England, and American collectors Benjamin Altman, William Randolph Hearst, J.P. Morgan, Henry Walters, and Joseph Widener. As American clients increasingly came to dominate the company's sales activities, a New York office at 7 West 36th Street was opened in 1904. Five years later, Jacques purchased the Hôtel de Sagan (the recent Polish embassy in Paris) as a location where Jacques Seligmann & Cie. could stage larger exhibitions and receive its most distinguished clients.

In 1912 a family quarrel resulted in a lawsuit that split the company. Arnold remained at the Place Vendôme location, reorganized under the name Arnold Seligmann & Cie., while Jacques consolidated his operations and moved the headquarters for Jacques Seligmann & Cie. to the Hôtel de Sagan. Jacques also opened an additional gallery at 17 Place Vendôme to retain a presence near the company's original location, but this branch soon relocated to 9 Rue de la Paix. The New York office, which formerly had operated out of a single room, was upgraded to larger office space and a gallery at 705 Fifth Avenue.

Amongst all the commercial coups of Jacques Seligmann, the most famous and probably one of the biggest deals ever in the history of the art trade, was the purchase in 1913 of what remained of the Wallace collection in the rue Lafitte house (after the bequest of Manchester Square house and its contents to England) from the heir of Sir John Murray-Scott, Lady Sackville-West, taking all the risks of a lawsuit. Alexandre Pradère
Christie's. TASTE OF THE ROYAL COURT: IMPORTANT FRENCH FURNITURE AND WORKS OF ART FROM A PRIVATE COLLECTION, 9 July 2015, London, King Street