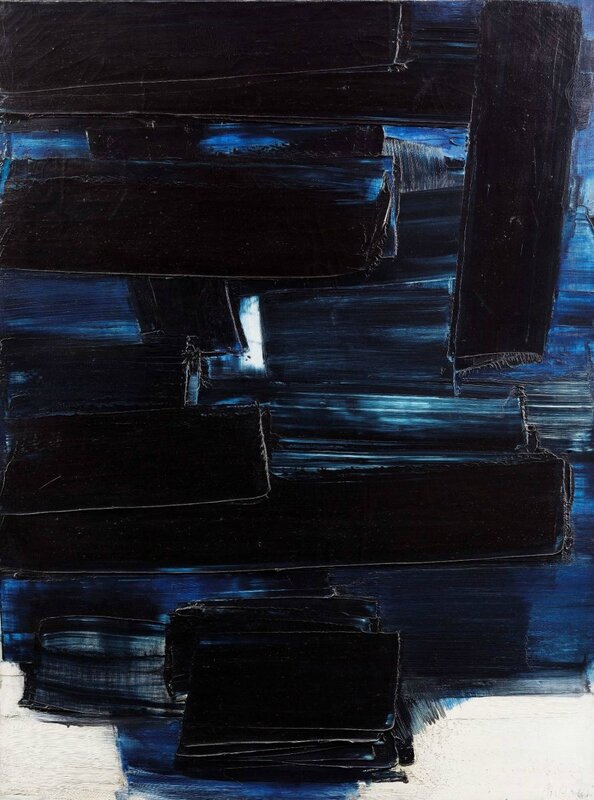 Pierre SOULAGES (born 1919), Peinture 130 x 97 cm, 5 mai 1959. Oil on canvas. Signed lower right, 130 x 97 cm. Courtesy Galerie Applicat-Prazan, Paris. Photos Art Digital Studio © Adagp, Paris 2015
For the second consecutive year, Applicat-Prazan is pleased to participate in Frieze Masters in London from 14th to 18th October 2015. The organisers of this event, which is one of the most discerning art fairs in the world, say that Frieze Masters "offers a contemporary focus on historical art." It is precisely in this spirit that Applicat-Prazan will be showing museum quality paintings, true landmarks of modern art, by Alberto Magnelli, Wifredo Lam, André Masson, Pierre Soulages, Nicolas de Staël and Zao Wou-Ki.
Two stunning blue paintings from the 50's by Pierre Soulages have been specifically gathered for the fair. In the 50's Pierre Soulages exhibited his works abroad. He had exhibitions at the Birch Gallery in Copenhagen in 1951, at the Stangl Gallery in Munich in 1952, at the Kootz Gallery in New York and at the Art Club of Chicago in 1954, at the Gimpel & Fils Gallery in London and at the Kootz Gallery again in 1955. In this year, his painting underwent a metamorphosis. "Towards 1955, the signs tend to disappear from my painting and often give way to juxtaposed brush strokes. A spatial rhythm of sorts arises from the repetition of these almost similar strokes and the stronger the rhythm becomes, the less the temptation of a figurative association becomes possible." It is this rhythm which is a constant feature of Soulages' work and he describes it: "The rhythm I express is born when a given form is associated with another, experiencing space and its subdivision. He who observes my painting reads it with his own sensitivity and his own experience of the world which are confronted with the proposition of my painting. My painting has always been external to the dilemma of figurative or non-figurative art. My work does not arise from an object or a landscape that is subsequently transformed, nor, conversely, do I paint to elicit their apparition. I expect more from the rhythm, from the measures/beats of the shapes in the space, of the carving up of the space by time. Space and time…. become the instruments of the poetry of the canvas." 1
Pierre SOULAGES (born 1919), Peinture 100 x 73 cm, 25 février 1955. Oil on canvas. Signed lower right; Dated and signed on the reverse, 100 x 73 cm. Courtesy Galerie Applicat-Prazan, Paris. Photos Art Digital Studio © Adagp, Paris 2015
Soulages' work carries an extraordinary physical weight, a density and a depth that are closely related to the importance he gives to the materials and the unusual instruments he uses some of which being more often used by book-binders, tanners, carpenters and apiarists. His passion for technique and tools has brought him to make some of them himself such as scrapers, plane blades, coating knives, large or miniscule Chinese-type brushes. He also uses paint brushes with long handles allowing him to paint standing directly over the canvas spread out at his feet on the floor.
Alberto MAGNELLI (1888 - 1971), L'Attente, 1917. Oil on canvas, 140 x 93 cm. Courtesy Galerie Applicat-Prazan, Paris. Photos Art Digital Studio © Adagp, Paris 2015
In 2005, Applicat-Prazan showed Alberto Magnelli's 1917 La Toilette, an oil on canvas which subsequently held for a long time the world record at auction. This year, Applicat-Prazan is proposing L'Attente, also painted in 1917 and shown at all the important retrospective exhibitions of the artist. A self-taught artist, Alberto Magnelli became one of the most inventive avant-garde painters, exploring the visual impact of flat areas of colour surrounded by black contours from his first visit to Paris in 1914. Stranded in his native Florence by World War I in 1915, he painted his first series of non-figurative works. The first Italian artist to turn to abstract painting and a close friend of Apollinaire, Max Jacob, Picasso and Léger, Magnelli worked on an elliptical figuration, progressively eliminating figurative devices by logical simplification. In 1916 and 1917 he went back to introducing figures into his compositions. His painting evokes a metaphysical dimension echoing certain realms of his friend de Chirico. Magnelli's palette is resplendent with flat areas of colours now leaving out the black contours altogether, with nothing separating the colours which are now in direct confrontation with one another.
The French curator, Daniel Abadie has said of this painting: "By keeping only the contour of an arm, of a hand, only suggesting the volume of an area by a void, as Archipenko used to do with his sculpture, Magnelli sought intuitive solutions, surprising even to Picasso. It was a technique he had already alluded to earlier, in his Femme au bouquet (1913), now in the Musée Magnelli in Vallauris. He would render an incidental fragment of a composition invisible by substituting it with a flat colour-equivalent. The geometries and schematic shapes of his paintings recall the spirit of cubism. Not in the same manner of his paintings of 1913 which analyse the forms by decomposing them, but in a newly nascent movement of synthetic cubism."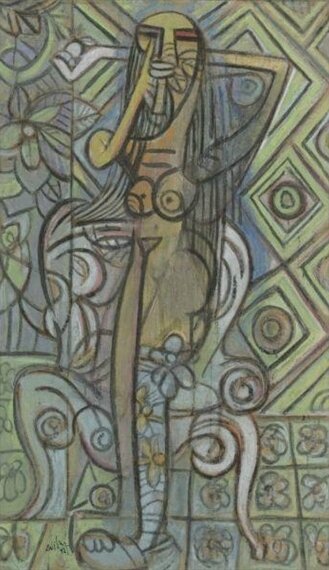 Wifredo LAM (1902 - 1982), Nu à la chaise, 1942. Tempera on paper mounted on canvas. Signed and dated lower left; Signed and dated on the reverse, 165 x 98 cm. Courtesy Galerie Applicat-Prazan, Paris. Photos Art Digital Studio © Adagp, Paris 2015
Originally from Cuba, born of a Chinese father and an Afro-Cuban mother, Wifredo Lam joined the Surrealist movement in 1938. He frequented many groups of avant-garde painters but always remained attached to his own specific cultural origins. Incarnating a combination of the identities of diverse continents, Lam was close friends with Picasso, Breton, Duchamp and Jorn. He often showed his works with the Surrealists but also with artists of other experimental movements of his time. The Nu à la chaise is characteristic of Lam's paintings of 1942, a particularly favourable year in his life when he had his first personal exhibition at the Pierre Matisse Gallery in New York. The specialist, Pierre Loeb wrote of him, "He was greatly encouraged by Picasso, to whom Lam owed a great deal, not stylistically speaking, but by inspiring him with a spirit of freedom and with the audacity to express his myriad painting in a western register whilst capturing the attributes of tropical magic and poetry."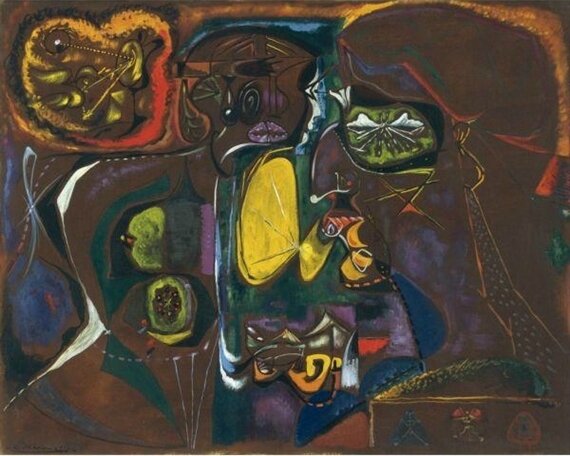 André MASSON (1896 - 1987), Leonardo da Vinci et Isabella d'Este, 1942. Oil on canvas. Signed and dated lower left; titled and dated on the reverse, 100 x 127 cm. Courtesy Galerie Applicat-Prazan, Paris. Photos Art Digital Studio © Adagp, Paris 2015
André Masson's Leonardo da Vinci et Isabella d'Este, another work painted in 1942, is a capital painting in the artist's production. After his Spanish period, the American period is a period of exile full of fundamental discoveries and extreme experiences which durably nourished the imagination and work of André Masson, another member of the Surrealist movement. He was close friends with Paul Eluard, Georges Bataille and Antonin Arthaud. As of October 1941, Masson lived in the United States with his family where he frequented André Breton, Alexander Calder, Marc Chagall and Georges Duthuit. From automatism to dripping, Masson's work was characterized by a combination of pure instinct and intellectual reasoning which map-out the principal themes of modern art. His work was a major source of inspiration to the young generation of American expressionists and particularly to Jackson Pollock.
Pots et Pinceaux is a chromatic marvel painted by Nicolas de Staël in 1955, the last year of his life. This still-life painted in Antibes emanates an atmosphere of extraordinary serenity and evokes tones and shapes reminiscent of some of Giorgio Morandi's compositions. In February 1955, Staël worked vertiginously, simultaneously painting many canvasses representing the painter's studio, boats, seascapes, skies and still lives. On the 17th February, he wrote to his dealer Jacques Dubourg: "Generally speaking, Antibes is good for me, my painting is less virulent, more balanced." "Stimulated by the project of an exhibition with Jacques Dubourg in Antibes and with the Museum of Zurich (which only took place in 1965), Nicolas de Staël worked on many paintings at the same time, starting them, coming back to them again and again, from dawn to dusk, playing with contrasting themes such as the still life, the artist's workshop, boats, in order to reveal his colours or to reach out to the frontiers of absolute whites. […] These still-lives and artist's studios are defined by contrived juxtapositions of squares, rectangles which gather force and mystery as in La Cathedrale, in which his palette is either elevated to an instant of time, or flattened by the darkness of black." 2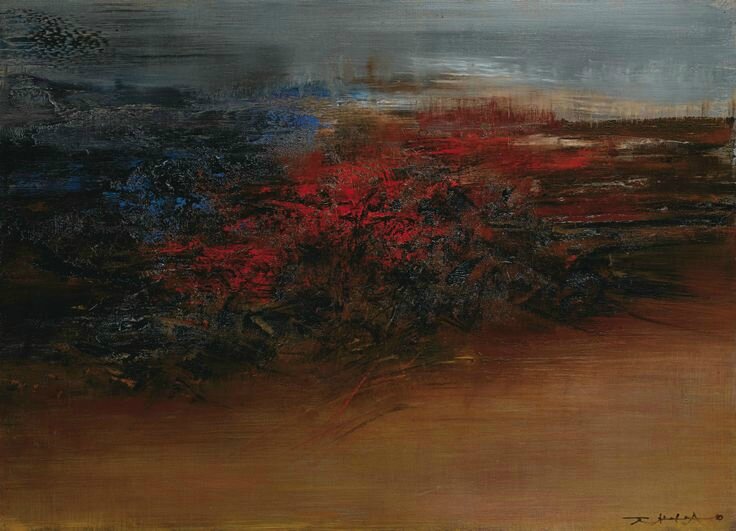 ZAO WOU-KI (1921 - 2013), 16.4.62, 1962. Oil on canvas. Signed lower right; signed and titled/dated on the reverse, 73 x 100 cm. Courtesy Galerie Applicat-Prazan, Paris. Photos Art Digital Studio © Adagp, Paris 2015
In 1962, the year the Chinese-born painter Zao Wou Ki became a French citizen, he painted this oil on canvas entitled 16.4.62. Since 1959, he lived and worked in a house located rue Jonquoy, a quiet street in the 14th arrondissement in Paris with natural light streaming in through large bay-windows and where the outside world could not interrupt his tranquility. His finished paintings were turned around to face the wall. The titles disappeared to be replaced by the dates of the termination of his works. His paintings became more fluid, following the rhythm of the weather and the seasons. The art critic Michel Ragon, describes his work as an "abstract landscapism."
Zao Wou Ki explained his inspiration saying "It is undeniable that the influence of Paris on my painting has been central to my learning process as an artist, but I must also say that I gradually rediscovered China as my personality affirmed itself. In my more recent work, my personality expresses itself instinctively. Paradoxically, perhaps, it is my being in Paris that reveals this return to my origins."