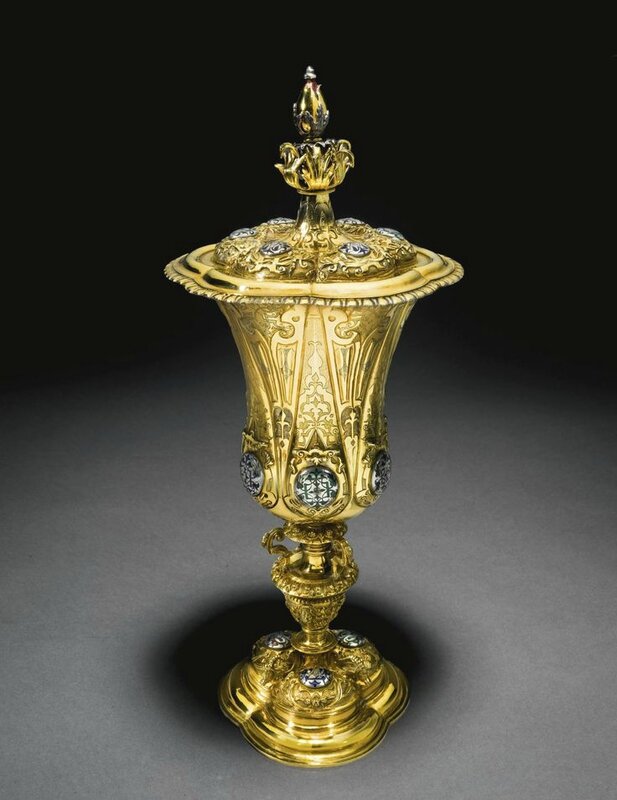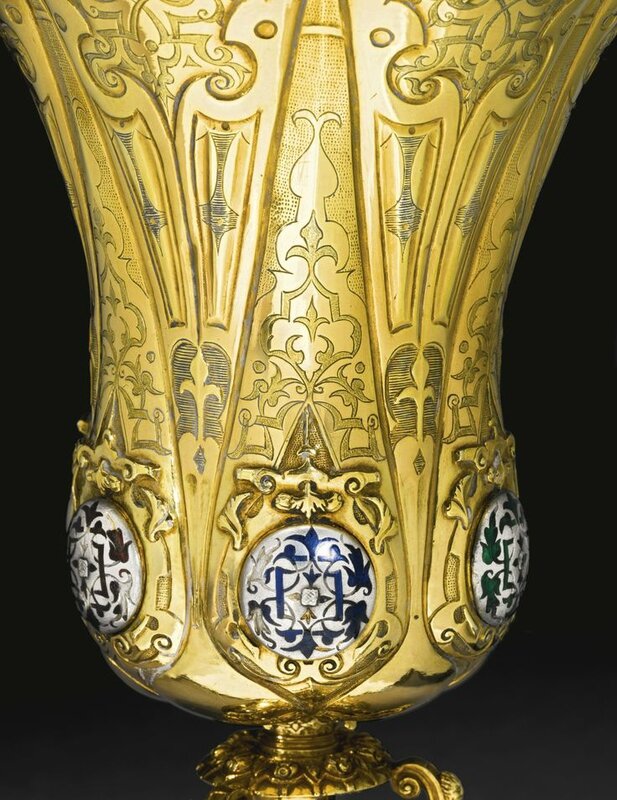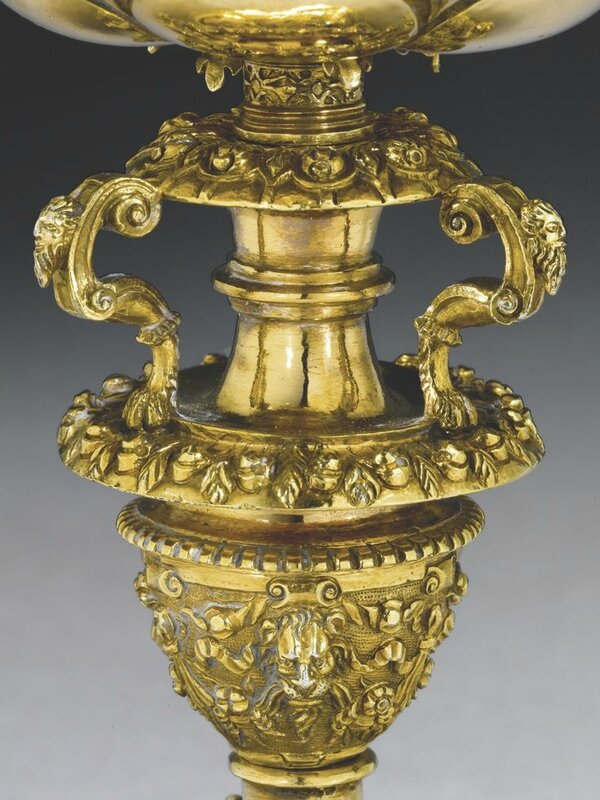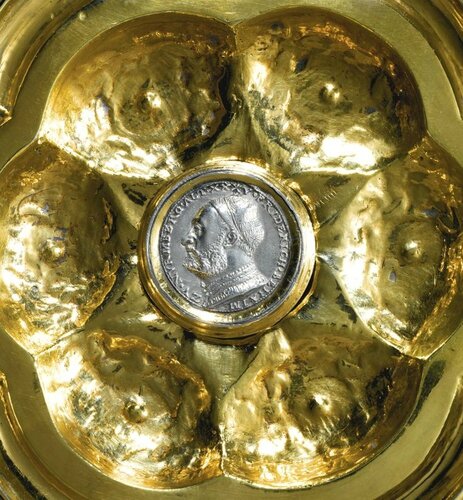 Lot 2. A German parcel-gilt silver and enamelled cup and cover, Caspar Widman, Nuremberg, 1559-70. Estimate 40,000 — 60,000 GBP. Lot. Sold 281,000 GBP. Photo Sotheby's.
of hexafoil columbine form, fitted inside the cover with a 1526 medal of Friedrich Behaim VII of Nuremberg, the body, cover and foot fitted with blue, green and red enamelled discs, red enamel also at the finial, cast, chased and engraved with stippled arabesque strapwork, foliage and fruit, marked on body, cover and foot; 28cm., 11in. high; 519gr., 16oz. 14dwt.
Provenance: Most probably a member of the Behaim von Schwarzbach family
Mayer Carl von Rothschild (1820-1886)
His sixth surviving daughter Bertha Clara (1862-1903)
Her husband Prince Louis Berthier de Wagram (1836-1911), sold on his death
Galerie George Petit, Paris, 12 and 13 June 1911, Orfèvrerie Allemande, Flamande, Espagnole, Italienne etc., Provenant de l'ancienne collection du feu M. le Baron Carl Mayer (sic) de Rothschild, lot 9.
Mayer Carl von Rothschild (1820-1886)
Bibliography: Ferdinand Luthmer, Der Schatz des Freiherrn Karl von Rothschild, Meisterwerke alter Goldschmiedekunst aus dem 14.-18. Jahrhundert, Frankfurt a.M., 1882, vol. I no. XXVI
Marc Rosenberg, Die drei soggenannten Jamnitzer Becher. In Kunst und Gewerbe, bd. 19, 1885 pp. 298-305. nos. 15 and 17
Marc Rosenberg, Der Goldschmiede Merkzeichen, Frankfurt a.M., 1925, no. 3929(c)
Karin Tebbe et al., Nürnberger Goldschmiedekunst 1541-1868, Nuremberg, 2007, no. 962, Literature: `Ein Akeleipokal mit Dekel im Formtyp des Nürnberger Meisterstücks ehemals in der Sammlung Rothschild in Frankfurt, 1911 im Kunsthandel, Verlieb unbekannt'
Note: The medal inside the cover of the cup (see detail) shows the profile of the 35-year-old Friedrich Behaim VII von Schwarzbach (1491-1533).1 Profoundly Lutheran, he was a member of one of the twenty 'old' Nuremberg families solely eligible for office in the city's decisive ruling bodies, where he served as Ratsherr, Bürgermeister and member of the war council. The reverse of this medal, known from bronze and silver examples2 is dated 1526 and inscribed with a dedication relating to Luther's teachings. It is quite likely to be connected to the second Diet of Speyer of 1526, an important event for Lutheran Nuremberg and Friedrich Behaim, as it saw the lifting, however temporarily of the Imperial injunction against Martin Luther and his works. The medal was probably placed in the cover of this cup by a member of the Behaim family to commemorate their ancestor.3 Commemoration of Friedrich Behaim VII by this medal is known to have happened, as a record exists of what must be his grandchildren Paulus, Friedrich and Katharina Behaim, planning to cast the medal in silver to form pendants in his honour in 1586.4 The cup was acquired before 1882 by Mayer Carl Rothschild, Frankfurt banker and heroic collector; it is published and illustrated in that year in the record made of some of his treasures by his executor Ferdinand Luthmer (see fig. 1). Luthmer describes it as 'Pokale..an die formen der Jamnitzer-Becher,' a term used at the time for what is otherwise known as a columbine or Akelei cup (shaped like an Aquilegia flower). This was the shape for the item of silver that Nuremberg goldsmiths were required to complete as one of the three tests before becoming masters of the guild.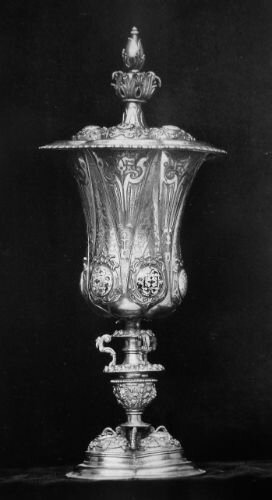 Der Schatz des Freiherrn Karl von Rothschild, Meisterwerke Alter Goldschmiedekunst, plate 26.
Marc Rosenberg in Drei Soggenanten Jamnitzer Becher remarks on the 'striking kinship' between the cup now offered and a design by Virgil Solis, the Nuremberg printmaker and engraver (see fig. 2). After Mayer Carl's death in 1886 his collection of mostly German works of art kept at the Frankfurt country house of Günthersburg amounting to over 500 pieces, was divided into five portions by a group of experts, which included Ferdinand Luthmer. The cup is listed in the first portion no. 181c as:
'Becher Jamnitzerform, silb. Verg., auf dem Dreipass-Fuss sowie dem sechstheiligen Körper und Deckel entsprechende Medaillons, Auflage in Email translucide auf Silber, Spitze Blume mit roth. Email translucide. Durchm. 11 ½ cm., Höhe 18cm [sic]'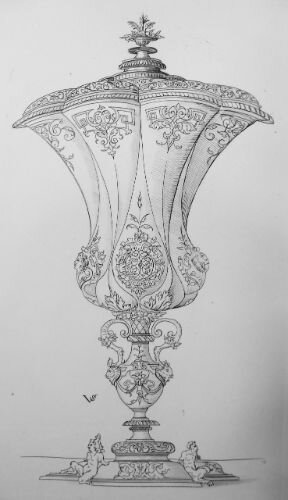 Virgil Solis, Drinking Cups, Vases Ewers and Ornaments designed for the Use of Gold and Silversmiths. Published by James Rimnell, London, 1862.
This first portion was bequeathed to Carl Mayer's seventh daughter Bertha Clara (1862-1903) who had married the Prince de Wagram in 1882 and lived in Paris. When the prince, who outlived his wife, died in 1911, the cup was sold at the Galerie George Petit, lot 9, to the dealer A.S Drey for 30,000 Francs or £1,200 equivalent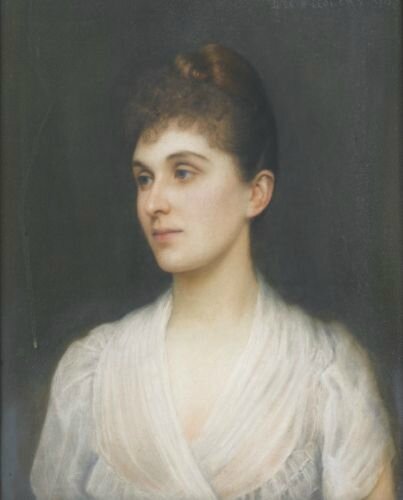 Ellis William Roberts, Portrait of Bertha-Clara von Rothschild (1862-1903) © Private collection
Caspar Widman (working dates 1554-1590) is recorded as a chosen goldsmith of the Nuremberg council,5 the governing body controlled by patrician figures such as Friedrich Behaim VII. A pair of stacking beakers by this master dated 1565 and with the arms of three Nuremberg patrician families, Muffel, Tucher and Rieter, was sold Sotheby's, London, 18 December 2007, lot 196. A third beaker, possibly part of that series, is at Anglesey Abbey, near Cambridge.
1. It is one of a group of medals by the anonymous Nuremberg master of 1525-27, associated with the hand of Matthias Gebel (circa 1500-1574). See: Marjorie Trusted, German Renaissance Medals, A Catalogue of the Collection in the Victoria and Albert Museum, London 1990, p. 84
2. Op. cit. no. 130; and exhibition catalogue, Wenzel Jamnitzer und die Nürnberger Goldschmiedekunst 1500-1700, Germanisches Nationalmuseum, 28 June-15 September 1985, no. 601
3. An example of such a thing happening would include three Nuremberg cups of 1582 by Hans Kellner, which had a commemorative medal of Johann Wilhelm Löffelholtz (1558-1600), fitted in their covers after his death in 1601. See: Monica Bachtler, Goldschmiedekunst, Bielefeld, 1986 no. 13
4. Georg Habich, Die Deutschen Schaumünzen des XVI Jahrhunderts, vol. I, reprinted London, 1994, p. 138, no. 942
5. Karin Tebbe et al. Nürnberger Goldschmiedekunst 1541-1868, Nuremberg, 2007 no. 962
Sotheby's. Treasures, 08 juillet 2015 | 5:30 PM BST - Londres