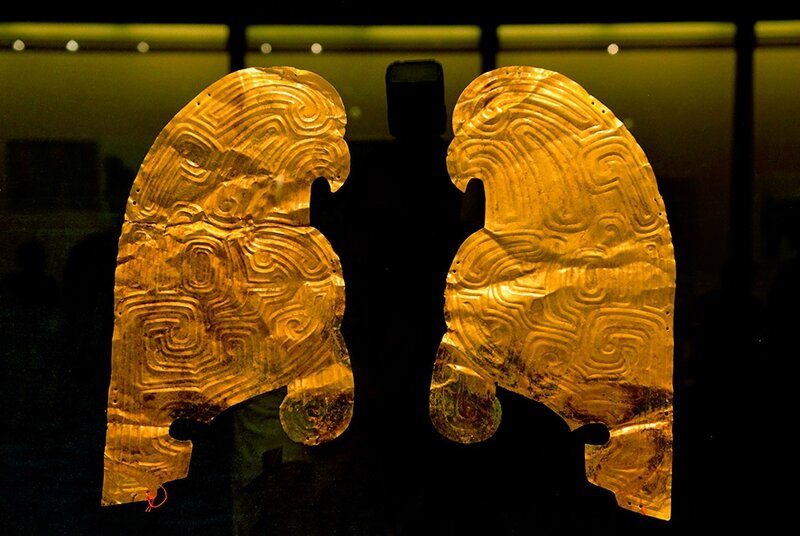 This picture taken on July 20, 2015 shows gold ornaments displayed at a public exhibition of Chinese cultural relics returned by French private collectors, at Gansu Provincial Museum in Lanzhou, capital of northwest China's Gansu Province. More than 30 solid gold ornaments went on show in a Chinese museum this week after Paris quietly demanded billionaire collector Francois Pinault and France's top antique dealer Christian Deydier return them on the grounds they were stolen. The move came 15 years after then President Jacques Chirac, an admirer of Asian art, persuaded the two men to buy the works and donate them to a Paris museum. AFP PHOTO.
BEIJING (AFP).- More than 30 ancient gold ornaments went on show in a Chinese museum this week after Paris quietly insisted a billionaire collector and France's top antique dealer return them on the grounds they were stolen.

The move came 15 years after the two men donated the works to a Paris museum following an intervention by France's then President Jacques Chirac, an admirer of Asian art.

Beijing is on a mission to recover the heritage it says was looted by foreigners during a century of humiliation, while many governments are keen to burnish relations with the world's second-largest economy.

Christian Deydier, a dealer and recognised expert in Chinese antiquities, told AFP his government had "dropped its trousers" in its eagerness to return the treasures and curry favour with Beijing.

"It's France's heritage which is suffering," he told AFP, denouncing what he called an improper legal process and "an export on the sly".

"The French authorities have dropped their trousers," he said.

The 32 pieces from Dabaozi in Gansu province date from around the 8th century BC, and have undergone a tortuous journey through the murky trails of the Asian antiquities trade and international diplomacy.

They include 28 golden plaques, but the star works are four large profiles of birds of prey, which would have been part of ceremonial riding tackle or decorated a dignitary's coffin in the Zhou dynasty.

Deydier bought the four profiles in the 1990s from the widow of the Taiwanese antique dealer, from whom he had earlier also purchased the 28 plaques.

Chirac learned of the four ornaments' existence and fell under their spell, but they were too expensive for the French public purse.

So he persuaded his billionaire friend Francois Pinault, the owner of the luxury and clothing group Kering, which owns Gucci, Puma and auction house Christie's, to buy the quartet for one million euros and donate them to the Musee Guimet, France's national collection of Asian arts.

At the same time Deydier gave it his plaques.

Controversy over the pieces' provenance broke out in the mid-2000s, when dealer Bernard Gomez claimed they had been illegally removed from China, but an official investigation reached no conclusion.

Restitution justified
Paris regularly proclaims the warmth of its relations with Beijing, and French foreign minister Laurent Fabius is a frequent visitor, with Presidents Francois Hollande and Xi Jinping making reciprocal trips in the last two years.

In 2010, Chinese authorities informed France that the pieces could have been pillaged from an archaeological site and a joint Franco-Chinese expert panel was set up last year to investigate, culture minister Fleur Pellerin told the French parliament.

"An array of consistent indicators led to the conclusion that the Chinese request for restitution was justified," she said in a written answer.

The two men's donations to the Musee Guimet were cancelled, a move which Pellerin said enabled both donors "to gift them to the People's Republic of China and so achieve the restitution", adding proper procedures were followed.

French Ambassador Maurice Gourdault-Montagne attended the exhibition's opening at the Gansu provincial museum this week.

It is the latest art restitution to China, where the ruling Communist Party uses nationalism as part of its claim to legitimacy and regularly refers to the country's historic suffering at the hands of foreign powers.

Billionaire taxi driver turned financier Liu Yiqian has spent tens of millions of dollars on works originally from the mainland for his museums in Shanghai.

Last year the KODE Art Museums of Bergen in Norway returned seven white marble columns from the Old Summer Palace in Beijing, which was looted in 1860, after another Chinese tycoon donated $1.6 million.

The most hotly pursued items are a collection of 12 bronze animal heads that formed a Chinese zodiac water clock in the palace gardens.

Two were returned in 2013 by Pinault himself -- and soon afterwards Christie's was granted a licence to operate independently in China.

Pinault's Kering group did not immediately respond to a request by AFP for comment on his latest donation.

"France is proud of its co-operation with the Chinese government to protect heritage," the French embassy in Beijing said.
By: Sébastien Blanc © 1994-2015 Agence France-Presse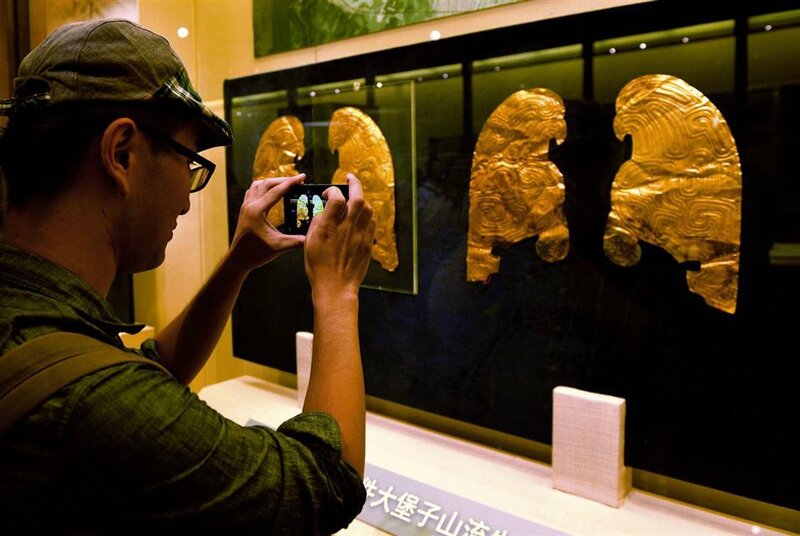 A visitor taking a photo of gold ornaments displayed at a public exhibition of Chinese cultural relics returned by French private collectors. AFP PHOTO
PEKIN (AFP).- Un musée d'une lointaine région de Chine expose depuis lundi des plaques d'or qui avaient intégré le patrimoine français grâce au président Jacques Chirac, Paris décidant 15 ans plus tard de restituer discrètement ce trésor, après s'être fait convaincre qu'il provenait d'un pillage.
L'exposition "Qin Yun", au musée provincial du Gansu, a été inaugurée en présence des autorités locales et de l'ambassadeur de France, Maurice Gourdault-Montagne.
On y voit 32 oeuvres rarissimes, en or massif incisé, fondues au VIIIe siècle environ avant notre ère.
Fleurons du lot, quatre profils d'oiseaux de proie qui faisaient partie d'ornements de chevaux ou décoraient le cercueil d'un dignitaire de la dynastie des Zhou.
Officiellement, ces pièces ont été dérobées au début des années 1990 sur le site archéologique de Dabaozi, dans le Gansu, province coincée entre les étendues arides de Mongolie et les contreforts du plateau tibétain.
Ces objets somptueux furent pourtant offerts de bonne foi à l'Etat français, au terme de détours classiques dans les arcanes du marché de l'art asiatique.
Cette odyssée impliquant experts, marchands et mécènes --certains avec la triple casquette-- a débuté en 1993 à Taïwan: alors qu'il y rend visite à un marchand d'art, l'antiquaire français Christian Deydier se voit présenter un ensemble de 28 plaques en or.
Familier des campagnes de fouilles et spécialiste reconnu de l'archéologie chinoise, il saisit instantanément l'intérêt de ces reliques et les achète.
- Chirac et les rapaces -
Le galeriste parisien montre alors ses acquisitions à des experts chinois, les fait figurer dans des catalogues spécialisés et les expose à la Biennale des antiquaires, sans créer de vagues.
Quelques années plus tard, il acquiert même auprès de la veuve du marchand taïwanais les quatre magnifiques têtes de rapace.
Amateur passionné d'arts asiatiques, le président Jacques Chirac tombe à son tour sous le charme de ces plaques d'or, trop onéreuses toutefois pour les finances publiques de la France.
Le chef de l'Etat convainc donc son ami mécène, le milliardaire François Pinault, d'acheter pour un million d'euros les quatre oiseaux, pour les offrir au musée national des arts asiatiques Guimet. Christian Deydier effectue une donation similaire des 28 autres plaques.
La controverse éclate au milieu des années 2000, par le dépôt d'une plainte de Bernard Gomez, un marchand se présentant comme "expert agréé par les ministères du patrimoine chinois". L'homme est connu pour accuser certains de ses confrères de vendre des pièces selon lui sorties illégalement de Chine.
L'enquête, confiée au juge Philippe Courroye, conduit les protagonistes de l'affaire à être interrogés par les policiers.
Aucun consensus ne se dégageant sur l'origine illégale des objets, la polémique semble s'apaiser.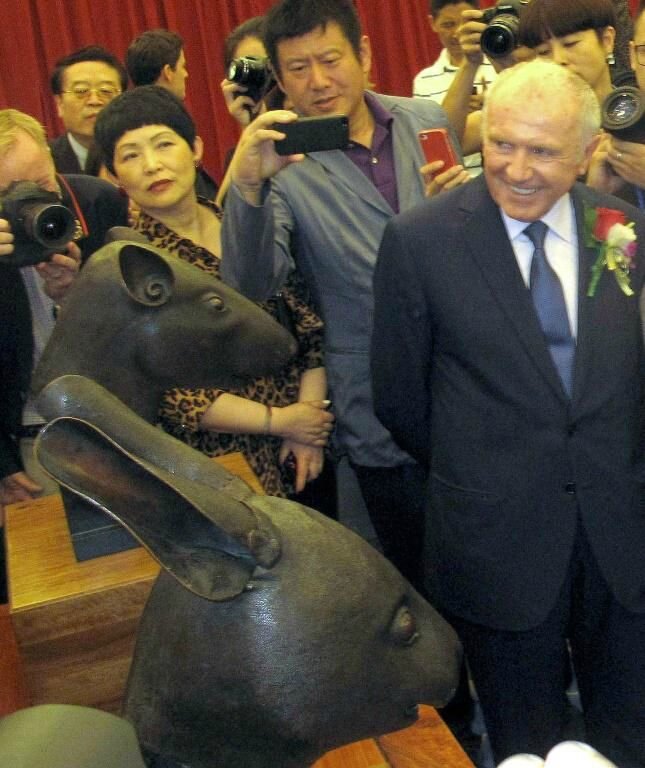 François Pinault devant les deux bronzes restitués en 2013 à la Chine, provenant du sac du Palais d'été de Pékin lors de la deuxième Guerre de l'opium en 1860.
afp.com - Str
- Pinault, serial restitueur -
Le dossier est toutefois récemment réactivé par la nouvelle direction de Guimet, Paris ne cessant de vanter une relation bilatérale sino-française "au beau fixe".
Le ministère français de la Culture décide du retour des objets, sans publicité et après voir poussé Deydier et Pinault à annuler leur donation.
Le milliardaire français avait déjà gagné la faveur des Chinois en rapportant à Pékin en 2013 deux bronzes issus du sac du Palais d'été, à l'origine d'une vive polémique lors de leur mise aux enchères en 2009 à Paris.
"La France est fière de sa coopération avec le gouvernement chinois pour la protection du patrimoine", a commenté lundi l'ambassade de France.
Une satisfaction absolument pas partagée par Christian Deydier, furieux du sort de sa donation.
"La ministre (Fleur Pellerin) a fait une erreur capitale par ignorance, en faisant une annulation de donation. Seule l'Assemblée nationale est habilitée à le faire", a-t-il affirmé à l'AFP.
"C'est le patrimoine français qui en souffre", a-t-il ajouté, dénonçant une "exportation à la sauvette".
D'autre pays --Belgique, Japon ou Etats-Unis-- ont selon lui acheté des plaques de même provenance, sans les rendre. Et de conclure: "Les autorités françaises ont baissé leur pantalon!"
L'affaire a également suscité une question écrite de la députée apparentée écologiste Isabelle Attard, adressée à la ministre de la Culture.
Interrogé lundi sur la restitution des pièces, le musée Guimet a renvoyé l'AFP vers le ministère de la Culture, qui lui n'avait pas donné suite mercredi.
Contacté par l'AFP, le cabinet de Fleur Pellerin a assuré mercredi que la restitution s'était basée sur les travaux d'un groupe d'experts franco-chinois, mis en place en 2014, qui avait conclu qu'"un faisceau d'indices concordants amenait désormais à considérer que la demande de restitution formulée par la Chine était fondée".
Sur la question de la sortie des plaques du domaine public, le ministère a affirmé que l'État et les donateurs étaient convenus à l'amiable d'une révocation de la donation, une telle résolution étant approuvée "aussi bien par la doctrine que par la jurisprudence".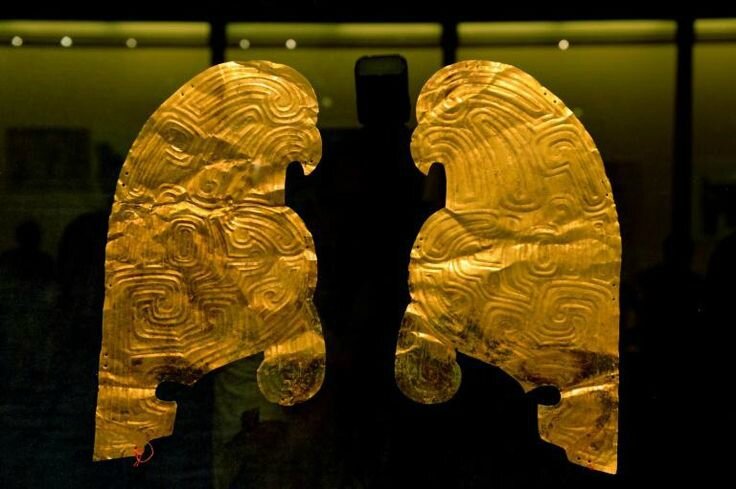 Profils d'oiseaux de proie sur des plaques d'or massif incisé datant des environs du VIIIe siècle avant notre ère, restitués par la France à la Chine et exposés à Lanzhou, la capitale de la province du Gansu, le 20 juillet 2015. afp.com - STR