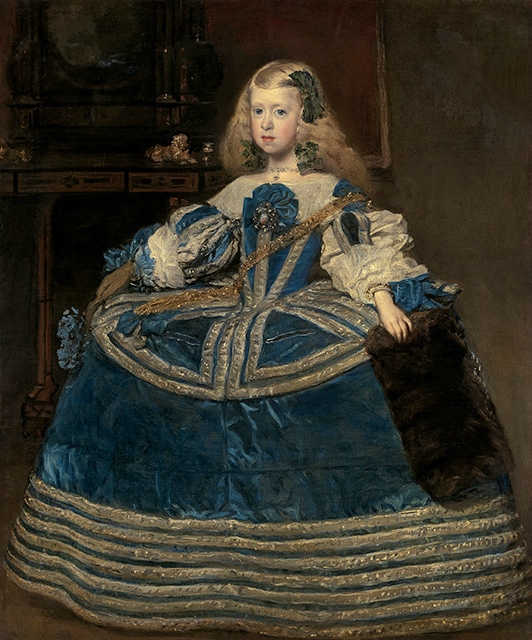 Diego Rodríguez de Silva y Velázquez (Spanish, 1599-1660), Infanta Margarita in a Blue Dress, 1659. Oil on canvas. Kunsthistorisches Museum, Gemäldegalerie, Vienna. Copyright: Kunsthistorisches Museum Vienna.
DALLAS, TX.- The latest of three portraits of the Infanta in the Kunsthistorisches Museum, Vienna, this magnificent painting depicts the sitter at the age of eight, gazing warmly at the viewer and wearing a blue silk dress, richly adorned with the silver borders fashionable in Spain from the 1640s. It was preceded by the Portrait of Margarita in a Pink Dress (1654) and the Portrait of Margarita in a White Dress (1656), the latter corresponding both in costume and style to the contemporary portrait of the Infanta in Las Meninas. Antonio Palomino (1655-1726) thus describes the present work in his Lives of the Eminent Spanish Painters and Sculptors (1724):

The other portrait [to be sent to Emperor Leopold I] was of the Most Serene Infanta Doña Margarita … of Austria, excellently painted and with the majesty and beauty of the original. To her right, on a small console table, there is an ebony clock of very elegant design, with bronze figures and animals; in its centre is a circle where the chariot of the sun is painted, and within the same circle there is a smaller one with the division of the Hours.

Following the Prado, the Kunsthistorisches Museum, Vienna, houses one of the largest and most important collections of Velázquez paintings in the world. On loan for over three months, Infanta Margarita in a Blue Dress will join three pictures by Velázquez from the Meadows Museum's permanent collection, and will add further context to the Museum's exceptional holdings of painted portraits.

The anniversary celebration will continue this fall with Treasures from the House of Alba: 500 Years of Art and Collecting, opening on September 11, 2015. This exhibition will include Goyas commissioned by the Albas from the artist during his lifetime, Columbus's hand-drawn map of the New World, and Impressionist works and Old Masters collected by the Albas when these paintings were contemporary art. The Albas are one of the greatest European aristocratic dynasties, and many of the works in the exhibition have never left their private palaces in Spain. After its run at the Meadows Museum, the exhibition will travel to the Frist Center for the Visual Arts, opening there on February 5, 2016.