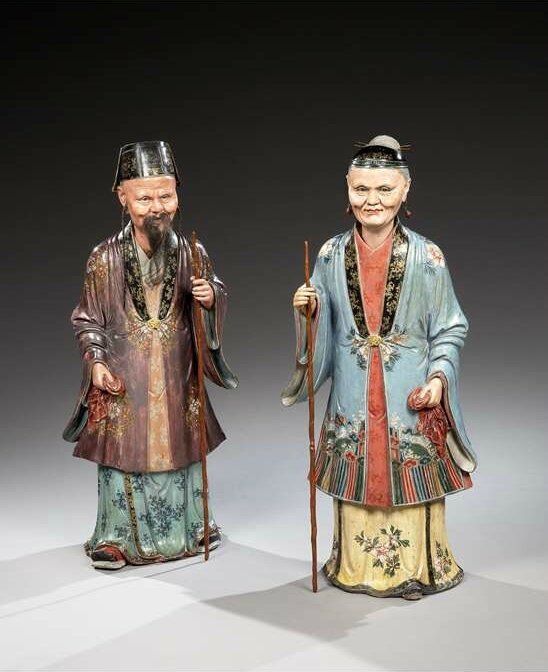 A pair of George III polychrome decorated nodding head figures of Chinese figures.
LONDON.- Ronald Phillips Ltd, one of the world's leading antique galleries, handling some of the most important pieces of English Antique Furniture has released some of the finest examples of craftsmanship and design that will be displayed on the company's stand at The International Show in New York dating between 1660 and 1820. The booth of over 40 lots presents a wealth of opportunities for international collectors and interior designers and the rich and varied array of items will suit many tastes.

In the midst of Mayfair, just a stone's throw from the leafy surrounds of Berkeley Square, lies a true treasure trove of antiques. A 6,600-square-foot- wood panelled Aladdin's cave; an oasis of old school elegance, a place of tortoiseshell and ormolu, age-spotted mirrors and museum quality breakfront bookcases. First opened in 1952, the Ronald Phillips gallery swiftly became known for selling high quality, English antiques, from the Queen Anne period to the Regency (around 1700 to 1840). But in the last decade Phillips made the decision to forego the ordinary in exchange for the extraordinary – the bold move has certainly paid off as current owner Simon Phillips (Ronald's son) continues to exhibit his rarified taste and unique finds. He wants to sell only spectacular pieces that he considers "works of art." He boasts pieces by renowned 18th century British designers and cabinetmakers, including Robert Adam, Thomas Chippendale, George Hepplewhite, Thomas Hope and William Kent.

Ronald Phillips' collection for The International Show promises to be a magical history of narcissm and decoration. Some of the most exciting finds include a pair of George III mahogany bookcases in the manner of John Linnell. These bookcases were originally part of the furnishings of The Times offices located in Printing House Square in London until they were removed in the 60's. Originally a set of three, the third larger bookcase is now in the collection at Cannon Hall in Yorkshire. Globe collectors will be enthralled with a Victorian 36-inch terrestrial 'colossus' globe by Thomas Malby, English, circa 1850. Very few 36-inch globes have been discovered, and most are in national collections. Downton Abbey fans will delight at the armchair from Earl Carnavon's library at Highclere Castle- the location of the television series. Also on display will be a George III giltwood side table by John Linnell with a Roman specimen marble top that previously belonged to 20th century style icon Daisy Fellowes. One of the most stylish and glamorous women of her time, Daisy was the granddaughter of sewing machine magnate Isaac Singer. As well as being a great hostess and regular on the society circuit, Daisy was renowned for her love of antiques and fine jewellery - a passion that is reflected in the pieces that formed her important collection. Two design drawings by John Linnell dated 1765 are preserved in the Victoria & Albert Museum in London and as Simon Phillips surmises, "it is so nice to have pieces that are documented and illustrated, provenance is key."

What makes Ronald Phillips so notable is the specialisation in high-style, elaborate pieces, like the pair of George III commodes probably by Thomas Chippendale. Chippendale produced very few demi-lune commodes; both commodes had been separated for a considerable time and Ronald Phillips have been very fortunate to bring them together once again, where they will be displayed in New York.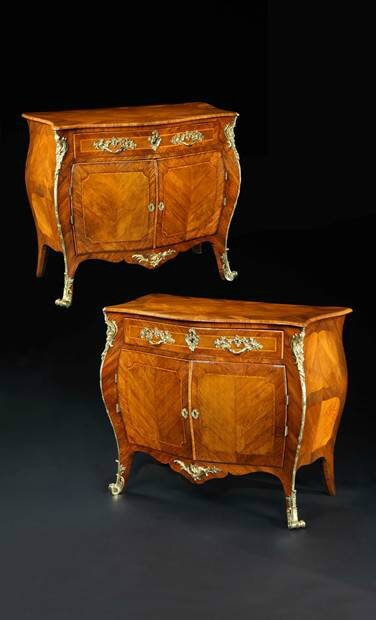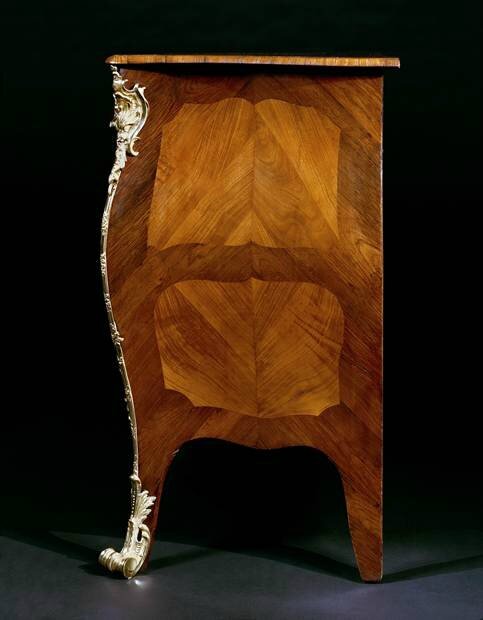 An important and rare pair of mid 18th century Chippendale period rosewood and padouk ormolu mounted bombe commodes attributed to Pierre Langlois, English, circa 1760. Height: 33 ½ in; 85 cm . Width: 39 ¼ in; 99.5 cm . Depth: 21 in; 53.5 cm
Equally stunning is the opulent George III sienna and statuary marble chimneypiece attributed to the workshop of George Brookshaw. The chimney piece retains the original painted panels on copper, the original sienna marble insert as well as virtually all the original white painted surface, faux sienna marble decoration and traces of the original Porphyry and Verde Antico faux marble decoration. Two related chimney pieces by Brookshaw feature identical central painted tablets supporting the Brookshaw attribution. One is currently in the collection of the Philadelphia Museum of Art, the other was formerly at Grayswood Hill in Haslemere.

Ronald Phillips is famed for being one of the most prominent dealers of English antique furniture and this October they will converge with sixty-six of the world's top dealers on the Park Avenue Armory, October 23-29, 2015 for the breathtaking event that collectors, connoisseurs, interior designers and art lovers anticipate all year long. Founded in 1989, the fair was New York's first vetted event and remains one of the United States' most prestigious and influential art and antique events in the world.

Simon Phillips, who took over the Mayfair firm from his father Ronald over seventeen years ago says: "It has become increasingly difficult in recent years to find great pieces of English furniture, but within this exhibition there is a wonderful cross-section of important and rare English furniture and objects. United by the common themes of rarity, provenance, craftsmanship and beauty, I have invested in each of these items because they had the attributes I look for in fine English Antique Furniture, but the time has come for them to find new homes and enjoy the next chapter in their histories; whilst providing collectors with an opportunity to acquire the very best."
The Daisy Fellowes Specimen Marble Table