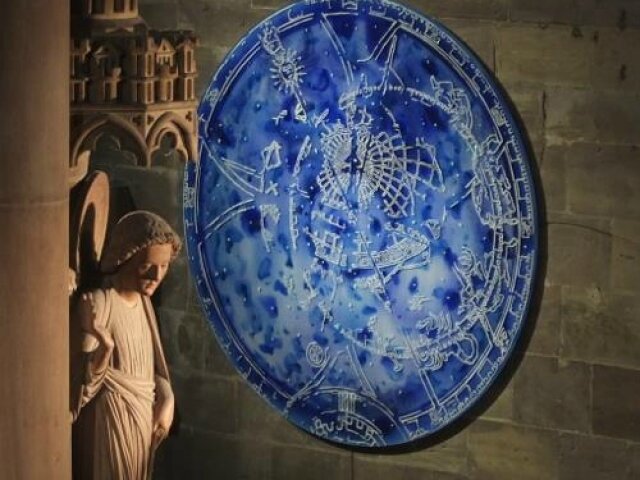 Sylvie Lander, Ex Tempore, tondo de verre Ø 250 cm (mur ouest du transept sud : place de la première horloge astronomique en 1352). Courtesy the artist © DR.
STRASBOURG.- Initiated by the European Studio Glass Art Association (ESGAA) and its president, Laurent Schmoll, the International Glass Biennale has organized, from October 15 to November 29 2015, its sixth edition: Lux Aeterna.

This Biennale has become the major event of the glass medium, the Biennale traces a rich journey of exhibitions and cultural events, made possible through the cooperation of many public sites, museums, galleries or ephemeral spaces, such as the Museum of Modern and Contemporary Art of Strasbourg (MAMCS), the European Center for Contemporary Artistic Actions (CEAAC), the Barrage Vauban, the Regional Fund for Contemporary Art in Alsace (FRAC), the Lalique Museum and the Cathedral of Strasbourg, which in 2015 celebrates the millennium of its foundation.

For six weeks, the International Glass Biennale will present in 21 different cultural locations, more than 60 artists, from Marc Chagall to Daniel Buren, to regional artists such as Sylvie Lander or Mathilde Caylou and a new generation of artists combining heritage and modernity. The Biennale takes place not only at the crossroads of Europe, but also at that of studio glass practices as Alsace-Lorraine is its historical home with major glass names and producers such as Lalique, Meisenthal, Baccarat and Saint-Louis. This region has established itself as the real reference of savoir-faire , mastery and expertise of this delicate art.

If the glass is an old medium it keeps renewing and investing innovative and multidisciplinary domains. It comes through the Biennales in endless forms and varieties, including all mediums: video, sculpture, design, architecture... Glass brings its singular vision in contemporary art creation and a new generation of artists emerges from it: glassmakers, glass blowers, stained-glass window makers... Real glass artists are now graduating from the HEAR (High School of the Arts of Rhine) or from the CERFAV (European Center for Research and Training in Glass Arts) of Vannes-le-Châtel. They perpetuate glass skills and techniques, rich from a new prospective vision and resolutely turned towards contemporary creation.

The International Glass Biennale, the only event dedicated to this medium, is a reflection of this art and these new techniques.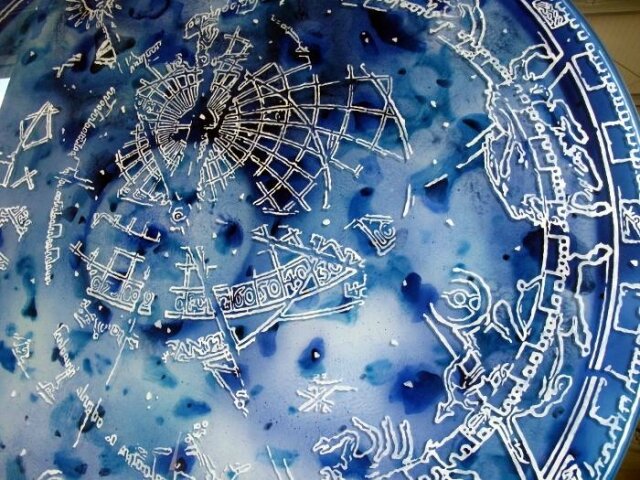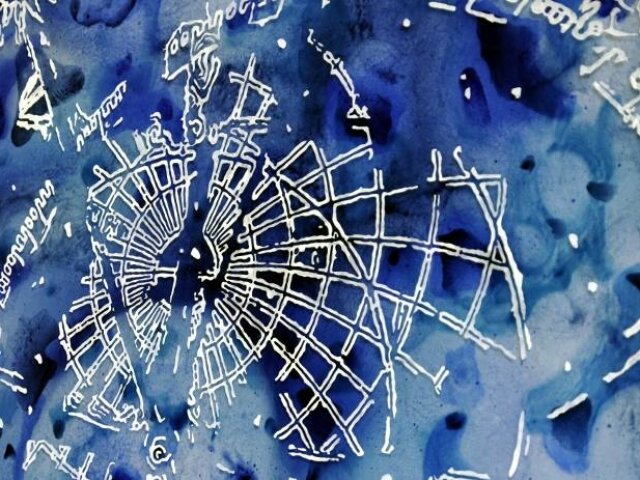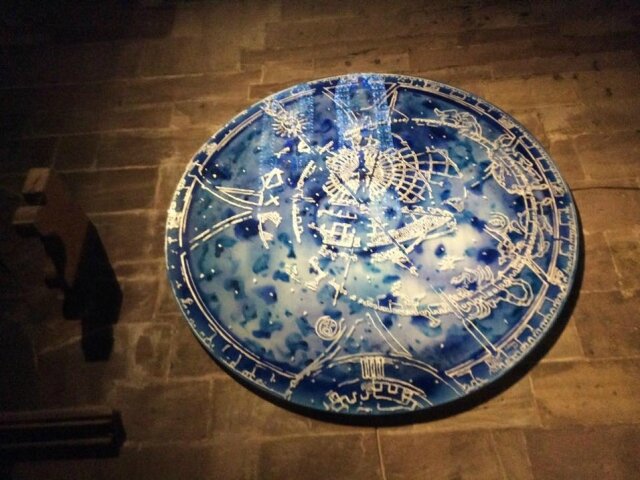 Sylvie Lander, Ex Tempore, tondo de verre Ø 250 cm (mur ouest du transept sud : place de la première horloge astronomique en 1352). Courtesy the artist © DR.
Ex Tempore est une pièce en verre composée de deux épaisseurs peintes, cuites au four et assemblées. Un travail de gravure en surface et une mise en peinture de l'engravure parachèvent l'œuvre.
Ex Tempore : Sylvie Lander a voulu, par la superposition des deux disques, apporter la profondeur et le mouvement. Le bleu de l'espace, la présence simultanée du jour et de la nuit, la matière noire, les trous noirs, les glacis superposés créent un flottement spatial.
En citation graphique, une libre interprétation de l'astrolabe de Conrad Dasypodius (circa 1570), gravée et peinte au premier plan, dérobe à la vue et oblige à porter le regard vers l'intérieur. Le désaxé de ces engrenages superposés crée une spirale dynamique.
Ex Tempore, invitation à arrêter l'horloge des hommes, à gripper leur mécanique du temps pour le rendre un instant à sa dimension métaphysique. Invitation à quitter l'unité de temps, de lieu et d'action pour envisager son propre rôle dans l'éternelle comédie humaine. Opportunité de jouer en suivant la consigne – extemporeanus – de jouer à discrétion, en une libre interprétation sa propre partition.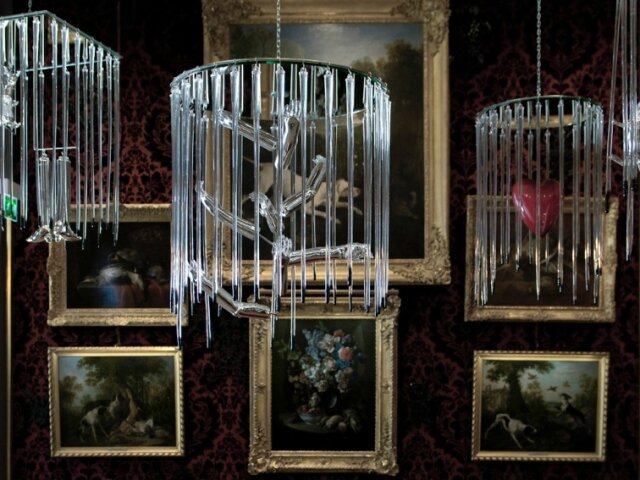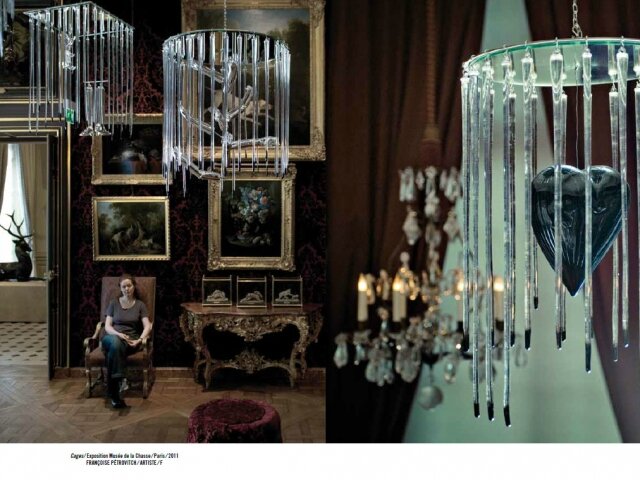 Françoise Petrovitch, Cages, proposé en collaboration avec le Centre International d'Art Verrier (CIAV) de Meisenthal. Production CIAV / Meisenthal. Photos Hervé Plumet ( Musée de la Chasse / Paris). Courtesy Semiose Paris.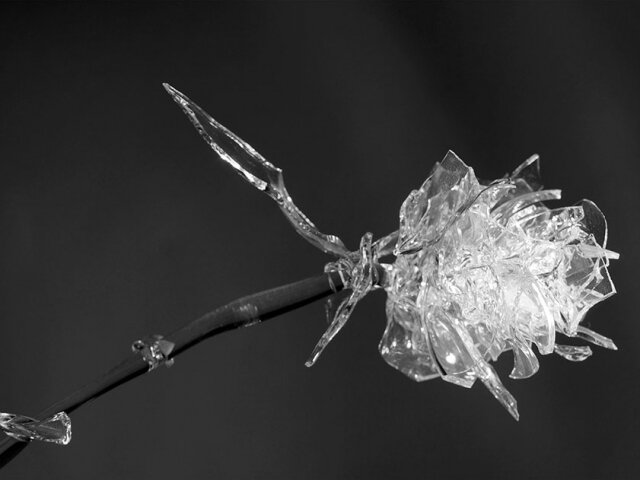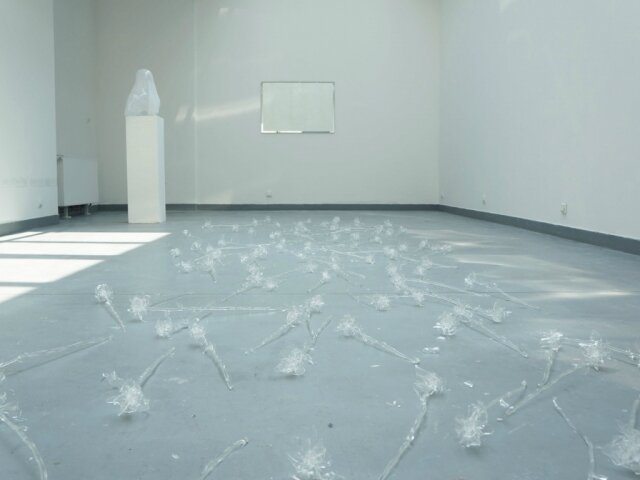 Huiyu Yan, Installation diplôme Rose c'est la vie. Verre au chalumeau, 2014. Courtesy the artist © DR.
Bernard Dejonche, "Black Fusion, White Fusion" © J. Crous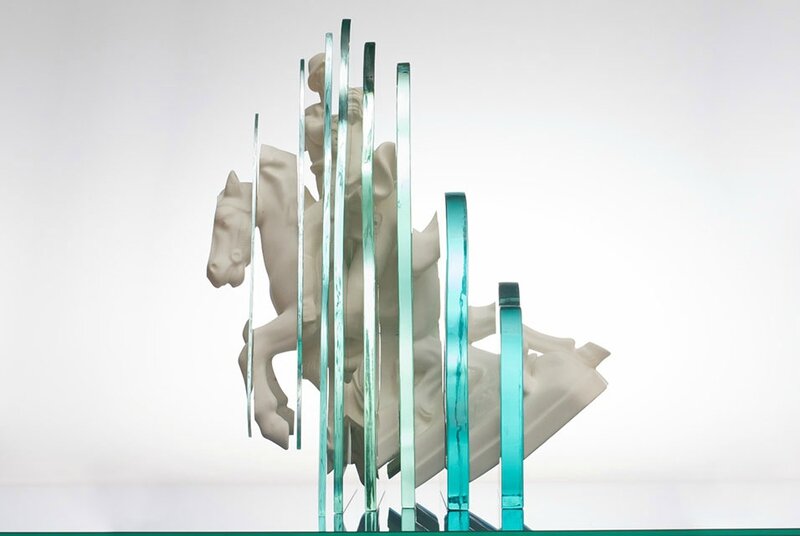 Helena Tapajnová, Horse. Courtesy the artist © DR.