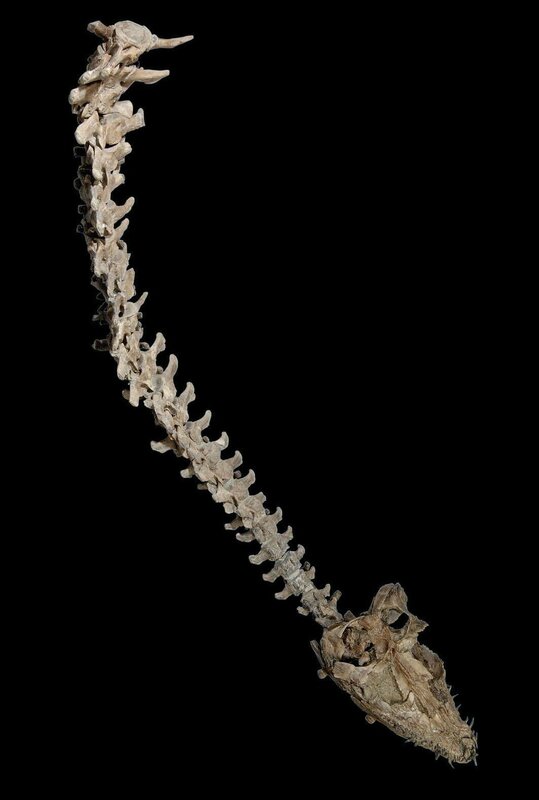 An exceptionally well-preserved Plesiosaur skull. Middle Jurassic period (circa 165 million years ago). 117cm long. Lower Oxford Clay, the near complete skull and neck of a Cryptoclidus eurymerus supported on custom stand. Estimate: £60,000-90,000 ($93,000 - $139,500). Photo: Christie's Images Ltd 2015.
Literature: Brown, D. S. and Cruickshank, A. R. I. 1994. The skull of the Callovian plesiosaur Cryptoclidus eurymerus and the sauropterygian cheek. Palaeontology, 37, (4), 941-953.
Notes: This specimen is an almost complete skull and neck of the Middle Jurassic (Callovian) plesiosaur, Cryptoclidus eurymerus from the lower Oxford Clay of Peterborough. Whilst this is this most well-known species from the Oxford Clay, plesiosaurs are never common, and skulls, especially complete skulls, are exceedingly rare. Previous to this find the best-preserved skull of this species was one described by Brown & Cruikshank in 1994, which is currently held in Peterborough Museum. The current specimen is far superior and is the best-preserved skull known of this species.

Expertly prepared by Andy Cowap, one of the UK's leading preparators, to an incredible standard, the specimen is almost free of surrounding matrix. Both dorsal and ventral surfaces of the skull are completely exposed and every bone can be examined (only the jugals are not preserved, as almost always happens under the compression of preservation). On the ventral surface even the hyoid bones of the throat are preserved. Most notable, and most striking in this specimen is the dentition; every sharp slender tooth has been prepared to protrude from the jaw. The neck is almost complete, and consists of 27 vertebrae, each one separately prepared and numbered. All vertebrae are complete, and there is no restoration on the specimen whatsoever. The skull and neck have been mounted on a steel armature such that each skeletal element can be lifted for examination. The specimen is undoubtedly of scientific importance and will add much new knowledge to the cranial anatomy of the species.

We would like to thank Dr. John Nudds, Senior Paleontologist, University of Manchester, for this catalogue note.
Christie's. OUT OF THE ORDINARY, 10 September 2015. London, South Kensington