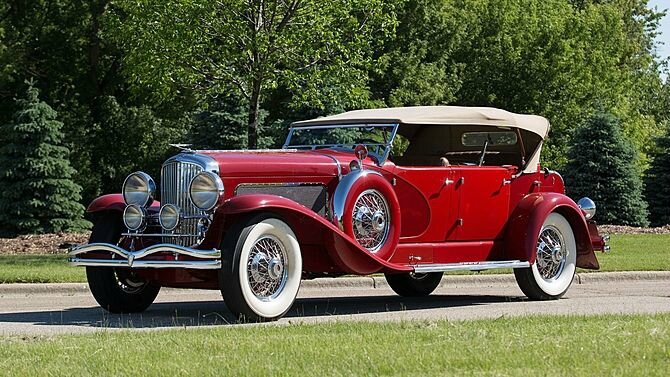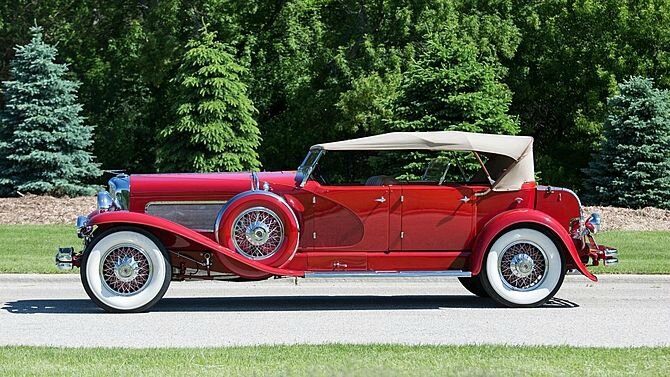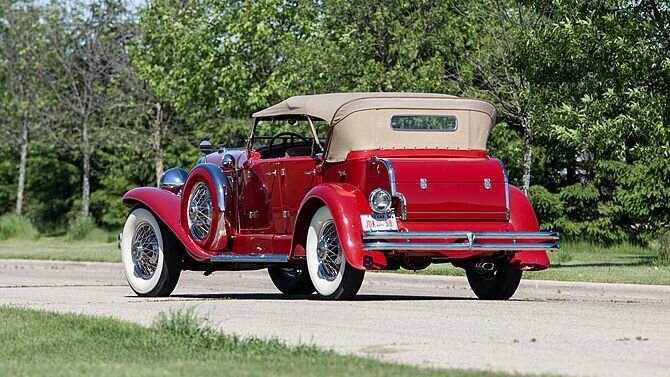 1932 Duesenberg Model J Phaeton - SJ Supercharger, J-463/2480. Estimate $800,000 - $1,000,000. Photo by David Newhardt, Courtesy of Mecum Auctions.
It is necessary to consider the era in which Duesenberg produced the magnificent Model J to truly appreciate its impact on the automotive landscape. Only one other car—the steam-powered Doble—was in the same price class as the Duesenberg. The most powerful engines were those in the Auburn and Pierce Arrow at 125 horsepower, and most were of the L-head design that was cheap to produce and a smooth and quiet runner. Two valves per cylinder was the convention, and a 50 to 60 MPH top speed was merely theoretical to most motorists. Enter the Duesenberg Model J, whose 420 CI inline-8 engine used twin overhead cams and four valves per cylinder to generate 265 horses, enough to take a Phaeton-bodied J to 116 MPH at the Indianapolis Motor Speedway. The price? $8,500, making it not only the fastest but also the most expensive car made in America. From the December 1928 unveiling at the New York Car Show to the last one built in 1937, Duesenberg produced approximately 480 Model Js. Several coachbuilders contributed a wide variety of bodies, but the drivetrains remained virtually unchanged with one exception: a centrifugal supercharger was made available beginning in 1932. Advertising claimed 320 HP in the so-called SJ models, which also included an exhaust cutout that was perfect for rousing the locals while passing through town at 100 miles an hour.
This imposing long-wheelbase 1932 Duesenberg Model J carries chassis number 2480 and engine number J-463. Delivered new with formal limousine coachwork by Rollston of New York, it was later fitted with a Deitrich convertible Berline body sourced from Duesenberg chassis number 2415. Sometime between 1946 and 1956 the car was involved in a garage fire and the Dietrich body was destroyed; however the born-together engine and chassis survived. It remained in that condition until the 1970s, when a restoration was started. J-463/2415 was adorned with an elegant new body built in the style of a LeGrande dual-cowl phaeton, and in that same period the engine was rebuilt and upgraded to SJ specification. Since then it has been part of several highly regarded collections in the automotive collector community and perhaps the best attribute to the car's versatility is that it presents an opportunity to acquire a Duesenberg than could be enjoyed on static display in a collection or touring the open road.
Mecum Monterey 2015