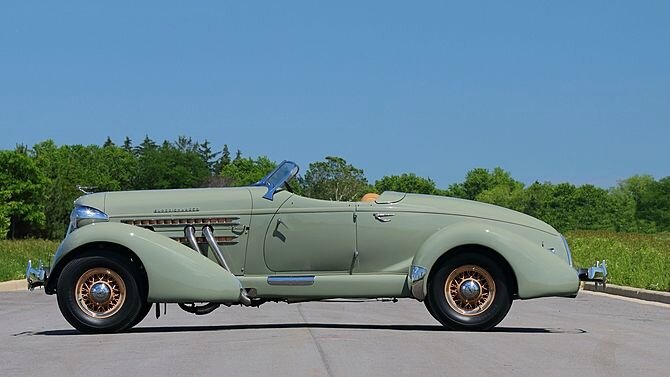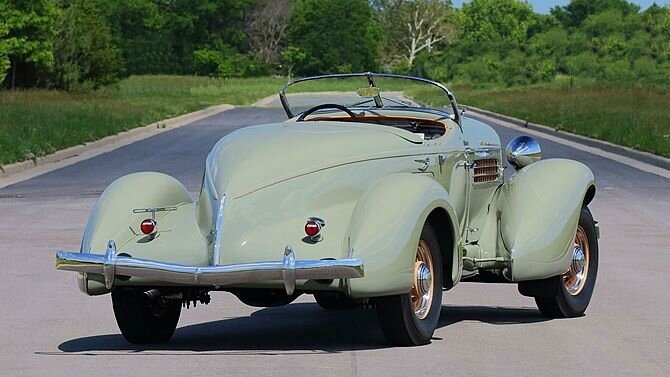 1936 Auburn 852 SC Boattail Speedster - ACD Certified Category 1 Original. Estimate $800,000 - $1,000,000. Photo by David Newhardt, Courtesy of Mecum Auctions.
The Auburn 852 Supercharged Boattail Speedster was introduced during the Great Depression to widespread praise for its elegant styling and incredible performance, and endures as a monument to the ambitions and vision of Errett Lobban "E.L." Cord. When Cord took over management of Auburn in 1924 he set a new course for the ailing manufacturer, and by 1931 it had risen to 13th in national sales, surpassing Packard, DeSoto and Hudson among others.
Auburn became the cornerstone of Cord's vast empire, not through any technical distinction but by giving customers more car than any other in its price class. Sadly coincident to the beginning of the darkest period of the Great Depression, the Boattail Speedster (the 1935 Model 851 and the identical 1936 Model 852) was the pinnacle creation of Cord's career, its coachwork designed by Gordon Buehrig, its Lycoming straight-8 engine supercharged and tuned by August Duesenberg. The Speedster had it all: flowing, seemingly wind-sculpted coachwork that started with a rakish front grille and ended in the famous Boattail, a snug two-seat cockpit and a supercharged Lycoming inline-8 engine. On each Speedster's dash was a plate declaring that the car had been driven past 100 MPH, not a difficult task for a machine weighing just over 3,700 pounds and packing 150 horsepower; the formula made the Speedster one of the fastest cars on the road in mid-'30s America.
Distinguished by beautiful paint and brightwork and its signature "Flying Goddess" hood emblem, this Harbor Mist Gray 1936 Auburn 852 Boattail Speedster has been shown in such top venues as Pebble Beach, Amelia Island, Meadow Brook, Hershey and Glenmoor. A multiple award winner over many years on the Concours circuit, the car retains the major original components—engine, body and chassis—and in 1996 was certified as ACD Category 1 Original by Paul Bryant, then head of certification for the Auburn Cord Duesenberg Club. Soon thereafter its owner commissioned LaVine Restorations of Nappanee, Indiana to perform a comprehensive restoration. In 2006 it was again presented at the Pebble Beach Concours d'Elegance and in 2007 was awarded an AACA Senior National First Prize.
Mecum Monterey 2015