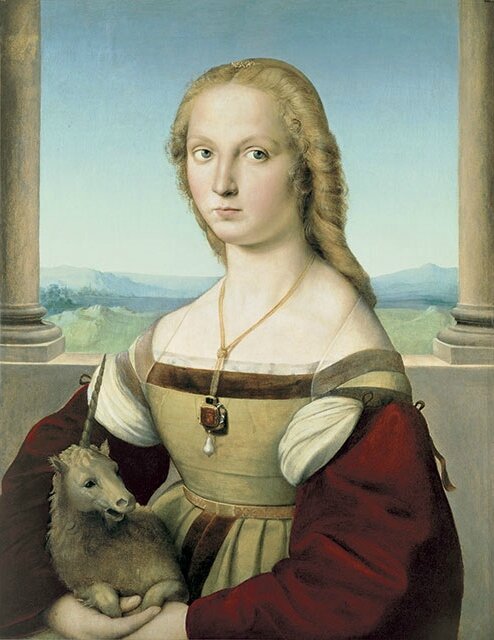 Raphael (1483–1520), Portrait of a Lady with a Unicorn, circa 1505–6, oil on canvas transferred from panel, Galleria Borghese, Rome, inv. 371.
CINCINNATI, OH.- The Cincinnati Art Museum and the Fine Arts Museums of San Francisco announced Sublime Beauty: Raphael's "Portrait of a Lady with a Unicorn." This focused exhibition features one of Raphael's most beguiling and enigmatic paintings. The masterpiece, presented in the United States for the first time, will come on loan from the Galleria Borghese in Rome, where it was first recorded in the collection in 1682.

It will be on view in Cincinnati from Oct. 3, 2015 – Jan. 3, 2016 and in San Francisco, Jan. 19 – April 10, 2016.

"Portrait of a Lady with a Unicorn" (ca. 1505–1506) features an unidentified blond sitter who epitomizes the beauty of Raphael's female portraits during his Florentine period. The exhibition will explore the possible identity of this subject, as well as the painting's distinct iconography, including the unicorn she holds in her lap. Scholars believe that the painting was commissioned to celebrate a wedding, and the unicorn, a conventional symbol of chastity, may also offer clues to her familial lineage.

The exhibition also will highlight the stylistic relationships between this masterpiece and Leonardo da Vinci's Mona Lisa. Leonardo's canonical work, painted in Florence in the early years of the 16th century, had a great impact on the younger Raphael, who also practiced in the city during this period. Raphael's sophisticated adaptation of Leonardo's innovations in portrait compositions may have influenced Portrait of a Lady with a Unicorn, a painting that that shares the Mona Lisa's half-length format, sitter with hands folded in her lap, and setting before a distant landscape.

"The Cincinnati Art Museum is excited and honored to showcase this magnificent work in its U.S. debut. We are grateful to the Foundation for Italian Art and Culture for the partnership which brings this important and highly esteemed treasure to Cincinnati," said Cameron Kitchin, the Louis and Louise Dieterle Nippert Director of the Cincinnati Art Museum. "The painting is revelatory when encountered in person and we look forward to sharing it with our visitors."

"Raphael's Portrait of a Lady with a Unicorn is a stunning masterpiece of the Italian High Renaissance. When it arrives in San Francisco for the first time, we will greet it with new scholarship as well as a celebration fitting for the blond beauty and her mysterious unicorn," says Dr. Esther Bell, curator in charge of European paintings at the Fine Arts Museums of San Francisco. She is the organizing curator of the exhibition and the editor of the accompanying catalogue. Dr. Bell was previously a curator of European paintings, drawings, and sculpture at the Cincinnati Art Museum.