Heracles Decapitating the Lernaean Hydra. Tapestry from the series "The Labours of Heracles" (detail) produced under Michiel van Orley, Oudenaarde, c. 1550/65. Wool, silk; 418 x 544 cm Kunsthistorisches Museum, Kunstkammer © KHM Museumsverband.
VIENNA.- Embellishing rooms with textiles dates back to the earliest civilisations. In the Middle Ages precious textiles were most of all the prerogative of the nobility, reflecting a prince's prestige and authority. Tapestries were much sought-after. Their extremely time-consuming production using costly materials such as gold- and sliver threads, silk and wool proclaimed their luxurious character.

The subject matters depicted on these tapestries reflected the fact that this narrative medium functioned both as political propaganda and a document to its owner's connoisseurship and exalted rank. Scenes from court life vied with historical events, mythological subjects and classical stories; also popular were episodes from the Old or the New Testament, and scenes from the lives of the saints. Regardless of a tapestry's subject matter, some of these almost life-size figures sporting contemporary fashions functioned as identification figures. They represented the elite world to which the owner of the tapestries also belonged. For us today, these monumental wall hangings serve as important documents of courtly life and its chivalrous ideals.

The exhibition offers a survey of the Kunsthistorisches Museum's rich holdings of tapestries that cannot be on permanent display for conservation reasons. A selection of fourteen masterpieces presents the art of the tapestry in the 16th century. Brussels evolved into a leading centre of tapestry production. Celebrated artists such as Barend van Orley, Pieter Coecke van Aelst, Michiel Coxie and Jan Cornelisz Vermeyes produced designs for these monumental wall hangings. Their buyers came from the small elite circle able to afford such costly artefacts, among them members of the house of Habsburg. Emperor Charles V (1500-1556) was renowned for his lavish commissions of tapestries, setting a high benchmark for the other European courts and documenting the former status of tapestries, which were once regarded as far more valuable than paintings.

With the help of contemporary works by Margret Eicher and Nives Widauer the exhibition draws a line from the Renaissance to the present day, imbuing tapestries once more with some of their former meaning.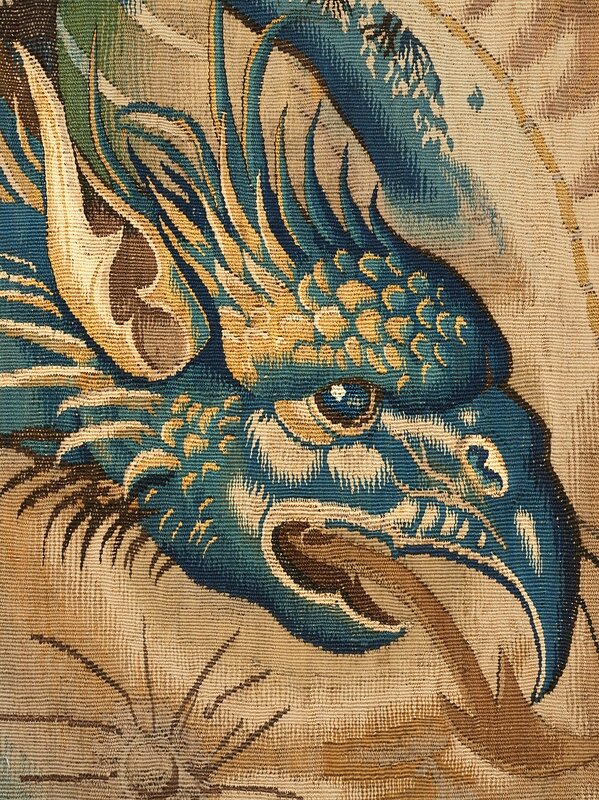 Heracles Decapitating the Lernaean Hydra. Tapestry from the series "The Labours of Heracles" (detail) produced under Michiel van Orley, Oudenaarde, c. 1550/65. Wool, silk; 418 x 544 cm. Kunsthistorisches Museum, Kunstkammer © KHM-Museumsverband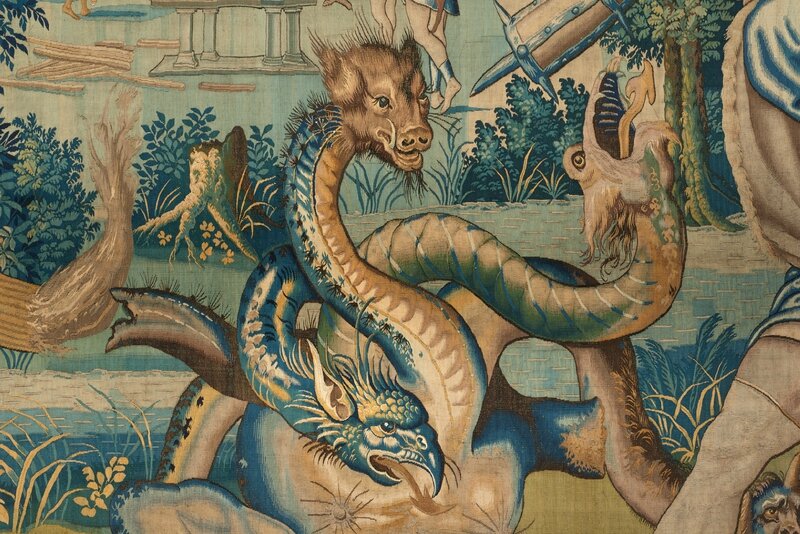 Heracles Decapitating the Lernaean Hydra. Tapestry from the series "The Labours of Heracles" (detail) produced under Michiel van Orley, Oudenaarde, c. 1550/65. Wool, silk; 418 x 544 cm. Kunsthistorisches Museum, Kunstkammer © KHM-Museumsverband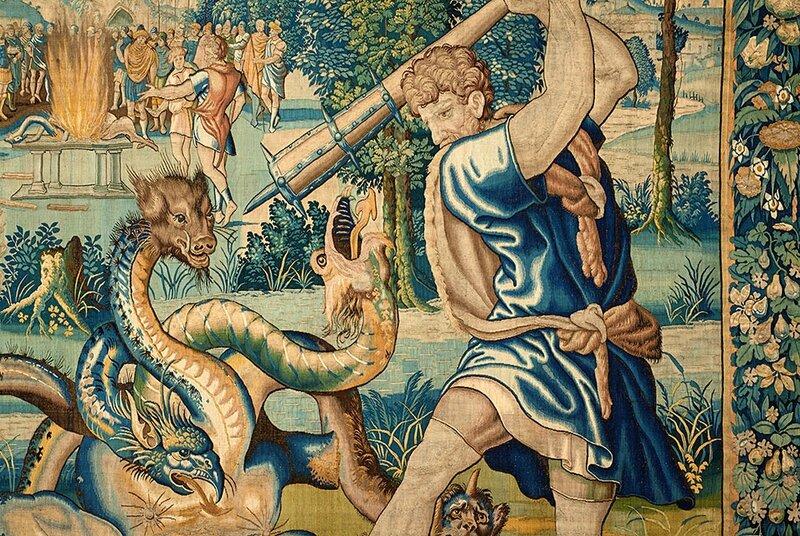 Heracles Decapitating the Lernaean Hydra. Tapestry from the series "The Labours of Heracles" (detail) produced under Michiel van Orley, Oudenaarde, c. 1550/65. Wool, silk; 418 x 544 cm. Kunsthistorisches Museum, Kunstkammer © KHM-Museumsverband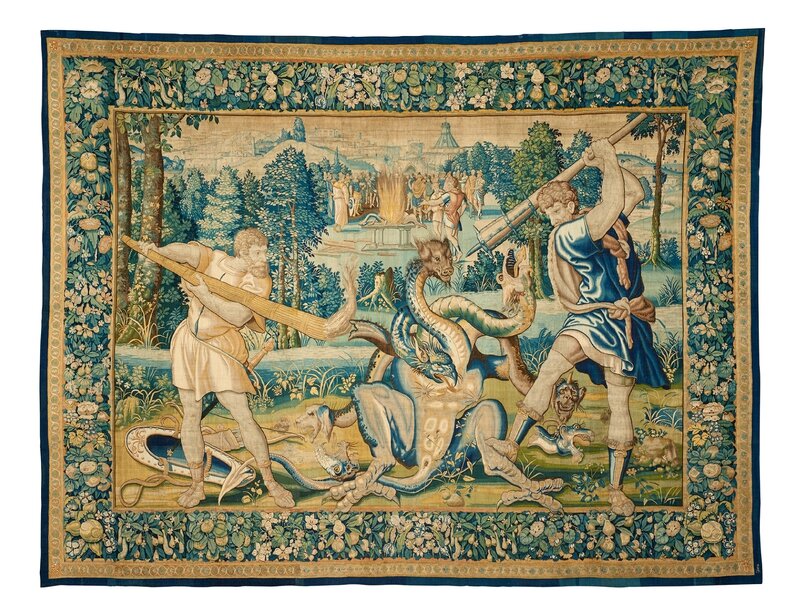 Heracles Decapitating the Lernaean Hydra. Tapestry from the series "The Labours of Heracles" produced under Michiel van Orley, Oudenaarde, c. 1550/65. Wool, silk; 418 x 544 cm. Kunsthistorisches Museum, Kunstkammer © KHM-Museumsverband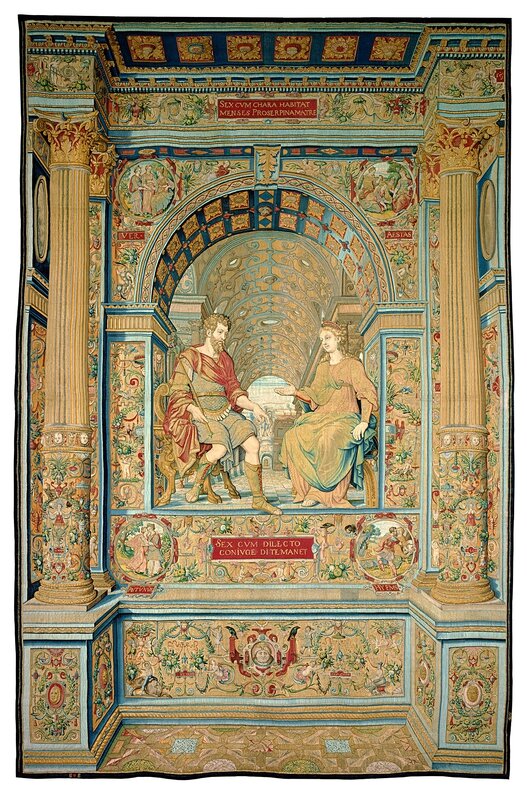 Throne Canopy, Hans Vredeman de Vries (1527 – c. 1606) and Michiel Coxcie (c. 1499 – 1592, figures), Brussels, c. 1561 (dated); wool, silk, metal threads; back: 419 x 271 cm. Kunsthistorisches Museum, Kunstkammer © KHM-Museumsverband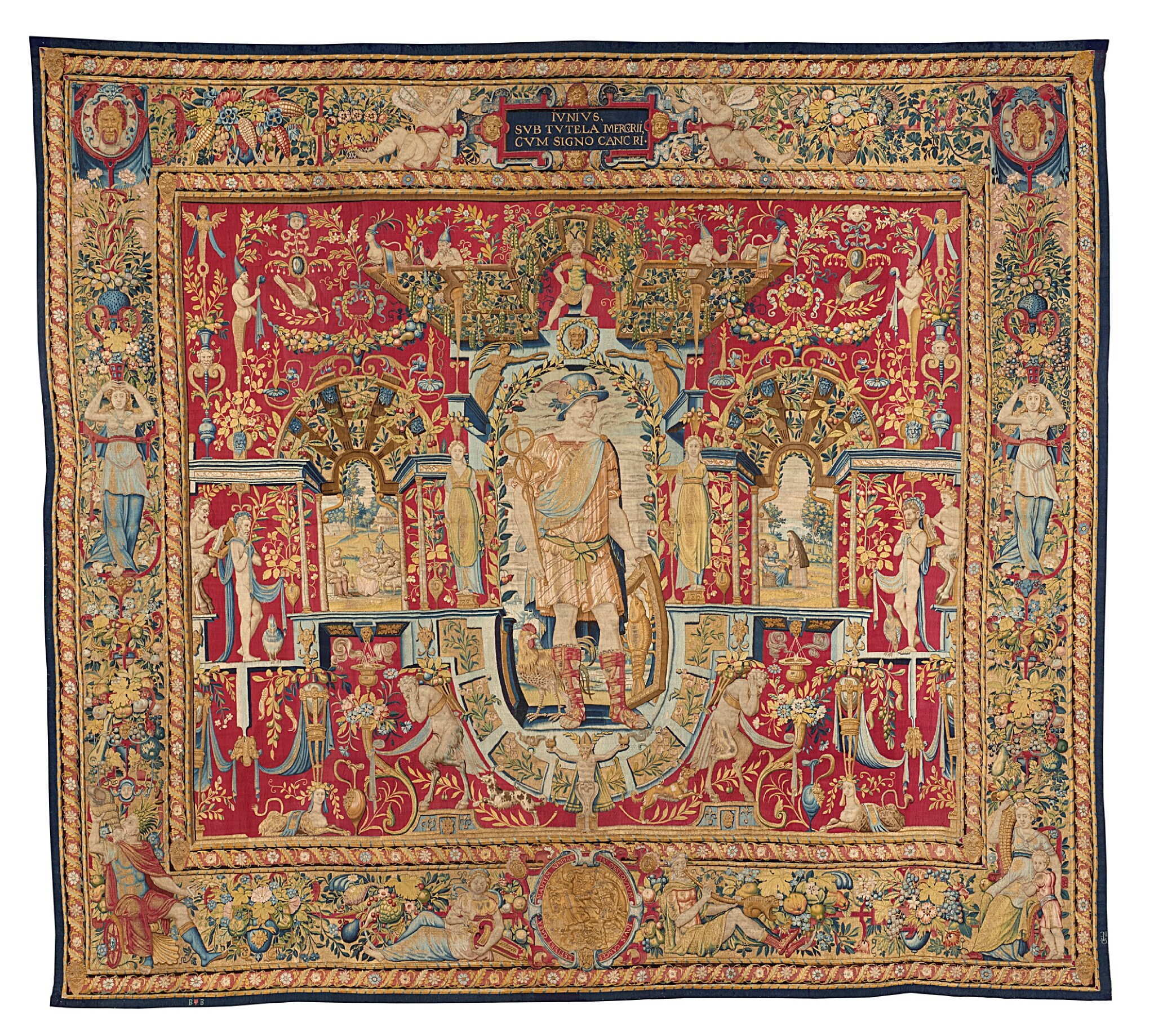 Mercury with the Zodiac Sign "Cancer" (June). Tapestry from the series "The Twelve Months", produced in Brussels, c. 1560/70; wool silk, metal threads; 419 x 468 cm. Kunsthistorisches Museum, Kunstkammer © KHM-Museumsverband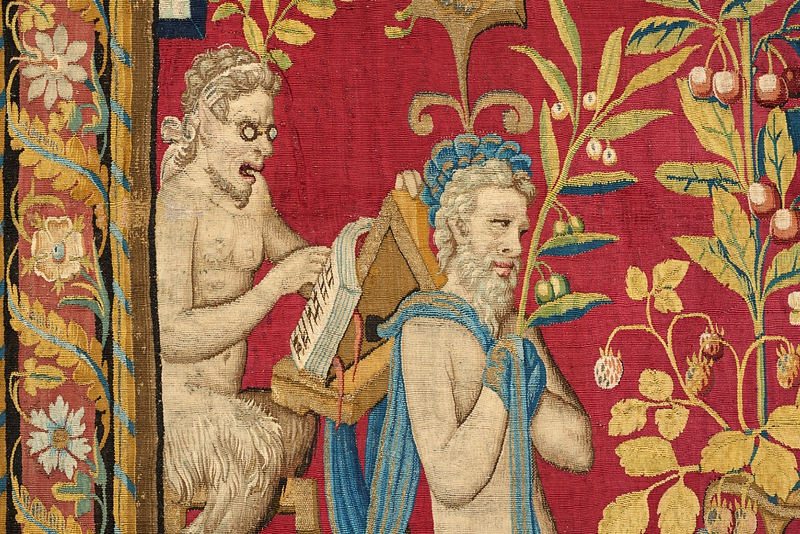 Mercury with the Zodiac Sign "Cancer" (June). Tapestry from the series "The Twelve Months" (detail), produced in Brussels, c. 1560/70; wool silk, metal threads; 419 x 468 cm. Kunsthistorisches Museum, Kunstkammer © KHM-Museumsverband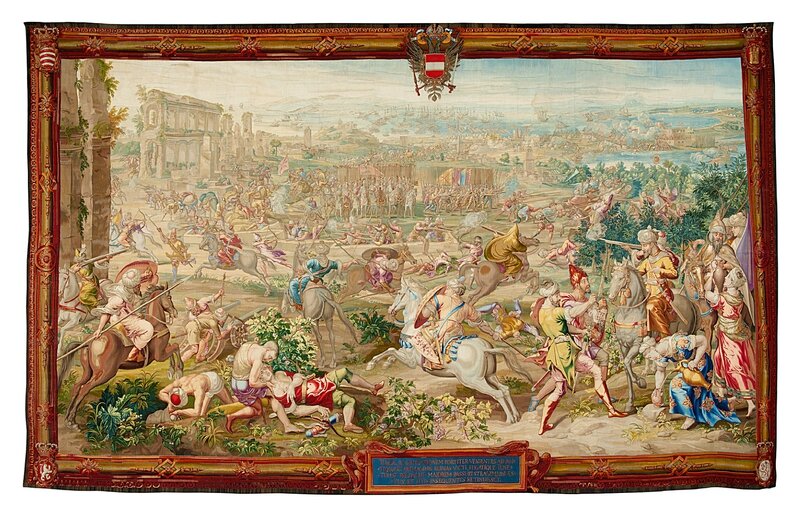 An Unsuccessful Turkish Sally from La Goleta. Tapestry from the series "The Tunis Campaign of Emperor Charles V", Jan Cornelisz. Vermeyen (c. 1500 – 1559), 1545/46, produced under Jodocus de Vos, Brussels, between 1712 and 1721; wool, silk, metal threads,; 520 x 850 cm. Kunsthistorisches Museum, Kunstkammer © KHM-Museumsverband
An Unsuccessful Turkish Sally from La Goleta. Tapestry from the series "The Tunis Campaign of Emperor Charles V" (detail), Jan Cornelisz. Vermeyen (c. 1500 – 1559), 1545/46, produced under Jodocus de Vos, Brussels, between 1712 and 1721; wool, silk, metal threads,; 520 x 850 cm. Kunsthistorisches Museum, Kunstkammer © KHM-Museumsverband
An Unsuccessful Turkish Sally from La Goleta. Tapestry from the series "The Tunis Campaign of Emperor Charles V" (detail), Jan Cornelisz. Vermeyen (c. 1500 – 1559), 1545/46, produced under Jodocus de Vos, Brussels, between 1712 and 1721; wool, silk, metal threads,; 520 x 850 cm. Kunsthistorisches Museum, Kunstkammer © KHM-Museumsverband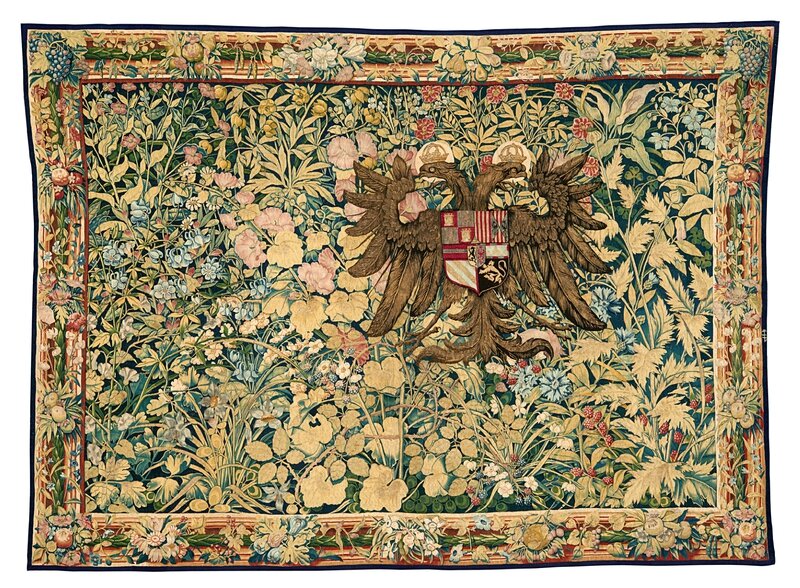 Tapestry Featuring the Arms of Emperor Charles V, produced under Willem de Pannemaker, Brussels, c. 1540; wool, silk, metal threads; 197 x 273 cm.Kunsthistorisches Museum, Kunstkammer © KHM-Museumsverband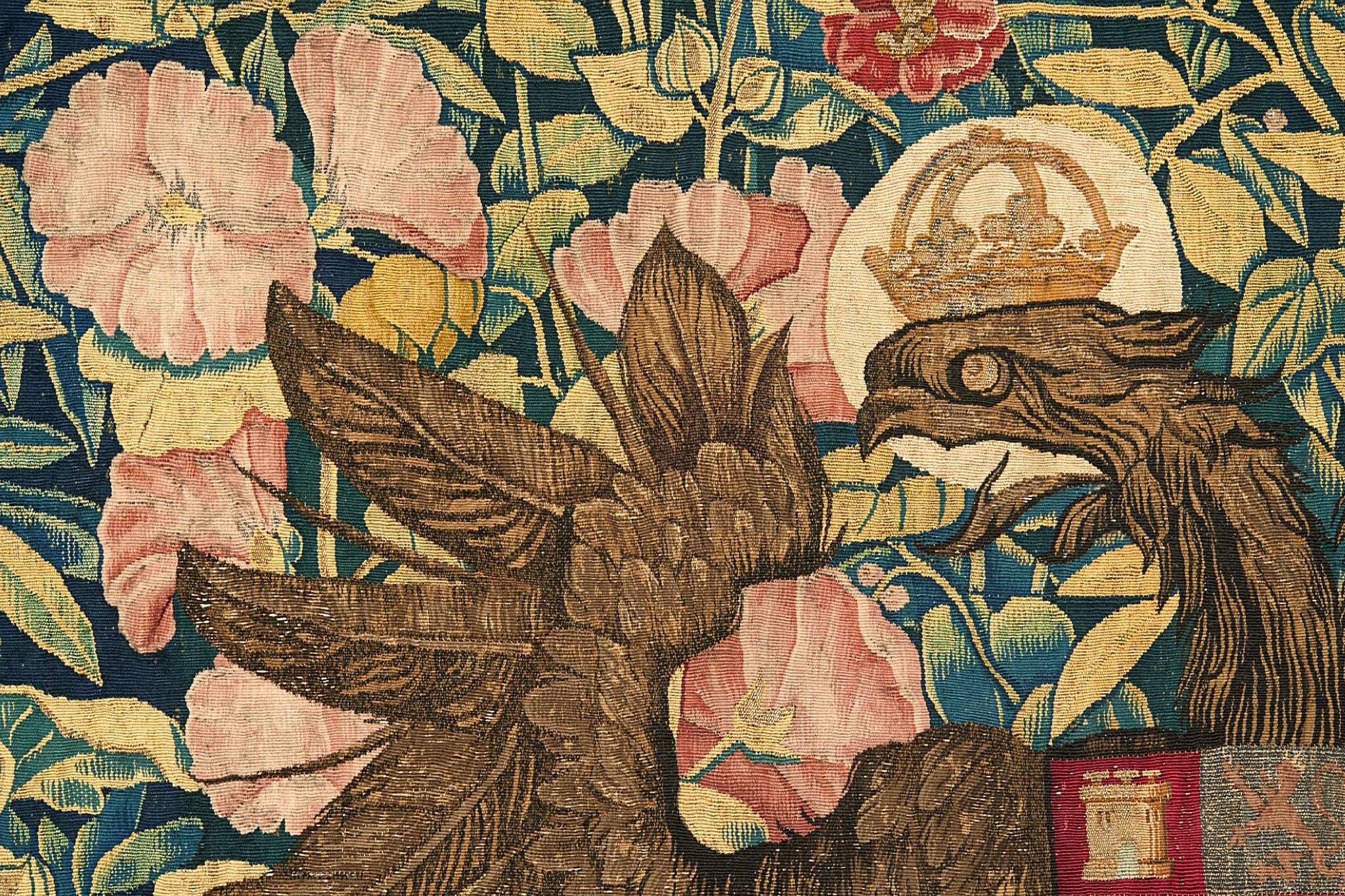 Tapestry Featuring the Arms of Emperor Charles V (detail), produced under Willem de Pannemaker, Brussels, c. 1540; wool, silk, metal threads; 197 x 273 cm.Kunsthistorisches Museum, Kunstkammer © KHM-Museumsverband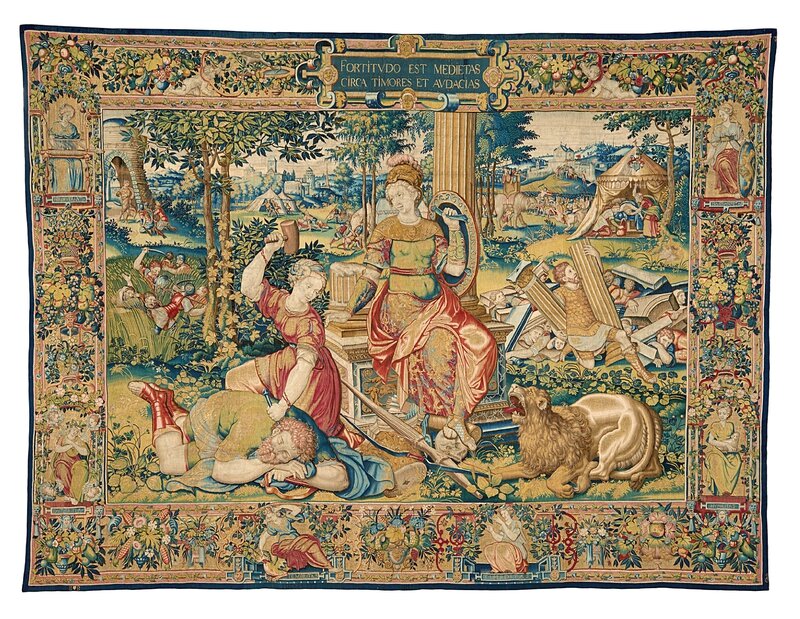 The Apostle Paul before King Agrippa. Tapestry from the series "Scenes from the Life of the Apostle Paul", Pieter Coecke van Aelst (Aalst 1502 – 1550 Brussels), c. 1529/30; produced under Paulus van Oppenem, Brussels, c. 1535; wool, silk, metal; 423 x 453 cm. Kunsthistorisches Museum, Kunstkammer © KHM-Museumsverband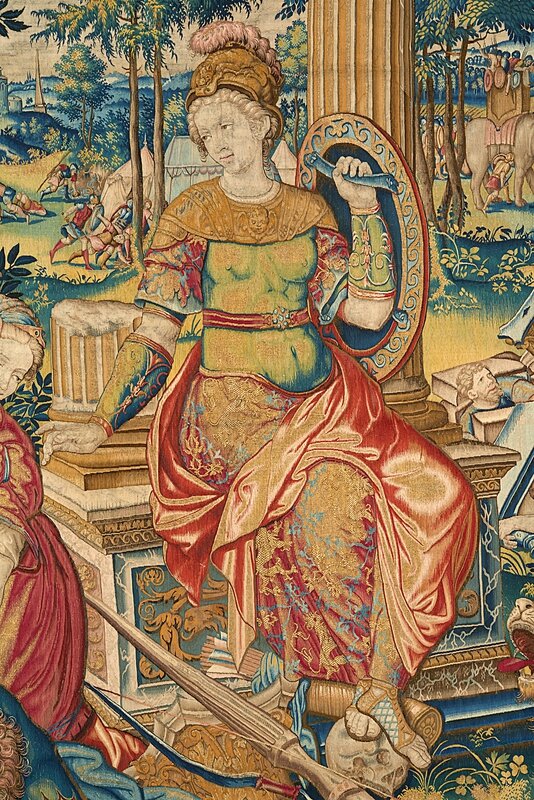 The Apostle Paul before King Agrippa. Tapestry from the series "Scenes from the Life of the Apostle Paul" (detail), Pieter Coecke van Aelst (Aalst 1502 – 1550 Brussels), c. 1529/30; produced under Paulus van Oppenem, Brussels, c. 1535; wool, silk, metal; 423 x 453 cm. Kunsthistorisches Museum, Kunstkammer © KHM-Museumsverband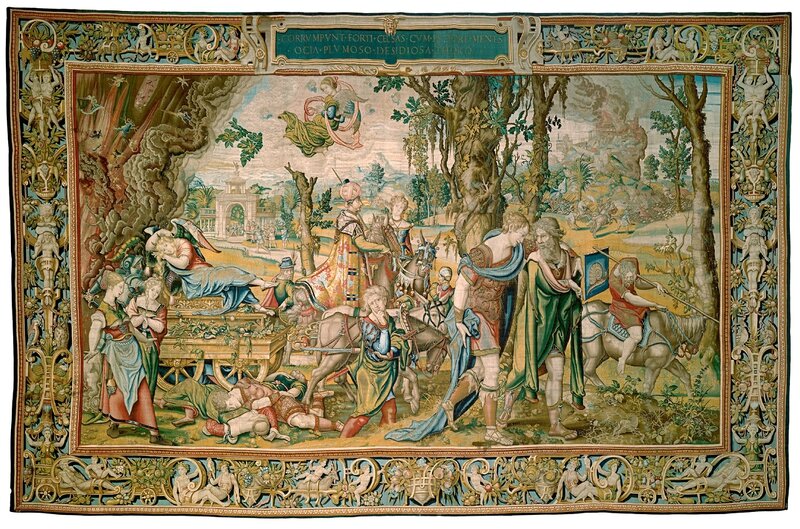 Acedia. Tapestry from the series "The Seven Deadly Sins", Pieter Coecke van Aelst (Aalst 1502 – 1550 Brussels), c. 1533/34, produced under Willem de Pannemaker, Brussels, c. 1548/49; wool, silk, metal; 456 x 708 cm. Kunsthistorisches Museum, Kunstkammer © KHM-Museumsverband
Acedia. Tapestry from the series "The Seven Deadly Sins" (detail), Pieter Coecke van Aelst (Aalst 1502 – 1550 Brussels), c. 1533/34, produced under Willem de Pannemaker, Brussels, c. 1548/49; wool, silk, metal; 456 x 708 cm. Kunsthistorisches Museum, Kunstkammer © KHM-Museumsverband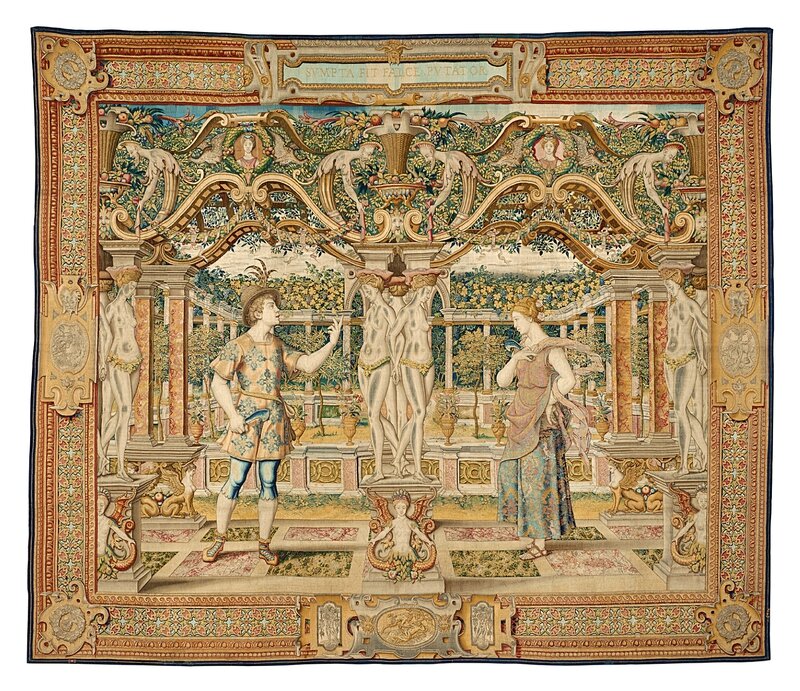 Vertumnus Approaching Pomona Disguised as a Vintner. Tapestry from the series "Vertumnus and Pomona after Ovid's Metamorphoses", Pieter Coecke van Aelst (Aalst 1502 – 1550 Brussels), Brussels, c. 1544, produced in Brussels, between c. 1548 and 1575; wool, silk, metal threads; 425 x 503 cm. Kunsthistorisches Museum, Kunstkammer © KHM-Museumsverband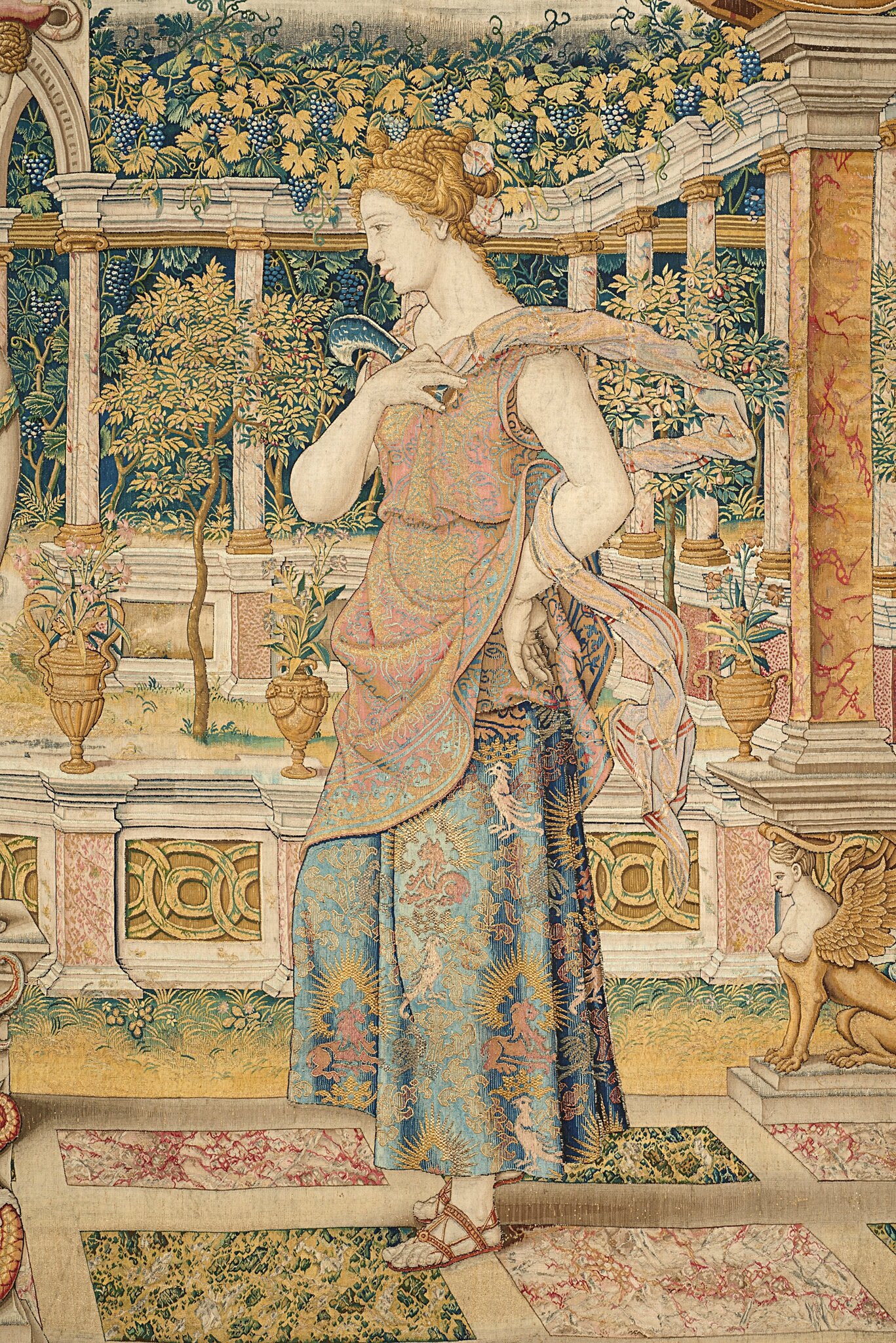 Vertumnus Approaching Pomona Disguised as a Vintner. Tapestry from the series "Vertumnus and Pomona after Ovid's Metamorphoses" (detail), Pieter Coecke van Aelst (Aalst 1502 – 1550 Brussels), Brussels, c. 1544, produced in Brussels, between c. 1548 and 1575; wool, silk, metal threads; 425 x 503 cm. Kunsthistorisches Museum, Kunstkammer © KHM-Museumsverband
The Triumphal Procession Continued: Displaying Captured Arms and Armour. Tapestry from the series "Deeds and Triumphs of Dom Joao de Castro", c. 1550/57, produced under Bartholomeeus Adriaensz (?), Brussels, after 1557. Wool, silk, metal; 354 x 473 cm. Vienna, Kunsthistorisches Museum, Kunstkammer © KHM-Museumsverband