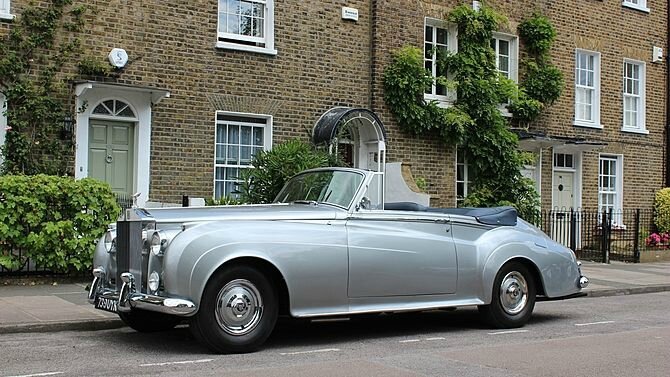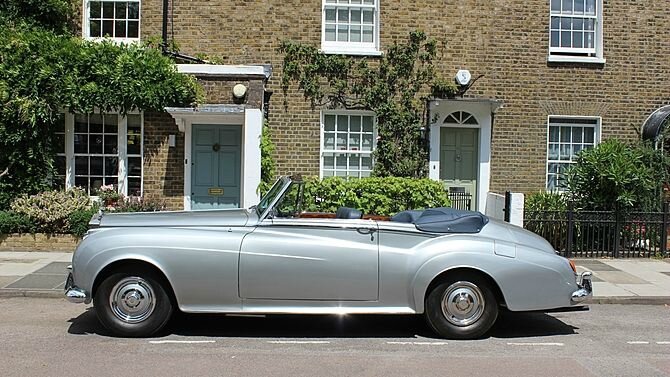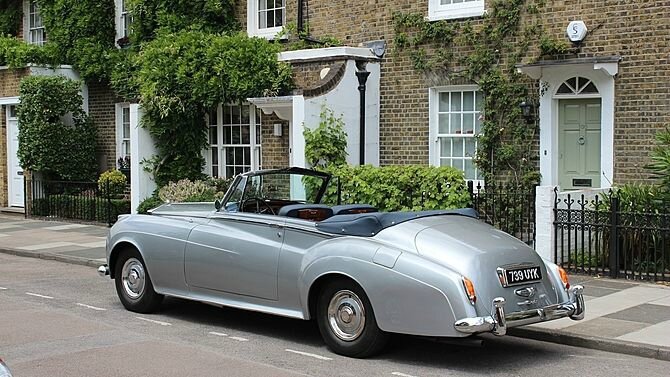 1960 Rolls-Royce Silver Cloud II Drop Head - Coupe Coachwork by Mulliner, 1 of 75 Produced. Estimate $115,000 - $145,000. Photo by David Newhardt, Courtesy of Mecum Auctions.
The Rolls-Royce Silver Cloud was the first completely new post-war model from Crewe. Introduced in 1955, this watershed design fit midway between the aging Silver Wraith and low-volume Silver Dawn. Intended from the outset primarily to carry the "standard steel" factory coachwork, only a limited number of cars would carry the traditional Rolls-Royce bespoke coachwork.
The Silver Cloud, which was penned by new chief designer John Blatchley, was a good seller, but the six-cylinder engine had reached the limit of its development. In 1959, the Silver Cloud II arrived, powered by a new aluminum OHV 6.2L V-8 engine. It was available in two wheelbases, sported the first V-8 Rolls-Royce engine in 50 years and represented an exponential performance increase over its predecessor.
This Silver Cloud II is one of only 75 left-hand-drive cars to be built with the beautiful drophead coachwork by H.J. Mulliner. It is also one of only 107 short-wheelbase versions delivered worldwide. According to information on file from The Rolls-Royce Foundation, this car was originally delivered to California, equipped with left-hand drive and electric windows, with subsequent owners in Iowa and Florida. The Silver Cloud II is accompanied by period documentation, a series of registration certificates, a factory handbook and the original Radiomobile operating instructions.
The current owner recently undertook an expert re-commissioning process at the hands of the renowned West Hoathly Garage in Sussex, England. Detailed receipts of this restoration are available. The work included re-trimming the interior in a superb shade of Gray-Blue leather, fitting new Wilton carpets, and refinishing all of the beautiful walnut wood. This work was followed by a bare-metal respray in a classic shade of Shell Grey, as well as a re-plating of all brightwork, to help bring the Silver Cloud II back to its former glory.
Mecum Monterey 2015