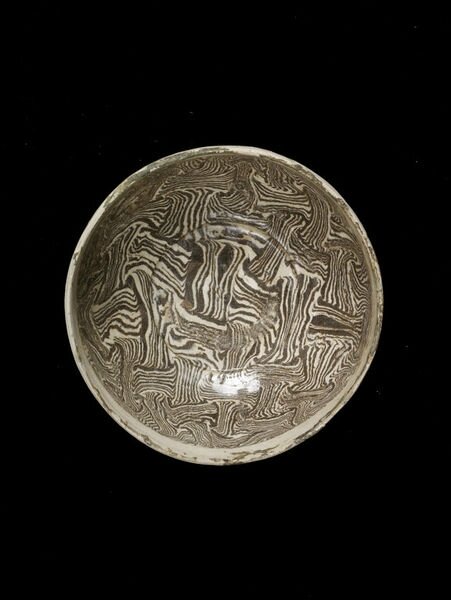 Bowl, stoneware of marbled clay, Cizhou ware, China, Northern Song dynasty, 960-1000. Diameter: 12.2 cm. Given by Mr Aubrey Le Blond. Museum no. C.602-1918. © V&A Images
Cizhou is a term used to describe a variety of ceramics made in northern China during the Song dynasty (960-1127). Contrary to the imperial wares of the time, which were prized for their perfection of form and glaze, Cizhou wares were made for everyday use, and were often decorated with bold patterns.
This bowl was made by marbling, a technique often used for funerary wares in the Tang and Song dynasties. To form the elaborate pattern, the potter stacked strips of clay into a block, slicing through the stack to create squares of striped clay. These squares were then joined together into a chequered pattern, and shaped into a bowl.
The bowl found in Korea.
Bibliographic References: Kerr, Rose. Song Dynasty Ceramics. London:V&A Publications, 2004. p. 69, no. 66.