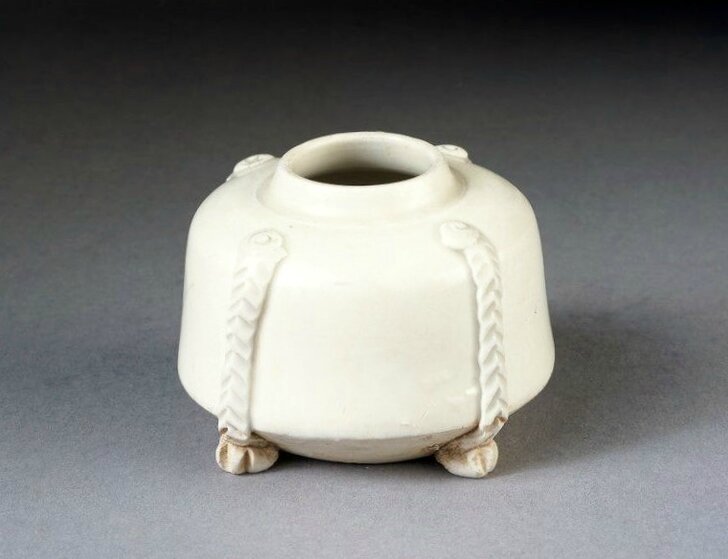 Waterpot, incised stoneware with copper-bound rim, Ding ware, China, Northern Song dynasty, 1101. Height: 6 cm. Purchased with the assistance of The Art Fund, the Vallentin Bequest, The Art Fund, Sir Percival David and the Universities China Committee. C.846-1936 © V&A Images
This water pot is an example of Ding ware, made in the Hebei province of China during the Northern Song dynasty (960-1127). Ding wares were of the earliest true porcelains made in China, and the world. The term porcelain is applied to ceramics made from a mixture containing a clay called kaolin and a white stone called petuntse which was fired at high temperatures. Porcelains differ from other ceramics in their impermeability, whiteness and fine texture.
Ding wares can be differentiated from other porcelains by their warm, ivory-white hue. While many Ding ware objects were made using moulds, this water pot's decorative features were added by hand, and the fingerprints of the potter can still be seen in the four feet on the base. There is also a mark indicating that it was 'made in the Jianzhong year', the year of that Emperor's short reign in 1101AD.
Bibliographic References: Kerr, Rose. Song Dynasty Ceramics. London: V&A Publications, 2004. p. 44, nos. 36 and 36a.