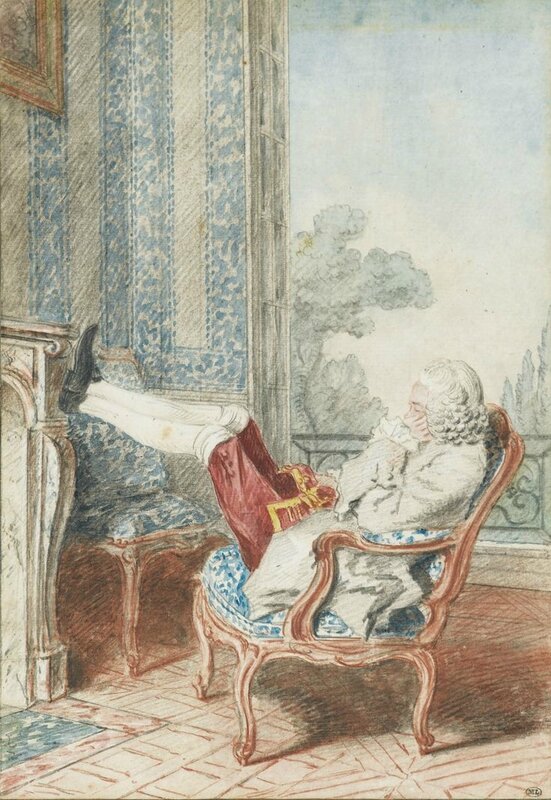 Louis Carrogis dit Carmontelle (Paris 1717 – 1806), Monsieur de Mornay, gouverneur de Saint Cloud. Estimation 80,000 — 120,000 €. Photo Sotheby's.
Sanguine, pierre noire, aquarelle et gouache avec rehauts de blanc
Sous le passe-partout actuel, le dessin est présenté dans un passe-partout ancien, réduit.
Porte une inscription à la plume et encre brune : Mr de Mornay, Gouverneur de St Cloud, / dessiné d'après nature dans la posture habituelle de sa siesta journalière et en bas, par une autre main, l'inscription : Mr. de Mornay gouvr. de St Cloud.
L'ancien montage est partiellement collé sur une page de l'album de la famille des Orléans, délié aujourd'hui, et annotée ultérieurement à la plume et à l'encre brune avec le nom du personnage.
271 x 190 mm
Provenance: Collection de l'artiste avant 1807 ;
Très probablement acquis par Richard de Lédans en marge de la vente après décès de Carmontelle, le 17 avril 1807 au 22 rue Vivienne, car partie du groupe des « 750 portraits en pied … C'est en raison de la place que mérite ce grand Ouvrage, qu'il sera suspendu à la Vente publique, jusqu'à ce que des circonstances favorables se présentent. » ;
Très probablement collection Pierre De la Mésangère après 1816 ;
Probablement obtenu de ce dernier par la famille d'Orléans ;
Dépôt de la famille d'Orléans au Musée du Louvre avant 1847 (voir lettre du directeur Alphonse de Cailloux, dit Cailleux, partie du lot n°155) ;
Restitué à la famille d'Orléans entre 1850 et 1852 (voir Compte de la liquidation de la liste civile et du domaine privé du roi Louis-Philippe, rendu par M. Vavin, liquidateur général, le 30 décembre 1851, Paris, Noblet, 1852).
Note: "Je vois aussi avec plaisir le gouverneur M. le chevalier de Mornay. Ce bon et respectable vieillard a quatre-vingt-quatre ans; il ne quitte plus guère son appartement que pour se promener au soleil, sur les pelouses. Attaché depuis son enfance à la maison d'Orléans, il a été page de M. le régent, sous Louis XIV; il a connu le grand roi, la cour. Il raconte les anecdotes les plus curieuses sur tout ce monde; seulement il les raconte avec le patois et le cynisme de la régence, et une honnête femme en devrait rougir, si elle les écoutait autrement que devant son mari. Ce jour-là, nous le trouvâmes assis dans sa chaise à porteurs, au-dessus de la cascade, les glaces ouvertes et humant l'air."
Ainsi se souvenait la baronne d'Oberkirch du gouverneur du château de Saint-Cloud, Monsieur de Mornay[1]. Sa description ne fait presque que légender ce surprenant dessin de Carmontelle. En effet, n'imaginons-nous pas déjà un vieil homme espiègle et entièrement intégré dans cette famille orléanaise qu'il sert depuis presqu'un siècle, par ce dessin? Les pieds sur la gaine de la cheminée, la tête posée sur l'accotoir du fauteuil Louis XV, blotti dans une blouse pour protéger le costume de livrée du château de Saint-Cloud, le chevalier de Mornay devient sous les crayons de Carmontelle une personnification vivante du quotidien de cette famille de l'aristocratie.
[1] Henriette Louise van Waldner Oberkirch, Mémoire sur la cour de Louis XVI et la société française, Bruxelles, 1854, vol. I, p. 96
Carmontelle ; Monsieur de Mornay, Saint-Cloud Governor ; Red and black chalk, watercolour and gouache, heightened with white ; Under the current mount, the drawing is laid down on an old mount, partly cut. Bears inscription in pen and brown ink, with the name of the sitter and additional comments, on the backing and also at the bottom but by another hand. Partly attached to a page from the Orléans album, now dismantled, which bears a pen and brown ink inscription with the name of the sitter
« I am also happy to see the governor M. le chevalier de Mornay. This good and respectable old man is eighty-four years old ; he only leaves his apartment to walk in the sun, on the lawns. Attached to the House of Orléans since his childhood, he was the page to M. le régent, under Louis XIV; he knew both the great king and the court. He recalls the most curious anecdotes in the patois and with the cynicism of the regency, and an honest woman should blush, if she listened to them without her husband present. That day, we found him sitting in his litter, above the waterfall, the windows open and smelling the air. »
This was how the baronne d'Oberkich recalled Monsieur de Mornay, the governor of the château de Saint-Cloud (Henriette Louise van Waldner Oberkirch, Mémoire sur la cour de Louis XVI et la société française, Bruxelles, 1854, vol. I, p. 96). His words almost perfectly describe this surprising drawing by Carmontelle. Indeed, would this drawing not lead us to imagine a roguish old man completely at home with the Orléans family, whom he has served for almost a century? With his feet on the fireplace, his head resting on the arms of the Louis XV chair, huddled up in a coat to protect the livery of the château de Saint-Cloud, the chevalier de Mornay becomes, thanks to Carmontelle, the living personification of the daily life of this aristocratic family.
Sotheby's. Une Collection pour l'Histoire Importants tableaux, dessins, meubles et souvenirs historiques appartenant à la Famille de France. Paris, 29 sept. 2015, 07:00 PM