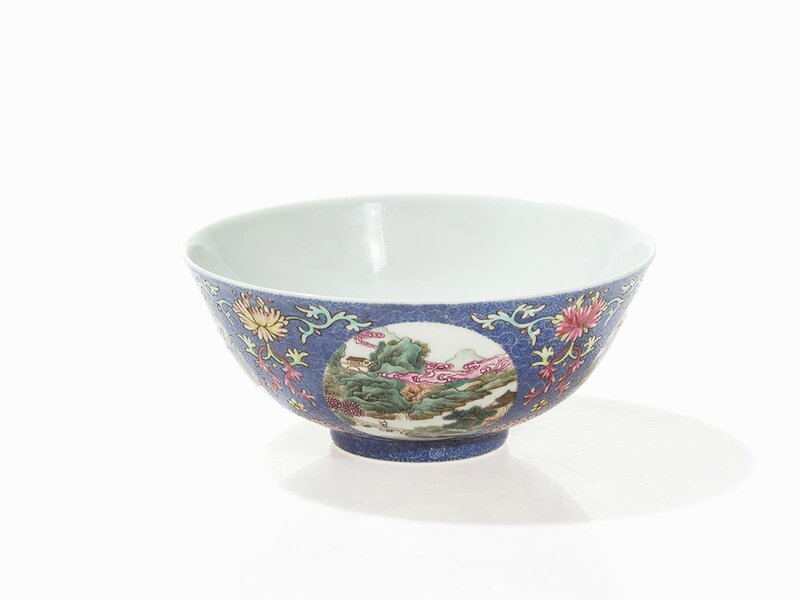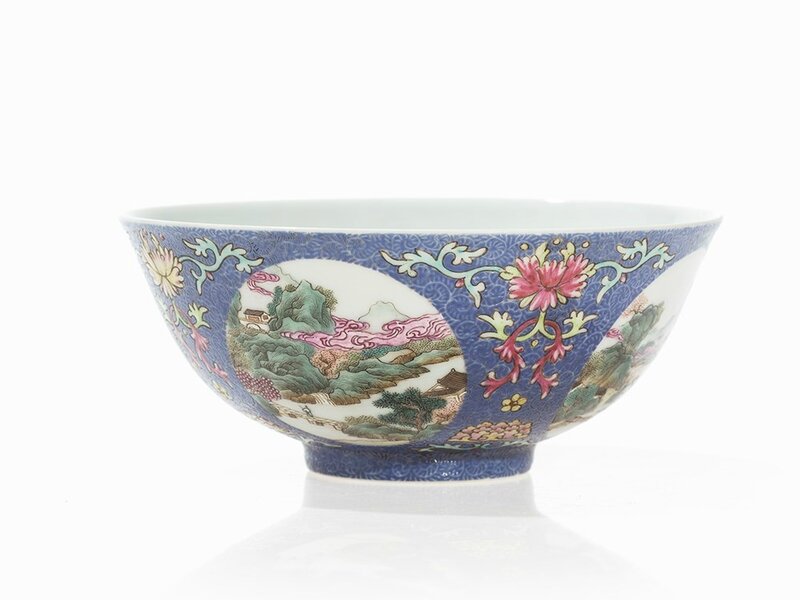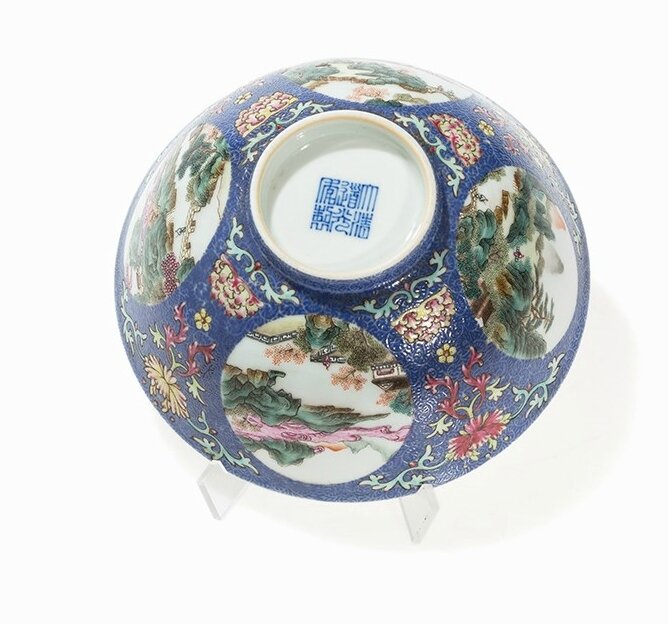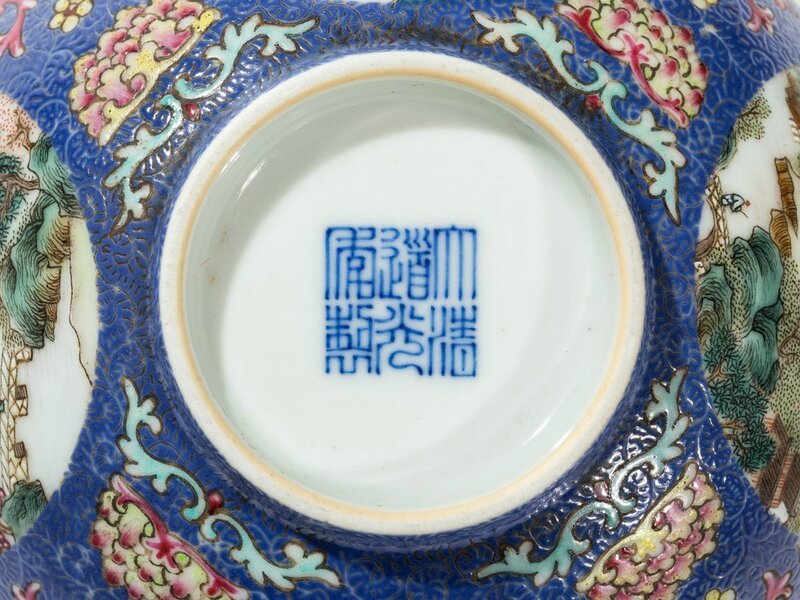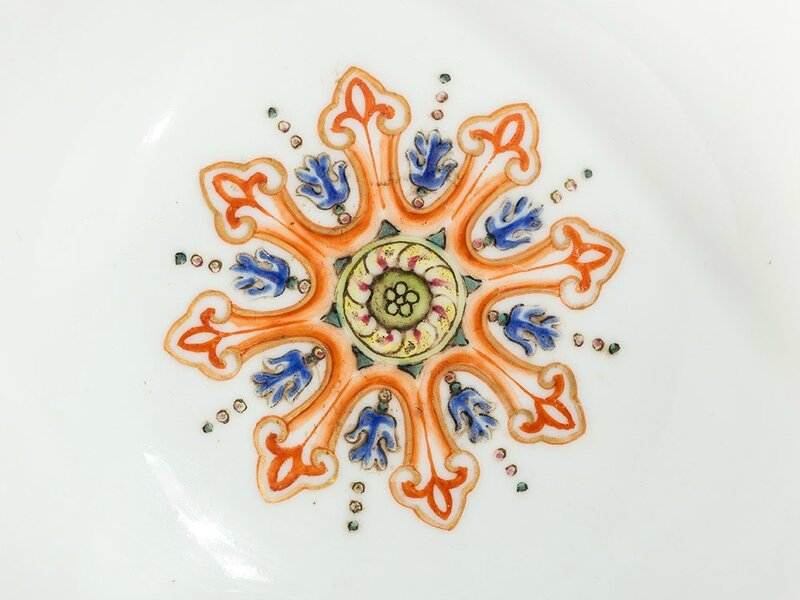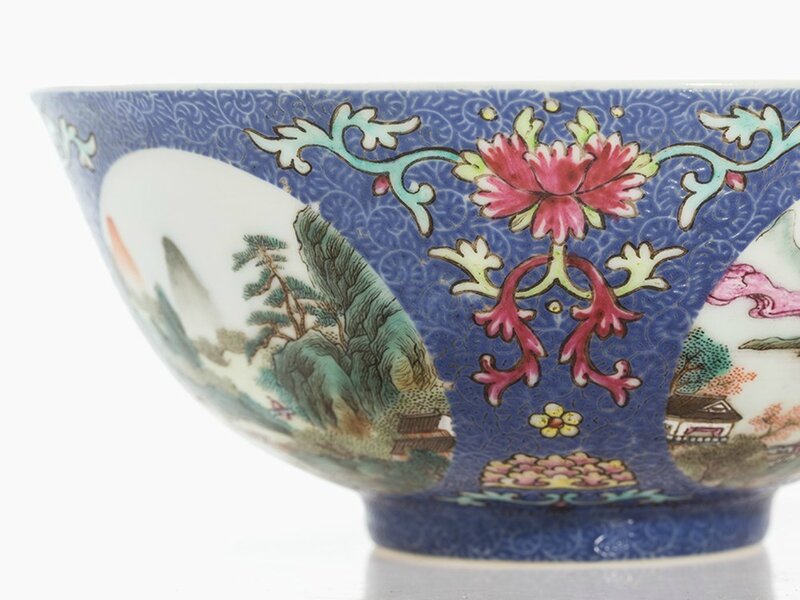 Famille Rose Blue-Ground Medallion Bowl, Daoguang Mark and Period (1862-1873). Starting price € 7,500.00. Photo Aucitonata
Porcelain with polychrome painting in the colors of the Famille Rose. Elegant medallion bowl on a narrow base rim. In the center a floral ornaments. The outer wall with lush floral tendrils on a lavender-blue ground, decorated in sgraffito technique. Four medallions with an idyllic landscape with figures and pavilions. Base with the six-character Daoguang mark.
The bowl is in good condition with only slight signs of age and wear. The height is 6.5 cm and the diameter measures 15 cm.
A similar piece can be found in The Complete Collection of Treasures of the Palace Museum: Porcelains with Cloisonné Enamel Decoration and Famille Rose Decoration, Hong Kong 1999, no.215 and in the Weishaupt Collection, illustrated by Gunhild Avitabile, Vom Schatz der Drachen, London 1987, p.43, no.40.
Literature: Cf. J.J. Marquet de Vasselot und M.J. Ballot, Chinese Ceramics, Kang Hs'i period to our Days, Paris 1922, p. 49 and Rose Kerr, Chinese Ceramics: Porcelain of the Qing Dynasty, England 2000, no. 107.
Famille Rose 粉彩
The term Famille Rose describes a specific sort of Chinese porcelain from the 17th and 18th centuries. The name comes from the dominant pink and carmine color painting that is applied over the glaze. This type of porcelain is in China known as Yangcai 洋彩 'foreign color'. The painting of the Famille Rose used opaque enamel colors in contrast to the transparent colors of the Famille Verte.
Auctionata. Asian Treasures. Monday, Aug 24, 2015, 8 am EDT