A Gathering of Literati, handscroll, ink and colours on silk, attributed to Qiu Ying (1494? – 1552), but an exquisite 18th century copy. Intended Gift of Robin Bassett.
VICTORIA, BC.- Traditional Chinese culture treasures all things related to the scholar's studio, where most of the nation's art and literature were created. The Art Gallery of Greater Victoria invites you to appreciate the scholar's studio for yourself during the exhibition Treasures of the Chinese Scholar's Studio, running August 14 to November 15, 2015.

"Chinese scholars were the educated and privileged elite—officials, academics, poets, calligraphers, painters and connoisseurs," says AGGV's Asian Arts curator Barry Till. "They were highly esteemed, and their tastes and artwork had tremendous influence on their country's culture."

The AGGV's stunning collection of 200 treasures gives Gallery visitors a glimpse into the life of a Chinese scholar. The exhibition includes pieces from the Shang dynasty (16 to 11 century BCE), to the later Ming dynasty (17 century ADE) and Qing dynasty (early 19 century ADE) and includes many recently donated pieces, which have never been previously exhibited. The artifacts include the scholar's studio materials, their antiques and their works of art.

"A Chinese scholar's studio would have been strewn with brushes, inkstones, paper, seals, paper weights, teapots, wine cups, incense burners and antiques," says Till, who curated the exhibition. "The most important were known as the four treasures, and they were the essentials, brush, ink, inkstone, and paper."

The exhibition includes 20 important ancient inkstones recently donated to the AGGV. Inkstones are the stones used for the grinding and containment of ink, and because the stone affects the texture of the ink, for serious calligraphers and painters, a good inkstone is as important as good ink.

In conjunction with the exhibition, Dr. Jordan Paper will present a lecture that highlights the relevance of sealstones, inkstones and rocks as they pertain to Daoist aesthetics upheld by Chinese scholars. The Rocks, Stones and Seals: An Excursion into Daoist Aesthetics lecture is September 9 at 2:00 p.m. Barry Till will lead a Curator's Tour on Wednesday September 30 from 2: 00 to 3:00 p.m. and both events are included with Gallery admission or membership.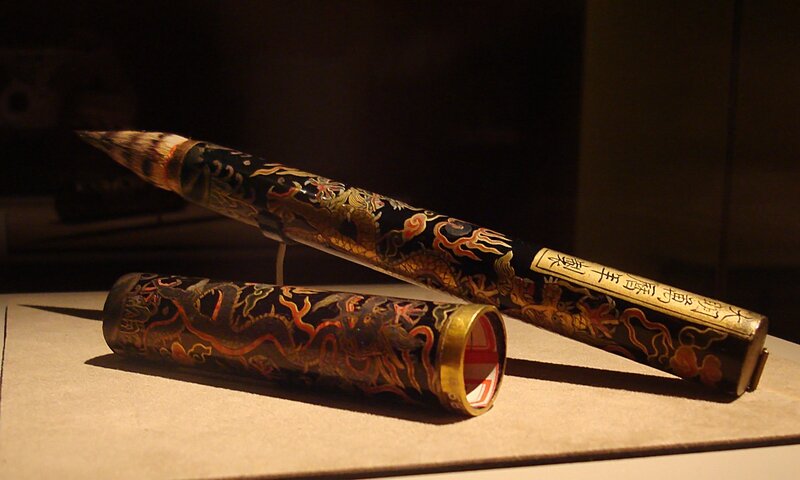 A highly decorative badger hair brush dating to the Ming Dynasty. -- often made from rabbit fur (most common), human baby hair, or even mouse whiskers -- could be so thick as to require two hands to use or so fine as to come down to a point consisting of one bristle.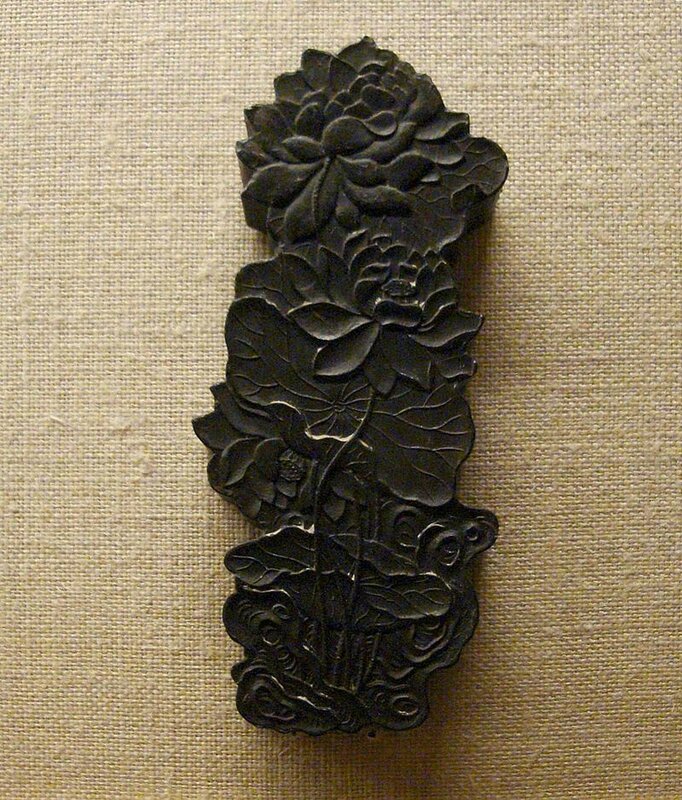 An inkstick made in the form of lotus leaves and flowers. While ink seems to be a fairly mundane item to consider a treasure, it was nonetheless quite significant to the Chinese scholar (or else how would the artwork be created?). Made from a simple mixture of pine soot and glue, inkstones could be quite beautiful in their own right.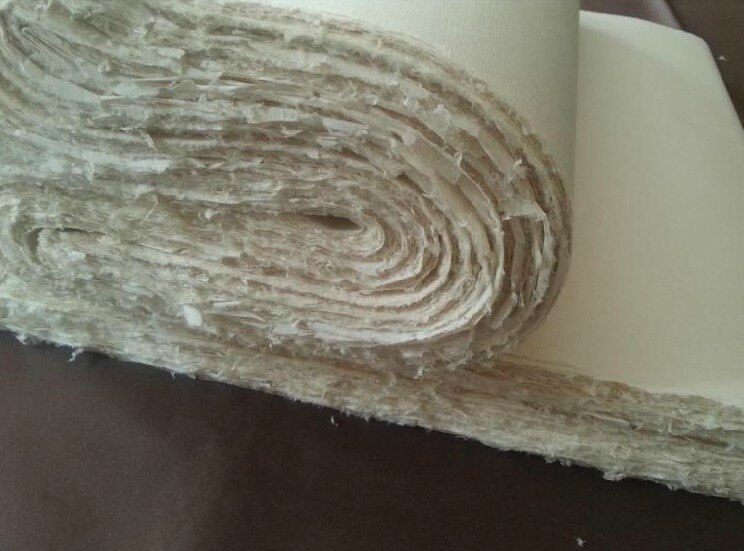 Another of the treasures was the scholar's paper. Simple, yet beautifully elegant. The scholar's paper was often fashioned from rice husks (more expensive) or mulberry bark (more affordable).
A Duan Inkstone in the shape of a pond. The inkstone could be extrememly intricate works of art. The stones were used to grind the ink stick into powder, which was then mixed with water in a well in the inkstone to produce usable ink. Inkstone production reached its zenith in the Tang and Song dynasties.