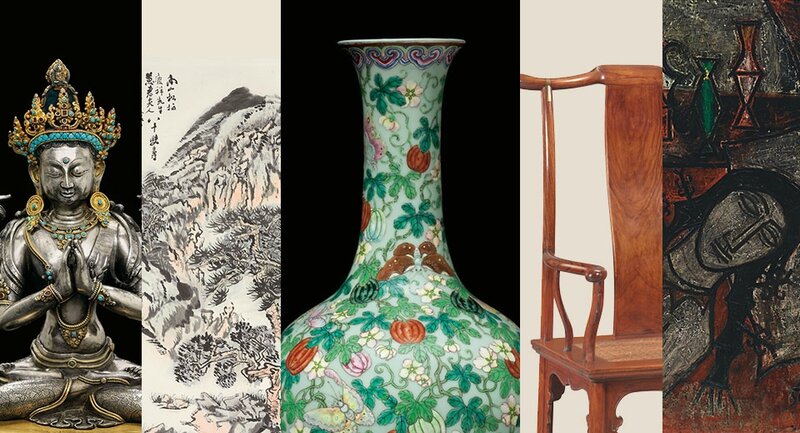 Photo: Christie's Images Ltd 2015.
NEW YORK, NY.- Christie's announced the sales of Asian Art Week for Fall 2015, a series of nine sales, starting from 15 September to 18 September. The week will present over a thousand lots of exceptional quality and rarity that span centuries of Asian Art featuring important works from the Sporer Collection, the Lai Family Collection, the Sowell Collection, and the Ruth and Carl Barron Collection, as well as fine Chinese display stands from a distinguished private American collection. The comprehensive selection includes Chinese and Himalayan paintings and sculptures, Song dynasty ceramics, South Asian modern and contemporary art, classical Chinese furniture, snuff bottles, export porcelain figures, Chinese display stands, cloisonné enamel, archaic bronzes and more.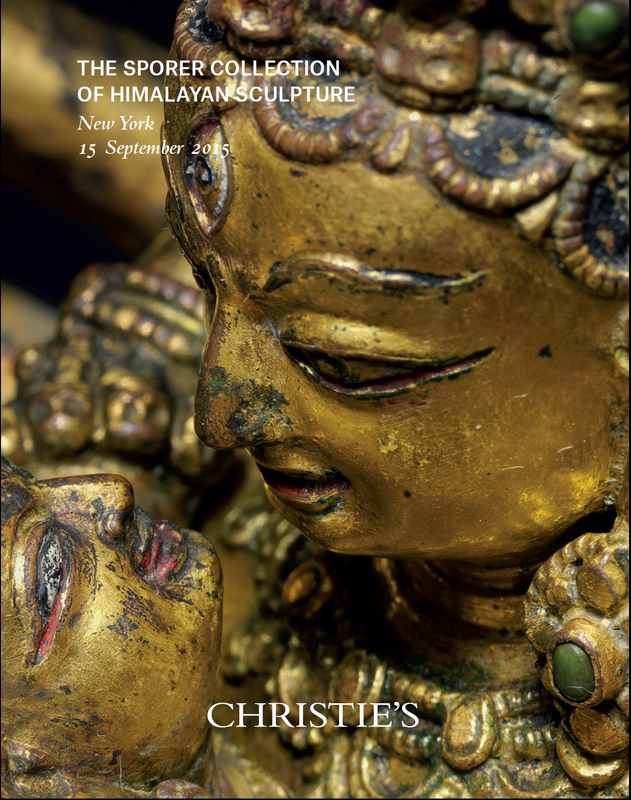 The Sporer Collection of Himalayan Sculpture
15 September
This season, the highly esteemed Sporer Collection of Himalayan bronzes comes to auction. Assembled between the early 1960s to the mid-1980s by Drs. Andrew and Edita Sporer, the collection is comprised of 61 exceptional sculptures spanning the 12th–19th centuries, most of which are rediscoveries and never sold at auction. Highlights include a rare 12th/13th century Nepalese gilt bronze figure of Umamaheshvara and a large Tibetan gilt bronze figure of Vajrabhairava from the 16th century.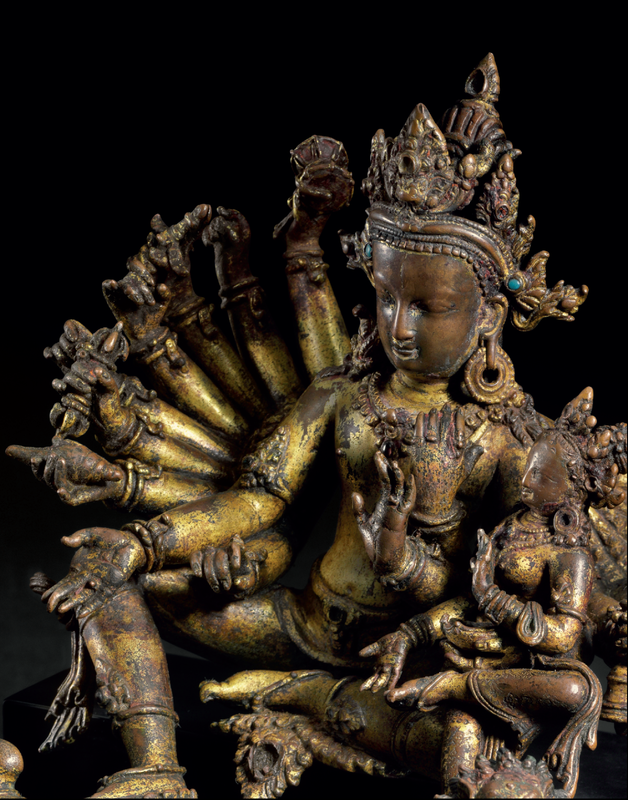 A rare and important gilt bronze figure of Shiva Vinadhara and Parvati, Nepal, 12th-13th century. Estimate: $600,000 – $800,000. Photo: Christie's Images Ltd 2015.
The eighteen-armed Shiva seated in lalitasana with Parvati on his bent knee, his primary hands in the vina-playing gesture and the rest radiating about him, both adorned with foliate jewelry and crowns and wearing dhotis, hers incised with a foliate pattern, he further embellished with coiled snakes around his wrists, chignon, and dangling from his right earlobe, with the life-like bull and lion reclining in front, heavily cast with gilding remaining overall, 7 ¼ in. (18.5 cm.) high (the male figure)
Provenance: The Sporer Collection, New Jersey, acquired from J.J. Klejman, New York, 22 September 1970
Literature: Himalayan Art Resource (himalayanart.org), item no. 24017
Notes: As Vinadhara (the player of the vina), Shiva is the teacher of yoga, music, and all the arts and sciences. He expounds on the timeless principles of vocal and instrumental music, which is known to lead to liberation (moksha) without strain. In Indian philosophy, music is comparable to yogic practice in that both involve the control of breath, mental absorption, and the ultimate release from all obsessions of the mind.
In contrast to neighboring Tibet, which is and was completely devoted to the Buddhist faith, the population of Nepal was split amongst adherents of Hinduism and Buddhism - and in many cases a fair amount of mixing of the two. While images in bronze of Umamaheshvara from this period in Nepal are fairly common, the image of Shiva as Vinadhara with Parvati are very rare; compare with a smaller example from the 15th century from the collection of Mr. and Mrs. Eric D. Morse (dated to the 17th century in P.Pal, Nepal: Where the Gods are Young, 1975, pp.91 and 127, fig.60 and U.von Schroeder, Indo-Tibetan Bronzes, 1981, p.360, fig.96C). Both show the couple in the same pose and each with the same gestures. The present example is superbly executed with graceful modeling of all the figures – animals included – each idealized, as befitting their celestial status. Careful attention has been paid to every detail, such as the snakes that adorn Shiva, the naturalistic draping of Parvati's dhoti and sashes, and the lifelike physiognomy of the bull and lion. This level of refinement combined with the large size, exquisite beauty, and state of preservation of all four figures makes this a very rare and important work surviving from early Nepal.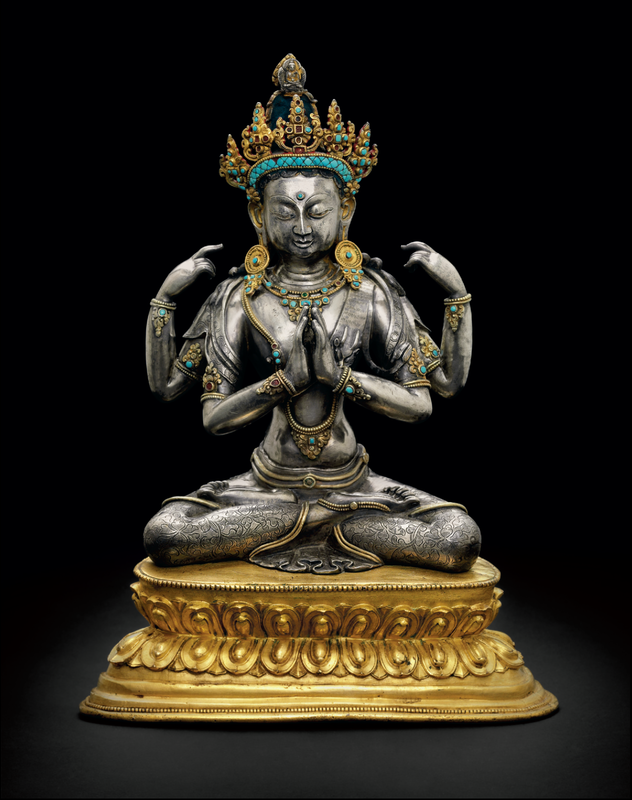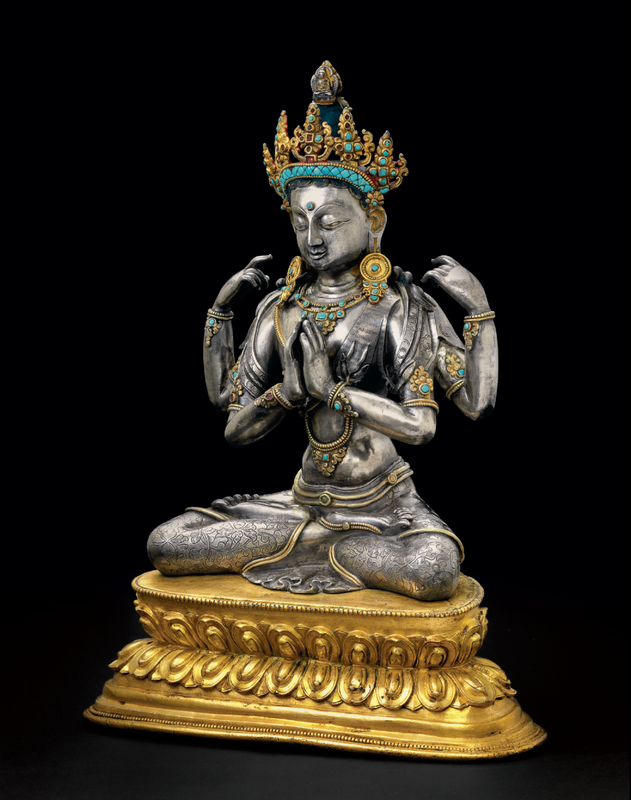 A parcel-gilt silver figure of Shadakshari Avalokiteshvara, Tibet, 16th century. Estimate: $600,000 – $800,000. Photo: Christie's Images Ltd 2015.
The four-armed bodhisattva seated in dhyanasana on a double-lotus base, his primary hands folded in anjalimudrain front of his heart, clad in a dhoti incised with a foliate pattern and a shawl incised with a cloud pattern, an antelope skin hanging over his left shoulder, adorned with multiple beaded necklaces, bracelets, earrings and tiara inlaid with hardstones, the hair piled into a high chignon centered with Amitabha, the base sealed and incised with a double-vajra, 13 5/8 in. (34.6 cm.) high
Provenance: The Sporer Collection, New Jersey, acquired in London, 20 June 1972
Literature: E. Olson, "Tantric Buddhist Art," Orientations, May 1974, p.50, fig.3
E. Olson, Tantric Buddhist Art, 1974, pp.25, 53, cat. no.12
Himalayan Art Resource (himalayanart.org), item no. 24028
Exhibited: Tantric Buddhist Art, China House Gallery, China Institute of America, New York, 14 March 1974 – 24 May 1974
Notes: Shadakshari Avalokiteshvara, the four-armed form of the bodhisattva of supreme compassion, is believed to be the embodiment of the Buddhist mantra om mani padme hum, ("hail to the jewel in the lotus"). These six syllables represent the six realms of existence: Om is white and stands for the god realm, ma is green and stands for the demigod or Asura realm, ni is yellow and stands for the human realm, pad is blue and stands for the animal realms,me is red and stands for hungry ghost realm, hum is black and stands for the hell realm. Shadakshari ushers all beings from the six realms into enlightenment.

Of particular note is the smooth contours of the body overall, including the broad shoulders and chest, which appears as if filled with prana, or sacred breath, as the deity sits in meditation. This is a superb example of the opulent silver metal tradition practiced in Central Tibet during the 16th century. Their inspiration came from northeastern India, where Newar craftsmen practiced and propagated the use of various metals and materials in Buddhist images drawn from Pala prototypes; for further discussion, see "Tibet: 'Non-Gilt Schools'" in U. von Schroeder, Indo-Tibetan Bronzes,1981, pp.461-467. For an example of Indian Pala confluence with Newar craftsmanship on early Chinese sculpture during Mongol rule, see a late 13th/early 14th century example in J. Huntington and D. Bangdel, Circle of Bliss, 2003, p.182, cat. no.45.

The present example relates closely to that of a 17th century White Tara from the John D. Rockefeller 3rd Collection (now at Asia Society, New York); see M. Rhie and R. Thurman, Wisdom and Compassion: The Sacred Art of Tibet, 1991, p.134, fig.26. Both faces are characterized by sharp noses with rounded and incised nostrils, and proud eyebrow ridges. The bodies are similarly modeled, with elongated limbs and simple, fleshy necks and waists. The hair on each figure is rendered with the thick strands and curls at the hairline clearly delineated, in addition to the thick locks flowing over the shoulders. The jewelry is similarly beaded and placed low on the upper arms, wrists and ankles, and the pendants on the long necklaces are nestled into the flesh around the belly button. The scarves and dhotis are both thickly cast and embossed. Aside from iconography, the other major difference is size: the silver figure of the present example is nearly 10 cm. larger than the Tara and also retains its gilt base, making for an extremely impressive figure and suggesting an important commission.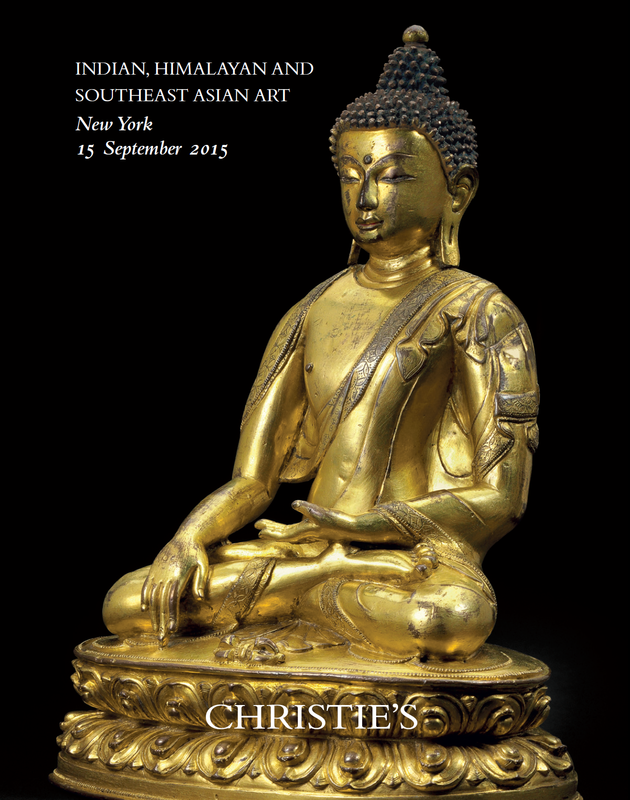 Photo: Christie's Images Ltd 2015.
Indian, Himalayan and Southeast Asian Art
15 September
This sale features an array of fine Indian stone and bronze sculptures, Himalayan bronzes and an important collection of Tibetan thangkas ranging from the 16th century onward. Highlights include two Chola period bronze figures of Devi, a large and important sandstone figure of the Buddha dating to the Kushan period, a 15thcentury gilt bronze Densatil-style figure of Buddha from Tibet and a large and extremely fine 19th century Tibetan painting of a Karmapa. The auction will also feature a selection of 28 Himalayan paintings and works of art from the Rubin Museum of Art, sold to benefit the acquisitions Fund, with estimates ranging from $2,000 to $35,000.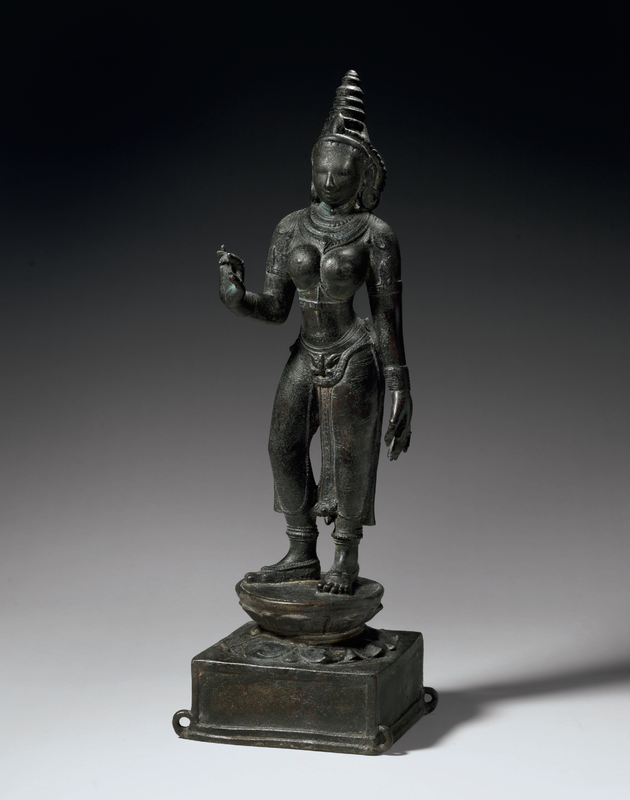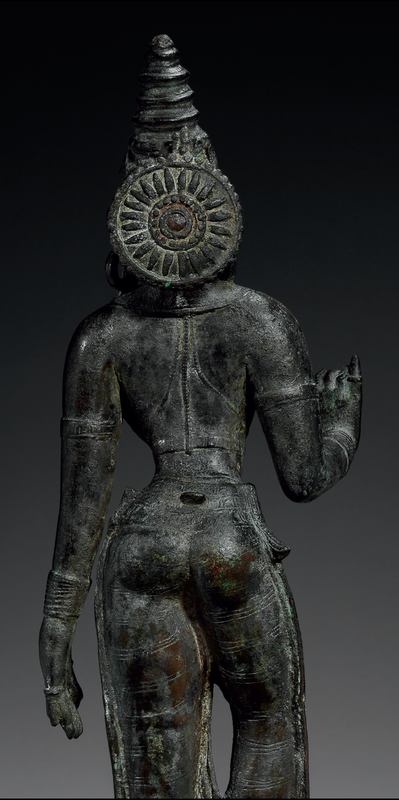 An important bronze figure of Parvati, South India, Chola period, 12th century. Estimate: $300,000 – $400,000. Photo: Christie's Images Ltd 2015.
Standing in slight tribhanga on a lotus over a base with her right hand raised in katakamudra, wearing a dhoti with the end swinging between her legs, a broad belt centered by a kirttimukha mask, adorned with the sacred thread, multiple necklaces and armlets, her face with a graceful expression and her hair in a tiered conical karandamukutabacked by a sunburst halo, with a rich deep brown patina overall, 25 ½ in. (64.8 cm) high
Provenance: Collection of Dr. J.R. Belmont, Basel, Switzerland
Collection of Samuel Eilenberg, New York, by repute
Collection of Alice Boney, New York, acquired from above by repute
Sotheby's London, 27 February 1967, lot 125
Sotheby's New York, 2 June 1992, lot 86
Notes: During the Chola rule in South India from the 9th to the 13th century, bronze sculpture excelled under royal patronage. Figures of Parvati from this period are particularly sensuous and commanding, functioning as a medium through which one can engage in darshan, the mutually empowering exchange of gazes between humans and the divine that only occurred during the public processions of Brahmanical ritual practice. Bronze sculptures would be bathed and elaborately adorned before being carried into the procession, and while they would be dressed to cover all but their faces, they would be cast with utmost attention to detail and naturalistic forms. The figures display an idealized naturalism that is at once blissful and restrained, giving boldness and elegance to the female form.

This Parvati is reminiscent of the example in the British Royal Collection (V. Dehejia, et al., Chola: Sacred Bronzes of Southern India, 2006, p.24, fig.14) for its proportions, with sloping shoulders and a small waist beneath the breasts that boldly curves into the hips. Both figures have a gentle smile which, in the present example, augments the otherworldly beauty that emanates from the rich, polished patina created from the passage of time. The jewelry and stylized tiered karandamukuta are similar to that of the Uma in the Somaskanda group from the Worcester Art Museum (V. Dehejia, The Sensuous and the Sacred: Chola Bronzes from South India, 2002, p.123, fig.12). The present Parvati, who likely would have accompanied a figure of Shiva in procession, exudes elegance through her robust curves and sensuous surface.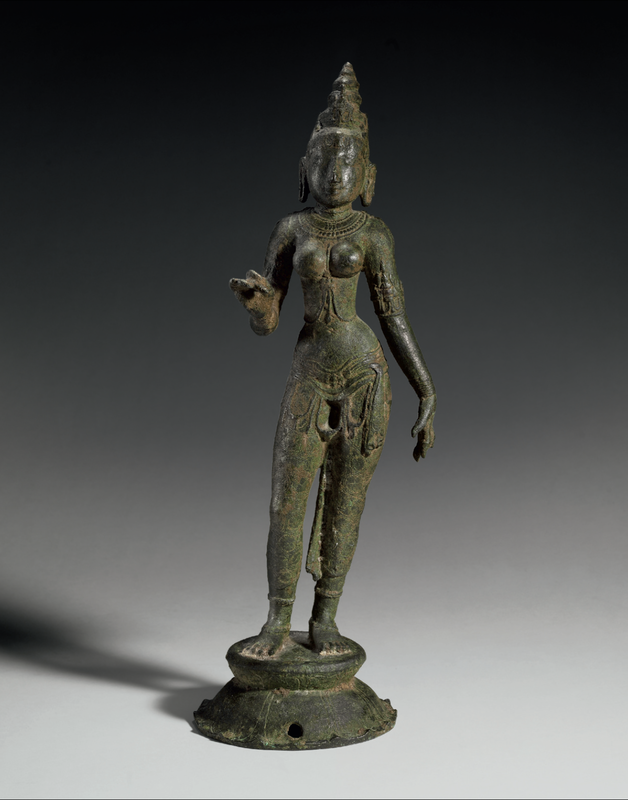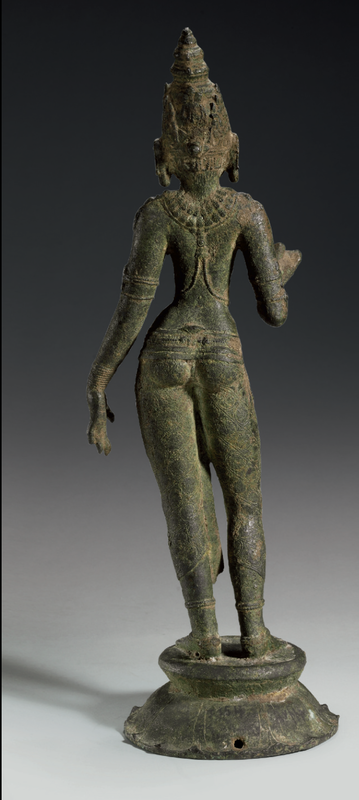 A bronze figure of Parvati, South India, Chola period, 12th century. Estimate: $200,000 – $300,000. Photo: Christie's Images Ltd 2015.
Delicately cast in tribhanga over a circular lotus base, her right hand raised and her left extended along her hip, clad in a long dhoti with incised circular pattern and tied at her waist with a sash, her upper torso adorned with beaded necklaces and a harness, her arms with armlets and bracelets, her face with gentle countenance flanked by elongated earlobes and surmounted by a high conical headdress, with a rich green patina overall, 20 1/8 in. (51 cm.) high
Provenance: Collection of C.T Loo, Paris, acquired by 1938
Collection of Dr. W.M. Houwing, Amsterdam, acquired by 1940
By descent to present owner
Literature: K. Van Lier, Sculptures Indiennes de la collection C.T. Loo à Paris, 1938, cat. no.5.
Anonymous, 'Bulletin van de Vereeniging van vrienden der Aziatische Kunst': Maandblad voor de beeldende kunsten, 1940, Vol.17, pp.63-64, fig.A
H.F.E Visser, Asiatic Art in Private Collections in Holland and Belgium, Amsterdam, 1948, p.193, fig.331
Anonymous, Kunstbezit van oud-alumni der Leidse Universiteit, 1950, p.62, fig.230
Exhibited: culptures Indiennes De La Collection C.T. Loo À Paris, Kunsthandel C.van Lier, Amsterdam, 3 September - 1 October 1938
Wat onze verzamelaars onlangs hebben verworven, Museum for Asiatic Art, Stedelijk Museum, Amsterdam, February 1940
Kunstbezit van oud-alumni der Leidse Universiteit, Stedelijk Museum de Lakenhal, Leiden, June 1950
Notes: The expert craftsmen of the Chola period produced figures of the goddess Parvati that are among the most sensuous images in the corpus of Indian art. With a curvaceous figure and wearing the ornaments of a queen, the goddess is the embodiment of the ideals of Indian beauty. In Tamil poetry of the bhakti saints, Parvati's exquisite beauty is espoused through metaphors of the beauties found in nature: her thighs are tapered like the plantain tree, her waist is slender like a creeper, her breasts as if golden vessels filled with the nectar of the gods, and her elegant gait expressed through the tribhanga evocative of a peacock.

Unusual and especially beautiful details in the present work include the goddess' long dhoti with its pattern of circular motifs. Similar patterns seen in earlier works, for example that of the Uma in the Cleveland Museum of Art, in which the dhoti of the Uma dated circa 950 is decorated with bands of circles, perhaps stylized lotuses in cross-section, alternating with bands of undulating vine motifs (see V. Dehejia, The Sensuous and the Sacred: Chola Bronzes from South India, 2002, p.123, fig.12). A figure of Sita from the Linden-Museum in Stuttgart dated to circa 980, shares the bands of circles in her dhoti, this time alternating with bands of triangular motifs, as well as similar treatment of the jewelry, notably the elaborate necklace and jeweled harness (see ibid., 2002, p.191, fig.47). With both the present work and the Linden Sita, the artist has emphasized the attenuation of the waist which gives way to rounded hips and lithe legs. Combined with elongated graceful arms and pert breasts, the goddess is the embodiment of youthful femininity.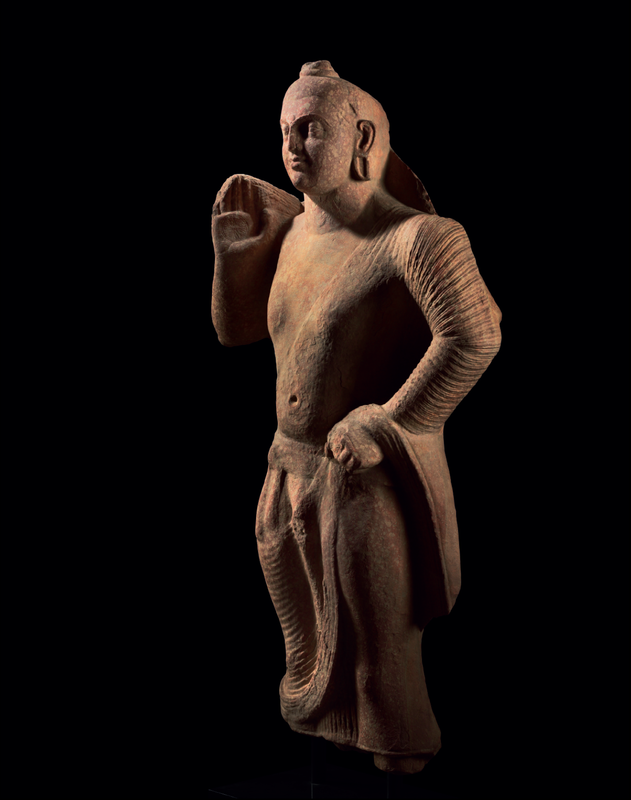 An important and rare mottled sandstone figure of Buddha, India, Uttar Pradesh, Mathura, Kushan period, late 1st-early 2nd century. Estimate Upon Request. Photo: Christie's Images Ltd 2015.
Exquisitely and sensitively carved with one hand raised in abhayamudra and the other held at his waist, dressed in a thin sanghati that reveals the impressive modeling of the torso and thighs, and also falls in fine pleats off the arm and in-between the legs, the face beautifully carved with large, rounded eyes and full lips, topped by a simple ushnisha, the remains of a halo with scalloped edge visible, 54 in. (137.2 cm.) high
Provenance: La Reine Margot, Paris, 17 July 1965, reported as being acquired from an Asian royal family
Private collection, Paris, acquired in 1981
Notes: This highly important and superbly well-preserved figure of a standing Buddha adds significantly to the limited corpus of Kushan era sculptures known as the kaparda group. Numbering nine in total, with three dated by inscription, thekaparda Buddhas were produced only during the reign of the great Kushan king, Kanishka (r. 78 – 101 AD). Rendered with an exquisite balance of naturalism, majesty, approachability, and sense of divine authority, the standingkaparda Buddhas are unified as a group by their cohesive style and iconography. Each is depicted standing in a fully frontal posture with the weight distributed equally across both legs; arms are positioned such that the left hand rests at the hip supporting a fold of heavy drapery, and the right is bent at the elbow with the hand in the open-palmed gesture of abhayamudra; the regal face is surmounted by a smooth curve representing the crown of the Buddha's shaven head, and a shell-shaped topknot to which the group owes its name, "kaparda." Like other Kushan sculpture, these figures are made from a red colored local sandstone, known as Sikri sandstone after a prominent quarry. While the sculptures were likely painted for their original usage, the sculptors seem to have paid careful attention to the qualities of the block with which they worked. For example, in this figure the artist has skillfully reserved the portion of stone that has large buff-colored sections for the verso, which was likely not readily visible. By the second quarter of the second century AD, after the conclusion of Kanishka's reign, the kaparda-style arrangement of hair would disappear completely, replaced in subsequent eras by the rows of matted locks that appear in various styles throughout the rest of the history of Indian art.

The kaparda Buddhas are among the greatest works representing the flourishing of stone sculpture that took place during the Kushan era (ca. 1st – 3rd centuries AD), when the ruling dynasty sponsored the production of statues that merged royal portraiture with Buddhist iconography. Rather than the highly stylized proportions of yaksha and yakshifigures that were favored in the preceding Shunga era, Kushan sculpture cultivated an idealized naturalism that would continue to reverberate in Indian art, particularly evident during the Gupta era. Unlike Gupta sculpture, however, Kushan Buddhas of Kanishka's period have a remarkable sense of presence that hovers between the earthly and the transcendent. Impressive in both scale and technical prowess, the kaparda Buddhas represent a pivotal moment within the early history of Indian art.

The present example is monumental in size and extremely finely carved. His face is compassionate and attentive, aware of his own majestic presence. Compare with a seated figure in the Mathura Museum (J.Kumar, Masterpieces of Mathura Museum, 1989, pp.50-51, pl.19); both faces are naturalistically observed, with heavily lidded eyes balanced by raised cheekbones that subtly express a pleasant countenance; long, pendulous earlobes extending from the eyebrows to the curve of the chin, and a beautifully fleshy neck that effectively transitions into the figure's broad shoulders. The present Buddha has an urna which rests in the smooth dip between his expressive eyebrows, the continuous curve of which mimics his slightly undulating hairline above. This consecutive element is absent in most of the other kapardafigures, giving this Buddha a particularly harmonious expression.

While the overall positioning of the body is congruent throughout the kaparda group, the present example exhibits a greater degree of naturalism. For example, compare the drapery with a standing figure in the Sarnath Museum (J.G.Williams, The Art of Gupta India, fig.6). The fine pleats in the sleeve are carved to protrude from the surface, instead of being incised into the arm, convincingly maintaining the volume and modeling of the body and garment. The naturalistic modeling of the body continues across a muscular chest and slight protrusion of the belly over the belted waist before sloping into gently rounded hips. The contours of the body are all beautifully revealed by the expertly carved drapery, which transitions from being smoothly pulled over the figure's firm skin to fine pleats in areas of negative space, augmenting the figure's exemplary physique.

The artist has ingeniously imbued movement into this figure through the repeated diagonals in his composition. Notice how the Buddha's body is exposed by the thin fabric that drapes diagonally across his chest, the line of which continues into the belt tied at his right hip, the loose ends exaggerating the graceful curve of the upper leg. This oblique movement is echoed in his forearms and in the sash that falls from his wrist and across his thighs, creating dynamism juxtaposed against the figure's quiet repose. A portion of the background survives between the raised arm and torso, which indicates there was once a scalloped nimbus present behind the figure; see J.P.Vogel, Catalogue of the Archaeological Museum at Mathura, 1910, pl. IIIC.

This sculpture is among the finest and most complete of the kaparda Buddhas. A paramount example of an extremely rare type that was produced only for a very limited time in the royally sponsored atelier of the Kushan court, the standing Buddha is a masterpiece among masterpieces.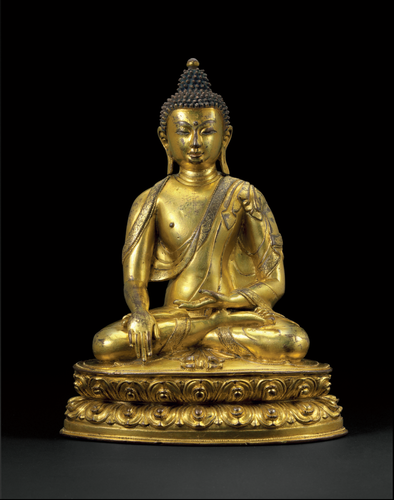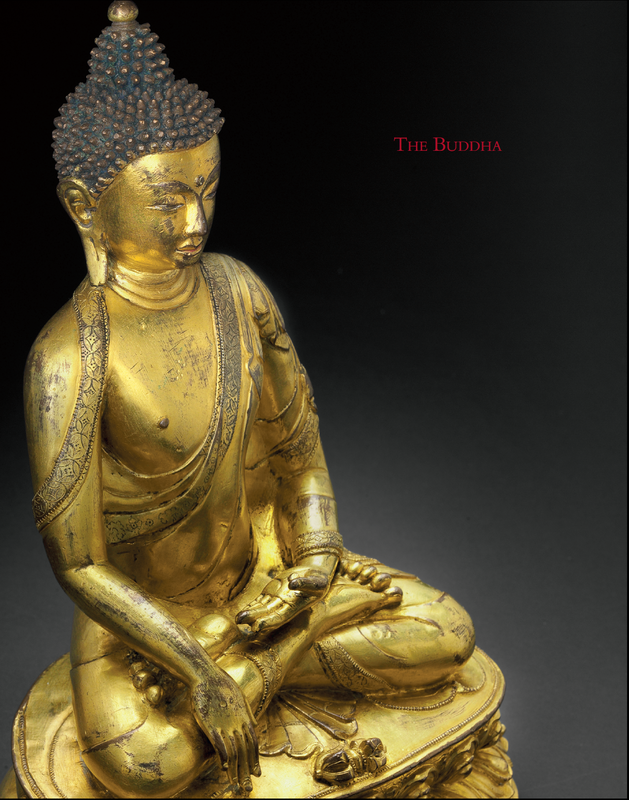 An important gilt bronze figure of Buddha, Tibet, 15th century. Estimate: $180,000 – $250,000. Photo: Christie's Images Ltd 2015.
Seated in dhyanasana on a double-lotus base with a vajra before him, his right hand lowered in bhumisparshamudraand his left hand in varadamudra, wearing a flowing sanghati with the borders incised on the outside and stippled on the inside, his face with heavy-lidded eyes and a benevolent expression flanked by long pendulous lobes, richly gilt overall, 11 1/3 in. (28.8 cm.) high
Provenance: Private collection, London, acquired by 2007
Literature: Himalayan Art Resource (himalayanart.org), item no. 23955
Notes: Stylistically the present figure may be related to sculpture from the Densatil monastery, an elaborate temple complex founded in the 12th century along the Northern banks of the Tsangpo River in Tibet. The majority of the monastery's buildings were destroyed during the cultural revolution of the 1960's and 70's and only a small percentage of the original sculpture was salvaged. The majority of these rescued works are from the 14th century, a time when Tibetan patronage of Newari artists was at its peak, with artists working on Buddhist projects as far afield as the Imperial court of China. The commissioning of sculpture for the Densatil complex, including the various stupas, shrines, chapels and branch monasteries surrounding the area, continued for close to three hundred years, ending around 1500.

The present work bears considerable resemblance to sculptures of the Buddha at Densatil which, based on some of the earliest photos taken of the monastery while it was still intact, comprise the third tier of a tashi gomang stupa (see: O. Czaja and A. Proser, Golden Visions of Densatil: A Tibetan Buddhist Monastery, 2014, pp.38-39, fig.16, cat. no. 16 and p.46, fig.21). In particular, compare with the seated Buddha on the upper right of fig.21. Both works have distinctively rounded faces with refined features, including small bow-shaped mouths and heavy-lidded eyes. Another early image of Densatil shows a sculpture of Buddha with the same distinctive drapery of the robe. Here the robe turns back on itself at the border as it drapes under his proper right arm and back up over his shoulders, providing additional coverage (ibid., pp.80-81, fig.32). Another example of this particular treatment of the robe can be seen in a 15th century bronze figure of Sakyamuni Buddha from the Berti Aschmann Collection (H. Uhlig, On the Path to Enlighenment: The Berti Aschmann Foundation of Tibetan Art at the Museum Rietberg Zurich, 1995, pp.52-53, cat. no.52).

These unique features which place the present work in the 15th century and suggest a possible connection to Densatil, coupled with the elegantly modeled form and rich lustrous patina, make this sculpture an exceptional example of early bronze casting from Tibet.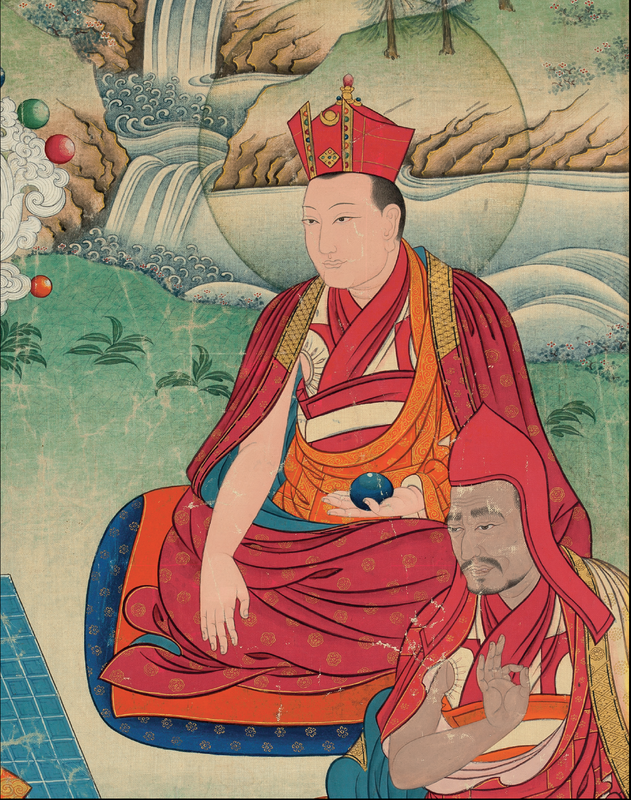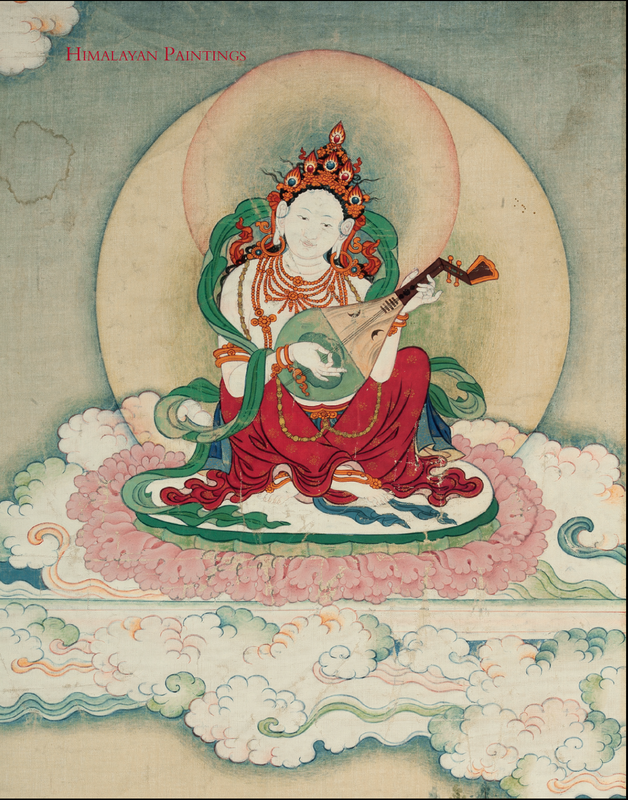 A painting of the Sixth Karmapa, Tongwa Tonden, Tibet, 19th century. Estimate: $80,000 – $120,000. Photo: Christie's Images Ltd 2015.
Very finely painted with the Karmapa seated on an elaborate throne before a table of offerings, holding a vajra in his right hand and a bell in his left, wearing a delicately patterned uniform covered by a monk's patchwork shawl with intricate gold design, a lavish blue, orange and gold cape draped around his lap, his focused expression with bow-shaped mouth, long wide nose and upturned elongated eyes with furrowed brows, his cropped hair surmounted by a black peaked hat decorated with jewels and centered by a crescent moon and sun over a double vajra, his head backed with a translucent red halo, two devotees seated on cushions to his left and an attendant standing in the foreground holding a large text, all set against a verdant landscape with flowing rivers, delicate foliage and clouds. Opaque pigments and gold on textile, 39 ½ x 24 in. (100.5 x 60 cm.)
Provenance: Private collection, Colorado, acquired by 1 June 1989
Literature: Himalayan Art Resource (himalayanart.org), item no. 23949
Notes: The Karmapa is the head of the Karma Kagyu sect of Tibetan Buddhism, the largest of four sub-school of the Kagyu tradition, whose origins date back to the 12th century.
This finely rendered painting of the 6th Karmapa Tongwa Tonden (1416-1453), is the eighteenth composition from a large set of Karma Kagyu lineage teacher paintings known as the Kagyu Sertreng. With a rich iconographic narrative, the painting depicts Saraswati, goddess of literature, poetry and wisdom, seated on a cloud at the upper right; the third Shamarpa Chopel Yeshe (1406-1452), which translates to "Holder of the Red Hat," seated to the right; and just below him, the renowned Sakya teacher, Rongton Sheja Kunzig (1367-1449).
Compare with a set of seven paintings depicting lineage teachers of the Karma bKa'-brgyud-pa tradition (D. Jackson, A History of Tibetan Painting, 1995, p. 292, figs.148-154).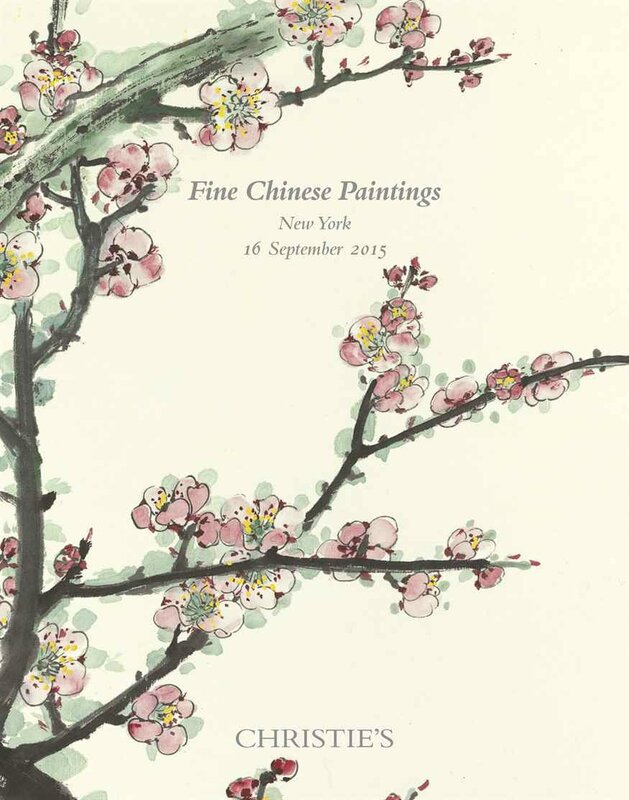 Photo: Christie's Images Ltd 2015.
Fine Chinese Paintings
16 September
This sale of Fine Chinese Paintings offers approximately 135 paintings and calligraphies ranging from the Ming Dynasty to the contemporary period, with a focus on works from American private collections. Highlights include a delicately rendered and colorful depiction of immortals playing chess attributed to the Ming master Qiu Ying. Among the modern paintings are works by important 20th century masters Zhang Daqian, Fu Baoshi and Li Keran. Leading the auction is the Collection of Yan Yuntai, which offers a diverse range of 68 landscapes, floral scenes, animals and calligraphy made for the owners by some of China's most accomplished modern artists.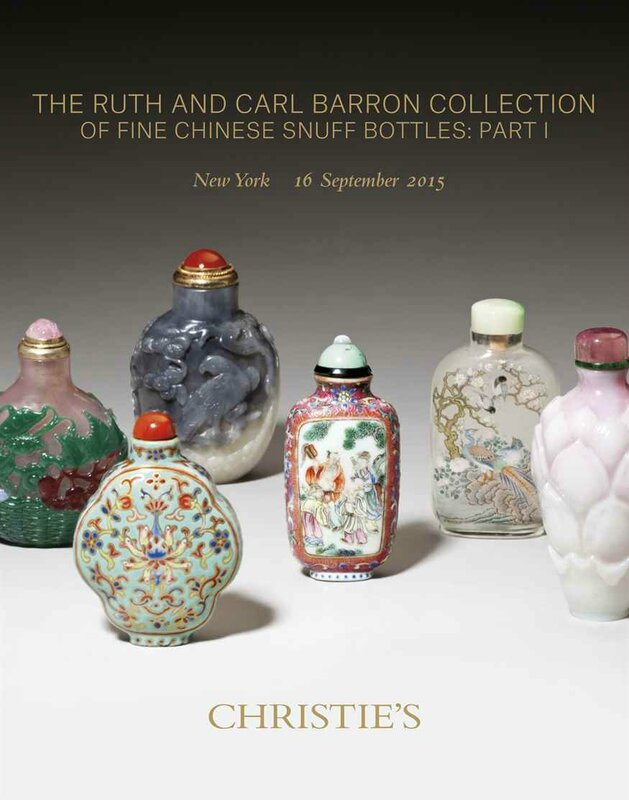 Photo: Christie's Images Ltd 2015.
The Ruth and Carl Barron Collection of Fine Chinese Snuff Bottles: Part I
16 September
The Fine Chinese Snuff Bottles from the Ruth and Carl Barron Collection: Part I auction offers a rich trove of over 140 snuff bottles from one of the most well-known and respected collectors in this collecting category. Over a period of 20 years, the Barrons amassed a comprehensive collection of a diverse range of bottles, with a focus on rare and fine examples in glass—particularly faceted and multicolored overlay snuff bottles—and a preference for the colorful and innovative examples produced by the Imperial Glassworks in Beijing. Exceptional highlights include a rare five-color overlay pink glass bottle dating from 1750–1850, an exquisite white and blue overlay bottle depicting Meng Haorang seated on a horse beneath a prunus tree and a greyish-black and white jade snuff bottle carved with the image of elegant birds amidst lotus.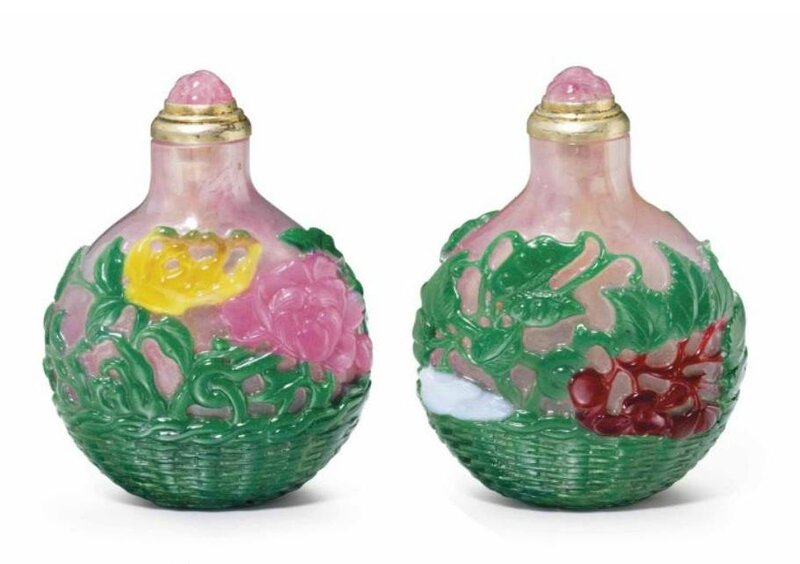 A rare five-color-overlay pink glass snuff bottle, Imperial, Palace Workshops, Beijing, 1750-1850. Estimate $18,000 – $22,000. Photo Christie's Image Ltd 2015
http://www.alaintruong.com/archives/2015/08/21/32517183.html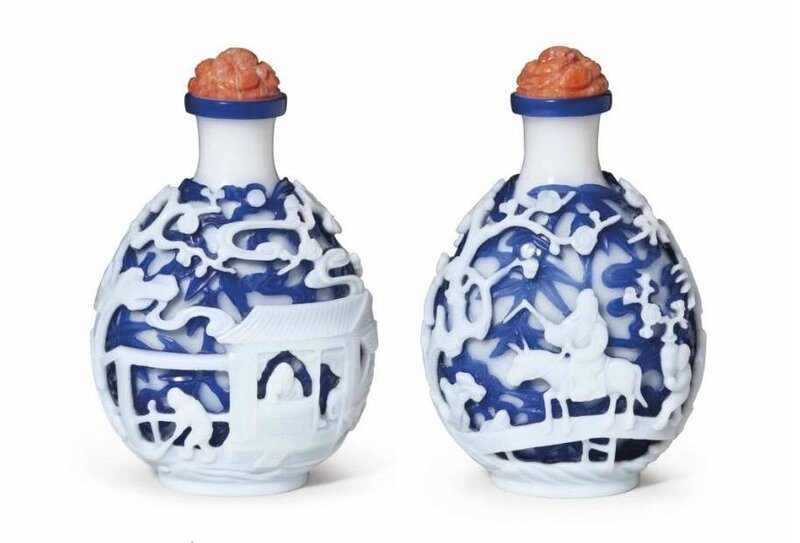 A white and blue-overlay white glass snuff bottle, possibly Imperial, Palace Workshops, Beijing, 1760-1790. Estimate $15,000 – $20,000. Photo Christie's Image Ltd 2015
http://www.alaintruong.com/archives/2015/08/21/32517201.html
A well-carved grey and white jade snuff bottle, 1750-1850. Estimate $12,000 – $18,000. Photo Christie's Image Ltd 2015

http://www.alaintruong.com/archives/2015/08/21/32517292.html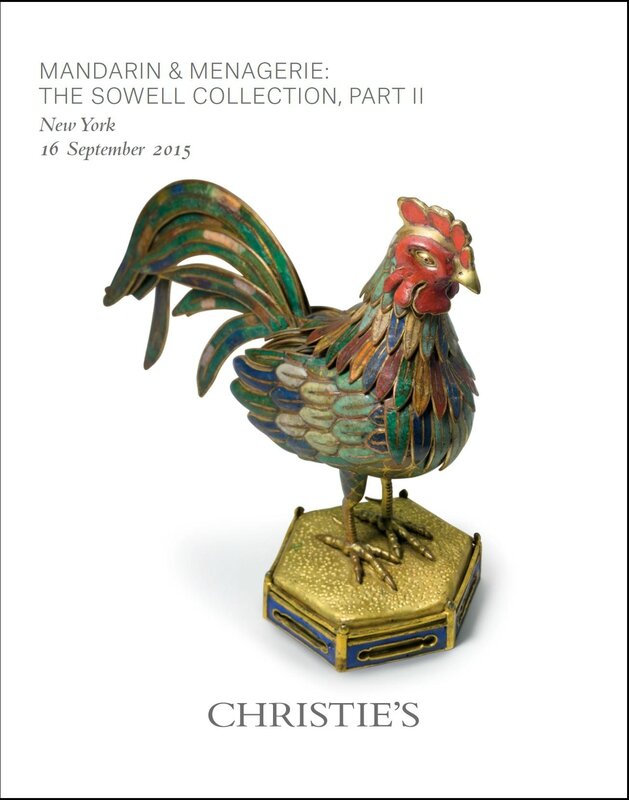 Photo Christie's Image Ltd 2015
Mandarin & Menagerie: The Sowell Collection, Part II
16 September
Over a period of about 20 years, James Sowell of Dallas formed the best collection of Chinese export birds, animals and figures in the country, in addition to collecting Chinese taste jades, cloisonné and ceramics. The export collection was published in 2008 by Michael Cohen and Will Motley in the lavishly illustrated and fully researched book, Mandarin & Menagerie: Chinese and Japanese Export Ceramic Figures. In January 2015, Christie's New York offered Part I of The Sowell Collection to great success. Part II of this storied collection comes to auction on September 16. Highlights include a white jade marriage bowl from the Qianlong period, a finely carved white jade table screen also from the Qianlong period and a rare pair of finely enameled famille verte rouleau vases from the Kangxi period.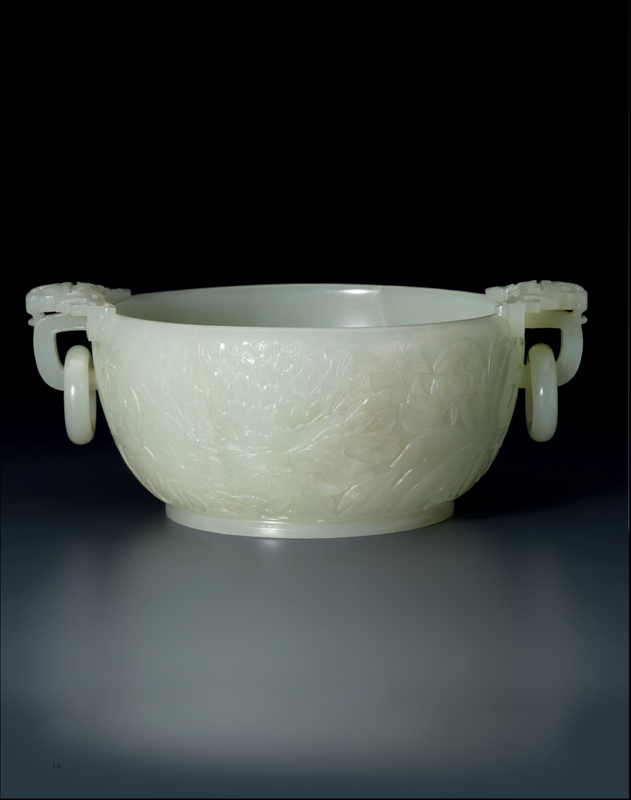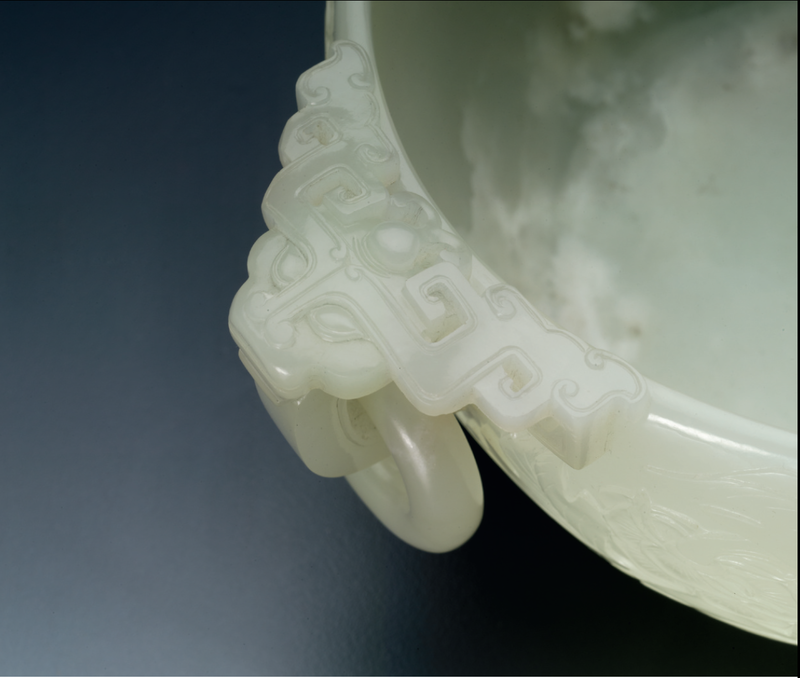 A white jade marriage bowl, Qianlong period (1736-1795). Estimate $150,000 – $250,000. Photo Christie's Image Ltd 2015
The deep bowl is raised on a short splayed foot, and carved in low relief on each side of the exterior with a large, leafy peony between smaller peonies mid-bloom between two butterflies in flight above and chrysanthemum sprays below. The handles are well-carved as archaistic animal-masks and suspend loose rings. The semi-translucent stone is well-polished and has some areas of opaque white inclusions. 7 7/8 in. (20 cm.) wide across handles
Provenance: An important English collection, acquired between 1960 and 1970.
S. Marchant & Son, London, acquired in 2006.
The James E. Sowell Collection, Dallas, Texas.
Notes: The combination of peony and butterflies was a common theme in the Qing dynasty, but has been rarely depicted on marriage bowls. Peony, fuguihua, and butterflies, hudie, are homonyms for fudie fugui, which translates to 'may you have an accumulation of blessings, wealth, and high social status.' These wishes for a fortuitous future are suitable for the vessel which would have been given to a couple as a wedding gift.

A similar white jade marriage bowl, also dating to the 18th century and decorated with butterflies and peach from the personal collection of Alan and Simone Hartman, was sold at Christie's Hong Kong, 27 November 2007, lot 1503. Another 18th century marriage bowl, but decorated with prunus rather than peony, was sold at Christie's New York, 15 March 2015, lot 3032. Compare, also, the white jade marriage bowl carved on the exterior with lotus illustrated by Yang Boda, Romance with Jade: From the De An Tang Collection, Hong Kong, 2004, p. 30, pl. 8.
A rare pair of finely enamelled famille verte rouleau vases, Kangxi period (1662-1722). Estimate $60,000 – $80,000. Photo Christie's Image Ltd 2015
Each vase is finely decorated with two registers of shaped panels depicting auspicious animals including crane, deer, tigers, phoenix and rabbits, and circular panels of flowers growing amidst rocks in the lower register, all reserved against a green ground painted with flower heads and butterflies in flight. 18 1/8 in. (46 cm.) high
Provenance: Frank Partridge and Sons, Ltd, 27th March 1947.
Collection of Sir Henry Prince (1877-1963); Sotheby's London, 22 November 2000, lot 311.
The James E. Sowell Collection, Dallas, Texas.
Notes: The vivid enamels and fine painting are very similar to those on a vase also dated to the Kangxi period in the Palace Museum, Beijing, illustrated in The Complete Collection of Treasures of the Palace Museum - 38 - Porcelains in Polychrome and Contrasting Colours, Hong Kong, 1999, p. 81, no. 74.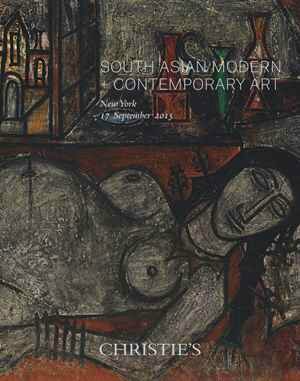 South Asian Modern + Contemporary Art
17 September
The sale of South Asian Modern + Contemporary Art features works by the region's Modernist masters and some of today's most sought-after contemporary artists. The sale is led by one of Francis Newton Souza's most important works, Birth, primed to set a world record for the artist. Highlights include works from Modernist masters such as Maqbool Fida Husain, Syed Haider Raza and Ram Kumar, who premieres an undiscovered figurative work from his popular early period from the 1950s to the 1960s. The sale also features notable examples from many lauded contemporary artists, including Subodh Gupta, Bharti Kher and Zarina.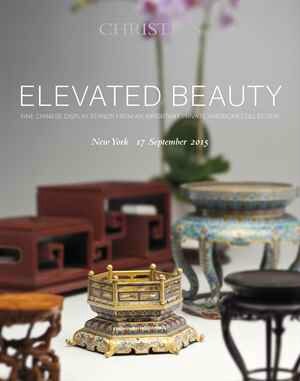 Elevated Beauty: Fine Chinese Display Stands From An Important Private American Collection
17 September
With over 100 display stands assembled over a period of 50 years, Elevated Beauty: Fine Chinese Display Stands presents some of the finest and diverse selection of stands from the Ming and Qing Dynasties in a broad range of materials and forms. Standouts from this private American collection include a Qianlong mark and period cloisonné enamel octagonal stand, a rare zitan stand finely carved with figures of the Eight Immortals, an 18th century scroll form red lacquer stand and an elegant burl-inset zitan stand that illuminates the master cabinetmaker's knowledge of the complex joins of classical Chinese furniture.
An Imperial cloisonné enamel hexagonal stand, Qianlong four-character. mark cast in a square and of the period (1736-1795). Estimate $60,000 – $80,000. Photo Christie's Image Ltd 2015
The flat, hexagonal top with pierced balustrade is raised on a waisted base decorated with ruyi lappets, above a shaped hexagonal plinth raised on petal-form feet. The whole is enameled in vibrant tones of red, green, blue and yellow. 3 ¼ in. (8.3 cm.) high, 5 1/8 in. (13. cm.) diam.
Provenance: Sir Abe Bailey Collection (1864-1940), Cape Town, South Africa.
Acquired in Cape Town, South Africa, 1960s.
Notes: It is difficult to determine what the present stand would have displayed, but the shape relates it to two sets of display stands that support dark green jade carvings inlaid in gold and semi-precious stones raised on related octagonal galleried bases of sandalwood, jade and silver inlay, suggesting that this stand would have supported a vertical object. One is a set of seven dark green jade, gold and inlaid semi-precious stone carvings of the Seven Royal Treasures (golden wheel, horse, elephant, loyal general, able minister, woman, divine pearls) while the second group, also in jade and inlaid with gold and semi-precious stones, depicts the Eight Auspicious Symbols, illustrated by E. Rawski and J. Rawson, China: The Three Emperors, 1662-1795, Royal Academy of Arts, London, 2005, p. 140, pls. 45 and 46.

It is interesting that the same method of display was selected for two unrelated themes and suggests that stands were created to directly compliment the material. The present cloisonné example would most likely have been associated with a cloisonné work with similar fine workmanship, bright gilding, and vibrant enamels.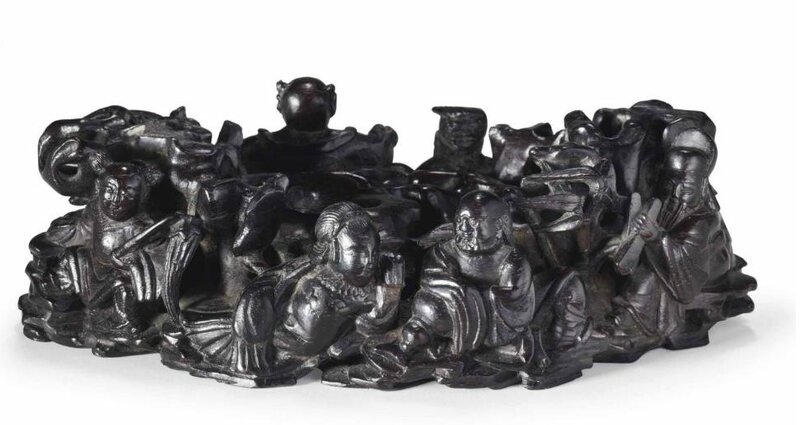 A very rare Imperial zitan stand carved with the Eight Immortals, 18th century. Estimate $15,000 – $20,000. Photo Christie's Image Ltd 2015
The irregular lozenge-shaped stand is finely carved as the Eight Daoist Immortals seated amidst craggy rocks, bamboo and lingzhi stems, and shown with their identifying attributes. 2 1/8 in. (5.3 cm.) high, 6 ¼ in. (15.9 cm.) wide, 3 ½ in. (8.9 cm.) deep
Note: The Eight Daoist Immortals represent five mythical and three historical individuals with magical powers which can be used to intercede on behalf of mortals. They are Zhongli Quan who carries a fan; Zhang Guolao who carries a bamboo tube-drum with two iron sticks to strike it; Lu Dongbin whose attributes are a fly whisk and a sword; Cao Guojiu shown with castanets (clappers); Li Tieguai shown with an iron crutch and a gourd; Lan Caihe depicted as a woman or a boy with a flower basket; He Xiangu, a woman shown with a lotus or flower basket; and Han Xiangzi shown with a flute. This grouping is commonly encountered on Ming ceramics and other decorative arts, such as wood carving, from the Jiajing reign (1522-66) onward, and continued to enjoy great popularity during the Qing dynasty.
A red lacquer scroll-form stand, 18th century. Estimate $12,000 – $18,000. Photo Christie's Image Ltd 2015
The bipartite, stepped stand is constructed as two conjoined scroll-form stands and raised on a narrow plinth above a narrow waist and a shaped apron and ruyi-shaped feet. The whole is decorated with a fine diaper ground. 6 ¼ in. (16 cm.) high, 15 ¼ in. (38.8 cm.) wide, 5 ½ in. (14.1 cm.) deep
Provenance: The Emma and Barney Dagan Collection, Los Angeles.
Note: The display of beautiful, precious or exotic objects was a major part of the decoration in the imperial palaces during the Qing dynasty. These objects were usually displayed on stands of some type—be they integral with the piece or made especially for it. In some cases the object and its stand were simply placed on top of a table or chest, but in other instances a selected group of objects was displayed in an arrangement of display platforms of varying heights. A carved red and black lacquer table screen, dating to the Qianlong period (1736-1795), offered at Christie's New York, 24 March 2011, lot 1352, carved with an arrangement of 'antiques,' depicts a similar scroll-form display stand supporting a bowl filled with finger citron and a small vase.
A burl-inset zitan stand, 19th century. Estimate $12,000 – $18,000. Photo Christie's Image Ltd 2015
The attractively figured burl panel is set in a square frame above plain aprons with beaded edge and raised on legs of rounded, rectangular section terminating in scroll-form feet. The whole is raised on base stretchers of conforming shape supported by short ruyi-form feet. 4 ½ (11.5 cm.) high, 9 ¾ in. (25 cm.) square
Provenance: Acquired in Cape Town, South Africa, 1960s.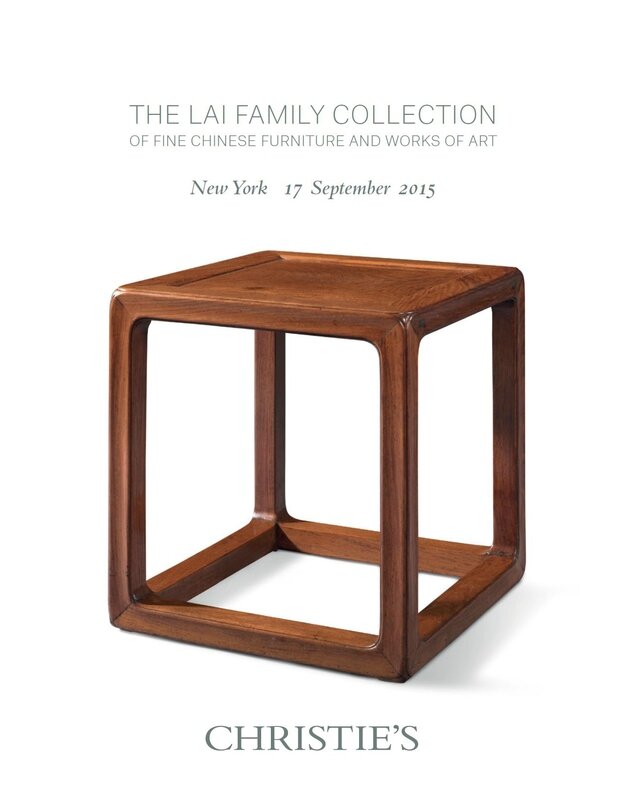 Photo Christie's Image Ltd 2015
The Lai Family Collection of Fine Chinese Furniture and Works of Art
17 September
Amassing over 30 years of collecting and connoisseurship, the Lai Family Collection of Fine Chinese Furniture and Works of Art highlights classical Chinese furniture, scholar's objects, modern Chinese paintings and other fine works of art. The collection was started by Lai Loy, a highly respected antiques dealer in Hong Kong, and continued with his son Peter and daughter-in-law Sandee, who together established a gallery in the prestigious Prince's Building in Hong Kong. The Lais dealt in ceramics and works of art, but came to be renowned for their discerning eye for classical Chinese furniture. Rare and unusual highlights from the 17th century include a huanghuali boxform stool, a magnificent huanghali recessed leg table and a huanghuali corner leg table—one of only two known examples. Exquisite examples in amber, glass and porcelain along with scholar's objects join an extraordinary sale.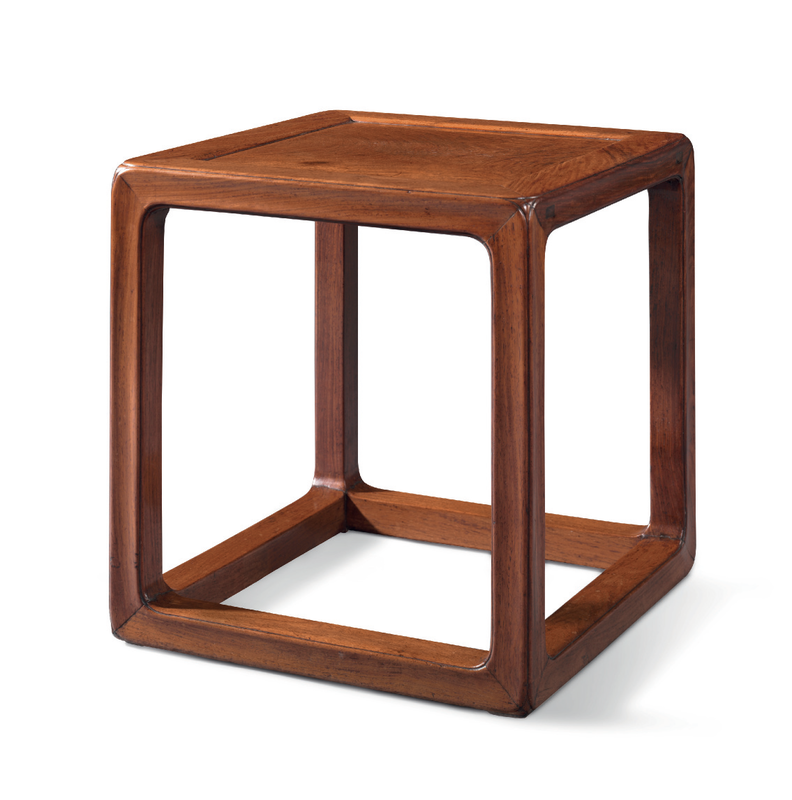 A very rare huanghuali boxform stool, fangdeng, 17th century. Estimate $120,000 – $180,000. Photo Christie's Image Ltd 2015
The attractively figured single-panel top is set within a square frame carved at the corners with rounded edges. The design is repeated on the concave legs of thick section which continue through the base stretcher of conforming shape to form the short feet. 18 ½ in. (47cm.) high, 17 ¾ in., (45.1 cm.) square
Provenance: Property from the Lai Family Collection.
Notes: Box-form stools, such as the present example, are extremely rare. The form is distinguished by the simple elegance and refined geometry of its design. The legs join to the top and base frames with pyramidal joins, thus creating an uninterrupted line, which is further enhanced by the thinly beaded edges of the legs, aprons, and base stretchers.

Compare a smaller cube-form jumu stool (40.5 cm.) high, currently in the Peabody Essex Collection, illustrated by N. Berliner and S. Handler, Friends of the House: Furniture from China's Towns and Villages, Salem, 1995, pp. 44-5, pl. 4. See, also, another huanghuali example illustrated in Chan Chair and Qing Bench: The Dr. S.Y. Yip Collection of Classic Chinese Furniture II, Hong Kong, 1998, pp. 70-1, pl. 6. Unlike the present example, the stool in Dr. Yip's Collection is supported by curved 'giant arm's' braces. Another, third, example in hongmu was in the Charlotte Horstmann Collection.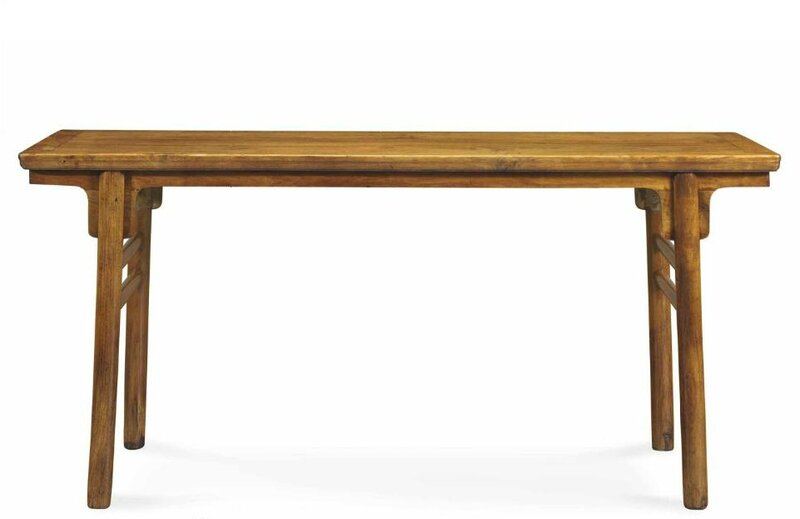 A large huanghuali waistless recessed-leg side table, tiao'an, 17th century. Estimate $250,000 – $300,000. Photo Christie's Image Ltd 2015
The two-panel top is set within a rectangular frame with beaded, 'ice-plate' edge, above plain aprons and spandrels. The thick legs are of rounded section and are joined by pairs of stretchers. 31 1/8 in. (79.1 cm.) high, 66 ¼ in. (168.3 cm.) wide, 22 7/8 in. (58.1 cm.) deep
Provenance: Property from the Lai Family Collection.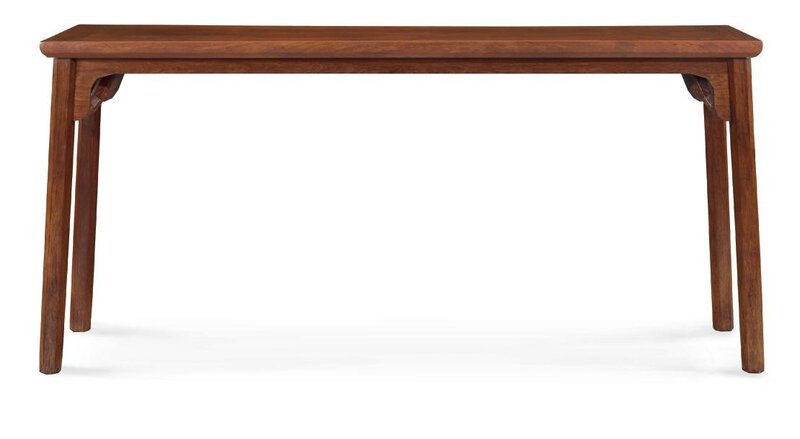 A very rare and unusual large huanghuali corner-leg side table, jiaozhuo, 17th century. Estimate $200,000 – $300,000. Photo Christie's Image Ltd 2015
The single-panel top is set within a wide rectangular frame with faceted edge, above plain aprons and faceted spandrels. The thick legs are of hexagonal section and are supported by bamboo-form 'giant's arm' braces. 33 ¼ in. (84.4 cm.) high, 72 in. (182.9 cm.) wide, 20 3/8 in. (51.7 cm.) deep
Provenance: Property from the Lai Family Collection.
Literature: Lai, Sandra. Classical Chinese Furniture: A Legacy of Refinement, Hong Kong, 1992, pp. 16-7.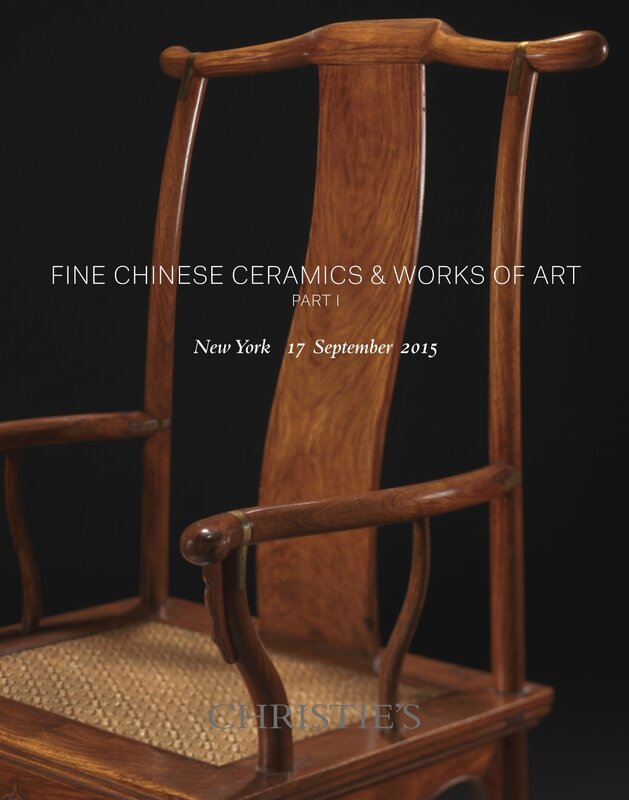 Photo Christie's Image Ltd 2015
Fine Chinese Ceramics & Works of Art
17 and 18 September
The sale of Fine Chinese Ceramics and Works of Art features over 500 extraordinary works in a diverse range of collecting categories, including translucent jade carvings, Ming and Qing Imperial porcelains, Song ceramics, cloisonné and painted enamels and classical Chinese furniture. Highlighting an impressive selection of Imperial porcelains dating back to the Qianlong period, top lots include a magnificent celadon-glazed moonflask, a rare flambé-glazed bottle vase and a turquoise-ground faceted pear-shaved vase finely decorated with vibrant famille rose enamels with vignettes of flowers among rocks, a lotus scroll and bats. Song dynasty ceramics are also wellrepresented with an elegant dingyao vase with a transparent glaze of creamy white color and a beautiful Longquan celadon vase dating to the Song-Yuan dynasty.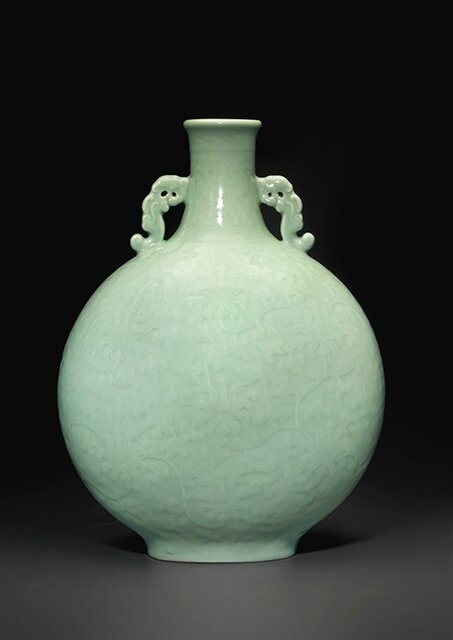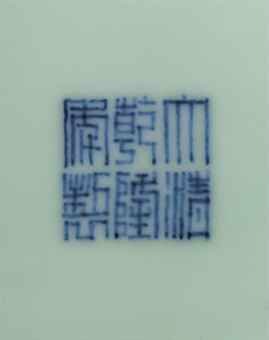 A magnificent and very rare large celadon-glazed carved moon flask, Qianlong six-character seal mark in underglaze blue and of the period (1736-1795). Estimate $1,000,000 – $1,500,000. Photo Christie's Image Ltd 2015
The elegantly potted body is raised on a rounded rectangular foot and is decorated in low-relief on both sides with dense, leafy lotus scroll, repeated on the neck between the pair of chilong-form handles, and below a band of classic scroll at the lipped rim. The vase is covered in an even glaze of soft blue-green tone. 17 ¾ in. (45.2 cm.) high
Provenance: Mary Eddy Jones (1902-2000), Oklahoma, acquired in 1950s-60s, and thence by descent within the family.
Notes: In the 18th century, the Jingdezhen imperial kilns devoted considerable research and development to the production of celadon glazes applied to a white porcelain body. In the Qianlong reign, these fine celadon glazes were sometimes used on undecorated pieces - the perfection of the glaze enhancing the elegance of the form. However, celadon glazes were also applied to porcelain vessels with low relief surface decoration, which had become somewhat bolder and more formal in the Qianlong reign. The present vase is an excellent example of the refined effect that could be created by the use of the carved decoration on a monochrome porcelain vessel.

No other celadon-glazed Qianlong-marked moonflask of this size and particular shape appears to have been published. However, a blue and white moonflask of similar size and shape, also decorated with lotus scrolls and withchilong handles, and with Qianlong seal mark, is illustrated in The Tsui Museum of Art; Chinese Ceramics IV; Qing Dynasty, Hong Kong, 1995, no. 74. Compare, also the unmarked Qianlong period blue and white moonflask with lotus-scroll decoration on the body and petal lappets on the neck from the Huaihaitang Collection exhibited at the Chinese University of Hong Kong, Ethereal Elegance - Porcelain Vases Of The Imperial Qing - The Huaihaitang Collection, November 2007-March 2008 and illustrated in the catalogue, p. 280, no. 94. Another similar example, but with a Yongzheng mark, was sold at Sotheby Parke Bernet, Hong Kong, 16 May 1977, lot 93.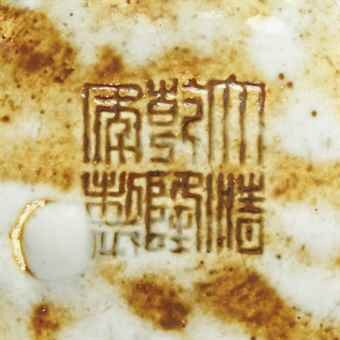 A large flambé-glazed bottle vase, Qianlong six-character incised seal mark and of the period (1736-1795). Estimate $60,000 – $80,000. Photo Christie's Image Ltd 2015
The heavily potted vase has an ovoid body that tapers to a cylindrical neck and is covered with a rich streaked glaze of dark crushed-strawberry red and milky blue draining to mushroom at the rim. The interior has a greyish-celadon glaze and the base a mottled celadon glaze. 18 in. (45.8 cm.) high
Provenance: Private collection, New York, acquired before 1940, and thence by descent to the present owner.
Notes: This distinctive glaze first appeared during the Yongzheng period and seeks to recreate the famous classical Jun wares of the Song dynasty. The splashes and streaks characteristic of this glaze are described as yao bian, or 'transmutation glaze', which has been the subject of much research. For a discussion of this topic see R. Kerr, Chinese Ceramics: Porcelain of the Qing Dynasty 1644-1911, London, 1986, p. 75, and N. Wood, 'The Evolution of the Chinese Copper Red', by R. Scott (ed.), Chinese Copper Red Wares, Percival David Foundation of Art, London, 1992, pp. 29-30.

The potters at the imperial Jingdezhen kilns were charged with the task of reproducing these glazes on porcelain. Such was the enthusiasm of the Yongzheng emperor for Jun glazes that the important Taocheng jishi bei (Commemorative Stele on Ceramic Production), composed by the famous imperial kiln director Tang Ying in 1735, lists no fewer than nine different Jun-type glazes, and noted that five of these were based upon ancient examples that had been sent from the palace in Beijing to the imperial kilns hundreds of miles to the south at Jingdezhen, in Jiangxi province. In order to achieve successful imitation of Jun glazes, Tang Ying went to considerable lengths, including sending his secretary Wu Yaopu to Junzhou in 1729 to try and obtain the recipe for Jun glazes. This dedication to the accurate recreation of Song dynasty glazes continued into the Qianlong period, and is evident on the present lot.

A flambé-glazed vase with Qianlong mark, of similar size to the present vase, was sold at Christie's Hong Kong, 3 December 2008, lot 2571.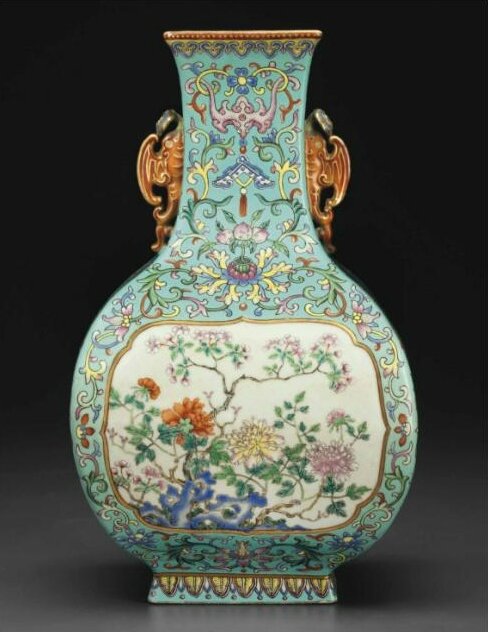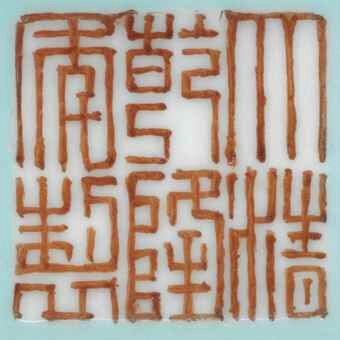 An exceptionally rare famille rose faceted pear-shaped vase, Qianlong six-character seal mark in iron red and of the period (1736-1795). Estimate $600,000 – $800,000. Photo Christie's Image Ltd 2015
Of rectangular section, the vase is decorated on two wide facets of the bombé body with a quatrefoil panel, enclosing a vignette of peony, crabapple and begonia growing amidst blue rocks on one side, and on the reverse with chrysanthemum, wanshouju and balsam also growing amidst blue rocks, all within gilt borders and against a turquoise ground richly decorated with composite flower scroll on all sides including, on the main sides, a leafy stem of three peaches rising from a lotus pod in the center of a lotus blossom positioned below a pink bat suspending a chime on the neck between a pair of handles in the form of iron-red bats grasping ruyi in their mouths on the narrow sides. A narrow ruyi border is below the mouth rim, and a band of pendent leaf tips decorates the foot. The interior and base are also enameled in turquoise. 11 in. (28 cm.) high, wood stand
Provenance: Acquired in Paris in the 1880s, and thence by descent within the family.
Notes: This exquisitely painted vase is a fine representation of the skill of the enamel painters at the Imperial kilns during the Qianlong period. The decoration represents abundant auspicious wishes, making it an appropriate gift for a birthday or a wedding.

The flowers depicted in the two panels represent flowers found during two seasons, Spring and Autumn, and also have auspicious meanings. The panel painted with peony, crabapple and begonia represents Spring, as all of the flowers bloom at the same time. According to T. T. Bartholomew in Hidden Meanings in Chinese Art, Asian Art Museum of San Francisco, 2006, p. 137, no. 6.6.1, the combination of crabapple (haitang) and peony (fuguihua) conveys the wishes, "May the entire family be wealthy and honored" (mantang fugui). The flowers depicted in the other panel, chrysanthemum, wanshouju and amaranth, also bloom together and represent Autumn. Chrysanthemum (juhua) is a symbol of longevity, and wanshouju, which is a long-stemmed marigold and of either yellow or orange color, resembles the chrysanthemum, and its name translates as "chrysanthemum of ten thousand longevities". Bartholomew notes, op. cit., p. 197, no. 7.38, that it was "used during the Qing dynasty as a pictorial pun to wish the emperor a long life of ten thousand years." The surrounding scroll decoration also contains wishes for blessings and longevity.