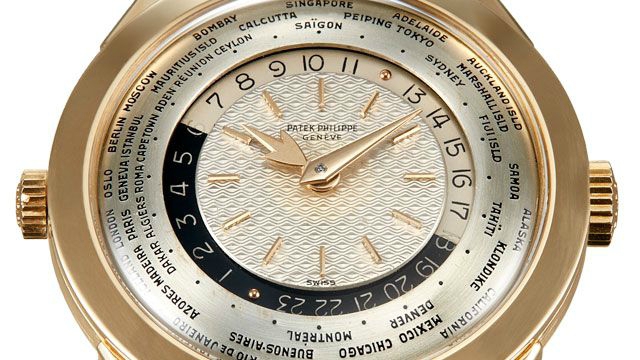 Patek Philippe, an Exceptionally Rare Yellow Gold Double Crown World Time Wristwatch with 24 Hour Indication and Fine Guilloché Dial (detail), Ref 2523/1, Made in 1968. Est. HK$4 – 5.5 million / US$510,000 – 710,000. Photo: Sotheby's.
HONG KONG.- Sotheby's Hong Kong Important Watches Autumn Sale 2015 will take place on 6 October at the Hong Kong Convention and Exhibition Centre. An eclectic array of timepieces from the most prestigious watchmakers will be offered, led by an exceptionally rare Patek Philippe world time vintage wristwatch made in 1968. Connoisseurs will also be delighted by exquisite jewellery timepieces, including an iconic and possibly unique full-diamond-set 'Panther' bangle watch by Cartier. The sale will offer more than 420 lots with a total estimate in excess of HK$86 million / US$11 million*.

Sharon Chan, Head of Watches, Sotheby's Asia, said, "This Autumn Sotheby's is delighted to bring to the market an array of rare and extraordinary timepieces, encompassing vintage and jewellery wristwatches as well as works by independent watchmakers, offering a superb acquisition opportunity for collectors. Rare references of Patek Philippe vintage watches are more commonly seen in European salerooms and this season we are pleased to present an extremely uncommon Patek Philippe world time wristwatch made in 1968. A comparable pocket watch made in 1951 sold at four times its estimate at Sotheby's New York in June 2015 and we expect keen competition for this upcoming example. Among other highlights are a possibly unique full diamond-set Cartier 'Panther' bangle watch and ingenious works of independent brands."
Extremely Rare Vintage Patek Philippe
Vintage watches stand as silent witnesses to the history of horology. Among them, Patek Philippe, with its understated elegance and longstanding heritage, holds a special place in the hearts of the world's most discerning connoisseurs. This sale puts together an array of vintage watches from the legendary brand including timepieces of distinguished provenance.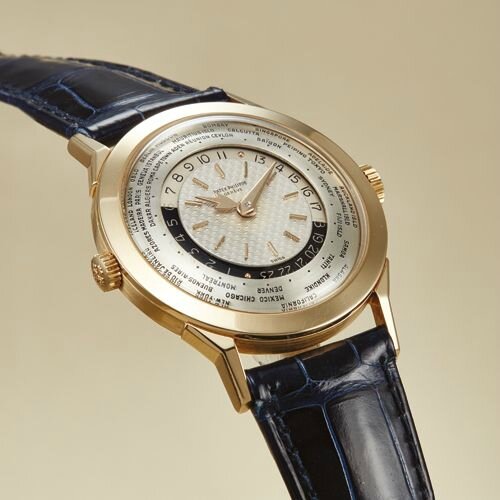 Patek Philippe, an Exceptionally Rare Yellow Gold Double Crown World Time Wristwatch with 24 Hour Indication and Fine Guilloché Dial, Ref 2523/1, Made in 1968. Est. HK$4 – 5.5 million / US$510,000 – 710,000. Photo: Sotheby's.
Featuring the ingenious 'Heure Universelle (World Time)' mechanism invented in 1931 by master independent watchmaker Louis Cottier (1894 - 1966), Patek Philippe's Ref 2523, with the new two-crown system, was launched in 1953. Considered one of Patek Philippe's most stunning and iconic models, Ref 2523-1, with a beautiful guilloché dial made by celebrated dial manufacture Stern Frères, was produced in a limited number of 20. The current example is fresh to the market and a rare acquisition opportunity for collectors. Watches featuring Cottier's World Time mechanism have left their mark in history. By the end of World War II these watches had found their way into the pockets of such notable historical figures as Harry Truman, Joseph Stalin, Franklin Roosevelt and Winston Churchill, whose 'Victory watch' by Cottier will be offered at Sotheby's upcoming London auction in September 2015 (lot 75).
Highly Complicated Wristwatches
An array of complicated and exceptional tourbillon timepieces will be highlighted alongside sought after Patek Philippe minute repeating wristwatches. They are precise, refined and understated—a manifestation of artisanal virtuosity at the highest level.
A. Lange & Söhne, a very fine Boutique Exclusive Limited Edition Honey Gold Tourbillon Wristwatch with Patented Stop Seconds Mechanism and Engraved Honey Gold Pivoting Segment Dial No 02/15 Richard Lange Tourbillon Pour Le Mérite - Handwerkskunst Made In 2012. Est. HK$1.75 – 2.2 million / US$220,000 – 280,000

As A. Lange & Söhne celebrates the 200th anniversary of the birth of its founder Ferdinand Adolph Lange, Sotheby's is pleased to present Handwerkskunst ('craftsmanship'), the fourth edition of the famous Pour Le Mérite wristwatch in homage to its superb craftsmanship. Launched in December 2010 in the brand's exclusive ultra hard honey gold case with matching traditional tremblage engraved gold dial, the model was released in an edition of only 15 examples retailed exclusively at boutiques in Hong Kong, Shanghai, Tokyo, Seoul and Dresden.

Patek Philippe, an Extremely Fine and Rare Platinum and Emerald-Set Perpetual Calendar Chronograph Wristwatch with Registers, Moon-Phases and Leap Year Indication, in Original Factory Double Seal Ref 5271/13P-001 Made in 2015 Est. HK$2.35 – 3.8 million / US$300,000 – 490,000.

Powered by its in-house calibre CH 29-535 PS Q, this timepiece represents the epitome of high jewellery and watchmaking. The emerald variation offered in the upcoming sale was launched at the Watch Art Patek Philippe Grand Exhibition at Saatchi Gallery in London in 2015 to mark the brand's 175th anniversary. Highly exclusive and in original factory seal, this watch is a true trophy piece for any watch collection.
Cartier, an Extraordinary and Possibly Unique Lady's White Gold, Diamond, Sapphire and Onyx-Set 'Panther' Bangle Watch, circa 2000. Est. HK$1.9 – 2.8 million / US$240,000 – 360,000. Photo: Sotheby's.
Since its debut in Cartier's jewellery design more than a century ago, the Panther has not only acquired an iconic status but also captured the hearts of the most glamorous women in the world. The Duchess of Windsor's 1952 Cartier 'Panther' bracelet fetched an astounding £4.5 million at the landmark auction at Sotheby's London in 2010, setting a record for any bracelet and a Cartier jewel at the time. Possibly unique, the Cartier 'Panther' bangle watch perfectly captures the queen of beasts in its elegant posture and flowing curves. The dial is cleverly concealed and the moveable forearms deftly reflect the agility of the wild cat. Set with diamonds totalling 40 carats, this bold and sophisticated timepiece is a once-in-a-lifetime acquiring opportunity for the most discerning collectors.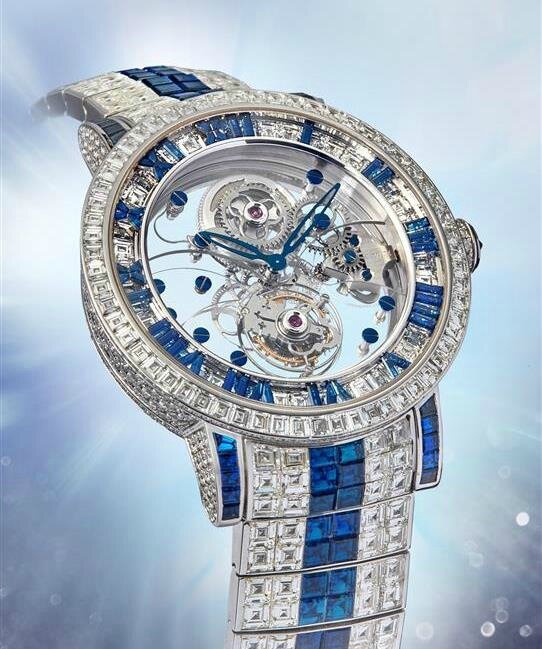 Corum, a Magnificent and Elegant Limited Edition White Gold, Diamond and Sapphire Set Skeletonised Tourbillon Wristwatch with Bracelet No 2/5 Classical Billionaire Tourbillon Circa 2010. Est. HK$1.8 – 2.5 million / US$230,000 – 320,000. Photo: Sotheby's.
A reinterpretation of the Romvlvs series launched in 1966, Corum's new Romvlvs Billionnaire Tourbillon, created in 2010 with approximately 66 carats of gemstones, is available in a limited edition of five pieces only. The Roman numerals on the bezel are represented by 44 invisibly-set baguette sapphires, while the outer ring of the dial and lugs are set with brilliant-cut diamonds and the straps are fully set with baguette diamonds and sapphires. The amount of rare and well-matched natural gemstones employed speaks volumes of the maison's dedication to quality and detail.
nnovative Independent Watchmakers
While often lauded as 'unconventional' for their audacious designs and intricate complications, independent watch brands are no less devoted than the established houses to their tireless quest for the highest standards of quality and reliability. This season Sotheby's is delighted to present highly imaginative pieces that showcase independent watch makers' technical excellence.

Harry Winston, a Cutting-Edge and Stunning Limited Edition White Gold Wristwatch with Retrograde Five Minute, Rotating Double Hand and Power Reserve Indication Opus 12 No 066/120 Circa 2012. Est. HK$800,000 – 1.2 million / US$100,000 – 150,000

Since its collaboration with various ingenious watchmakers beginning in 2001 with the Opus series, Harry Winston has proved itself as not only the ultimate haute joaillerie maison but also a widely acclaimed avant-garde and adventurous watch manufacturer. Created collaboration with French master watchmaker Emmanuel Bouchet, Opus 12 is produced in a limited edition of 120 pieces. This extraordinary model has never before appeared at auction.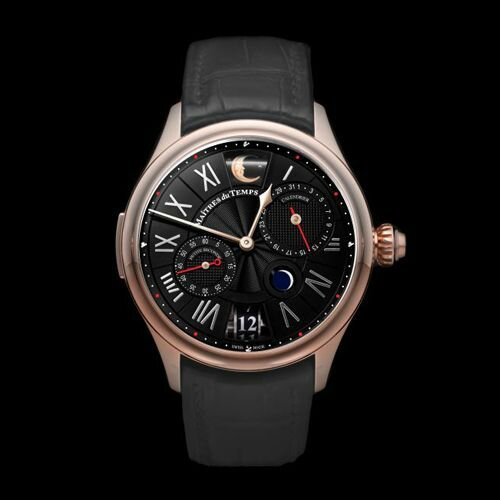 Maîtres du Temps, a Fine and Unique Pink Gold Dual Time Zone Wristwatch with Date, Day/Night and Moon-Phases Display No 1/1 Chapter Three Reveal Made In 2015. Est. HK$420,000 – 600,000 / US$54,000 – 77,000. Photo: Sotheby's.
Founded in 2005 in Switzerland, Maîtres du Temps is the brainchild of Steve Holtzman, who is dedicated to creating the most innovative timepieces of his time by working with the finest master watchmakers around the world. Chapter Three Reveal, the brand's latest invention, was created in collaboration with independents Kari Voutilainen and Andreas Strehler. Sotheby's is honoured to present this unique edition released in pink gold with a black dial, distinguished by a dedicated engraving of '1/1' on the band. Chapter Three Reveal is the perfect homage to horology that only the most discerning watch collector deserves.
Charity Lot
A Unique Pink Gold Wristwatch with Date And 8-Day Power Reserve, Portugieser Hand Wound Eight Days Edition '75th Anniversary' Unique Piece for Revolution Circa 2015. No Reserve.

In celebration of the 10th anniversary of the internationally acclaimed watch publication Revolution, IWC Schaffhausen will offer a unique timepiece for charity auction to pay tribute to their close relationship over the years. Proceeds from the auction will go to Smile Asia, an international alliance of charities that provide free surgeries to children with facial deformities.