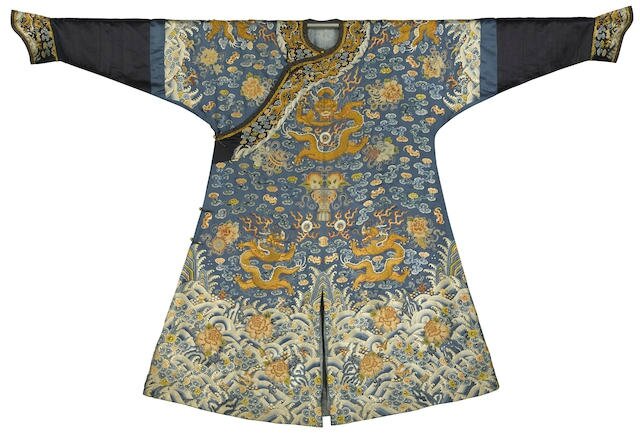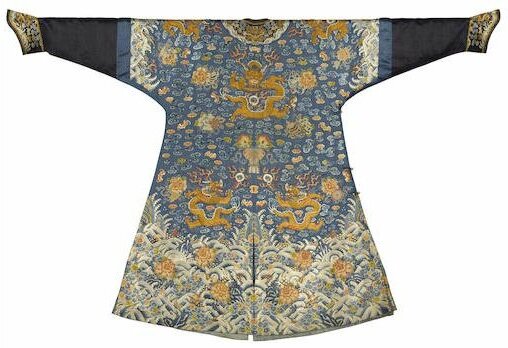 A mid-blue-ground 'dragon' robe, First half 19th century. Estimate US$ 30,000 - 50,000 (€27,000 - 44,000). Photo: Bonhams.
The ground of rich mid-blue colored silk, the chest, shoulders and back each with a five-clawed front-facing dragon encircling a flaming pearl, four further dragons each in pursuit of a pearl and a final dragon on the inside flap with bats and cloud scrolls, the ground decorated on each side with knotted Eight Buddhist Symbols, bajixiang, each accompanied by a luscious peony blossom, and pairs of peaches in a bat-shaped basket, all amid cloud scrolls, the richly foaming waves at the hem issuing jagged mountains and further knotted peony flowers, the sleeves of ribbed navy silk and the pale blue lining woven with flowers. 55 1/4in (140cm) long
Notes: The present robe is embroidered with particularly luscious and ornate peaches and peony blossoms. The extravagant use of a large peony blossom accompanying each of the Eight Buddhist Symbols is extremely rare and compelling, emphasizing the status of the wearer with its associations with high rank and alternative name 富貴花 fuguihua, or 'flower of wealth and honor'.

The pair of peaches, 壽桃 shoutao, supported by a pair of bats, 蝠 fu, in the center of the robe is symbolic of the wish 'May you possess blessings and longevity', 福壽雙全 fushou shuangquan.

For a darker-blue ground dragon robe with related treatment of the very rounded waves at the hem, dated to the early 19th century, see R. D. Jacobsen, Imperial Silks: Ch'ing Dynasty Textiles in The Minneapolis Institute of Arts, Vol. I, Minneapolis, 2000, pp. 156-7, no. 49, and another of more mid-blue ground but stiffer and narrower waves dated to the mid-19th century, ibid., pp. 190-1, no. 66. Another blue-ground robe with similarly knotted flowers amongst rounded waves, dated circa 1800, is illustrated in the catalog to the exhibition at the Art Gallery of New South WalesCelestial Silks: Chinese Religious & Court Textiles, Sydney, 2004, pp. 66-7, no. 33.
BONHAMS. CHINESE PAINTINGS AND WORKS OF ART, 14 Sep 2015 10:00 EDT - NEW YORK